As a child that spend way too much time watching TV, it was no wonder that I learned about many things through cartoon shows. One of those things was Japanese pop music (or J-pop). A genre which I first discovered thanks to the Hi Hi Puffy AmiYumi show and the multiple video clips of Puffy's most recent hits that Cartoon Network often aired.
It was the first time I was exposed to the language too. Even though I couldn't understand anything, it didn't matter: I was entranced by them.
Today I'm in my 20s, and Puffy remains one of my favorite artists. Listening to them, I can enjoy their music while fondly remembering the childhood memories they gave me as well.
Origins
Known only as Puffy (パフィ) in Japan, this duo was formed by Ami Onuki and Yumi Yoshimura. But the pair's path to stardom wasn't really clear when they started pursuing their careers as musicians. In fact, they didn't even start together.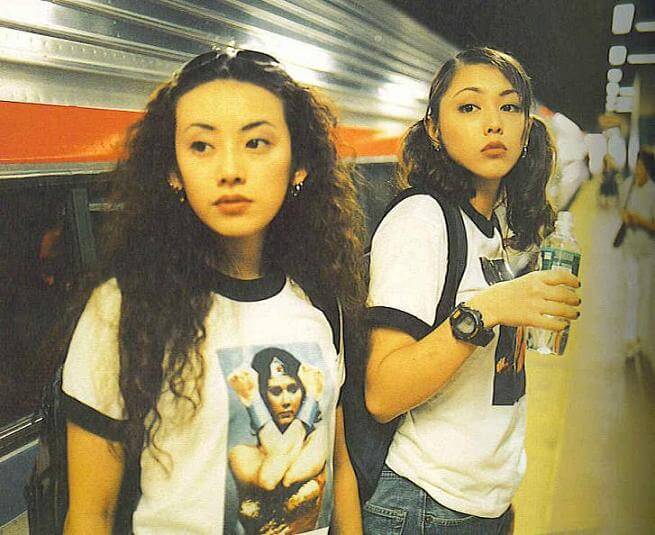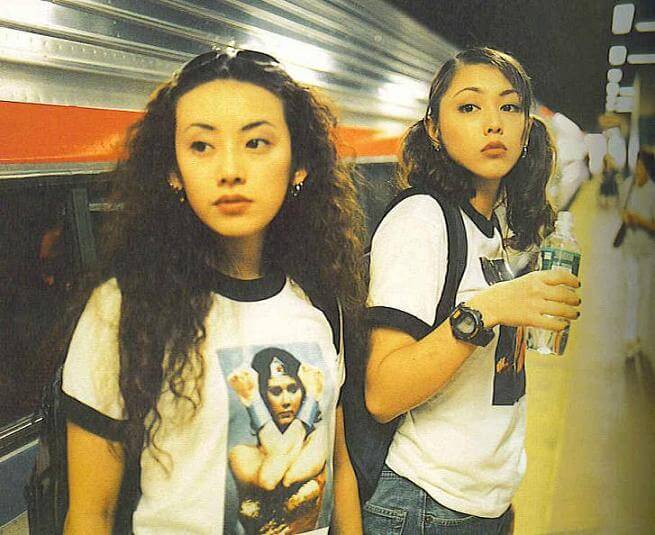 Ami Onuki was part of the high school band "Hanoi Sex". The band became Sony Entertainment's employees after a successful audition. But things never really took off, and the band ended up dissolving in the following years. Yet Ami –who had been trying to improve as a performer in a professional school– chose to stay. Preparing herself for a solo career, she recorded a debut album under the guidance of Tamio Okuda –former lead vocalist of 80s rock band Unicorn.
Yumi Yoshimura left her home back in Osaka for a chance to shine after passing an audition in a Chokotto Sokomade talent search for –just like Ami– Sony Entertainment. She settled herself in Tokyo, but unlike Ami, she didn't get to record anything until they met.
As artists, there were a couple of things they had in common. Neither of them felt confident in their future careers as solo artists, and both felt isolated in the large company. After a couple of encounters in the company and after parties, sparks flew and soon they requested to be a duo.
And they were meant to be: their voices blended together perfectly. The person in charge of producing their first album was American producer, pop musician, and (as the girls called him) Puffy's godfather: Andy Sturmer. He was also the one that named the duo. It was July 22, 1996, when "AmiYumi" debuted, reaching #3 in the charts.
Pa-Pa-Pa-Pa-Puffy and the Puffymania
It was with the single "Asia no Junshin" (アジアの純真 or "True Asia"), released in May 1996, that the "Puffymania" phenomenon was unleashed. One of the reasons was because the duo brought a style unlike anything else in the Japanese music scene at the time.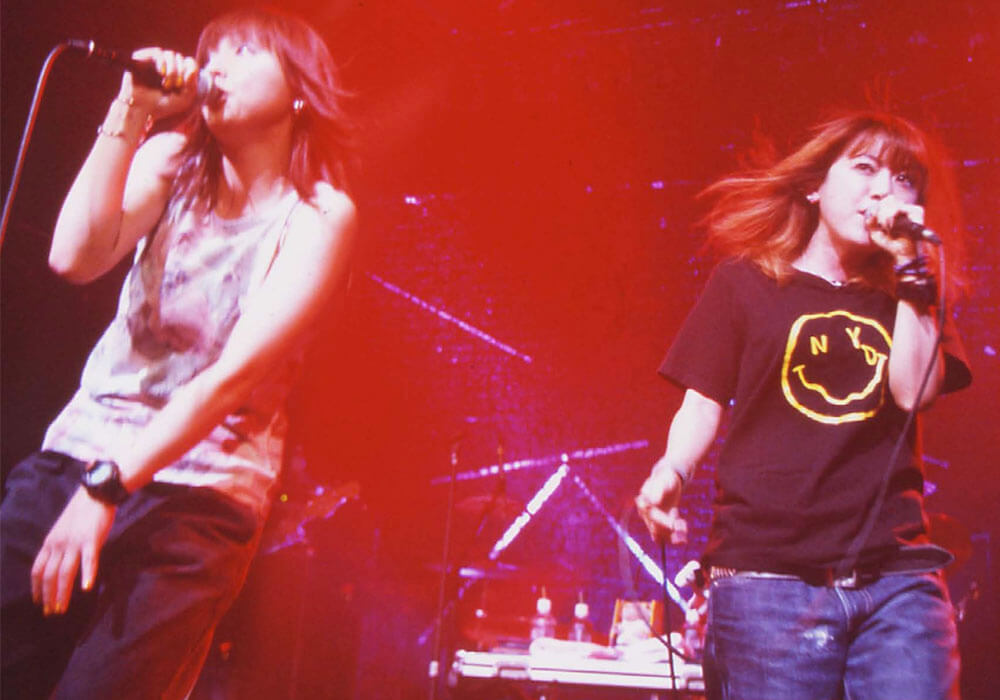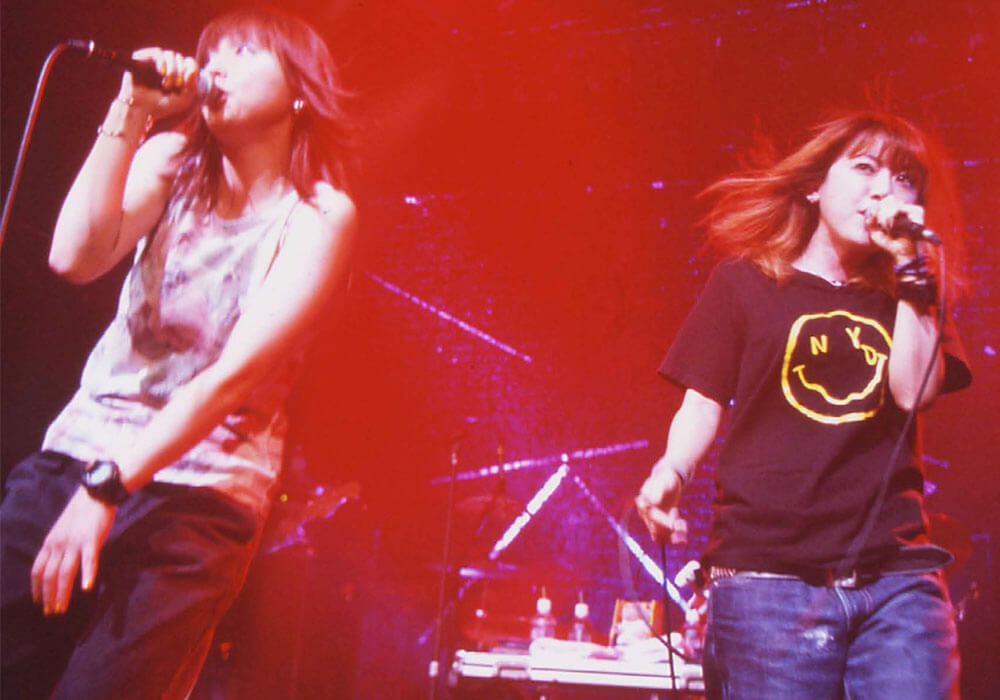 Puffy featured fresh-faced girls that often appeared on TV in plain t-shirts, jeans, and sneakers, with very simple choreographies. The use of harmonies is part of their style, singing whole songs together with few exceptions. Their sound borrows from American 60s/70s rock, with influences such as The Beatles, The Who, and The Carpenters – especially noticeable in songs like "Kore ga Watashino Ikiru Michi" (これが私の生きる道 or "This is the Way I Live"), and "Forever." While their style has varied over the years, their unique charm, cheerfulness, and appeal remain.
With those attributes and their ever growing popularity, Ami and Yumi were allowed to showcase their versatility by expanding into other mediums, such as TV. By 1997, only a year after their debut, they were so popular that they got their own TV movie Puffy no Wide de Ikou: Born to be Wild and a variety show on network TV Asahi, called Pa-Pa-Pa-Pa-Puffy. Hosted by Ami and Yumi, the show had a very cute, light-hearted tone. Having all sort of celebrities as a guest, they would be introduced by singing a song along the girls, one either by the band invited or by Puffy, then they would talk and finally, they would play games. The scenography featured cartoony, bright backgrounds. Some of the most notable guest stars included Sylvester Stallone, Harrison Ford, Shonen Knife, Garbage, and others.
https://www.youtube.com/watch?v=LZJ2m9eW_KM
It's worth noting that variety shows aren't the only audiovisual format these girls appeared in. They were also in commercials, and Yumi has had some roles in movies like The Neighbor No. Thirteen (Rinjin 13-go).
The Pa-Pa-Pa-Pa-Puffy show was canceled in 2002. By then, the duo had already released six albums, all debuting in the top ten of the charts. And they were showing no signs of stopping, on the contrary: they decided to expand their horizons and focus on performing in the United States.
But let's go back a little, to the year 2000: the time when J-pop was expanding its appeal to a more worldwide audience. "An Evening with Japan's All-Stars" was a South by Southwest (SXSW) music festival organized in Austin, Texas. Puffy was one of the stars invited, and this would be the first time they gave a concert in the country. It was then when they changed their name to "Puffy AmiYumi" to avoid legal conflict with Sean "Puffy" Combs, although they are only known that way in the US. They also got Western nicknames: Ami is Jane and Yumi is Sue.
Although they would have numerous concerts there in the following years, it's particularly interesting to look at their contribution to American television.
Teen Titans and Other Opening Themes
Teen Titans debuted in 2003 on Cartoon Network, based on the team of heroes from DC 80s comic The New Teen Titans. The theme song is one of the most popular contributions made by the duo. It's well remembered by fans of the show to this day.
It was written by Andy Sturmer and composed by Ami and Yumi.
Although the theme had both Japanese and English versions, the lyrics were completely different in both languages. While the English lyrics focus on the serious side of the titans as superheroes, the Japanese version was more silly and comedic. Fun fact: there are regions that played only the English version. Others only played the Japanese one. And some regions (such as Japan) would play both, with the English version reserved for the serious episodes.
An interesting note: the Teen Titans episode "Mad Mood" featured one of the duo's songs, "K2G", for a chasing scene. In the TV movie Trouble in Tokyo, Beast Boy sings the Japanese version of their theme song, in English, as comedic relief.
https://www.youtube.com/watch?v=sEtLDg7ZmyQ
But this wasn't the only time Puffy did an opening for an animated show. They also contributed to SD Gundam Force with "Sunrise" and did "Sweet Drops" for Usagi Drop, having a cameo voiceover in episode 9 of the later.
Hi Hi Puffy AmiYumi show


One of the biggest TV success of the duo, and the biggest in the animated field, came with the production of their very own cartoon show: Hi Hi Puffy AmiYum.
Cartoon Network producer Sam Register is a Puffy fan who, like many, succumbed to the charm of the girls. Wishing to spread their talent to other parts of the world, he pitched to the network the idea of the duo having their television series in 2003. The pilot was successful, and the series got greenlighted. It debuted in December 2004, airing in over 110 countries worldwide. The pilot was never broadcast, but part of it was released as a preview on the network's DVDs and VHS tapes.
Hi Hi Puffy AmiYumi followed the fictitious adventures of real-life pop rock stars Ami and Yumi. The characters personalities were based on their real life counterparts, although they were exaggerated versions: Yumi was the tough as nails, rude punk rocker and Ami the cute, optimistic one. It was mainly a comedy, featuring over the top situations with fans, games, and music –including some of the hit songs from the duo.
Ami and Yumi did the opening, titled just like the show. They also appeared at the beginning and at the ending of it, in short sketches filmed in Japan. But they never voiced any of the characters.
In the American version, Ami is voiced by Janice Kawaye and Yumi by Grey Griffin. The Japanese version featured Kei Kobayashi and Sachiko Kojima as Ami and Yumi respectively.
At the time, it broke records in kids 2-11 ratings on its debut, helping Cartoon Network increase their audience with that age group. Even though that was the demographic the show was targeting in the first place, it also had teenagers and adult viewers that were fans of the real life Ami and Yumi.
The show was suddenly canceled on 2006, with 3 seasons of 13 episodes each. As for the reason why no official statement was ever released. Cartoon Network didn't acknowledge the show again until 2012 when Ami and Yumi appeared in the network's 20th Anniversary Poster.
There are two video games based on the show: Hi Hi Puffy AmiYumi: Kaznapped! (Game Boy Advance) and Hi Hi Puffy AmiYumi: The Genie and the Amp (Nintendo DS). There was other merchandise such as a line of toys, Halloween costumes, and DVDs that include some of the episodes.
Present Day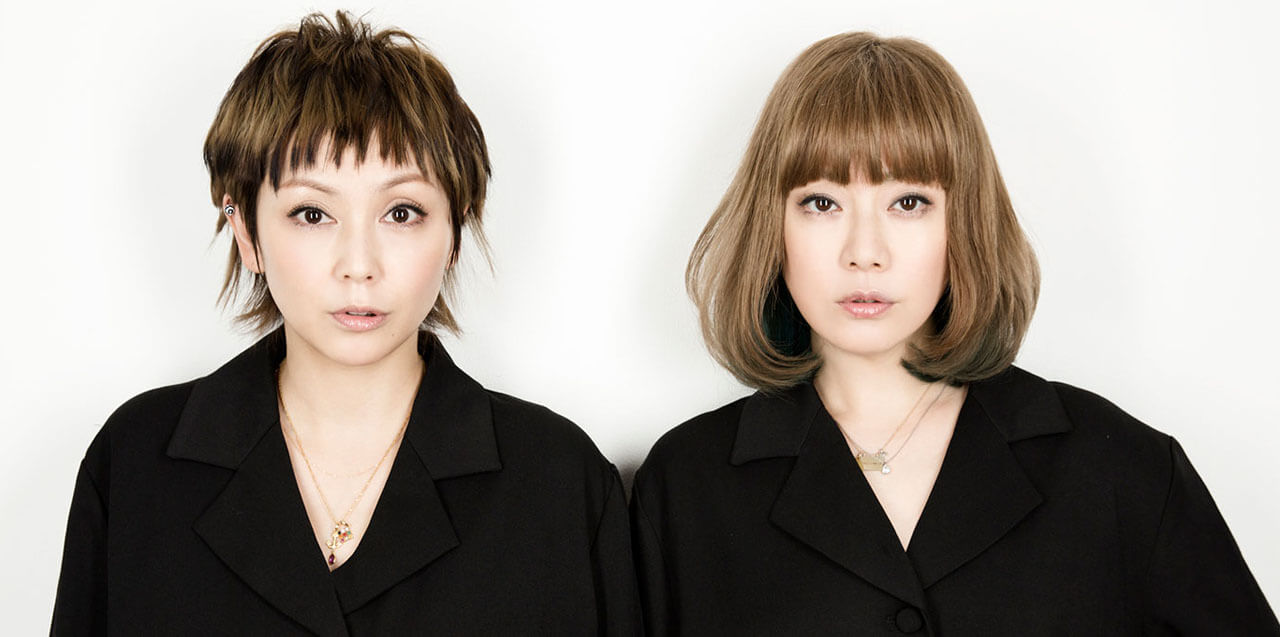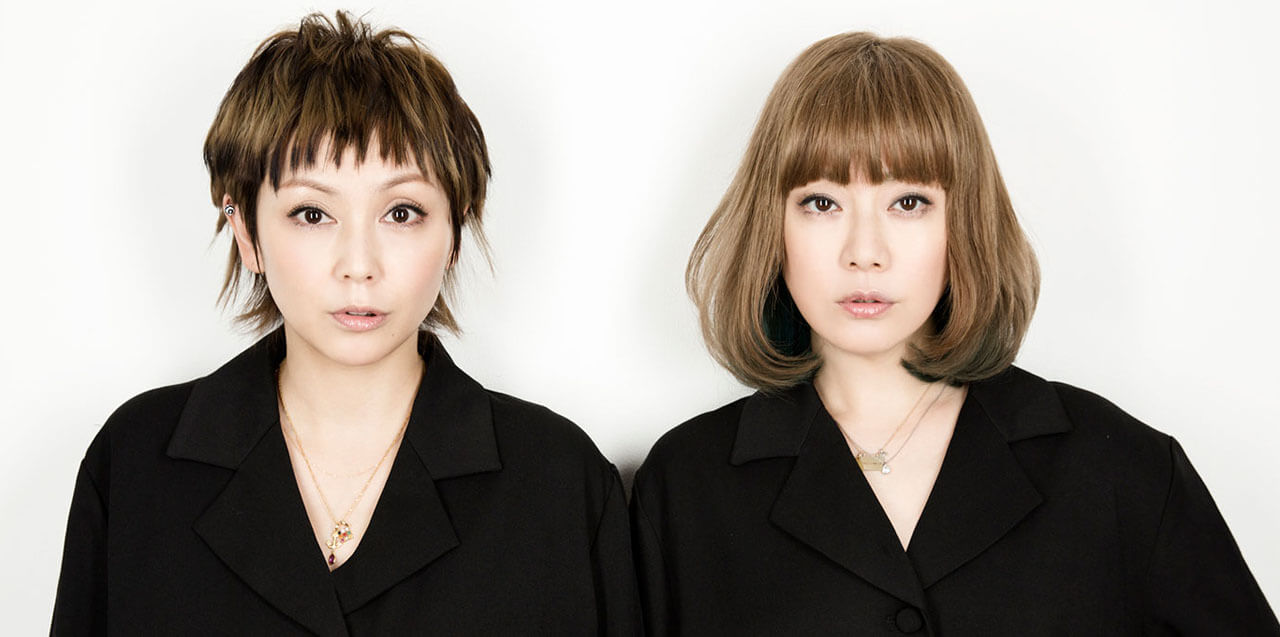 Puffy was at its peak in the late 90s to early 2000s era. Being one of the most popular Japanese artists at the time, they dominated charts and expanded with different projects on both live and animated TV more than once.
For many –myself included– Puffy's appearances on TV was their introduction to Japanese pop music. In their career spanning more than 20 years, they released 37 singles, 11 studio albums, 3 greatest hits compilations, and 5 North American albums. They won prestigious Japanese music awards such as "Best Newcomer" (Japan Record Award) and "Pop Album of the Year" (Japan Gold Disc Award).
Ami and Yumi are still very much active, participating in various conventions and festivals such as their first appearance on the 67th NHK Kokaku Uta Gassen in 2016. They also were present in Anime Boston earlier this year. After the convention, the duo launched a mini-tour around Los Angeles, San Francisco, and Dallas.
Nowadays they're in their 40s, and their popularity is no longer the same as when they were in their prime. Still, Puffy AmiYumi has a solid fanbase of people in the 20-30 age group, and no one can deny their iconic status in Japanese pop culture.
---
Big thank you to our supporters
From their continous support, we are able to pay our team for their time and hard work on the site.
We have a Thank-You page dedicated to those who help us continue the work that we've been doing.
See our thank you page