Zeke here! I'm tagging in on Orange this week. Did the episode come in first place, or did it stumble again? Read on to find out!
---
Note: The following review contains spoilers for the tenth episode of Orange. If you do not wish to be spoiled, please watch the episode before you continue reading. If you haven't seen the series, be sure to check out our first impressions (spoiler-free).
---
Synopsis
Episode 10 wraps up the athletic meet. The girls dress up for a cheerleading event while the boys feign disinterest. We find out that Kakeru injured his ankle in the pole event during the last episode. The group helps Kakeru and Naho carry a mat while coaching Kakeru on his fear of happiness. The big race finally arrives. Azusa promises Hagita bread if he passes a person (and a date if he passes two.) The group says Kakeru should get a kiss from Naho if he comes in first. Through Kakeru's skill (and Hagita's persistence) the class takes first place. He steals a kiss on Naho's cheek while helping her clean up.
The Good and the Bad
This episode had a mix of good and "meh" scenes. Two of my favorites are the big breakthrough scene and the big race.
The set up for the confrontation scene was great. Not only was it a good excuse for the whole group to get together away from prying eyes, but it also included a built-in metaphor for Kakeru's friends helping him with his pain.
In this scene, Kakeru and Naho are moving an athletic mat when Hagita reveals that Kakeru has hurt his ankle. The group goes to confront him about his ankle and insist that he tell them when something is wrong. He finally reveals to the whole group that his mother has passed. Kakeru is afraid that being happy may make his mother sad because he feels he doesn't deserve it. Azusa says that she would want him to be happy. They all grab the mat and say he can let go, they will carry the burden. It's a really good symbol of their willingness to shoulder the pain with him and share their strength.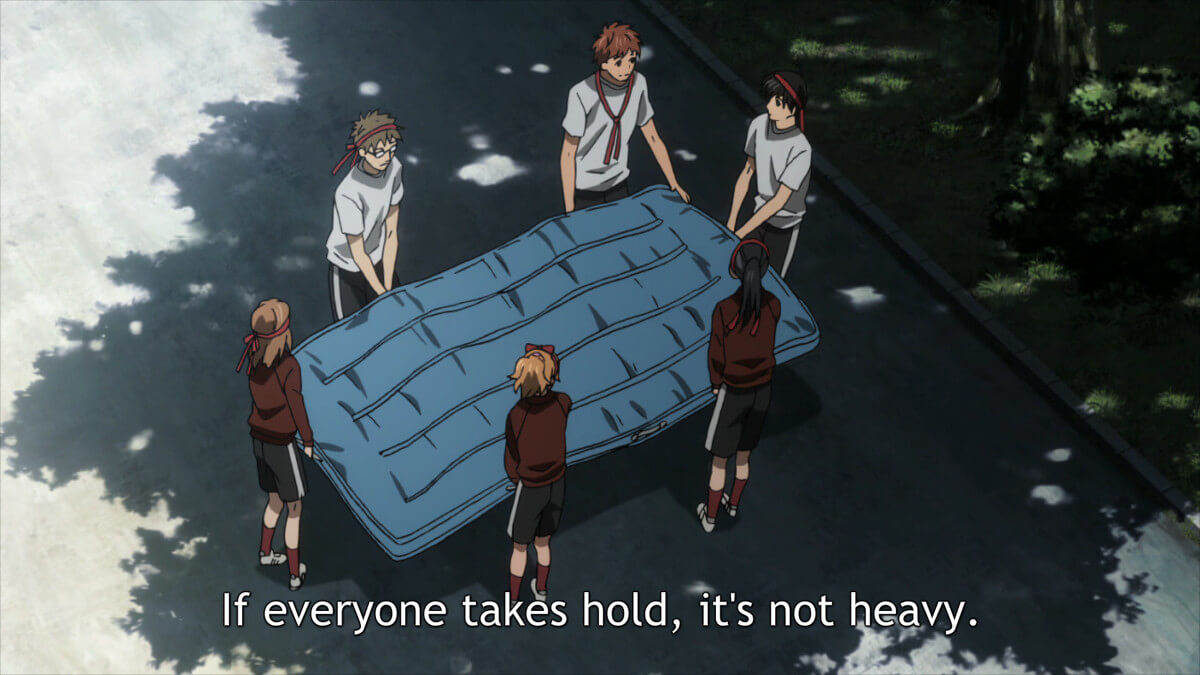 The race scene is another great scene in this episode. It's not so much the race itself (that was portrayed, ehh) but more what happens with each baton pass. Each person adds on to a message to Kakeru. Naho gives him the full message as she hands the baton off to him. It was quite touching and I thought the idea of building the message was clever.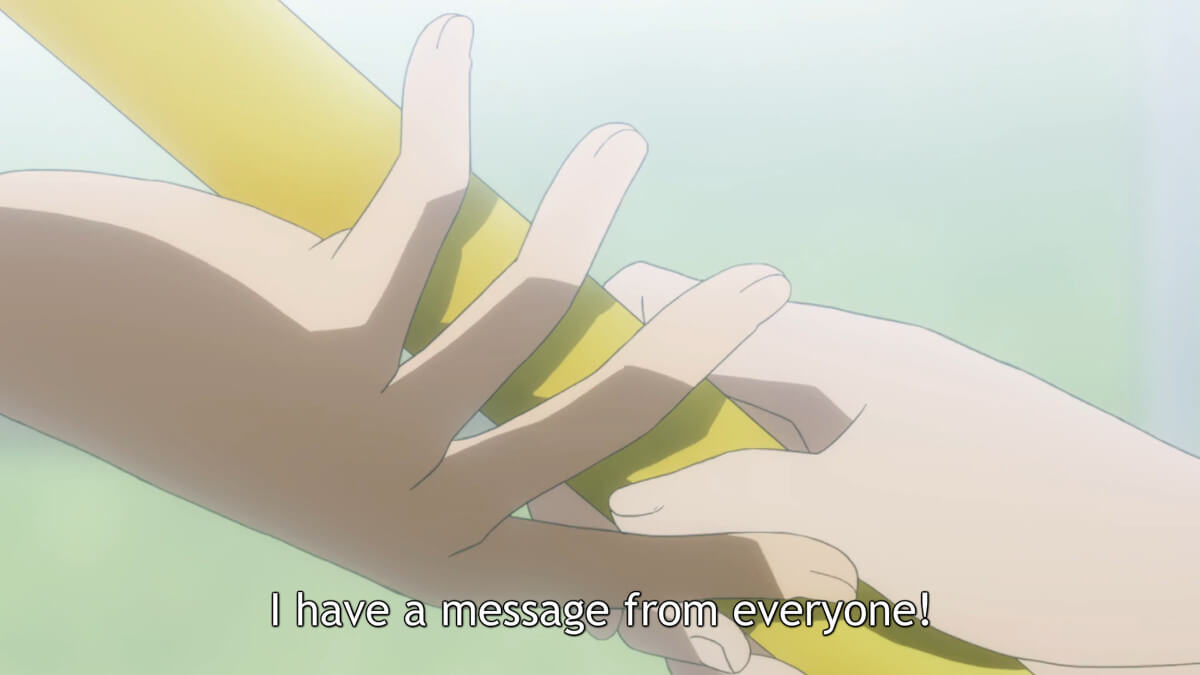 Now for the bad. Well, like previous weeks, there are a couple scenes that don't really seem to go much of anywhere. Now, I understand the need for world building and showing relationships, but we're getting to the end, it's really time to focus on the story. The two I'm thinking about in particular: the cheerleading scene and the beginning of the mat scene.
The cheerleading scene feels like it doesn't really progress much or add a whole lot. Kakeru seems to like Naho in the outfit, we could have guessed that. Now, I know I said I like the mat scene, but that is after the group arrives. Before they show up, Kakeru and Naho's interactions seem, awkward. Do these two really love each other? Sometimes I wonder how they feel about each other.
At this point, it just seems par for the course, but again with the oddly drawn faces. There is a part when the group suggests Naho kiss Kakeru if he wins where the face is drawn odd for comedic effect. But in other places, it still has that cheap or odd feel. I guess at this point we have to say this must be a style the series is going for. It's really too bad given how great the rest looks.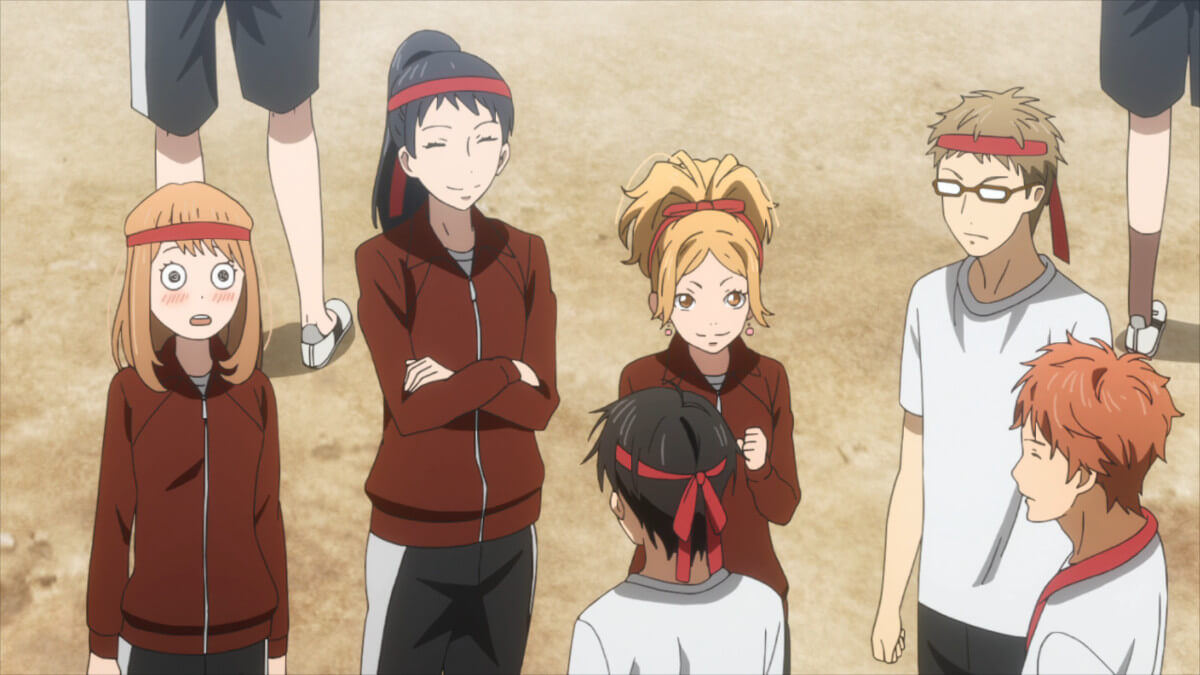 General Thoughts
It feels like the series is making progress again with episode 10. The last couple of weeks, it felt like the group's effort had stalled. The little things they were doing to make Kakeru feel better weren't having much effect. They (and the series) needed a breakthrough like we saw in this episode. Like I've said before, Kakeru needs to confront his feelings to learn to deal with them. His friends have good intentions, but just making him feel a little better won't fix things in the long run. He needed exactly what he got this time, a confrontation about what's really bothering him.
It seems like he has realized he can depend on his friends to share his burden. By sharing it, they can lessen its weight on his shoulders. The mattress scene sets up a bit of nice symbolism of this passing the strain. I feel that by depending on his friends more and trusting them fully, he can get the strength he needs to get through the trauma he has experienced.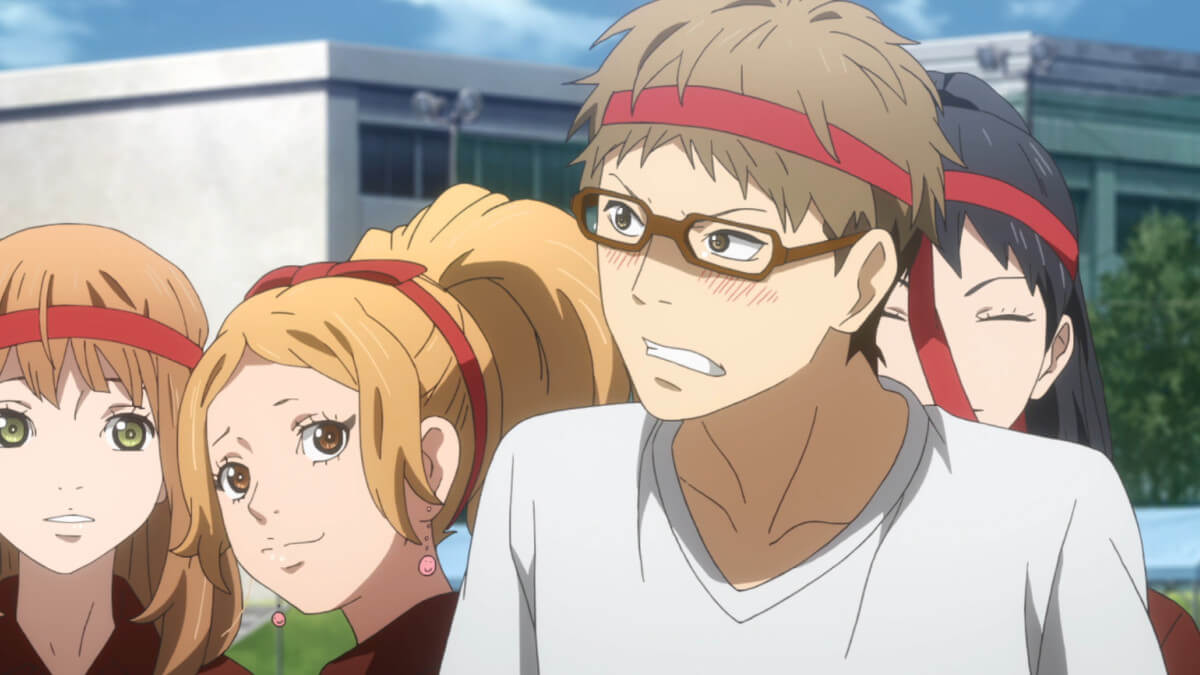 Over these past couple episodes, I've been wondering about Azusa and Hagita. They seem to have a good back and forth and everyone jokes about them being a couple. Will they get together by the end? I'm kind of rooting for them. They have a believable relationship that I can see going somewhere.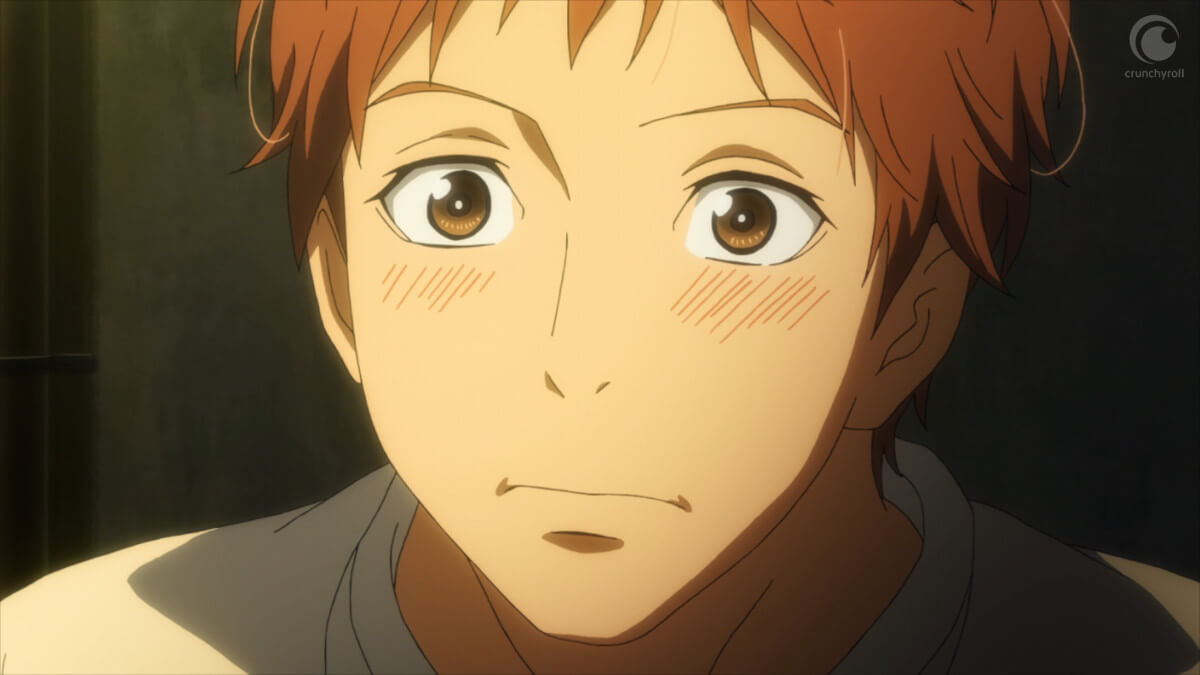 The last shot of this episode has got me thinking about something else: is Suwa really okay with Naho choosing Kakeru? We know in the other future, Naho and Suwa end up together, so Suwa clearly has strong feelings for Naho. He seems to be doing this all just as much to make her happy as to save Kakeru. But that look of surprise on his face when he sees Kakeru steal a peck, I don't know. He does smile, but is he happy? I'm curious to see if he changes his mind if their relationship progresses.
---
I think that, with episode 10, Orange is back on track. I was wary about everything being wrapped up before the series ends in a few episodes, but it seems it may just get there. But with three left, it really is hard to say. Clearly, Kakeru hasn't just forgotten all his pain. And the big day that changes all their lives has still not come to pass. What will the future bring for Orange? It's hard to say, but I for one will be riding this roller coaster until the end.
Big thank you to our supporters
From their continous support, we are able to pay our team for their time and hard work on the site.
We have a Thank-You page dedicated to those who help us continue the work that we've been doing.
See our thank you page