What better time to become a One Piece fan than in the same year the series celebrates 20 years of incredible storytelling. As someone who started watching and reading One Piece only three months ago and is now fully caught up to the current manga chapters, watching One Piece: Stampede felt like a celebration for me, too. It's a film absolutely made for its fans.
It's a Pirate Festival!
The premise of Stampede is a microcosm of the original story itself: all of the scallywags of the world are invited to one big Pirate Festival where a hunt for a legendary, hidden treasure is at stake; treasure said to be from the late King of the Pirates himself, Gol D. Roger. Of course, there is a more sinister mystery underneath the revelry.
For me, who recently dove into a tale two decades in the making, I was worried I would be overwhelmed. Jumping into One Piece's record-breaking story may be intimidating, but its expansive world and robust cast is a boon for Stampede, as it drops Easter eggs, cameos, and certain callbacks to moments from the series fans may not have seen in literal years. There is such sheer joy in recognizing a t-shirt design or customer and proprietor at a takoyaki food stall, and I don't think this level of excitement and heartwarming moments could be possible if the series was shorter. I'm already looking forward to a future listicle naming each and every one of them, should Stampede also receive a North American Blu-ray release.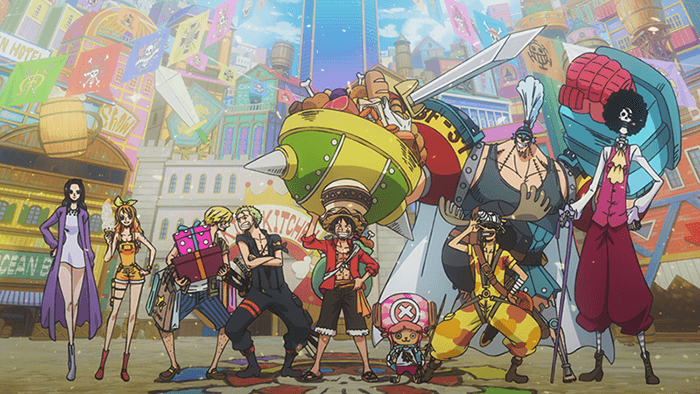 While I'm not unaccustomed to a large cast in a shounen anime series, I initially felt incredibly daunted by One Piece's extended cast of characters because I assumed there would be so much, I wouldn't be able to keep track of them all. But Eiichiro Oda is a master at balancing his expansive world, shuffling the Straw Hat crew into various teams to achieve specific goals that move the story in its signature, exciting pace. Stampede utilizes this same mechanic beautifully as it pulls from an incredible backlog of beloved characters in addition to the Straw Hats, like pirates dubbed as the Worst Generation, the pirate Warlords under the employ of the Navy, and the Navy itself. There are even a few notable pirate villains from the early days of the Straw Hats' journey. It also has the added bonus of showcasing interactions and battles only fic writers and doujinshi artists could dream of, as Stampede takes place outside the main storyline, like most anime franchise films. You can probably name any fan favorite character and I assure you, they get a moment to shine.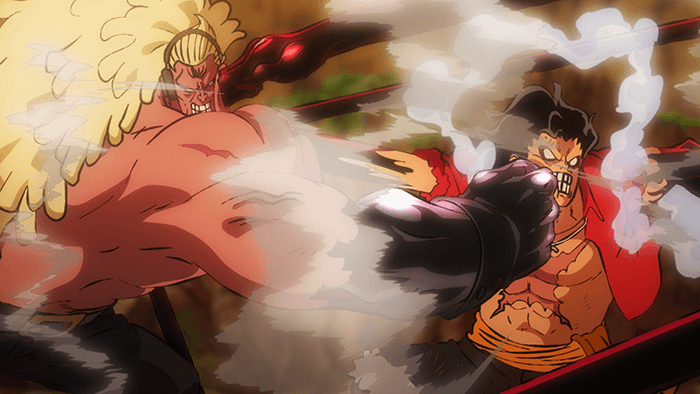 A Festa for the Eyes
The plot is as straightforward as it can be, as the boisterous treasure hunt turns into an all-out battle with its main villain, Douglas Bullet. As I haven't seen the other One Piece films just yet, I'm unable to make comparisons to other standalone villains. However, not unlike One Piece villains from the series itself, Bullet measures his strength in a very literal sense antithetical to Luffy, and Bullet is a beast in the best possible way. As a former member of Gol D. Roger's pirate crew, Bullet has a weight to his reputation and his punches, which makes his threat against an already super-powered hero team incredibly believable.
But one of the most enjoyable things about knowing that Luffy will invariably punch his way to victory is seeing how he does it, because the level of detail in the animation makes you feel like the animators themselves are having as much fun as you are. Stampede has a beautiful blend of 2D and 3D animation that relishes in the scope of a massive island with an enormous cast of characters. Its dynamic camera movements allow the audience to follow along the colorful action sequences seamlessly and, with well-defined line art, it also makes it feel like the manga come to life. Watching your favorite Straw Hat execute their signature power moves rendered in the best possible way on a huge, cinematic screen is an experience I wouldn't miss.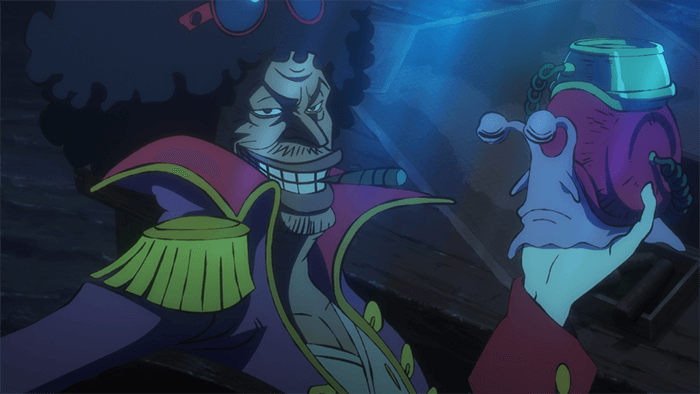 The Verdict
One of my strongest motivations for catching up with the manga since I started the series back in July was being able to watch Stampede spoiler-free, though you don't necessarily need to be absolutely current to have all the context you need. At best, if you've finished the Whole Cake Island arc, you're solid. However, because the plot is so straightforward, I dare say anyone could have a great time with Stampede, even if you knew nothing about One Piece other than it's a crazy pirate adventure, so feel free to bring your friends.
But, to fellow One Piece fans new and old, each Easter egg–like seeing a black-and-white face in the crowd–and each callback to certain moments in the series–like the type of ocean current the pirates use to race toward a fabled treasure island–will immediately bring back those same emotional beats that makes One Piece such a beloved action-adventure series centered on the bonds of found family. There is even a specific, heartfelt moment at the end of the movie that will bring tears to anyone still not quite over the Marineford arc (raises hand) and further rewards the audience with an after-credits scene that drops an in-canon wink to what the story may hold in the future.
I still recall sitting at home with a cup of tea three months ago and turning on One Piece for the very first time, completely unaware of the friendships it would forge and deepen in such a short amount of time. To be able to walk into a movie theater to watch Stampede with fellow fans and become a small part of its 20 year history feels like I'm on my own journey to the end of the Grand Line and hoisting a Jolly Roger pirate flag proudly.
Believe the hype: One Piece: Stampede is a genuine love letter to its fans and not to be missed.
---
One Piece: Stampede will be in United States theaters in Japanese with English subtitles October 24, 29, & 31, 2019, and with an English dub October 26 & 30, 2019. It will also be available in Canadian theaters in Japanese with English subtitles October 25th & November 5th, and with an English dub October 28th & Nov 8th. For more information on screening times and locations, please visit the Funimation Film's One Piece: Stampede subsite.
---
You can also find out what other Japanese/Anime Films are coming to United States and Canada theaters in 2019:
---
Special thanks to Funimation for giving us the opportunity to watch and review "One Piece: Stampede" in advance of the U.S. screenings.
The Good
Stellar blend of 2D & 3D animation
Dynamic action sequences
Lots of Easter eggs & favorite characters for longtime One Piece fans
The Bad
Those not current with the One Piece series don't have the full context for important cameos or moments
Big thank you to our supporters
From their continous support, we are able to pay our team for their time and hard work on the site.
We have a Thank-You page dedicated to those who help us continue the work that we've been doing.
See our thank you page