My Wife is an Oni is a simple, sweet romantic comedy featuring a cute salaryman named Tomoyuki and his adorable demon wife, Mitsuki. What started out as a humble webcomic has now been translated for English readers thanks to the Irodori Aqua imprint. It's a quick and easy slice-of-life story that anyone can read in their spare time, especially if you enjoy watching the relationship between a young couple. 
The manga is created by artist Yamato Nadeshiko as a doujin title released by Irodori comics. As stated in the afterword, they wanted to create a demon-styled rom-com manga inspired by Ibaraki-Douji from Fate Grand Order. Yamato Nadeshiko has previously created works based on Kantai Collection and continues to publish webcomics on Twitter (NSFW) and Pixiv. 
A Simple Love Story For Casual Readers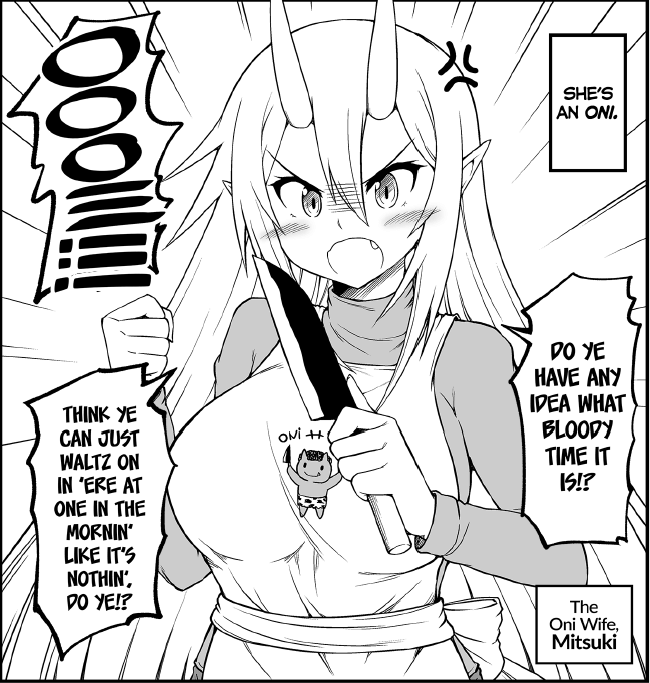 The manga's title pretty much explains the story outright. This is a story that explores the sweet, everyday life moments of an interspecies couple in the real world. As you would expect, there are some odd-couple antics that make up the comedy of this series. Mitsuki is your average tsundere who gets easily flustered whenever Tomoyuki inadvertently woos her. 
Mitsuki acts as a typical housewife with a passionate temper who always gets mad at Tomoyuki for messing things up. In her own words, she'd get so mad she'd want to eat him up. However, there are moments when you catch a glimpse of her cute side, which usually happens whenever Tomoyuki comforts her and causes her to blush. She also has this weird speech pattern due in part to the English translation. I can't figure out if it's Irish or Southern United States slang sometimes. 
Throughout the three short volumes of My Wife is an Oni, this is the basic formula that makes up the entirety of the stories. It isn't complicated and it doesn't have to be because this manga keeps its reading short and sweet. All in all, this manga gives a look at what an interspecies couple goes through and the ups and downs of life as they are adapting to their situation at home. 
Cute Artwork Anyone Can Enjoy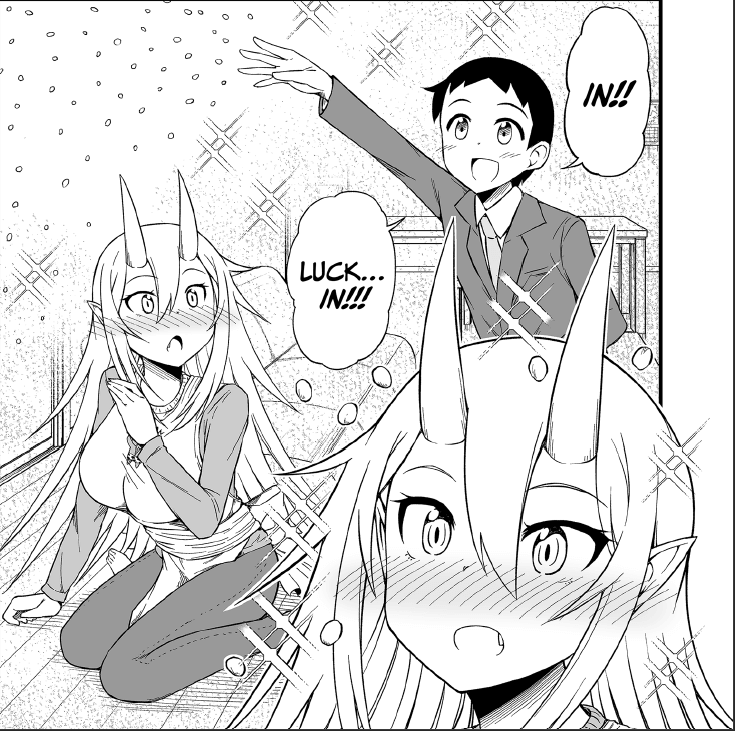 I was a bit taken back because the husband looks way younger than I thought. But, I guess anime doesn't age you that fast, right? Anyways, since the series mostly takes place inside a home, the art can appear limited because we only see their living room most of the time. Additionally, the character designs of both Tomoyuki and Mitsuki are both really cute and help compliment the manga's easy-going, casual atmosphere.
Particularly Mitsuki, whose horns take up a lot of the page, appears like your standard cute demon. And that's not really a bad thing. If there's anything I like in a good rom-com manga, it's a flustered demon wife trying to adjust to married life with an adorable husband. 
Why This Manga is Worth Reading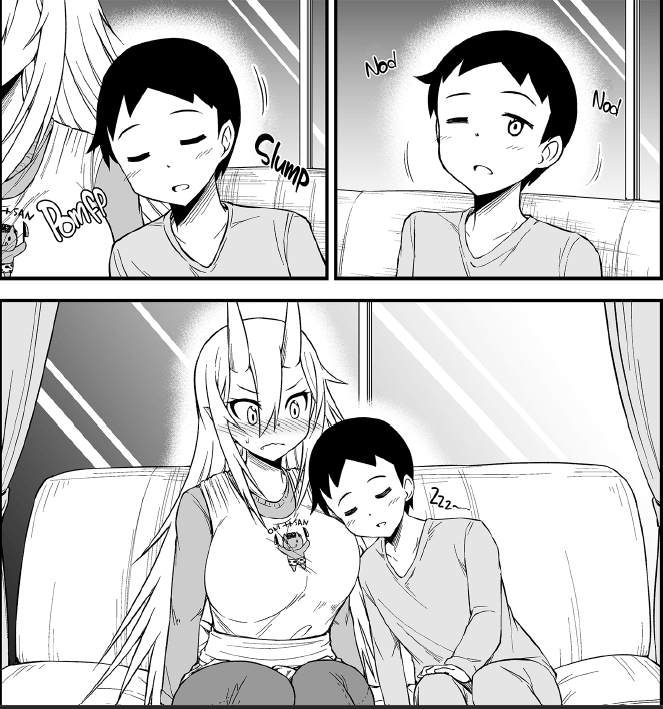 As I've said before, this manga is great for a casual read. The short format due to its origin as a webcomic makes each chapter digestible and simple to follow  Three volumes of the series are available from Irodori Comics now and you can breeze through them in one sitting. If you're into short romantic comedy manga with a supernatural twist, My Wife is an Oni makes a great reading companion for a slow day. You'll definitely be blushing along with Mitsuki after observing her cute reactions and interactions with Tomoyuki.
If you're interested in finding out the releases of upcoming manga and light novels, consider checking out our monthly release guides to stay up to date on newly released books stateside. Be sure to also check out our other spoiler-free reviews from Irodori Comics.
A special thank you to Irodori Aqua for allowing us the opportunity to review this title. 
---
My Wife is an Oni Volume 1-3 Credits
Twitter (NSFW): @nadeshiko0328
Website: http://nadeshiko0328.com
Original Story & Art: Yamato Nadeshiko
Translation: Ed Ayes
Lettering: Firadi Pramana
Compilation and Formatting: Zhuchka & Katarina Kunstelj
Quality Assurance: On Takahashi & Zhuchka
The Good
Tomoyuki and Mitsuki are an adorable mixed race couple worth rooting for
Chapters are short and concise, making them easy reads on slow days
The Bad
Not much substance even by romantic comedy manga standards
Passable art, but limited by singular setting
Big thank you to our supporters
From their continous support, we are able to pay our team for their time and hard work on the site.
We have a Thank-You page dedicated to those who help us continue the work that we've been doing.
See our thank you page