Arrested Love is a series of short, originally self-released (doujinshi) manga by Seiju Natsumegu, who English-language readers might know from their older series Ghost Diary. Its original Japanese title, which translated to something like "The story of a Yakuza and a female detective with a stern face" was extremely descriptive. It is a story about Todoroki, a male member of the Yakuza, and Arigaya, a female police detective who looks angry all the time. What the Japanese title doesn't clearly convey is that they are both head-over-heels in love with each other, although neither realizes the other feels the same.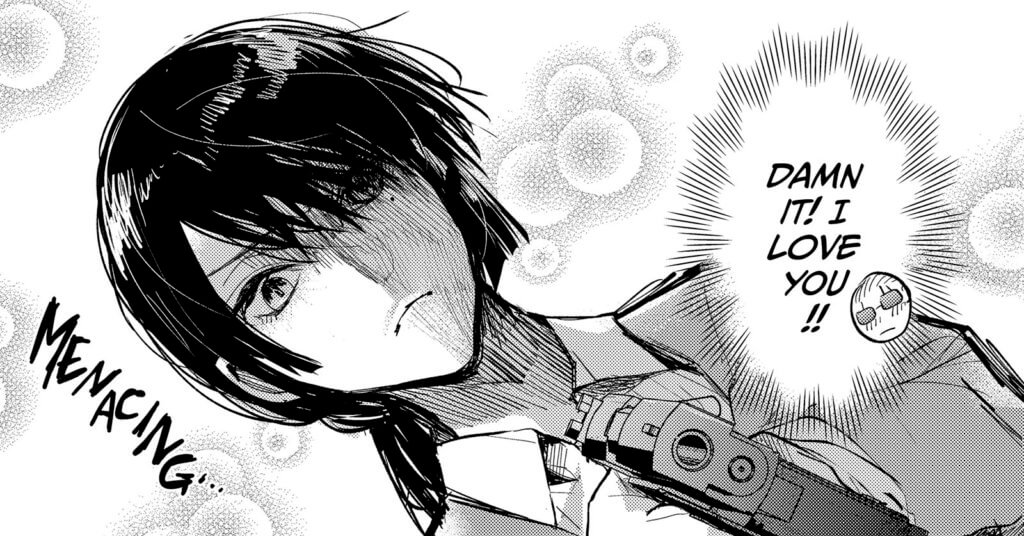 The Good
Natsumegu uses a loose and sketchy art style that I really liked. It's not quite as polished-looking as their earlier serialized manga in English, but I'm sure that's partly due to it beginning its life as a one-off idea on the author's Pixiv account. Regardless, it looks good, and I think the art is more interesting in some ways because of it. Natsumegu does a lot of the shading with lines, or with linework on top of screen tones, rather than just relying on screen tones.
The results sometimes reminded me of what you get when you draw on paper with a pencil and then use your thumb to smear the graphite (is there a proper art term for this? I'm not a proper artist.) You can still see the pencil strokes, but now there's this other smooth layer that fills the spaces in between. I have no idea what media Natsumegu is using to create Arrested Love, but I like that it doesn't have the ultra-clean, very digital look that a lot of modern manga has. It stands out.
I also can't say enough about the quality of Irodori Aqua's release of this manga. I'm always disappointed when I buy digital manga that doesn't include the back cover, for example or reading individual chapters on serialized services that don't include translation and lettering credits. Despite this being short and digital, Irodori Aqua pulled out all the stops for this release. Front and back cover are included, English version credits are placed before the comic instead of hidden away at the back, and it even includes the author's notes and an extensive explanation of what doujinshi manga is.

The Bad
The big issue for me is how quickly the one joke this manga has to offer stops being funny. It's important to note that it is quite funny at first, but its structure is very self-limiting. Each short chapter, the two characters cross paths during the course of one of Arigaya's investigations. Out loud, they posture and threaten each other, but internally they're both moaning about how the other would never reciprocate their feelings, given their positions in society. The joke never really varies and gets old halfway through. Since the manga is only 27 pages counting the covers, that's way too fast.
The Verdict
Despite appealing art and a super high-quality release, the content of this manga just doesn't quite do it for me. This volume ends with a bit of a cliffhanger, which gives me hope that Arigaya and Todoroki's relationship could change in future chapters, bringing new possibilities for jokes with it. But as it stands now I don't think I'd recommend it, at least not until another volume is out to see how things go.
---
Arrested Love Part 1 Credit:
Translated by Ed Ayes
Lettered by Tim Sun
Compiled and formatted by CC Su
Quality assurance by On Takahashi and Zhuchka
Original story and art by Seiju Natsumegu.
---
Thank you to Irodori Aqua for the opportunity to review this manga.
The Good
Appealing, pencil sketch-like art style
Fantastic release quality
The Bad
Quickly wears out its only joke
Big thank you to our supporters
From their continous support, we are able to pay our team for their time and hard work on the site.
We have a Thank-You page dedicated to those who help us continue the work that we've been doing.
See our thank you page