Summer 2016 of anime is here, folks! There are many shows in this season's lineup, one of the most anticipated anime is Love Live! Sunshine!! Even with its immense popularity, there are those who have not seen the original Love Live. For the newcomers who just started Love Live, I am happy to tell you that you do not need to watch the first series keep up with Sunshine! Sure, there may be a few throwbacks and mentions, but I do not believe they matter much in the grand scheme of things. Of course, for those who want to get into Love Live, here's a brief description of what it is.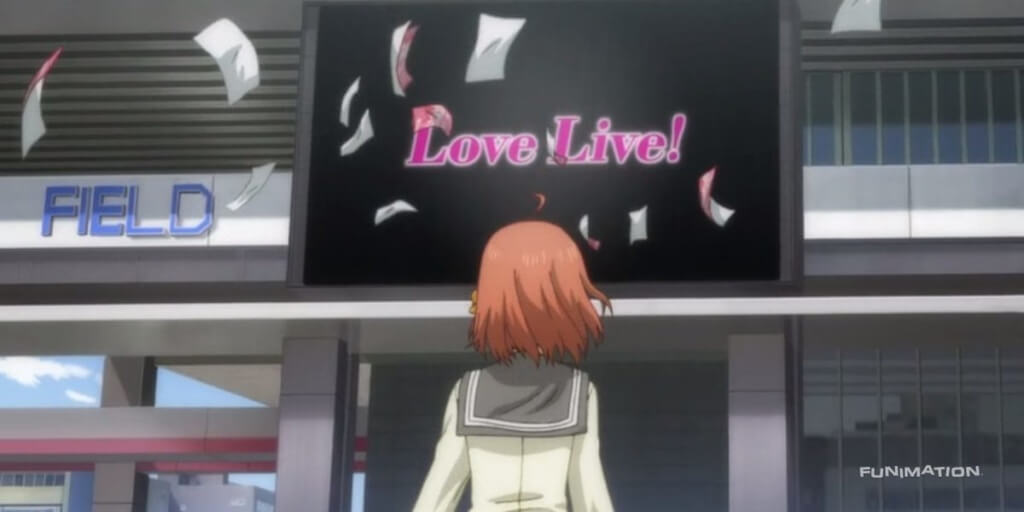 Love Live School Idol Project is a Japanese multimedia project co-developed by ASCII Media Works' Dengeki G's Magazine, music label Lantis, and animation studio Sunrise. Since its rise, many concerts have been held, tons of fans have appeared, and a new franchise has been born.  Now that Love Live! Sunshine!!'s first episode has been released, I'll be taking a look on how it fairs!
Story & Characters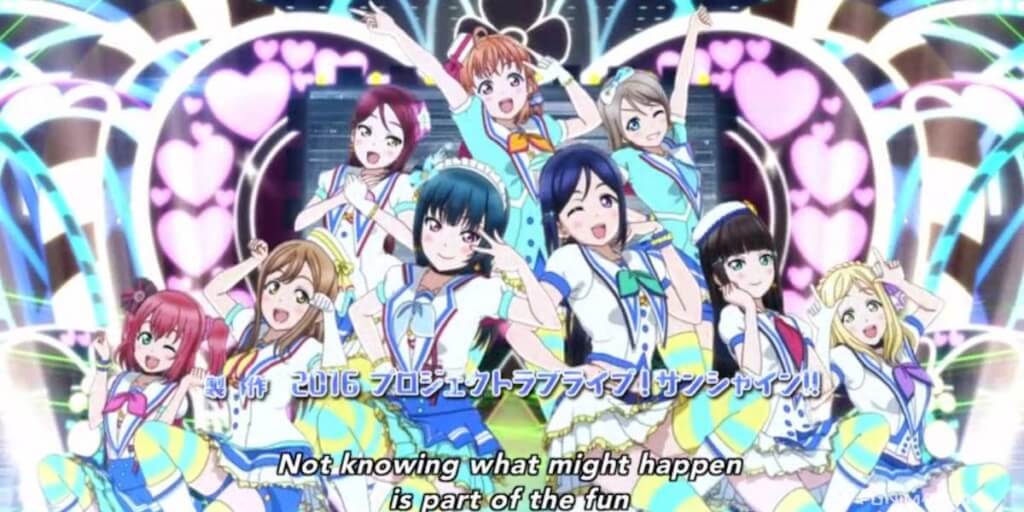 The first episode has a little bit of everything, and it blended together very well. The art and animation are already better than the previous Love Live! and the characters are coming together nicely. The story remains the same with the goal of becoming a school idol and aiming for the Love Live. How Sunshine plans to get there is what will keep me coming back for more. As for my first impressions, it feels like Sunshine will have stronger characters since they seem more expressive.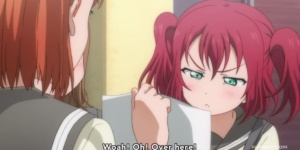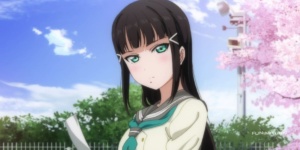 Speaking of characters, while we do see the main 9 girls, only a few get focused on due to the episode's time limit. The cast during this episode consists of Chika Takami, the determined girl wanting to be a school idol. Along with Chika is her childhood friend You, who is supportive of Chika's goal. The episode also throws in Yoshiko, Dia, and even Riko to give us an idea of their characters. While Sunshine continues to air, I do look forward to seeing their personalities and how they will carry the story.
Art, Animation
The art looks gorgeous throughout this first episode and already surpasses any quality the previous Love Live had. You can see this when it comes to the atmosphere and backgrounds, from the water flowing fluidly, to the trees swaying naturally. Character designs appear similar to the previous Love Live, yet, it is unique, refreshing, and new. The coloring of the 9 girls, as well as their glossy eyes, showcase the creative design and new feeling very well.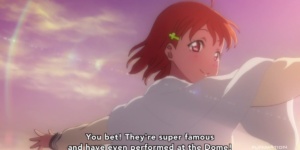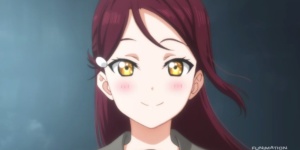 Just like with the previous Love Live, CGI is used in Sunshine for idol sequences to display movement, dancing, and posing. Compared to its former series, despite the awkwardness, it contains, the CGI does look better. It also appears to be used less frequently in this first episode, but as the series continues, more of it will surely be used. Any other animation looks fluid as it showcases characters interacting and object movement flawlessly.
Music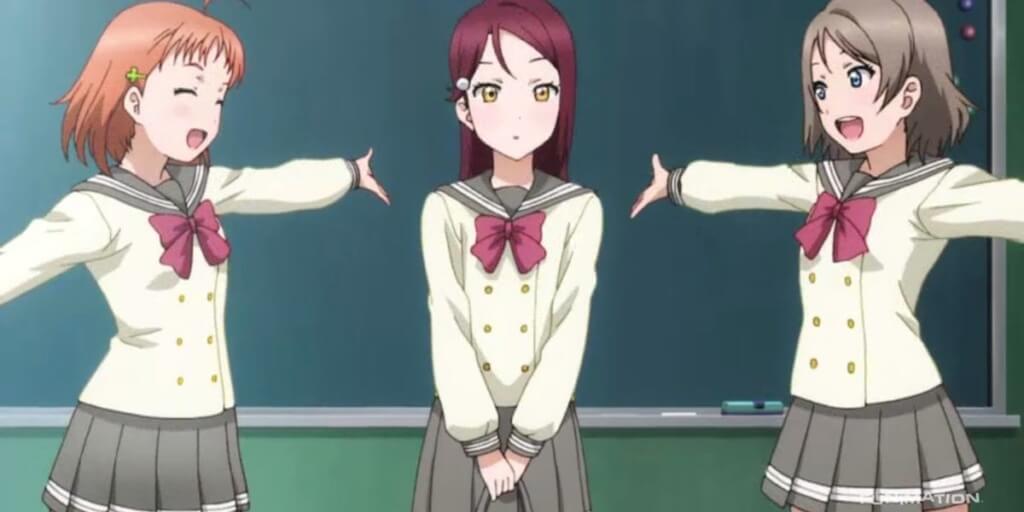 Although I haven't kept up with any singles released for the soundtrack of Sunshine, the idol tracks sound appealing. It has that feel of idol music to it and with this anime being an idol series, it fits well. There isn't enough music in this first episode to get a decent grasp of what tracks await us, but if it is anything like the first Love Live, I am excited.
Overall Thoughts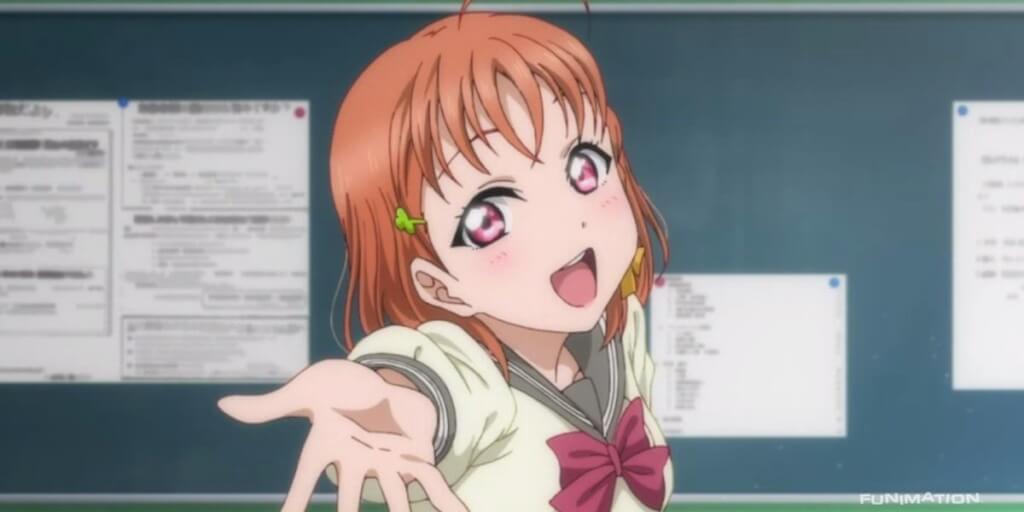 If you are not aware, I am not a fan of CGI. I have always felt the CGI in Love Live was awkward and it still feels that way with Sunshine. Although, it does looks like it is used less frequently in the first episode. That or maybe I am getting used to effect. Despite that, do I think the first episode of Sunshine is good? Yes. Do I think you should watch it? Heck yeah! Everything is being set up slowly, but surely, and seeing how these girls make it to the Love Live will be entertaining!
Also, I heard one of the 9 girls plays video games. I think that is awesome! If one of you could comment below on which girl does, that would be terrific. Oh, tweet me on Twitter works as well!
Big thank you to our supporters
From their continous support, we are able to pay our team for their time and hard work on the site.
We have a Thank-You page dedicated to those who help us continue the work that we've been doing.
See our thank you page