Satomi is a quiet, shy girl who's determined to change, even if it's just a little. When she was in middle school, she decided not to tell her crush her feelings, and ever since she's been left with regret. Now that Satomi is in high school, though, she's decided not to let that sort of opportunity slip through her fingers again. So, after being saved by classmate Yagyu, she wastes no time in confessing her feelings. To her surprise, he agrees to date her! But where do they go from here?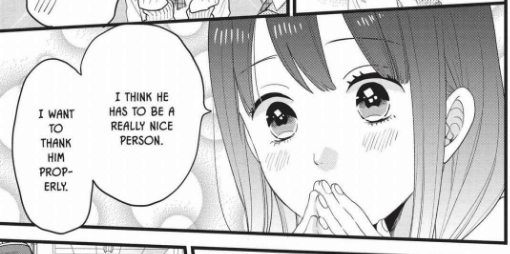 The Good
Ima Koi is a cute and simple story of a girl coming out of her shell and experiencing love for the first time. Satomi is a very sweet character with a heart of gold, and seeing her navigate her own feelings was very heartwarming. Though she struggles with expressing herself at times, she doesn't hesitate to stand up for what she believes in. Similarly, Yagyu is kind, caring, and observant. His quiet and straightforward demeanor makes him intriguing and endearing at the same time. Combine this with a good translation and cute artwork, and you have a pretty solid first volume to the series.
The Bad
As much as the premise is right up my alley, Ima Koi couldn't keep my attention. Though the characters were sweet, they were very plain, and the volume felt like a copy/paste of other similar series I've read recently.
The issues I found mostly involved the structure of Ima Koi. The pacing of the story felt a little off, the character interactions were inconsistent with their personalities and character development, and the romance just didn't feel authentic. Instead of being sucked into this cute, budding relationship, I couldn't help but doubt the sincerity and conviction behind the two's confessions. It's not a promising start to a rom-com when the first volume has me betting on their inevitable breakup.
The Verdict
Ima Koi – Now I'm in Love volume 1 was an okay rom-com with slice-of-life vibes. While nothing in the story stood out as exceptional or unique, it was at the very least inoffensive and a decently fast read. Fans of sweet and soft stories are sure to find a lot to love with this series, but as for me, I'm not quite clamoring for the next volume.
---
Credits
Story and Art: Ayuko Hatta
Translation and Adaptation: Jan Mitsuko Cash
Touch-Up Art and Lettering: Inori Fukuda Trant
Design: Shawn Carrico
Editor: Nancy Thistlewaite
Publisher: Viz Media, LLC
---
If you're interested in Ima Koi, you might like…
The Good
Cute artwork and characters
Heartwarming rom-com story
The Bad
Character development and plot pacing is inconsistent
Story and characters are bland
Big thank you to our supporters
From their continous support, we are able to pay our team for their time and hard work on the site.
We have a Thank-You page dedicated to those who help us continue the work that we've been doing.
See our thank you page