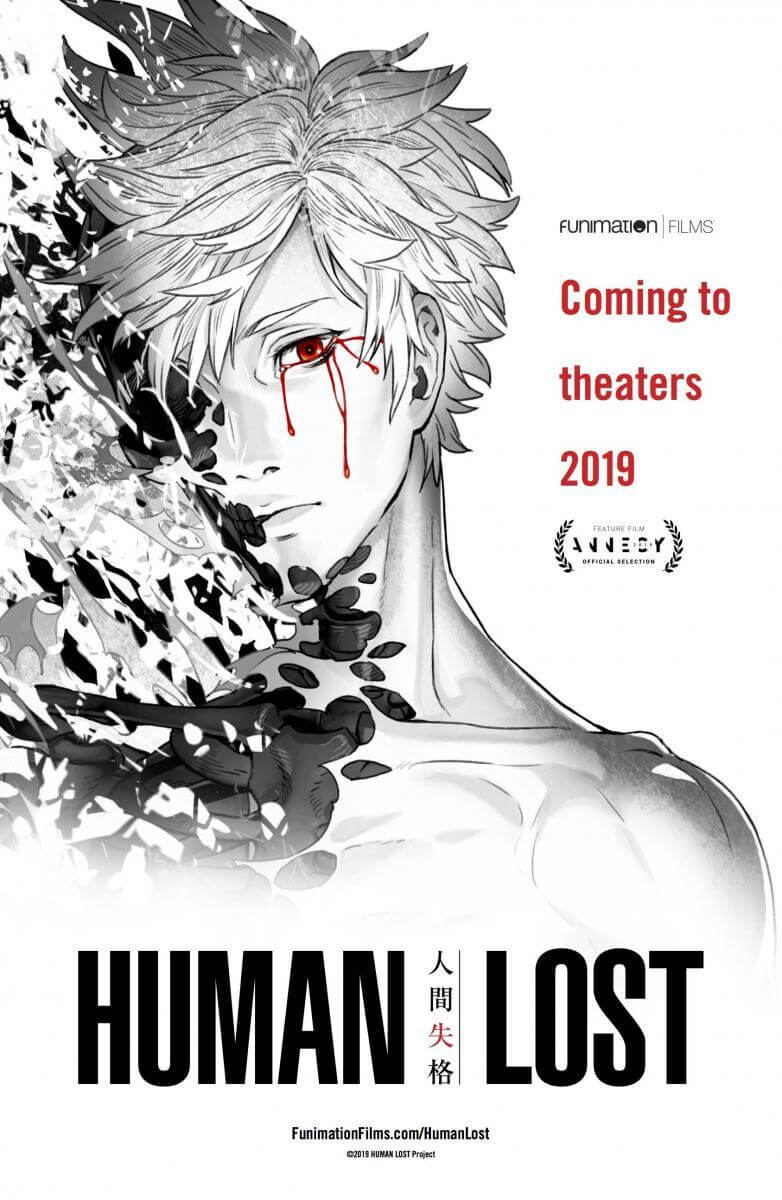 Human Lost is a 2019 science fiction anime film directed by Fuminori Kizaki and animated by Polygon Pictures. The film is loosely based on Osamu Dazai's 1948 novel No Longer Human, borrowing some concepts and characters from his iconic work.
Besides receiving a banging music video from m-flo and Spanish artist J Balvin (it's awesome, check it out below), Human Lost showcases an improved animation production from Polygon Pictures and an interesting update to Dazai's original novel.
What It's About?
In the year 2036, Japanese society has evolved their lifespan by removing all remnants of death and disease. The S.H.E.L.L (Sound Health Everlasting Long Life) medical system helps society by inserting nano-machines into every Tokyo citizen, healing wounds and resurrecting people back to life – albeit at a risky cost. A young man named Oba Yozo loses his close friend when he turns into a beast called a Lost. Having also transformed himself, he's able to retain his humanity and becomes the Third Applicant – a rare specimen seen as a savior for humanity. He later meets Yoshiko Hiiragi – the Second Applicant – who helps him in his ordeal. All the while, an enemy seeks to undo the actions of S.H.E.L.L.
The Good
Like many science fiction films, Human Lost asks the age-old question: what does it mean to be human? Drawing from its source material, death plays prominently as a theme with the film's story and its main character (who has the same name as Dazai's protagonist in No Longer Human). I appreciate when sci-fi films leave us with some food for thought after we've left the theater. It leaves us with the impression that the future humanity has been working towards may not be as hopeful as we think.
In the film's case, death proves that you're human and that there's an end to life. The core conflict is when humans decide to mess with this rule and overextend their lives to immortality. It's something that Oba wrestles with himself constantly over. After meeting Yoshiko, he realizes the importance of mortality for himself. There are various pros and cons to a life without death or illness, and the addition of the Lost beings demonstrate the severity of the consequences.
Human Lost attempts to portray a utopian society that is flawed and dystopic. A select few from the upper ranks of the Inside society – an area secluded from the barren wastelands of the Outside – are given more preferential treatment. It's ironic seeing a society with a better healthcare system still fail to care for the public. The film analyzes a system that is a supposed benefit to society and how it affects normal people like Oba. From here, the film is really great at showing sympathizing characters. You don't really know who to root for or against because everyone's motivations come from a reasonable place.
One last thing of note is the art and animation, which is also pretty good. For people who are still not used to the 3D CGI production of Polygon Pictures, their hard work is on display here, as the animation is less janky than in some of their previous works. Director Fuminori Kizaki draws from his past involvement with Afro Samurai by matching the dark tone and imagery of the story with just the right amount of gritty, bloody moments.
The Mediocre
While much of Human Lost tackles the philosophy of life and death pretty well, its ending leaves me with mixed feelings. The film as a whole feels all over the place at times because it deals with many heavy topics simultaneously. You can sometimes lose track of the plot if you're not paying attention.
The film also has this screw-all-of-humanity vibe going on that I'm not totally loving because it leaves some bittersweet feelings and unresolved conflicts. It isn't entirely depressing, but I didn't particularly feel great after watching it either. Ultimately, how you react to the film depends on how you receive Oba's final resolve in the finale.
Final Verdict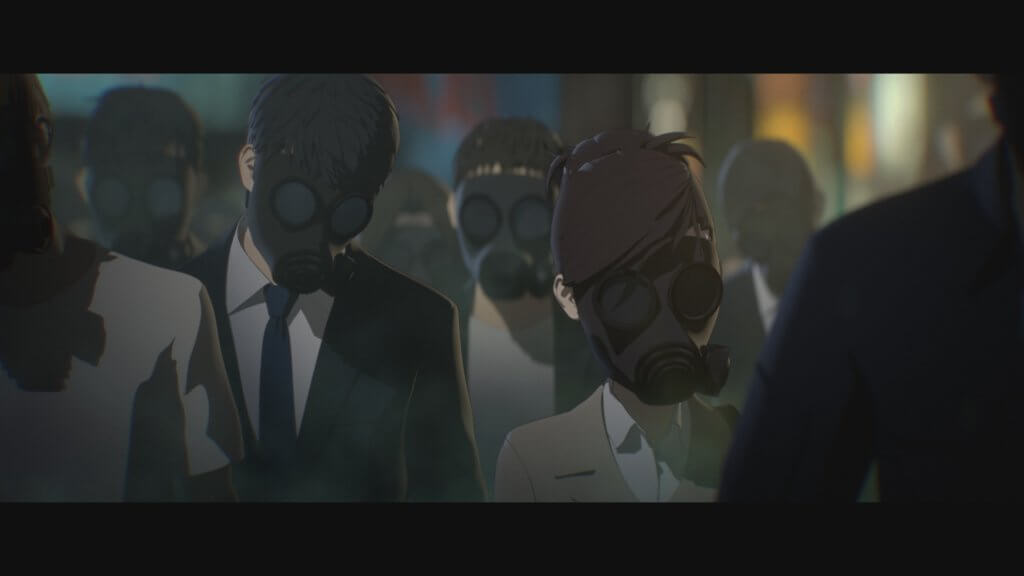 "Mine has been a life of much shame" – Osamu Dazai, No Longer Human
This important phrase uttered by Oba pops up in the beginning and finale of Human Lost. It's also a prominent line from Dazai's No Longer Human, pointing out the inner demons within ourselves. While Human Lost is not an entirely accurate adaptation of the original novel, the core themes and ideas of the story are still effectively used in certain aspects of the film.
Science fiction can reveal flaws in the present human condition and Human Lost applies this by drawing from the past. No Longer Human is a classic example of Japanese literature, and the futuristic anime movie it inspired proves that death isn't necessarily the end, but a new beginning.
---
Human Lost will be in US theaters October 22nd (subbed) & 23rd (dubbed) and Canada cinemas November 6th (subbed) & 9th (dubbed). For more information on screening times and locations, please visit the Funimation Film's Human Lost subsite.
---
You can also find out what other Japanese/Anime Films are coming to United States and Canada theaters in 2019:
---
Special thanks to Funimation for giving us the opportunity to watch and review "Human Lost" in advance of the U.S. screenings.
Big thank you to our supporters
From their continous support, we are able to pay our team for their time and hard work on the site.
We have a Thank-You page dedicated to those who help us continue the work that we've been doing.
See our thank you page