This episode of Grimgar was a great way to end the series. It is full of charm and satisfaction from the story and characters. The episode also contains action to keep it interesting and the music used adds a pleasant feeling to the atmosphere. Let's dive in.
Spoilers ahead! If you haven't seen this episode, I suggest you stop here! If you haven't watched this series, please have a look at my first impression of the show (Spoiler Free).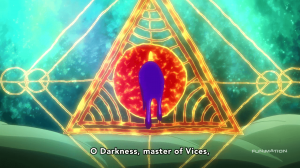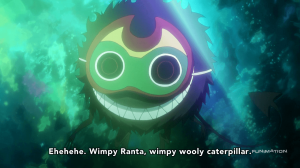 This episode of Grimgar is full of every element that is presented in the show, from action to characterization, and even that feeling of fantasy, all starting with Ranta's survival. Despite the annoying demon he summons that sounds like a hyena, depicting Ranta's life being in danger adds great tension to the atmosphere. Every member of the party gets a piece of the action as they deal with the Kobloids, which is a treat for the audience. Haruhiro's resolve on being a leader is satisfying, since he thinks of his friends before himself, which gives the final touch to the development of him. He has always been concerned by his skills as a leader, but for him, getting along with his teammates and keeping them safe was more than enough and was proof that he was doing a good job as a leader.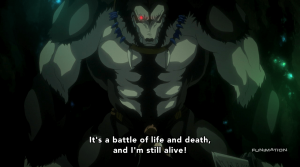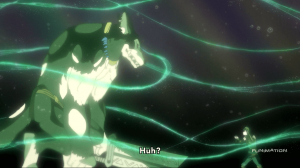 The most interesting scene for me was Haruhiro versus Death Spots. Not only is it beautiful, but it is also an important moment for Haruhiro as a leader. With his resolve as a leader, he makes sure his friends got to safety and confronts Death Spots alone, which could potentially lead to his death. Everything is on the line during this moment and if he can live, he will do it until he dies, which he states before taking on Death Spots. His statement implies a concept similar to taking a risk with a double-edged sword. By sacrificing his life for his friends' safety, he will bet it all to make that happen and he will continue to do so until death. This triggers his near-death trance that we have seen him go into before, which looks amazing, along with the calming sound effects. The slow motion animation depicting Haruhiro's movement, along with the coloring of the lines showing the critical spots of where to strike, and the change in art when he attacks Death Spots were gorgeous.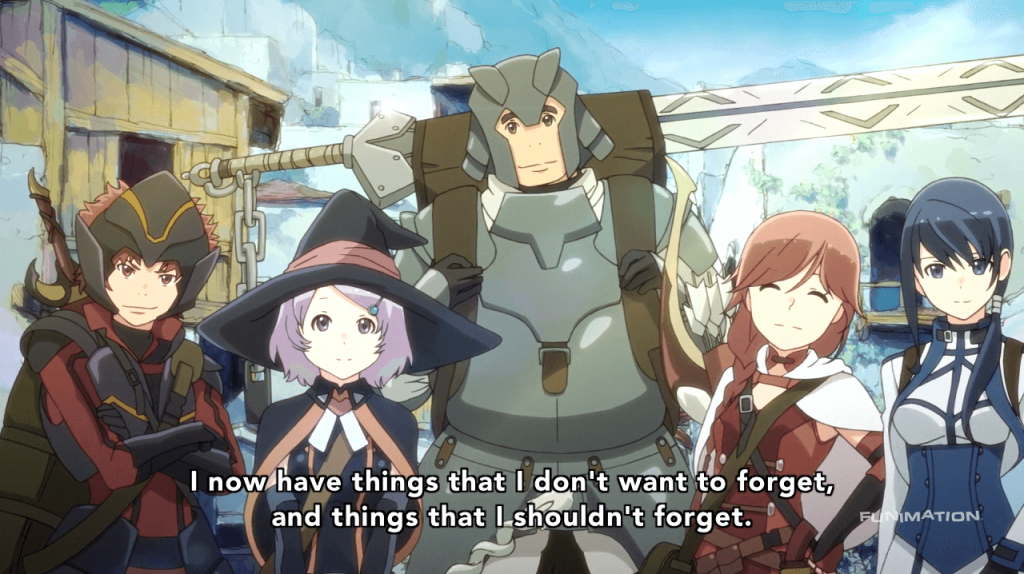 Grimgar doesn't stop there, it adds unexpected characterization from Renji. I enjoyed the moment where he apologizes to Haruhiro and the rest because it shows that he doesn't feel sympathy towards them, rather, he has respect now, especially since it is known that Haruhiro took down Death Spots. The grave scene where Haruhiro converses with Manato displays how much he has grown since taking the role of leader. He realizes that there are things he has forgotten, but as long as he lives, he will strive to remember as well as look forward to the tomorrow that awaits him. His experiences have given birth to that thought, and as long as he follows that resolve, tomorrow will surely come.
With that in mind, the conclusion to Grimgar was a blast and I look forward to writing the full series review. With positive thoughts of Grimgar in my mind, I look forward to recommending this series to anyone wanting the thrill of a fantasy and fun characters. If there are plans for another season, I will highly anticipate it, and if the novels get translated officially, you can guarantee I will have my copy ready for reading!
Big thank you to our supporters
From their continous support, we are able to pay our team for their time and hard work on the site.
We have a Thank-You page dedicated to those who help us continue the work that we've been doing.
See our thank you page