A few years back, I remember reading some Japanese fan survey on what anime series fans thought could work as live-action. This was during the time when the Rurouni Kenshin live-action movies showed what a well-done adaptation was like. On top on that survey was a series that made me go, "Well, this could work." It was Hideaki Sorachi's Gintama.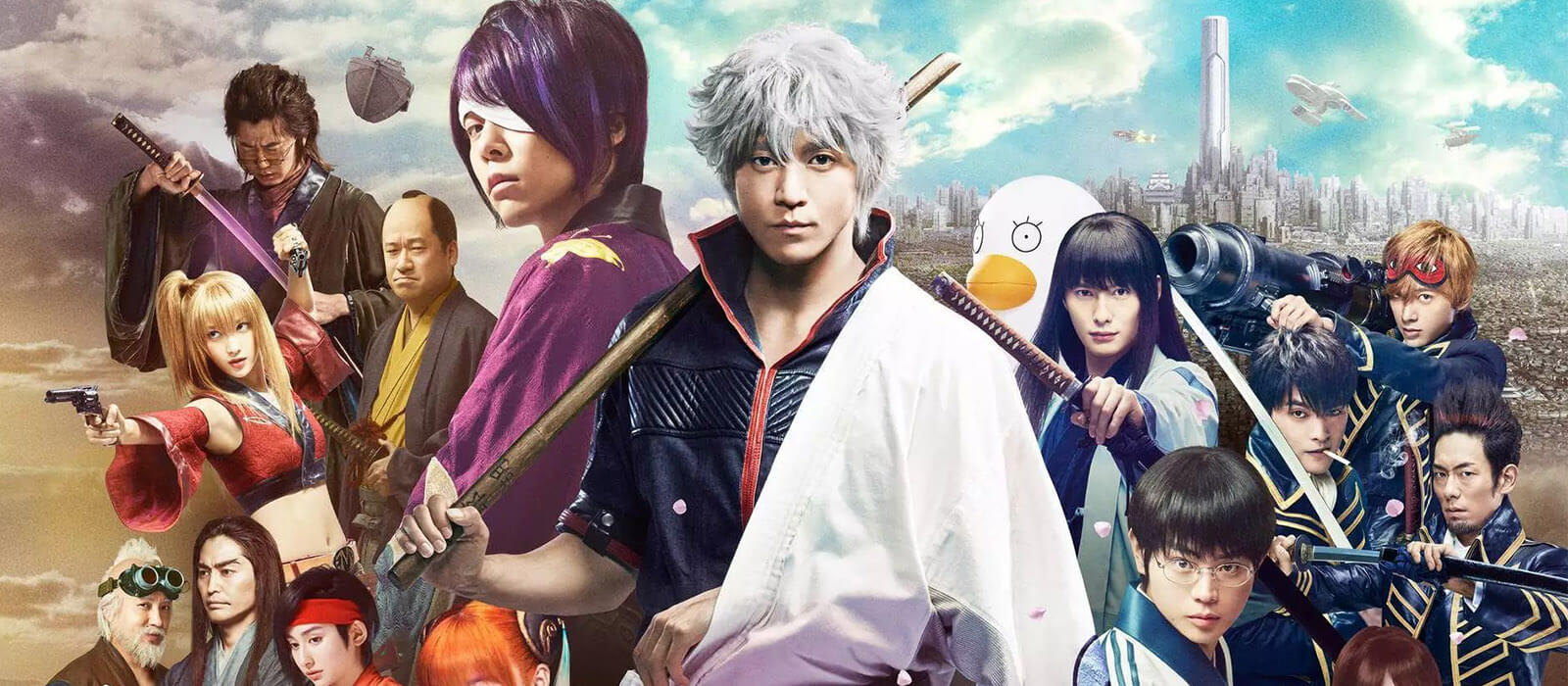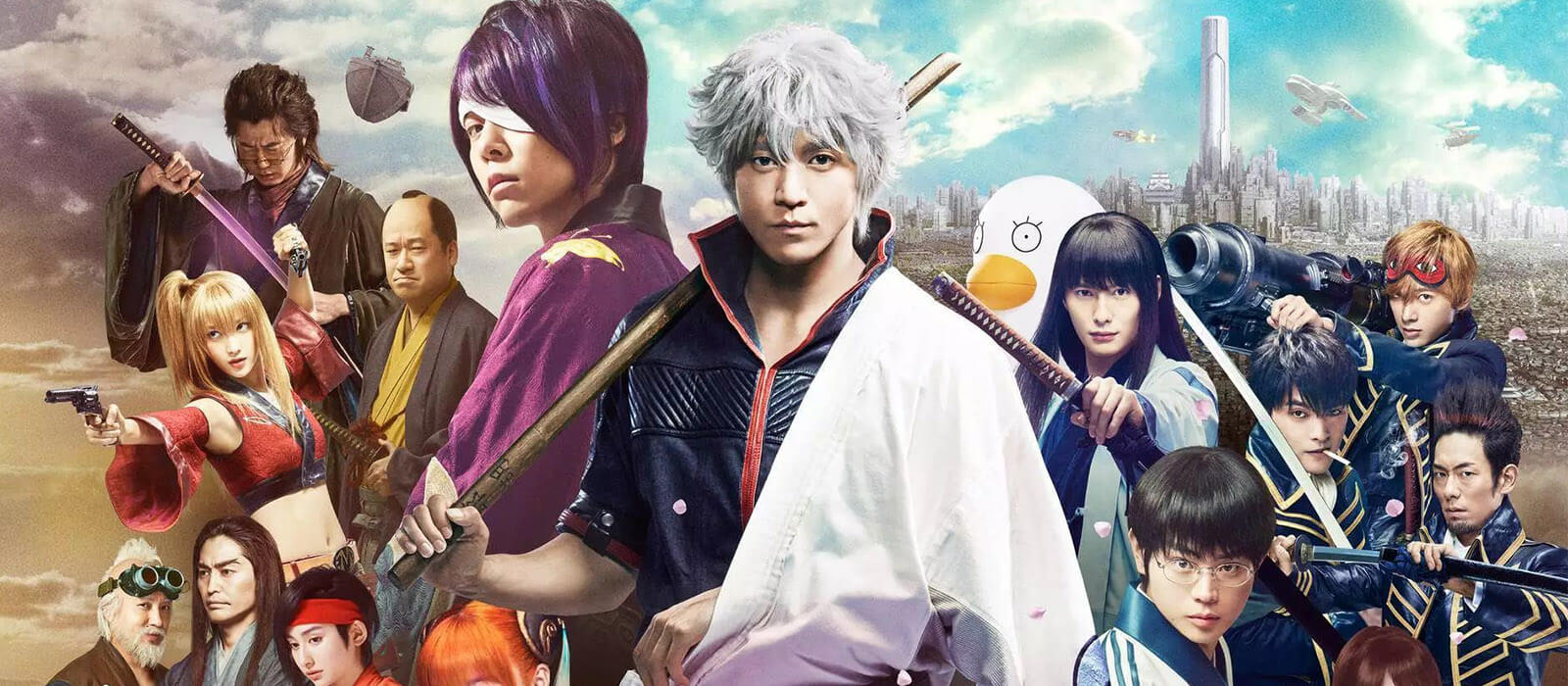 To much delight and possible skepticism from fans, a live-action movie adaptation of Gintama was announced in 2016. The movie would come out in the summer of 2017 in Japan and go on to become a box office hit. Azoland Pictures managed to nab some screenings for North America and Canada and, as a huge fan of the series, I had to go see it.
I had a blast watching the film, but I was reminded of how real the limits are for a series that prides itself in being very off-the-wall.
The Gist of It
Gintama is about a fallen samurai named Gintoki Sakata, who works as a Yorozuya, a freelancer doing all kinds of odd jobs to get by. He lives in a Japan where aliens, called Amanto, have taken over Edo and the samurai have become obsolete. Edo is basically a mix of feudal Japan and today's modern city settings. Gintoki is joined by Shinpachi Shimura, a young man who becomes his sidekick and token joke character, and Kagura, a super-strong alien girl who speaks with a Chinese accent and a hunger that never ends. Together, they make up Yorozuya Gin-chan, a team of freelancers who go on episodic adventures that often end in laughter and misery for everyone they encounter.
The movie starts off with how Gintoki and Shinpachi first meet a la the anime/manga, then goes off into an opening where the main star, Shun Oguri, who plays Gintoki, sings a very cheesy song to set the mood. The movie then goes into a Japanese-program style segment based off of Tokyo Broadcasting System's "Count Down TV," where the Yorozuya introduce themselves and the context behind the characters, all while breaking the fourth wall. The movie then restarts with the famous Warner Brothers movie introduction and the story REALLY begins.
The Gintama movie starts off with a condensed version of the beetle hunting story (Episode 65 of the anime) and then goes straight into its version of the series' first meaningful action arc, the Benizakura arc, where our heroes are tasked with finding a cursed sword and discover a bigger scheme in the process. Along the way, some of Gintama's most memorable characters make their appearances. From the very popular Shinsengumi, to series' antagonist Shinsuke Takasugi, to two of its lovable mascot characters, Elizabeth and Sadaharu, there is a lot of fanservice that brings the material to life.
Oh, My Sides!
First off, I found the live-action version to be very funny. There were tons of jokes throughout the film. There was a reason why the Gintama movie staff wanted to remind fans that, despite the trailers being full of action, it's still a comedy at heart. Expect tons of arguing, dirty jokes, and parody references that will have you laughing out loud. Every character featured in the film, with a few notable exceptions, had a comedic moment to shine.
There were two gags in particular that had me dying in laughter: one involved a certain popular mech anime series and the other being a well-known Hayao Miyazaki film. Both really showed off the comedic risks that the anime/manga were willing to take to please fans.
What Idiotic Yet Brilliant Characters
A lot of attention was given to the cast of the Yorozuya. Shun Oguri (Gintoki) is a hot star in Japan and has actually done a number of roles in anime-related live-action projects. Masaki Suda (Shinpachi) was GQ Japan's Man of the Year in 2016 and has also acted in various anime-related live-action series. Kanna Hashimoto (Kagura) is considered to be one of the hottest idols in Japan today. All 3 managed to do a decent job as the lovable morons Gintama fans have grown to love.
Oguri managed to pull off the cool aloofness that makes Gintoki one of fangirls' most favorite male characters. Suda was basically a taller version of the meek character that is Shinpachi and that made him endearing. Although Hashimoto's voice sounded a bit too rough at times, she captured how tough, vulgar, and silly Kagura was.
Some of the side characters also had stellar performances. The standout ones were Masami Nagasawa as Tae Shimura, Hirofumi Arai as Nizo Okada, and Jiro Sato as Henpeita Takechi. I was really impressed with those 3 in particular because the sequences featuring them were full of laughs, or had perfect portrayal of the characters from the source material.
I Don't Get The Joke
Despite how funny Gintama was, its greatest strength is also what makes it hard to get into the series in the 1st place. While fans can tell you about the jokes it makes on various anime series, Gintama is notorious for making jokes about Japanese celebrities and daily culture beyond anime/manga tropes. Likewise, there were instances in the movie where the characters talked about notable Japanese celebrities and Japanese humor styles. How many people outside of Japan will get those jokes? I didn't always get those references, but I still laughed anyway. I'm not sure how many non-Gintama fans would feel the same way.
Wait, Am I Supposed to Laugh? Or Cry? Wait, Both?
While Gintama is a comedy, there is also an ongoing plot regarding Gintoki's past. He was originally a soldier who fought in a great war against the Amanto, and had a teacher who he lost during the conflict. The Benizakura arc brought character development to Gintoki and two of his former war comrades, Katsura Kotaro and Shinsuke Takasugi. The movie did a decent job of retelling the story and showing off its battle sequences, but the fact that the movie was interjected with gags nearly every few minutes makes it hard to remember that there's a story involving murder and an insurrection in it.
The funny thing is that the Gintama movie tells its viewers that it's not meant to be taken seriously to begin with, and that kind of becomes polarizing in a strange way to new fans.
The Gintama anime/manga has some great dramatic moments in its serious arcs, but the movie doesn't treat the source material with justice in that regard. The "plot" just falls flat, especially with the ending fight of the movie, which didn't have the emotional payoff that would make you sympathetic about how alien colonization of Japan has affected Gintoki. A friend of mine who saw the movie with me said the movie needed more gags than drama. I almost didn't want to agree, but I felt that there was some truth in what she said.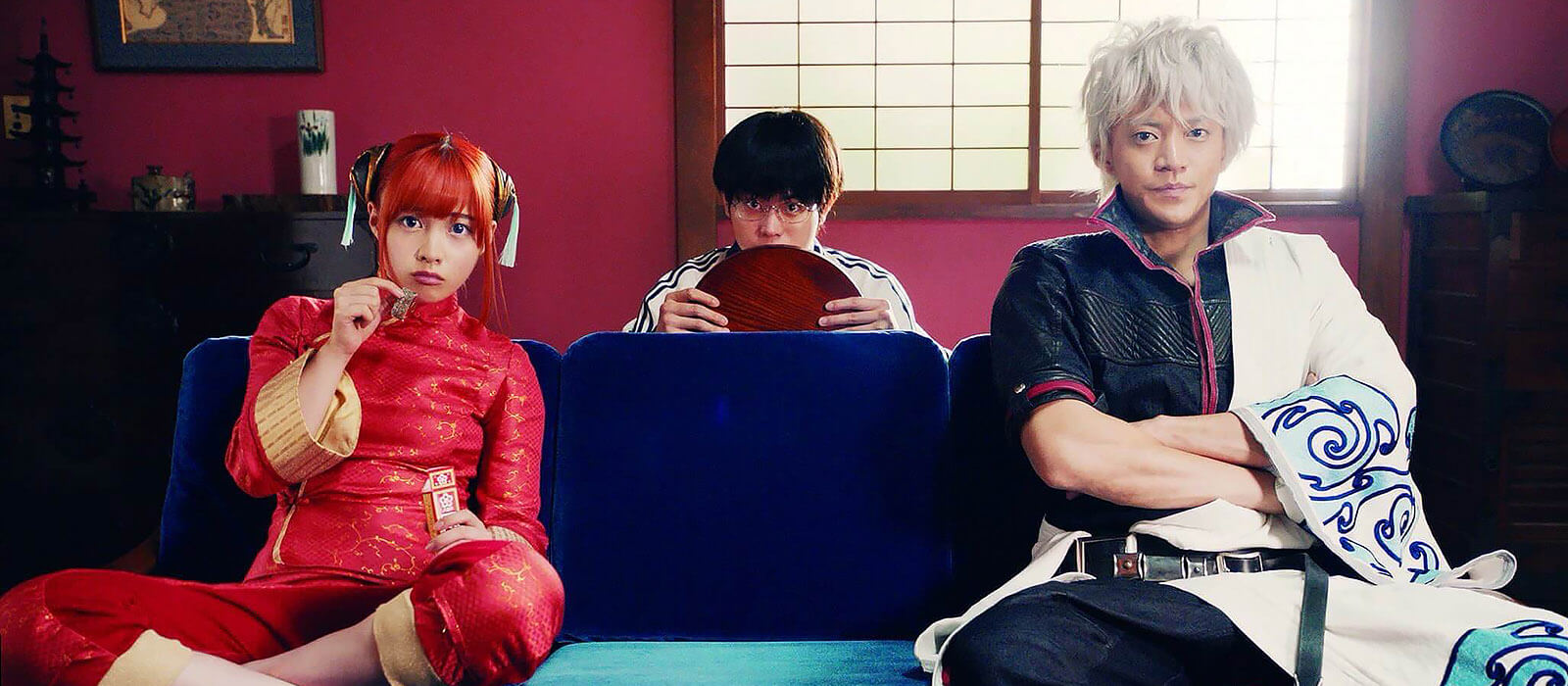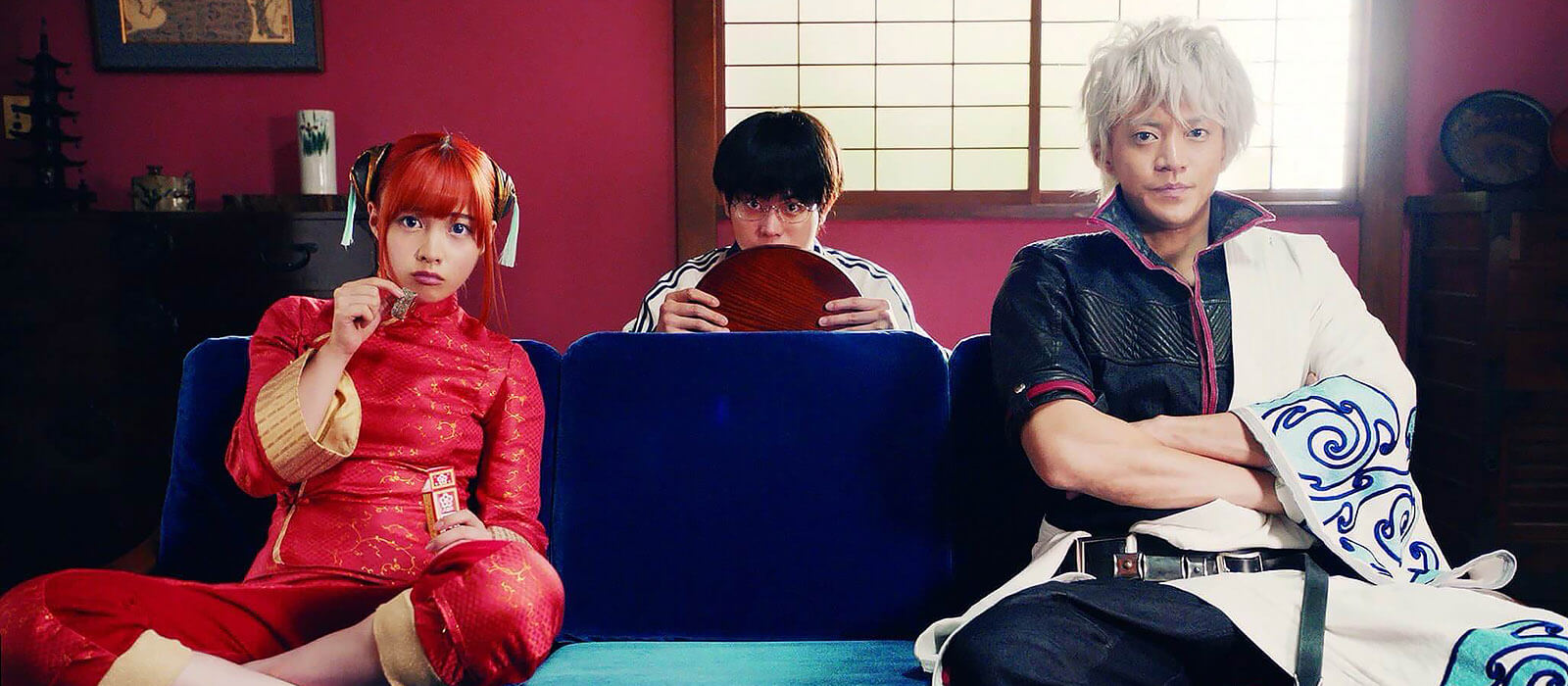 Overall Thoughts
Gintama is a movie that's really for existing fans. It's already hard enough to recommend the anime and manga to anime/manga fans, and the movie doesn't change that notion. The author, Sorachi, once said in an interview that Gintama's a series where he does whatever he wants, and it shows. Of course, not everyone will agree with his way of thinking. Yet the fans that do agree have managed to encourage the production of a sequel movie coming out in the summer of 2018. I still plan on seeing the sequel whenever it comes out in the U.S., but I know the only friends I can see it with have to be fellow Gintama fans.
Gintama is for anyone who's willing to shine their soul with a dirty silver. It's rough, but if you can put up with it, be prepared for a wacky world that becomes the kind of gold that we need sometimes.
The Good
Lots of gags guaranteed to make you laugh.
Some strong acting performances that highlight the series' popularity among its loyal fans.
The Bad
Humor can be a bit too much for new fans.
Drama portion of the story doesn't deliver, despite it being one of the source material's strongest points.
Big thank you to our supporters
From their continous support, we are able to pay our team for their time and hard work on the site.
We have a Thank-You page dedicated to those who help us continue the work that we've been doing.
See our thank you page