Have you ever wanted to be an artist, with the fame, glory and increasingly difficult deadlines that come with it? If you answered yes to any of the above, then Cartooner may be the game for you! Cartooner, from Mock Man Press, is a game of competitive drawing against your friends to see who will come out on top with the most acclaim. Don't be fooled though, you don't need incredible artistic abilities to reign supreme!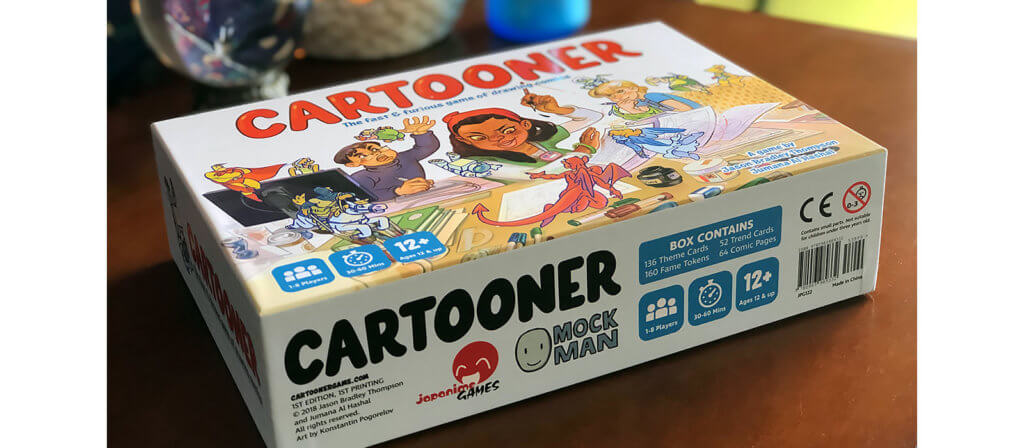 Gameplay
Cartooner takes place over the course of 4 rounds, and can accommodate up to 8 players per game. You can even play in single player mode, if you want to give yourself a challenge. All players start the game with the same set of supplies: a drawing utensil and a stack of papers with empty panels on them, ranging from 2-8 per page. Each round is timed, and depending on the difficulty you choose, it can be as long as 8 minutes or as short as 5.
Overall, there are 3 basic rules for the game:
Express Your Obsessions Each Round
At the start of the game, each player draws 3 theme cards, referred to as "Obsessions." These cards stay with the player throughout the game (unless a card explicitly states to replace them later), and are considered the basic subject matter of your comic. In order to earn the maximum amount of fame tokens for this (3), you must include all 3 of your obsessions somewhere in your comic. For each one that is missing, you earn 1 less token.
Draw Something In Each Panel In Each Round
As the rulebook dictates, "If a comic doesn't have artwork, it isn't a comic!" Each panel on your page must contain something recognizable, and if you obey this rule, you earn 2 extra fame tokens per round.
No More Than 3 Word Balloons In Each Round
You have the opportunity to earn 2 more bonus fame tokens per round by following this rule. In the game, any written word or sentence falls under this category whether it has a balloon around it or not. There are, however, 2 exceptions to this rule: sound effects and symbols. Sound effects are words that express nonverbal sounds, such as "Bang" or "Gasp." Symbols, on the other hand, are items like ellipses or music notes. There are no limits to the amount of sound effects or symbols you can use in the panels.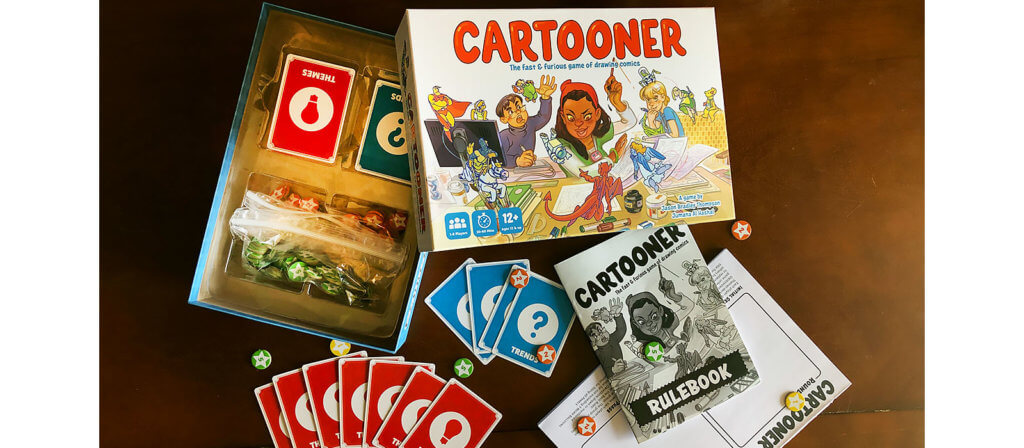 Once you get past the first round, Trend cards come into play. Because you, the comic artist, are chasing as much fame as you can get, you try to follow whatever hot trends the kids are going on about these days. This is expressed in the game with Trend cards, which add extra, optional requirements to your comic. These change each round, since your audience is fickle, and while you don't HAVE to do them, they can earn you extra fame tokens to champion over your fellow comic competitors.
After each round of drawing finishes, players take turns reading their comics out loud (and can even act them out if they choose!). The rest of the group then decides how much fame they are awarded based on the criteria, and everyone totals up their fame tokens. At the end of the fourth round, whoever has the most fame tokens is the winner!
Thoughts
Upon checking out this game, I can say the rules are pretty simple and straightforward. The game itself is nicely designed, and I like the fact that each playthrough will have wildly different results, based on the various combination of theme and trend cards. I'd also say the big bonus for everyone is that you don't really need artistic skills to play or win, because sometimes a doodle of a stick person speaks volumes (reminds me of XKCD). What's doubly nice is that you can combine Cartooner with Mock Man's other game, Mangaka, to bring even more variety into the mix.
On the slightly negative side, the game only comes with 64-panel sheets, which means a group of 4 people can only play 4 times before running out. However, you can always print more from the Cartooner website. The rulebook also mentions putting on some music to draw to, specifically referring to playlists available on their website, but I could not locate any.
Verdict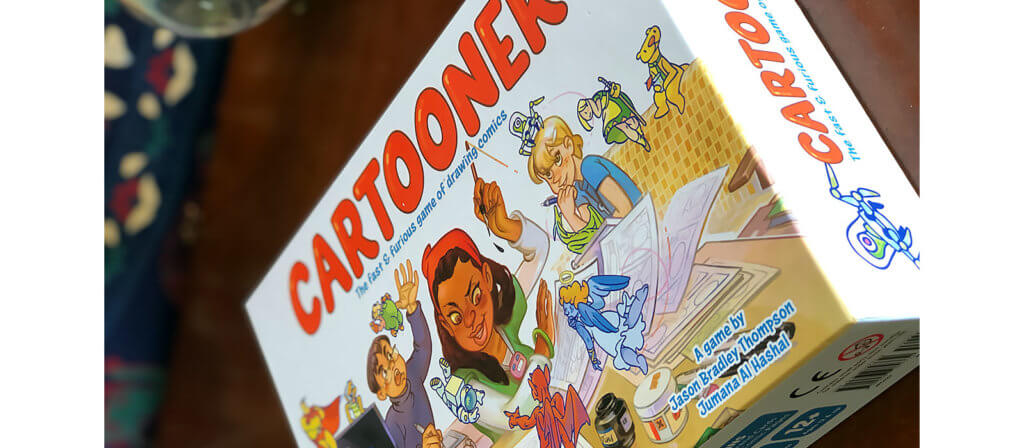 Despite some tiny flaws, I'd say this game is quite a rollicking good time. Even though I personally feel like 8 minutes is NOT enough time to complete an 8-panel comic, it obviously means I need to speed up my doodling skills. This is especially true if I want to compete on the Professional game difficulty, which only allots 5 minutes per round! If you feel like picking up a copy, you can order Cartooner from Japanime Games, as well as its sister game Mangaka.
---
Special thanks to Mock Man Press for providing us a copy of the game for review.
Big thank you to our supporters
From their continous support, we are able to pay our team for their time and hard work on the site.
We have a Thank-You page dedicated to those who help us continue the work that we've been doing.
See our thank you page