"Come to Comiket with me," my friend Glen requested.
"No," I immediately replied. This is how we usually begin our conversations.
I'm not against people going to Comiket. It's just that the idea of waiting in line for several hours, in the sweltering summer heat or frigid winter cold, only to buy drawn porn doesn't really draw me in. But I understand why people love the event. For hundreds of thousands of people to come together and express their passion for things that got them bullied in high school is pretty awe-inspiring.
However, for others it sounds like a hassle. めんどくさい (mendokusai) is a term I've learned in Japan that's rather fitting for almost anything in life; it basically means life's tough.
For those who do find little interest in attending Comiket, but want to experience an anime convention in Japan, fret not!
AnimeJapan
The name is pretty self-explanatory, so I'll just keep this as an overview of what you can expect to find at the largest corporately held anime convention in the country.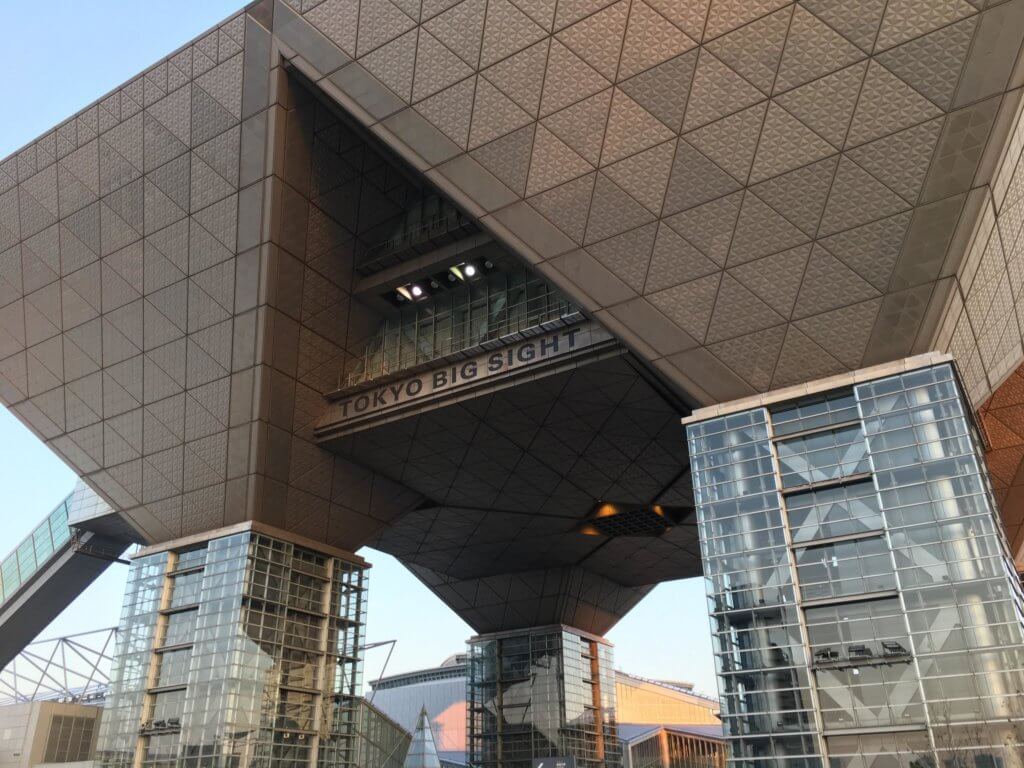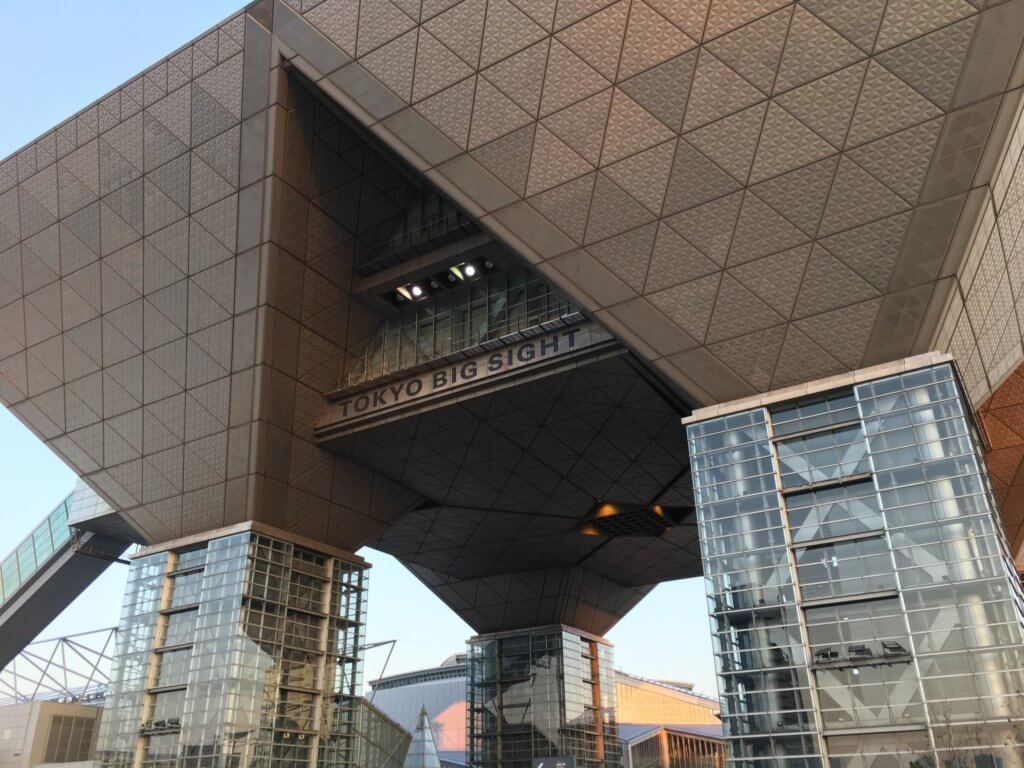 The event is typically held in mid-March to late-March. This makes AnimeJapan more economical than Comiket, as it's held off-season (who can say no to cheaper plane tickets and hotels?). With the inclusion of a cheaper trip to Japan, you also get to witness cherry blossom season the following week. Take it from someone with hay fever, spring in Japan is really visually amazing. However, while Comiket usually goes on for three days, AnimeJapan is only open to the public and general press for two. Thursdays and Fridays are held to host business deals between licensing companies, studios, and probably the Illuminati.
Of course, that doesn't stop people from renting an actual horse carriage for their cosplays. But, when it comes to the cosplay department, AnimeJapan is noticeably tamer than Comiket. This doesn't mean there aren't some impressive cosplays to behold.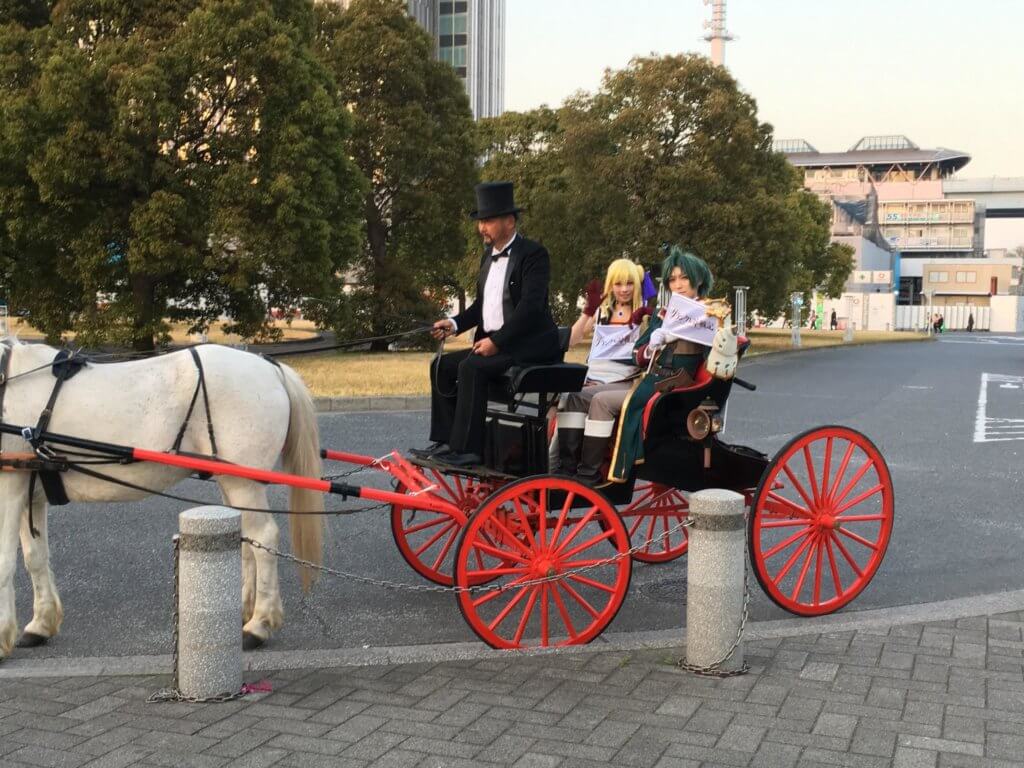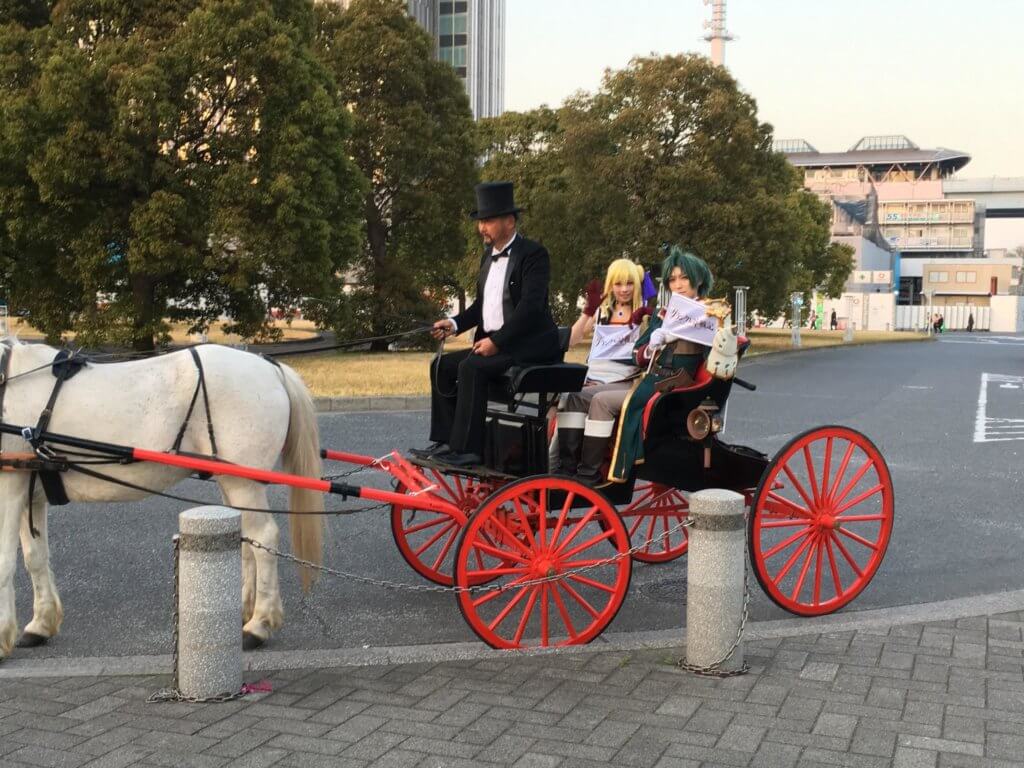 What separates the two conventions the most is their exhibition halls. Comiket, for the most part, is one massive artist alley. Most of the convention focuses on fan projects and doujins. On the other hand, AnimeJapan is much more commercial and family friendly, therefore the prop displays are of much higher quality. An insane amount of detail went into some of the props at different booths throughout the hall.
It is important to note that the exhibition is broken into two major halls, with a wide corridor cutting through. So if you attend next year and initially find the hall to be small, that's because you're only witnessing half of it.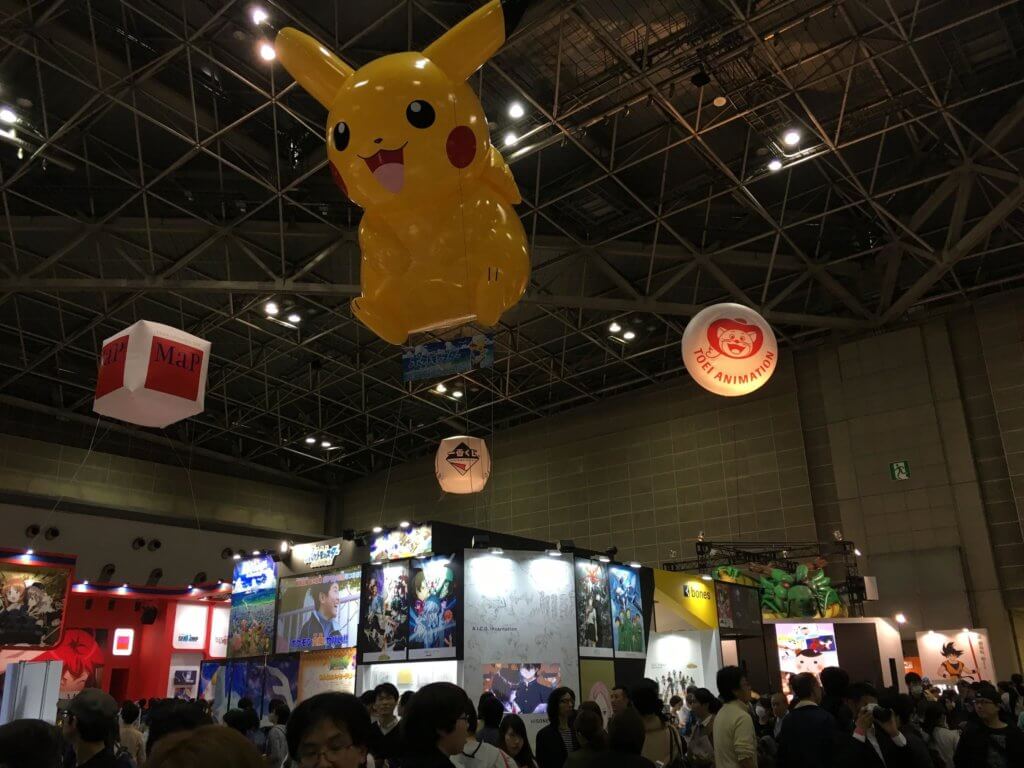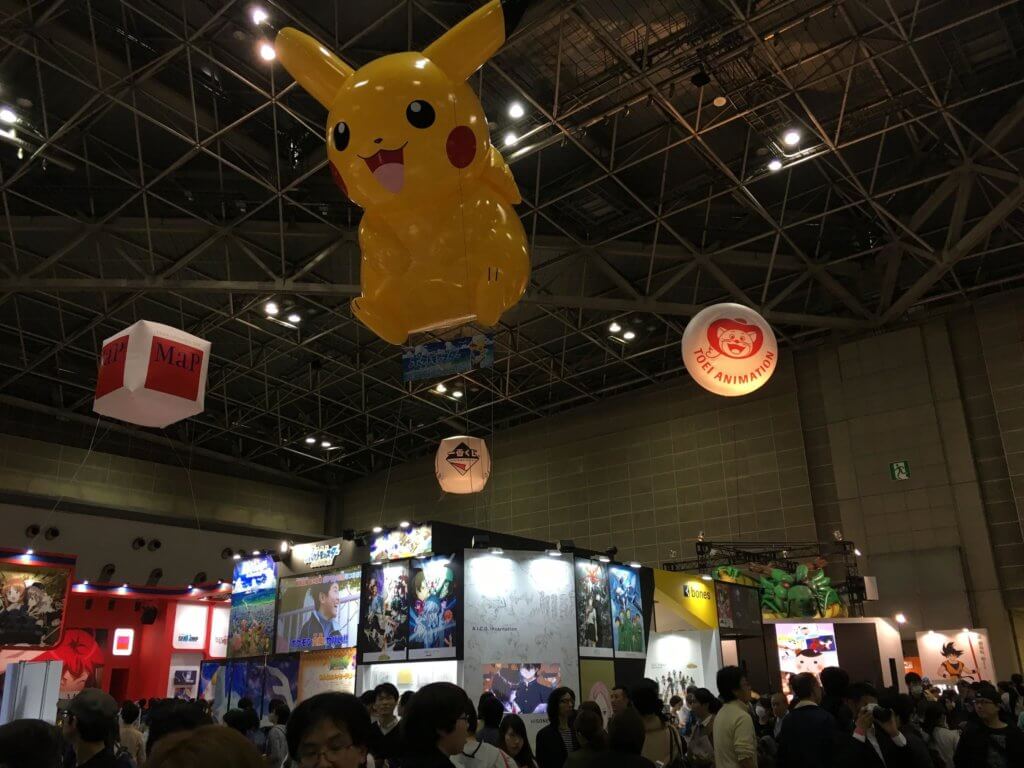 As for exhibitors of the event, most of them were promotional booths for bigger studios and distributors. For example, Toho Animation was there, celebrating their 5 year anniversary. Several booths featured a small stage to host interviews and even pop-concerts. However, due to the intense soundscape of the exhibitor hall, it was difficult to make out anything that would be said on the small stages if you weren't among the crowd in the front rows.
AniPlex had the most impressive booth, with a neo-grec designed exterior that encompassed a gallery of their distributed works. Now we know where the $150 for three Bakemonogatari episodes went. It really was a sight to witness, with its exterior LED displays playing clips of shows they've distributed and other promotional visuals.
Hai, domo! Virtual YouTuber desu!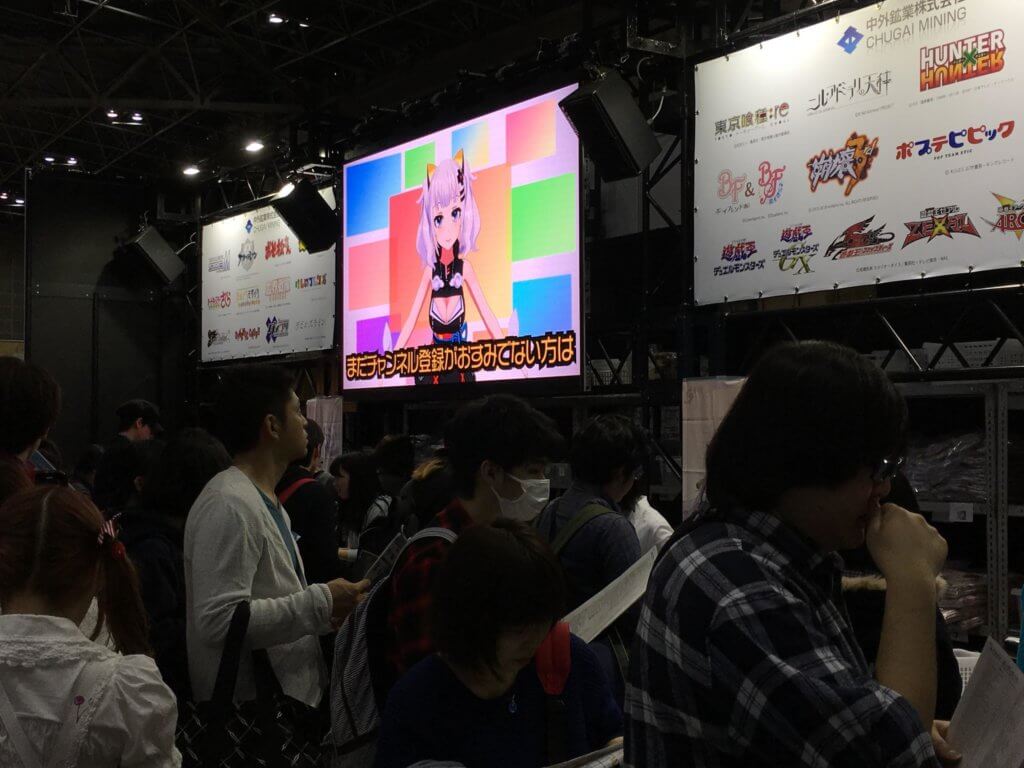 Of course, one of the things that draw the most people in for these kinds of events are the guests. Surprisingly enough, out of all the conventions I've been to, Anime Expo is still the one that packs the most impressive industry lineup.
That doesn't mean AnimeJapan's lineup is weak, but it certainly does lean towards what the fanbase in Japan is more interested in. Anime fans in Japan aren't as keen on keeping up with production and industry news like Western fans are. Japanese fans care more about seiyuu (voice actors) and idols; these two groups of guests dominated the event.
As I strolled through the exhibition hall, I quickly spotted several guests being swarmed by crowds of people. The three big virtual YouTubers (Kizuna Ai, Kaguya Luna, and Mirai Akari) attended a smaller booth. Rina Hidaka (Ai Hinatsuru's VA) attended a medium-sized Ryuuou no Oshigoto panel. And for the largest stage, I saw the Uma Musume idols introducing themselves in a very typical J-Idol way. Interest in these panels comes down to personal taste, so take what you will of it.
With that said, the convention did offer several booths to cater to the niche fans who favor learning about production. Several booths were set up to talk about the CG animation process for Polygon Pictures' Godzilla: Planet of Monsters and the recent Gundam installments. Some booths also displayed copies of original genga (key animation) from shows including Kekkai Sensen and Beyond, My Hero Academia, and Food Wars.
Overall
While AnimeJapan initially appears to be a pretty typical convention that won't necessarily enthrall you over any other major Asian convention, keep in mind the convention is only five years old. For the event to be at such a scale within half a decade is a majorly impressive feat in and of itself, and when putting it against what is offered over in Western countries (besides AX in Los Angeles and Japan Expo in Paris), it's an obvious step up.
Big thank you to our supporters
From their continous support, we are able to pay our team for their time and hard work on the site.
We have a Thank-You page dedicated to those who help us continue the work that we've been doing.
See our thank you page