It's far from unusual for books, film, or television to portray bullying in their stories. The typical take on bullying comes from the perspective of the victim, and the bully tends to be one-dimensional: verbally and/or physically abusive for no discernible reason. The victim eventually overcomes the bully, who typically undergoes one of three scenarios: the bully is finally put in his or her place; the bully sees the error of his or her ways and just stops bullying others; or the bully simply moves onto a different target, with the victim believing that he or she "will never learn."
A Silent Voice takes a different approach. Our main character, Shoya Ishida, takes an interest in a new student who enters his class, Shoko Nishimiya. His interest isn't in friendship, but with her disability—Shoko is deaf. This interest, though, is not one in which he wants to learn more about being deaf; instead, he sees her as an "alien" of sorts and employs tests to find out how deaf she is. As he receives encouragement from his classmates, these acts become less like tests and more like abuses.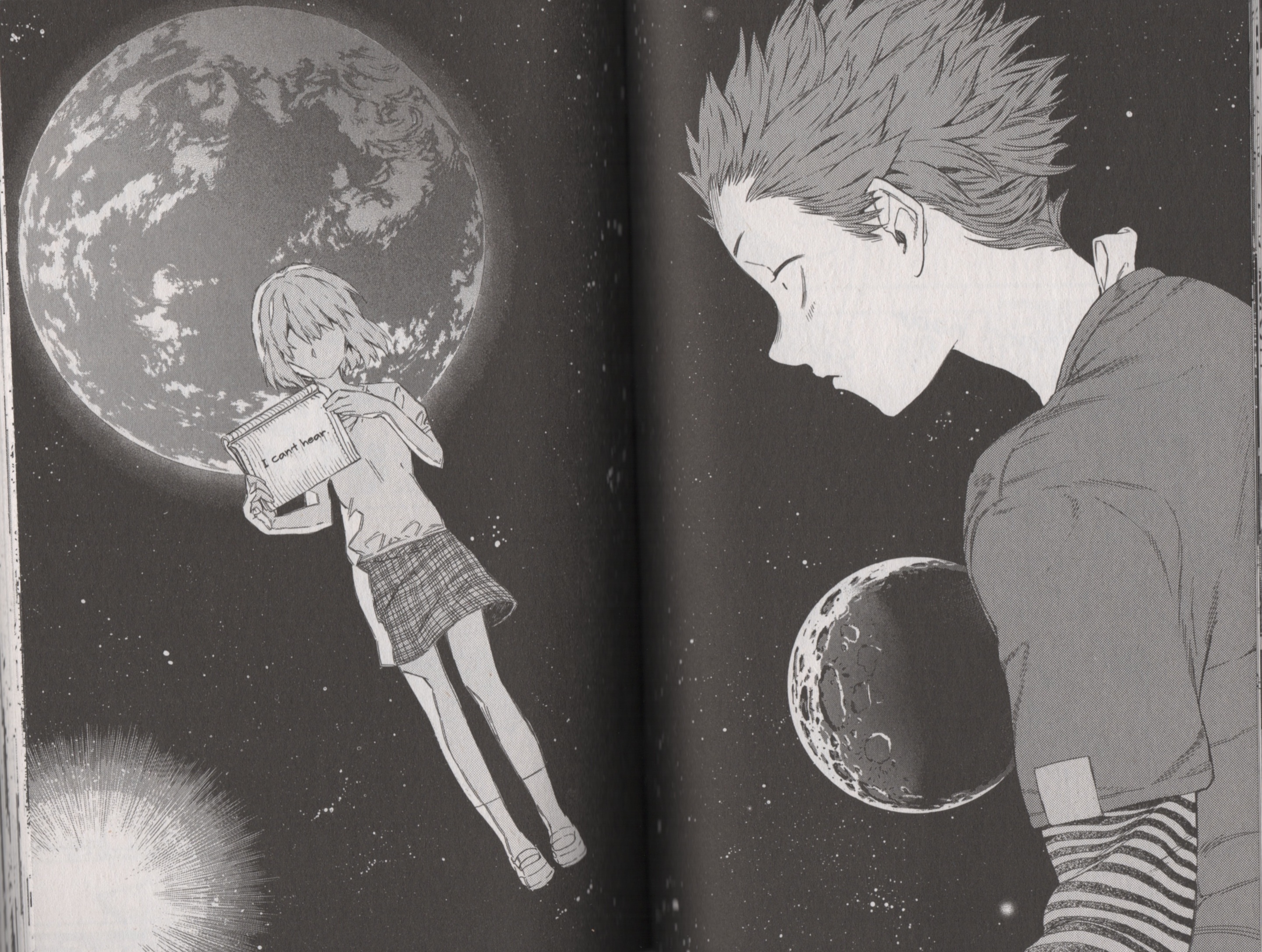 The story goes beyond the typical "bully is the bad guy" approach. At the beginning of the volume, we see Shoya's interactions with his friends. He is portrayed as a slightly overactive child, who wants nothing more than to fight boredom. He goes to extremes to do this: for example, jumping from a bridge into the stream below. This is his initial reason for testing Shoko: he sees it as a way to continue fighting boredom. There is also a moment before he meets her in which he becomes a victim of bullying; it doesn't last long, but it ends violently, and Shoya brushes it off as another instance of him defeating boredom.
What really impressed me with this first volume is how the author, Yoshitoki Oima, took the time to show Shoya before the bullying, as well as numerous acts against Shoko and how those acts built up. The series aims to answer the question of whether or not a former bully can make up for past deeds; with that in mind, the story could have shown a smaller scene of him bullying her and then cut to when they are older. Because the section of Shoko being bullied lasts for most of the first volume, though, the concept of "bullying others" is explored and even questioned. To begin with, it is not only Shoya that targets Shoko; his classmates also get in on it. Their reasons for doing so vary: some want to have fun, like Shoya is doing, some feel frustrated by having to always help Shoko with things due to her disability, and some are upset that they have to make sacrifices for her benefit. Even the teacher doesn't escape fault in this story—he never really punishes Shoya for doing anything, and when the principal finally finds out what has been happening and asks who was involved, the teacher names only Shoya and refuses to hear how he wasn't the only one involved. Thus, despite a number of people being at fault, Shoya shoulders the blame in its entirety.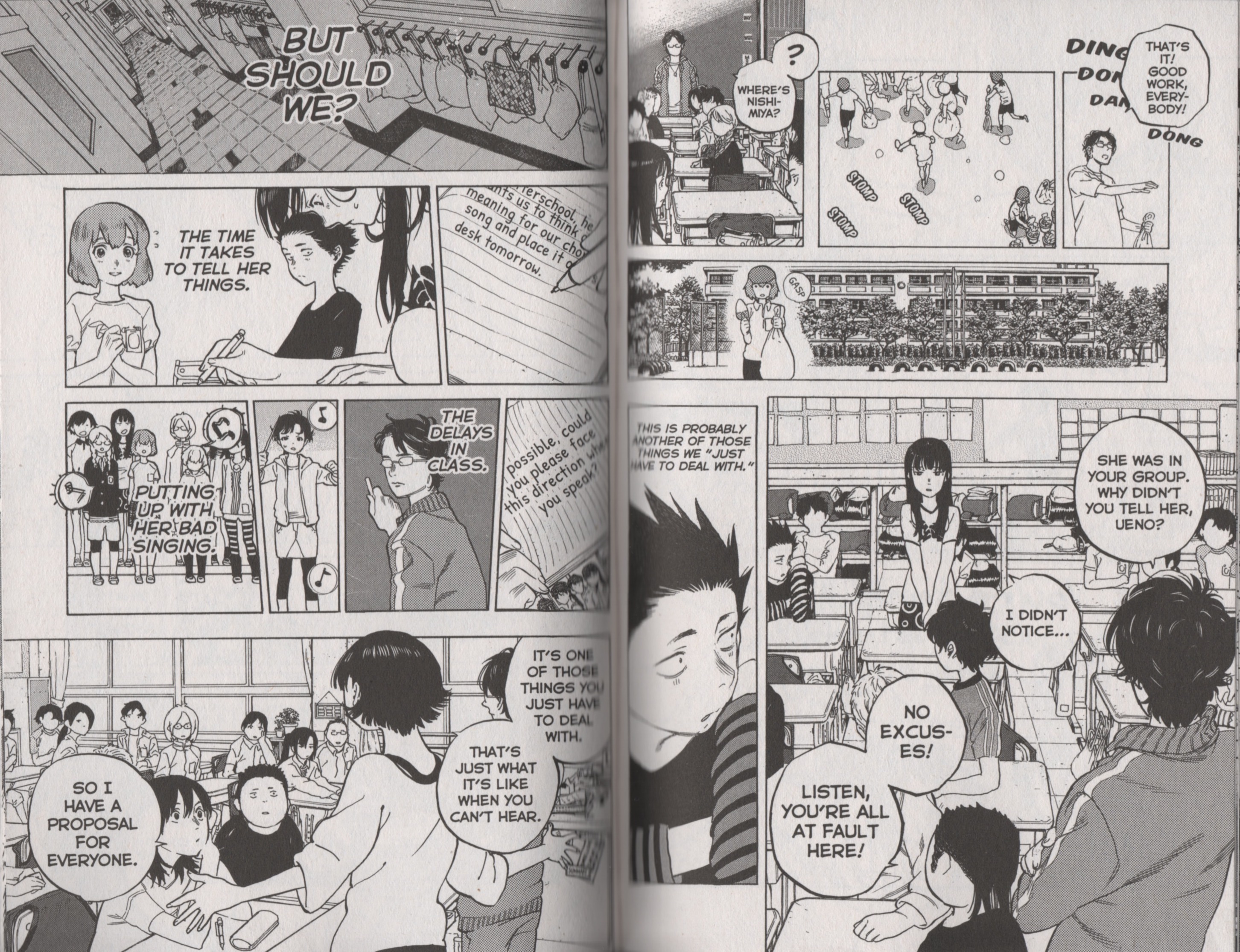 This progression of events leads to a reversal for Shoya, as he now becomes the target of bullying and isolation from his classmates. It goes one step further, though—instead of ending as he moves on from elementary to junior high school, the isolation he receives from others continues. Rumors of his past actions have gotten around and hindered his chances of making new connections. Instead of trying to prove that he's changed, though, Shoya makes the decision to simply accept his situation and continue his school days in isolation.
While the main theme of the manga is bullying, the first volume hints at other possible themes that the series may explore, from familial relationships to what it takes to have strength. For example, there's a scene in the volume that depicts Shoko getting a haircut. Her mother asks for it to be cut short "like a boy's" because she wants her daughter to be stronger like one. It's an interesting scene that branches off into the categories of both the perception of gender strength as well as familial relationships and understandings. Hopefully, these and other themes will be explored more as the manga progresses.
With an expressive art style and a depth of exploration in its topic, A Silent Voice presents not only an interesting and well-constructed opening to its story, but an important exploration of an issue that continues to be discussed and dissected for solutions. This is definitely a series I will keep up with, and I would be remiss if I didn't suggest that you do the same.
A Silent Voice is published in the United States by Kodansha Comics USA. Volume 1 is available for purchase at online retailers such as Right Stuf and Amazon, as well as in bookstores.
Big thank you to our supporters
From their continous support, we are able to pay our team for their time and hard work on the site.
We have a Thank-You page dedicated to those who help us continue the work that we've been doing.
See our thank you page