Yatta-Tachi folks (9 writers and staff members) have been busy working together on this since December 2019! We voted internally on shows we would recommend, tallied them, and wrote summaries for each of the winning top 5. We then used that to compile a master list of anime we would recommend for y'all to watch based on their debut year. Over the course of the next couple of months, we will be releasing year based spoiler-free recommendation articles for shows from 2010-2019! Here are Yatta-Tachi's Top 5 Anime Recommendations for 2012!
#1: Sword Art Online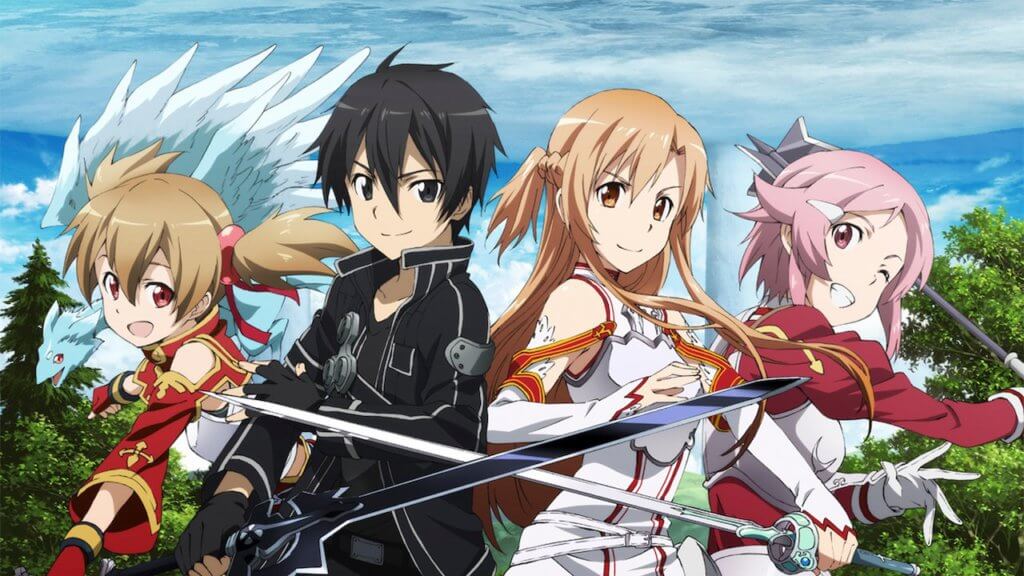 Studio: A-1 Pictures
Genre: Action, Adventure, MMORPG, VR, Sci-Fi
Synopsis: "The year is 2022, and gamers have lined up on launch day for Sword Art Online, a hotly-anticipated MMORPG that lets players connect to an immersive virtual reality world with special helmets called Nerve Gear. Kirito is one such gamer who's eager to jump back into action, having spent a great deal of time as a beta tester, and quickly becomes friends with newbie warrior Klein. But soon, Sword Art Online's 10,000 players discover that not only are they unable to log out, but the only way they can return to their physical bodies is also by beating the 100-level tower's final boss – that is, if their HP doesn't drop to zero first, for death in the game means death in the real world. Now, with no one else to turn to, Kirito and the other participants must survive the game as best they can – some forming guilds, others ruthlessly leaving their peers behind, and many tragically falling by the wayside or to the merciless monsters populating the lands…" – Anime-Planet
Why do we recommend Sword Art Online:
Kaley: At this point, if you've not heard of Sword Art Online, you've been living under a rock. Or you've been trapped inside a VRMMO for the last few years. (Hah, joke.) But seriously, there's a reason why SAO is still a hot topic despite being eight years old. SAO can be equated to the father of the modern-day isekai genre because it was the first of its kind that really struck a chord with its audience. Who didn't play video games and wish they could actually BE in the game back then? And the idea of real life-or-death situations made the stakes that much higher. And yes, there were others before (cough Stay Alive cough), but it's Sword Art Online that sticks out in any anime fan's mind. And why is that? The story, the characters, the visuals, the music; all of it combined made the show rise faster than a little kid's Disney balloon when they let go of the string. You want romance? You got it. A compelling story about some introverts finding their way out of their game-shells? Done. Characters that you can root for? They're all over the place. This show offers something for everyone, and so far there hasn't been a competitor strong enough to knock SAO off its throne.
Adele: If you haven't already watched SAO, where have you been since 2012? I would have to say that this show is probably what kicked off the recent isekai boom that we are seeing now in anime. It's fun, it's heartbreaking, it has a great storyline, and it's become one of the most popular anime in recent years. If you like sword fighting, fantasy realms, and being trapped inside of video games, this one's for you. I have to say that this is one of my fall back anime, it's one that I like to watch when I need something familiar and enjoyable. It's a great introduction to people who aren't sure about anime and it really does have a little bit of something for everyone.
William: As much as everyone drags down Sword Art Online, I'm confident enough to say that it's really good as a great gateway title for those looking to get into anime. At its strongest moments, SAO rises to the occasion with operatic music, brilliant fight scenes, and a satisfying conclusion. Whether you like it or not, Sword Art Online's success can't be easily matched and it's a show worth putting as one of the best of 2012. Many other anime have since followed and are continuing to ride the fantasy/isekai boom. One can argue that Sword Art Online started all of it, but that might be a discussion for another day.
#2: JoJo's Bizarre Adventure (2012)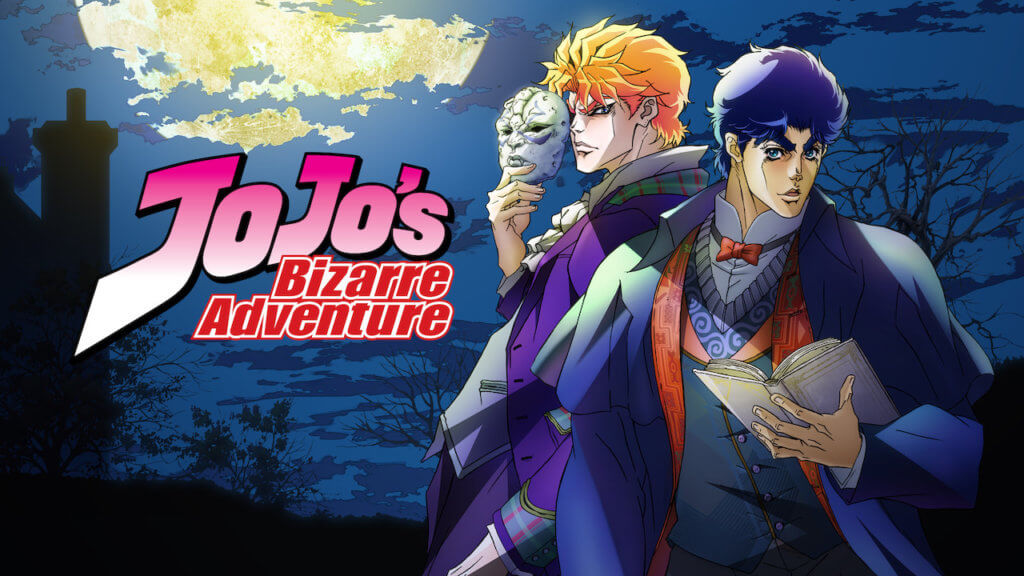 Studio: David Production
Genre: Action, Shonen, Adventure, Supernatural
Synopsis: "When Jonathan Joestar was just a baby, his mother tragically died in a carriage accident, and his father George was saved by the kindness of a stranger, Dario Brando. At least, that's what George believed, unbeknownst to him that Dario was just attempting to steal from the victims. Thus, when Dario later dies and his son, Dio, comes to his doorstep, the wealthy George eagerly adopts the boy. But what should have become a budding friendship between two siblings quickly becomes a nightmare for poor Jonathan, as Dio is cruel, calculating and will go to great lengths to become George's primary heir. Little does Jonathan know that this unfortunate childhood is only the harbinger of things to come…"  – Anime-Planet
Why do we recommend JoJo's Bizarre Adventure:
Bill: Jojo's Bizarre Adventure is one of the longest more-or-less-continuously running manga going right now, so it must be doing something right. And this 2010 anime adaptation resulted in sequel seasons every couple of years, so it must be doing something right too. This first season is quite a bit different from the fashion-forward, psychedelic dream logic of the later seasons, but it represents an important piece of anime and manga history. Even though its animation is often limited, it's always colorful, stylish, and entertainingly, ridiculously gory and violent. Fans of horror, action, Victorian-era fashion, and surrealism, or those who just want to dig into one of the most important, influential, meme-able series in the entire medium, can't go wrong with Jojo's.
Dazza: Every part of Jojo's Bizarre Adventure is different from the last, and that's a good thing. Personally, it took me a while to get into the series, watching Part 1 (Phantom Blood) a few times, but once I got over the hurdle of a multi-generational plotline involving a family of Joestar's fighting for their place in the world, I was hooked. With 5 different parts out now, each one wacky, zany, and downright odd at times, there is something for everyone with Jojo's Bizarre Adventure.
Luckily, most of Jojo's Bizarre Adventure comes with great animation, a great cast of characters, and some great plots to pull you through some of the most… outdated… of plotlines. Considering some of the series was written in the 1980's, it holding up today shows just how great the writing was for back then, and why it's still such a huge franchise in Japan.
MDMRN: Do I have to pick one reason? JoJo is such an over the top and fun series to watch. I plowed my way through the manga for Parts 1 and 2 in the past year, so I followed that up by diving into the anime too. It's the willingness to aggressively cling to the over the top, multi-generational plot of the manga, and the many, many musical references just make this series for me. I can't wait to jump into more of the Joestar family's adventures.
#3: My Little Monster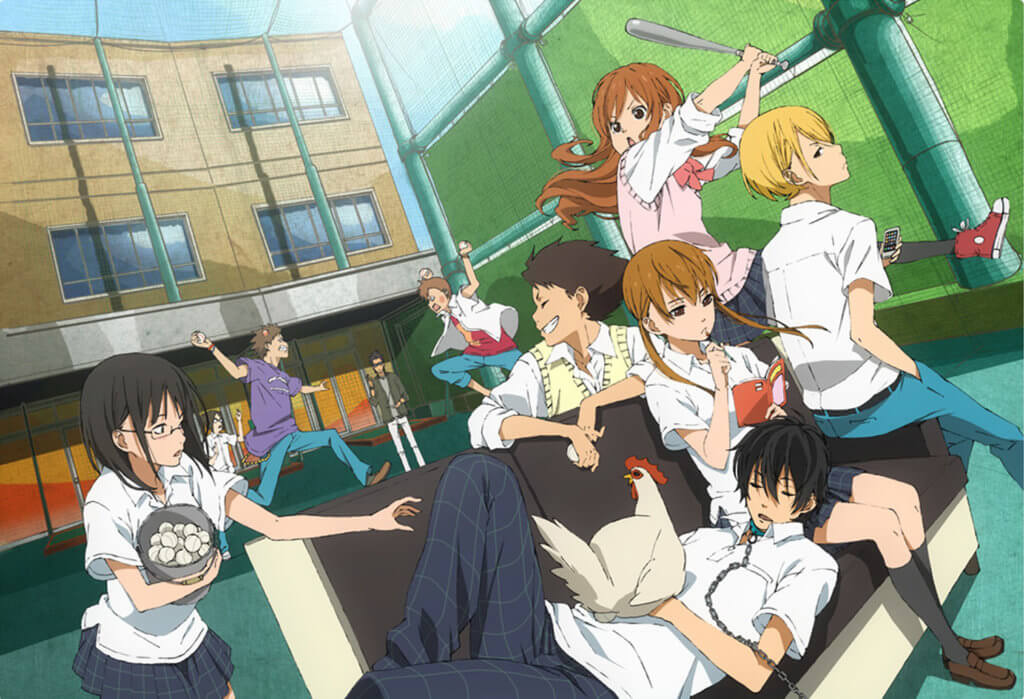 Studio: Brain's Base
Genre: Comedy, Shojo, Slice of Life, Romance
Synopsis: "Impassive girl meets trouble maker in a brand new love story! After Mizutani Shizuku, a girl whose sole interest is studying, is asked to deliver some handouts to Yoshida Haru, a boy who hasn't come to school after spilling blood on the first day, she finds herself the target of his affection. This is a story about a boy and a girl who struggle with love and friendship. Opening yourself up to other people forces you to be honest with yourself."  – Anime-Planet
Why do we recommend My Little Monster:
Bill: My Little Monster is a hilarious odd couple romantic comedy, like many before it, but the thing I like about it is (barring a brief scene in the first episode) how relatively healthy the main characters' relationship is. Certainly not a normal relationship, but one that is good for both of them. They give each other space when they need it, and support when they need that. Shojo manga and anime often romanticize abusive relationships, or, if not outright abusive, relationships that are unhealthy for all parties involved. So a series that is very funny while taking its central relationship seriously is one that I feel confident recommending.
Kaley: My Little Monster is a rom-com that I keep firmly in my heart. The show takes a bit of a turn instead of following the typical high school romance trope from start to finish, and it's all the little differences that make the show stand out to me. It's not just a bad-guy-turned-good story; it's not just a quiet-girl-comes-out-of-her-shell tale: it's a deep story tucked inside a typical high school life and it's covered in bruises that you can see if you look hard enough. The character growth is nicely done and the fact this heartwarming story is wrapped up inside a rom-com makes it all the better.
Adele: My Little Monster is a strange, but fun, romantic comedy that makes you take another look at first love. It has an enjoyable cast of crazy characters, a random chicken, and a sweet ending. I like coming back to this anime when I need something to lazily watch on a Saturday. It's not heavy in the message, but it's bursting with heart. I feel like not enough people have given this show a watch though, that's why I voted for it and why I think it was one of the best rom-com's of 2012.
#4: Love, Chunibyo, and Other Delusions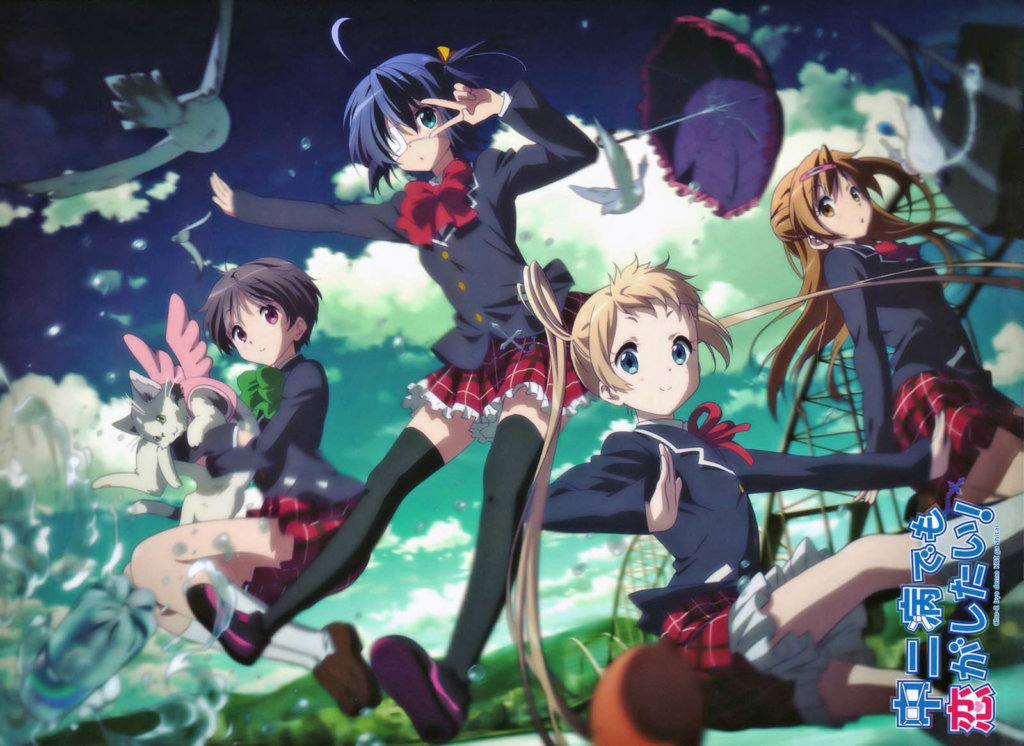 Studio: Kyoto Animations
Genre: Comedy, Romance, Slice of Life, Drama
Synopsis: "Rikka Takanashi is a teenage girl who possesses the strongest ocular power known to man: the Tyrant's Eye. She's currently locked in a fierce war with a shadowy organization, and the fate of the world may hang in the balance with each passing battle… or at least this is what she believes. In actuality, Rikka is merely a normal high school girl afflicted with chuunibyou syndrome, a "disease" that makes one prone to delusional flights of fancy. Meanwhile former chuunibyou sufferer Yuuta Togashi is enrolled at the same school, looking to put his embarrassing junior high exploits behind him. However, when Rikka discovers his past life as the "Dark Flame Master", she uses this to her advantage to include him in all of her wacky schemes! With Rikka's zany behavior dragging him further and further from normalcy, Yuuta must try to pull her back into the real world – or risk getting sucked into hers!"  – Anime-Planet
Why do we recommend Love, Chunibyo, and Other Delusions:
Bill: Love, Chuunibyo, and Other Delusions is KyoAni at their silliest and most fun. They take their penchant for stunning animation and turn kids' games of pretend into wild action setpieces worthy of the best battle shonen shows. But Chuunibyo isn't about fighting, it's about two insufferable dorks falling in love. Its main message is that everyone deserves someone who loves them, in spite of their flaws, in spite of the trauma they've suffered, in spite of believing there's an evil spirit inhabiting their eye and wearing a patch over it for purely aesthetic reasons. Chuunibyo delivers this message in a way that rarely gets too self-serious, but never ignores the real emotions at play. And it looks great while doing it.
William: Chuni dorks meet up and annoy former chuni dorks as hilarity, drama, and romance ensue. That's how I'd sum up Love, Chunibyo, and Other Delusions in a nutshell and it's another standout Kyoto Animation title. The romance between the two leads is built up throughout the season and I appreciate how the anime takes its time in developing their camaraderie. The delusions of some of the anime's characters are portrayed with high levels of imagination and care. You get sucked into the grandeur of the battles, only to realize that it's all pretend at the end of the day. That's really the charm of the series and it is worth checking out if you're into that kind of thing.
Dazza: Love, Chunibyo, and Other Delusions is Kyoto Animation's answer to a high school rom-com. As one of their first self-published books, the studio had free reign to do what they wanted with their adaptation of their own work, giving director Tatsuya Ishihara and writer Jukki Hanada (Sound! Euphonium, Steins;Gate, K-ON!) the opportunity to make sure the anime was as perfect as possible. The love between the main characters, Yuuta and Rika, is so sweet, something you'd only find in a teen romance, and the interactions they have as she matures out of the chunnibyo stage of her life would melt even the sweetest of hearts.
Add onto that the spectacular scriptwriting and animation that the team from Kyoto Animation is known for and you have a franchise that, frankly, should still be going. Each part of the series, from the two seasons and the film, leaves you satisfied with their overarching story, but wanting to know what happens next to the duo. To me, that's a sign of great characterization.
#5: Humanity Has Declined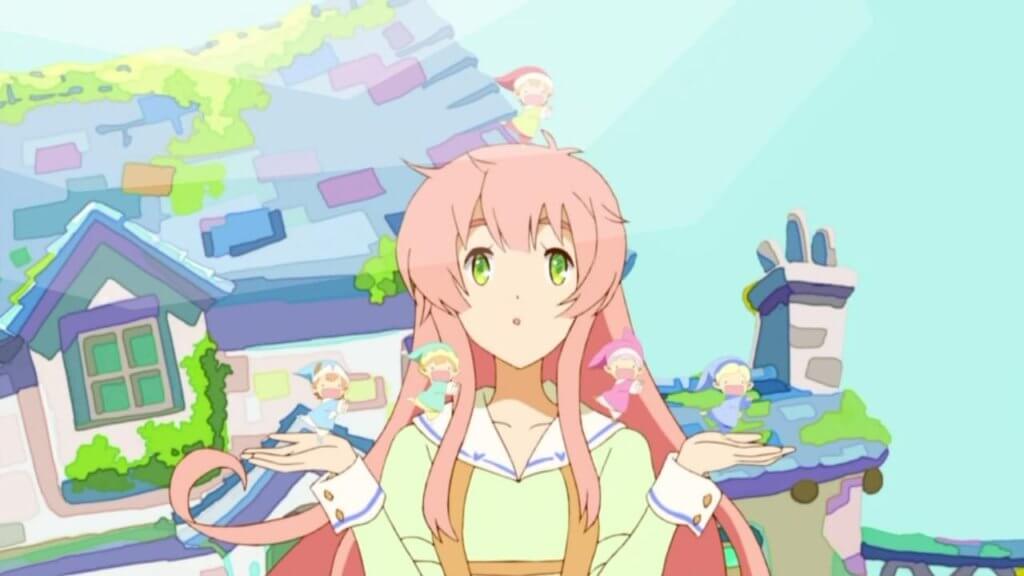 Studio: AIC A.S.T.A.
Genre: Dark Comedy, Fantasy, Post-apocalyptic
Synopsis: "Humanity has declined over time, leading to shortages in goods and the beginning of a bizarre relationship between humans and whimsical, sweets-loving fairies. Certain mediators help bridge the gap between the two species, as the magical, surprisingly-technological fairies are known to create various items the townsfolk need, albeit at oft-questionable quality levels. One such mediator, along with her faithful silent assistant, adorable fairy Nakata and frenemies such as yaoi-loving Y, will navigate her eventful daily life, whether it's investigating a strange factory or trying to escape the pages of a comic book." – Anime-Planet
Why do we recommend Humanity Has Declined:
Kaley: I stumbled upon Humanity Has Declined during a dead season of show watching and it took over my life for a bit. While the art is cute and full of pastels, it's nothing to write home about. The characters are fun and interesting, but most of them you'll feel like you've seen before. No, these are not the things that put Humanity Has Declined on this list. It's the story. It's the over-the-top-what-did-I-just-watch kind of series that has you laughing so hard you're gasping for air and questioning the writer in your head as you wipe the tears from your eyes. This takes the post-apocalyptic story line and flips it so many times you can't remember what it was supposed to be. Since the story isn't intense, it's a great show to watch when you can steal a little time here and there instead of feeling the need to binge it.
Big thank you to our supporters
From their continous support, we are able to pay our team for their time and hard work on the site.
We have a Thank-You page dedicated to those who help us continue the work that we've been doing.
See our thank you page