If you've been watching anime for the past year or so, then you have more than likely heard of Yuri!!! On ICE, a sports anime about figure skating. The show debuted during the Fall 2016 anime season, and quickly became extremely popular during its airing, with the fandom just as strong today (if not stronger). Sayo Yamamoto, whose previous directing work includes Michiko to Hatchin & Lupin the Third: The Woman Called Fujiko Mine, was the director, co-creator, and in charge of the series composition and original concept. Mangaka Mitsurou Kubo is the co-creator, story creator and character designer, and Tadashi Hiramatsu was in charge of the animation direction and character designs. We had the wonderful opportunity to sit down with them and chat about working together and creating this iconic show!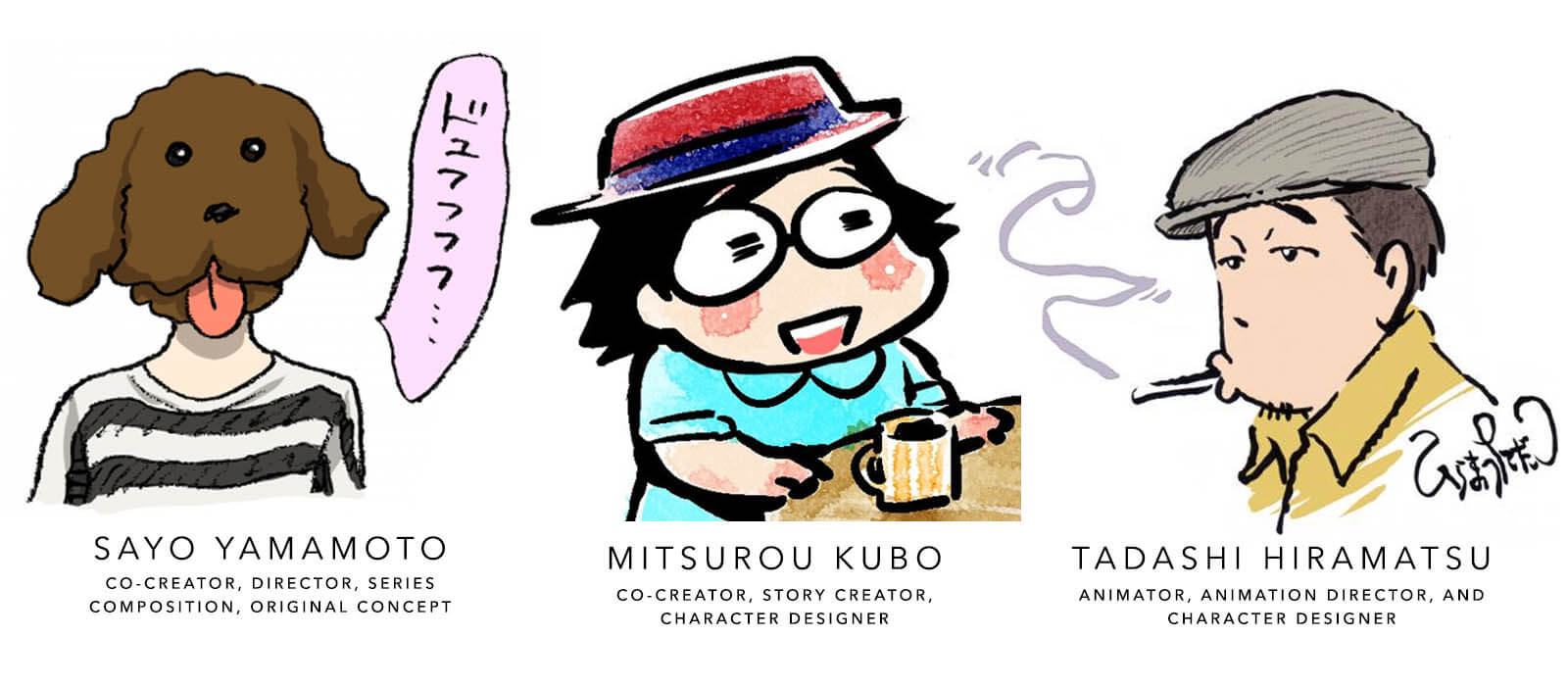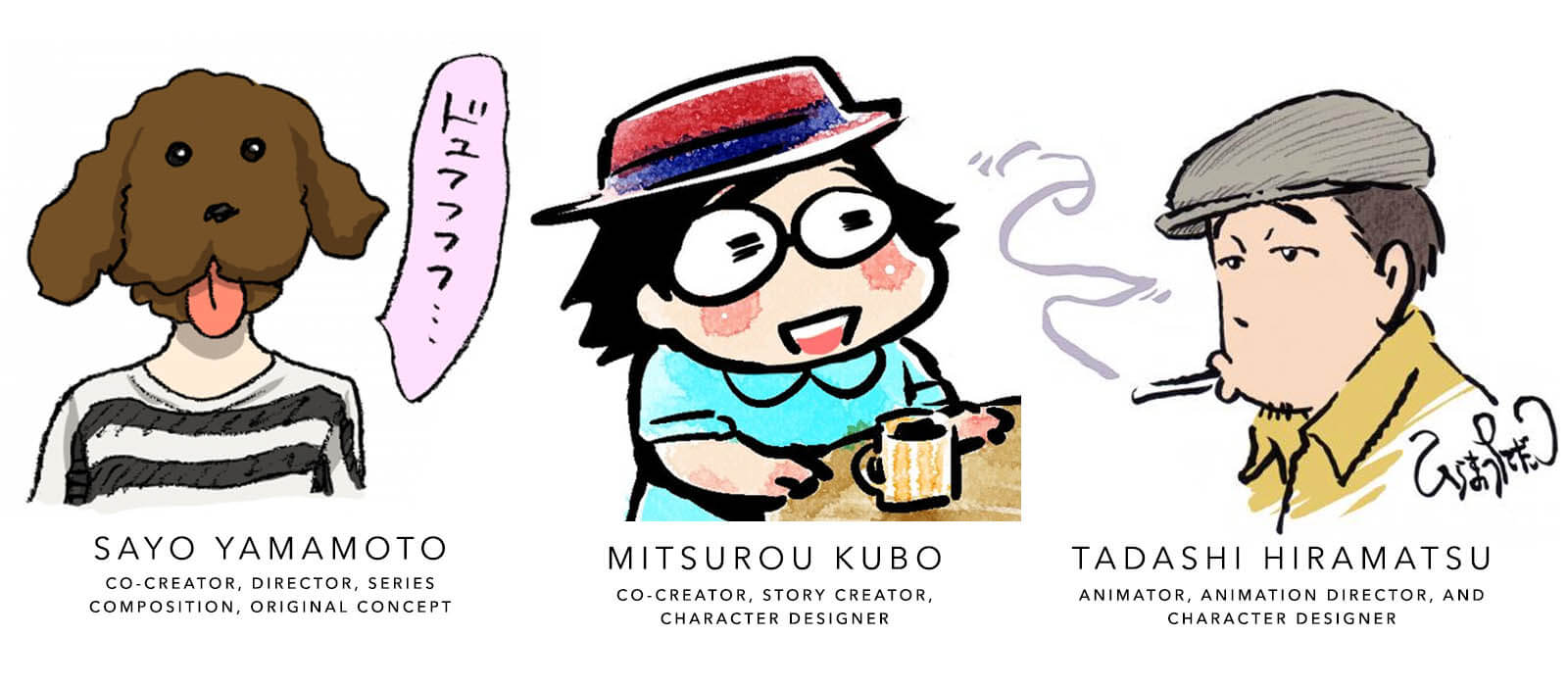 Yamamoto
The first time you worked with Kenji Miyamoto was for Endless Night in 2015. How did this come about?
Out of all the people in Japan, Kenji Miyamoto is the only one who specializes in choreography. Most everyone else doubles as a coach and a choreographer. His choreography work with Daisuke Takahashi and Tatsuki Machida is great, and he was the one that I really wanted to work with the most. So I decided to "go for broke" and just try asking.
What brought you to creating Yuri!!! on ICE at Studio MAPPA in particular?
The very first time I worked with Studio MAPPA was in 2014, for the ending to Rage of Bahamut. That was when their producers, Manabu Otsuka & Fuko Noda, said, "Let's work on another title with you fully as a director." That project did not get greenlit in the end, but they said, "If you have any other title, come to us and let's work on it."
When Yuri!!! on ICE got greenlit, rather than taking it to another studio where I'd just be doing a one-way pitch, I wanted to take the project to a studio that already wanted to work with me, so that's why I went to Studio MAPPA.
You revealed in your guidebook interview that Stéphane Lambiel was the (main) skating model for Victor. Were there particular skating models for Yuri and Yurio? Or any of the minor characters?
Tonight is the finale of Yuri on Ice and I daresay you do not want to miss it! #YOI @yurionice_PR pic.twitter.com/PdvXWizmK5

— Stéphane Lambiel (@StephaneLambiel) December 21, 2016
We do love Stéphane Lambiel a lot. In fact, he was at the very first ice show I went to see. When it comes to the inspiration for Victor, while Stéphane might be the primary, he isn't the only one, as there have been a lot of other skaters who have been the inspiration & models.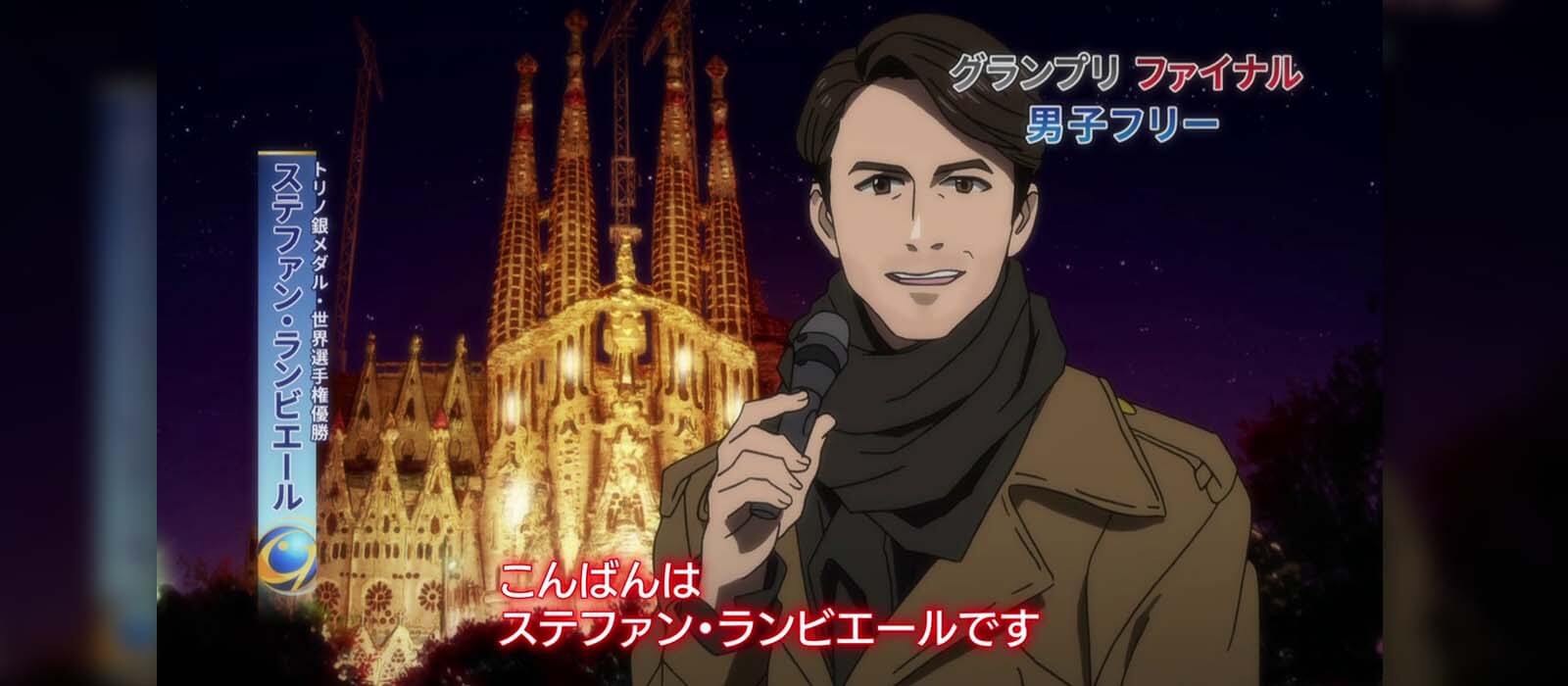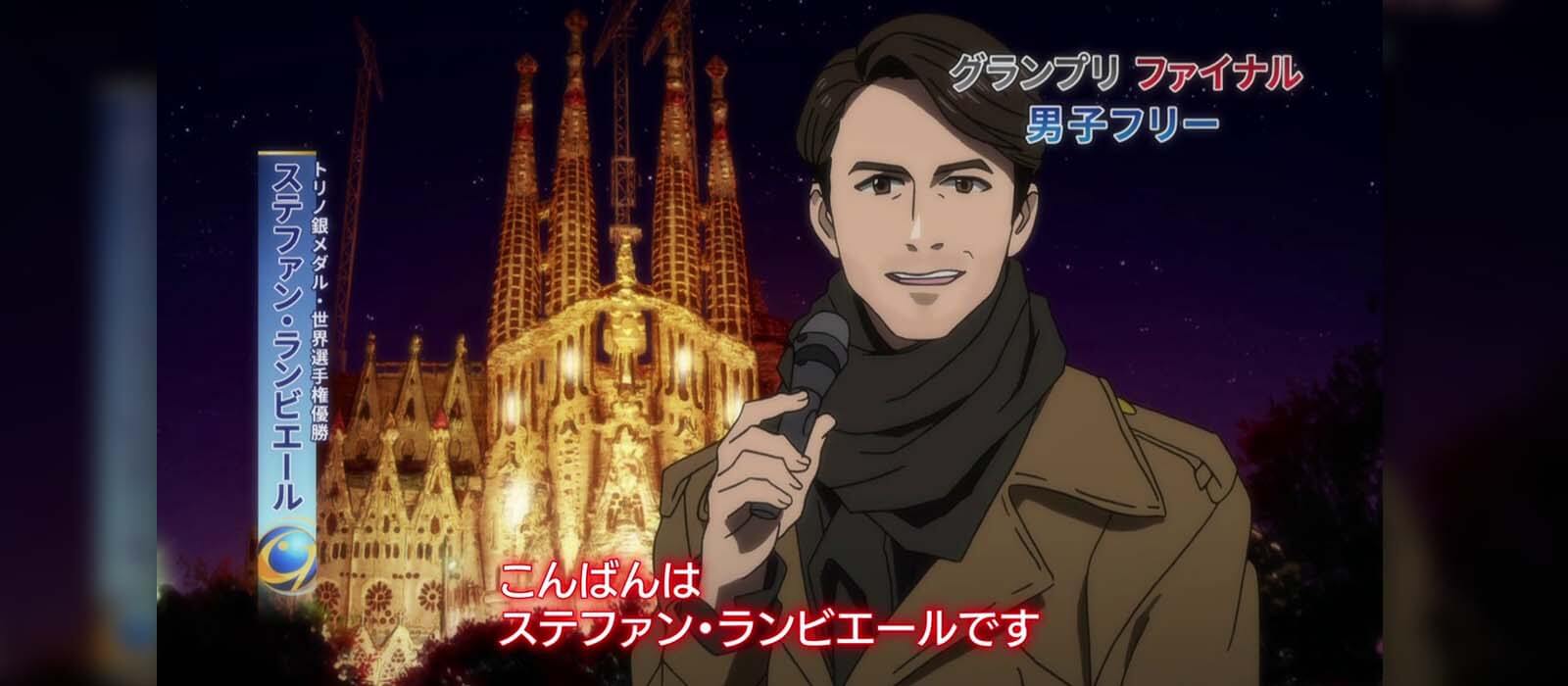 In the same way, all the other characters, including Yuri and Yurio, are not based on one single existing skater. It's actually possible to list names, but it'd be a whole list of names for everyone. We did have Stéphane guest star in episode 12, and while I shouldn't really have done it, I couldn't restrain myself in the recording studio, and so I asked him for his autograph there.
Kubo
With regards to the costumes, what kind of input did you have? Were there any costumes that you were quite particular about for story purposes?
The costumes weren't all entirely designed by me, so not all the ideas were my own. It was commissioned to a costume company called Chacott. (You can read more about Chacott and the costume design on Sakuga Blog.) I met with Chacott designer, Yuko Sagiri, and we worked to come up with the costume designs. Then Kayoko Ishikawa designed the costumes to work well with anime.
✨ユーリ!!! on ICE×Chacott 衣装デザイン画✨第2弾は、公開中のイラストの「ヴィクトル・ニキフォロフ(パターンA)」です♪是非アニメイラストと見比べてみてください‼ #yurionice pic.twitter.com/Ujl57paG22

— TVアニメ「ユーリ!!! on ICE」 (@yurionice_PR) June 3, 2016
What made you decide to use a pen name ("Mitsurou Kubo") instead of your real name ("Mitsuko Kubo")?
In Japan, it's not uncommon for a woman to take on a masculine name as a pen name. For my own story, my debut as a manga artist was in a shounen magazine. It was about someone who wants to become a host in a Kabukicho club. I did not want readers to get the preconceived notion or bias that, in order to do research for the manga, perhaps the woman manga artist kept on going to host clubs in Shinjuku. I decided to use a pen name that would not suggest that I was a woman.
Many of your works have two exclamation points in them; how did that come about as your trademark?
Up until Yuri!!! on ICE, the three titles that I published each had two exclamation marks, and that's because I wanted them to have an easy to remember title for the shounen publications. The title should be in katakana, short and brief. That by itself makes the title too plain, so I wanted to give some energy to it, and since it's a boy's magazine you might as well put in exclamation marks. Just one would still be a little plain, so I would go with two.
However, I wanted to make Yuri!!! on ICE superlative to my previous works, so I decided to go with three. I have no regrets with this decision. The three exclamation marks for Yuri!!! on ICE also represent Yuri, Victor and Yurio.
Hiramatsu
What sort of instructions did you receive when designing the cast of Yuri!!! on ICE?
For the skaters, I was instructed to be mindful of how real world skaters have their frame, muscles and postures, as opposed to non-skaters.
What was it like designing characters of so many different nationalities?
It's not uncommon to have anime where there is a cast of multi-national characters. For Yuri!!! on ICE, this was my first time when the characters really had a motive behind being multi-national, since each of the characters basically are representing their country and compete for the glory of their country. So their nationalities and their mindset were really reflected in the designs, which was fun, and it was my first time doing it with that much consideration.
What did you do to make it clear that each of the characters were from a different country in their animation and design?
As the topic of the anime is about figure skating, I first received the instruction from director Yamamoto to just watch figure skaters. That would be through photo references, internet websites and Instagrams. So I started by learning the lives of figure skaters, on and off the rink. I would also look at actors from various countries and learn the mannerisms of each nationality through them.
Was there a particular animator's work on the show that stood out to you?
I believe that for everyone on staff, it was the first time to be doing an animated show about figure skating. Everyone worked great, but among them I bring up 2 animators who were particularly great doing their figure skate scenes: Junpei Tachinaka and Eiji Abiko.
Group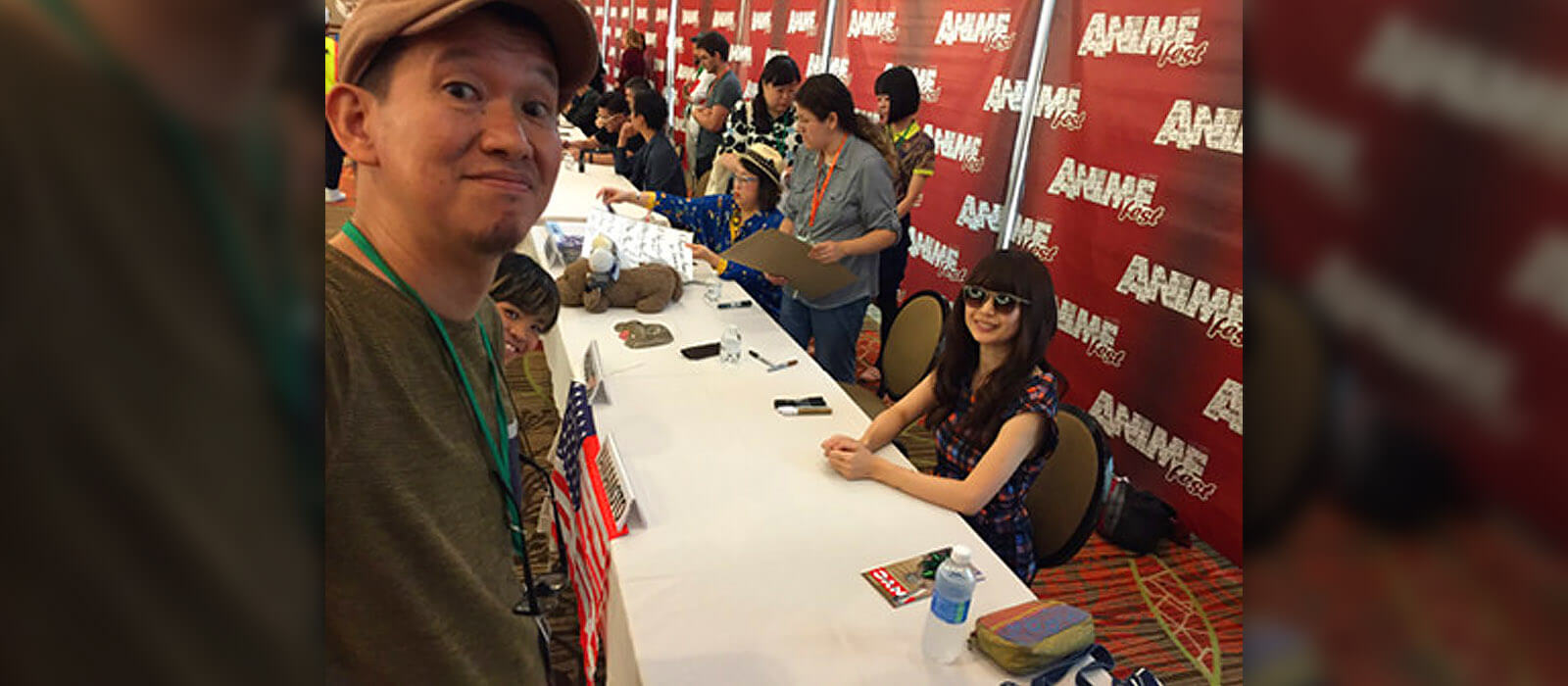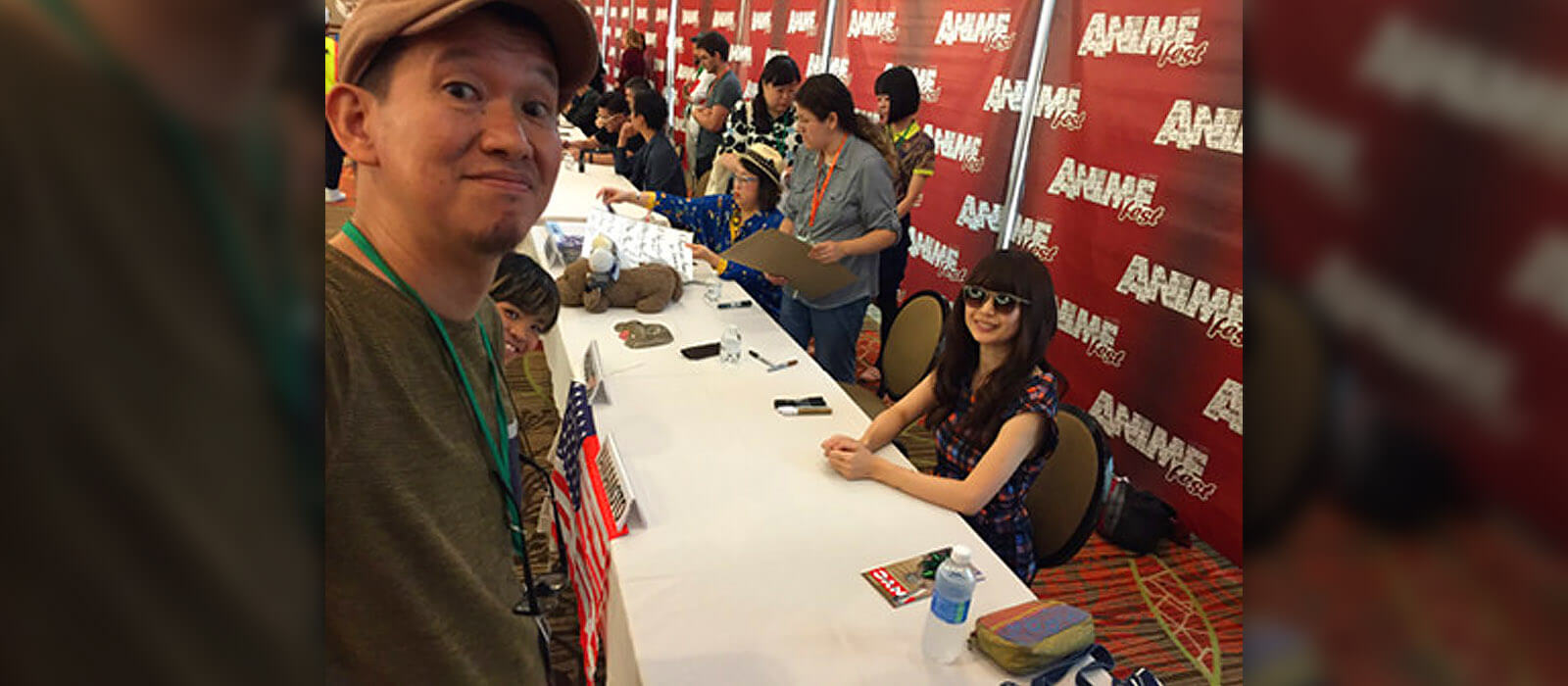 You've gained quite a few notable fans, like Evgenia Medvedeva and Johnny Weir, and have done special collaborations with pro figure skating events like World Team Trophy. How has getting so much attention from professional figure skaters and the sport as a whole affected you personally?
Hiramatsu: For me, I started learning about figure skating after I got the job of character designer for Yuri!!! on ICE. Up until then, I was more of a casual watcher, such as watching the Sochi coverage and being impressed. To get a reaction from world class figure skaters as a result from what I've done is somewhat wondrous and strange. I'm glad to get that, but it's still strange.
Kubo: One of the reasons that I hesitate to answer is because, while this anime has given me the opportunity to talk directly with several world class skaters, I never want to use this as an opportunity to get close and try to become friends with any of them. As a fan, I feel like I'm obligated to stay a fan forever. That doesn't mean that I'll neglect putting all my effort into the work, but I tend to instinctively put up a guard, and make sure that I always remain a fan to them.
https://twitter.com/yurionice_PR/status/856410911602429953
Yamamoto: I'm pretty much the same as Kubo-san. I do not have a social media or Instagram account under my real name, but I do have a couple of "skate otaku" accounts. I'm always watching the skaters, and I follow about 600… *pause* wait, no, 800 of them. I would check up on them about once every hour first thing in the morning. This would be on Twitter, Facebook, Instagram, VK and Weibo.
https://www.instagram.com/p/BTuu0uqA7Vm/
When I actually see first class skaters mention that they follow and watch Yuri!!! on ICE, I get this feeling that they are encouraging me to do my best. There are times when I'm not feeling fully motivated, but when I see social media postings from Johnny or Medvedeva, I really feel that I am getting encouragement from above. It is great medicine for me, and I
call it "energizing." *laughs* It's kind of like drinking a bunch of those quick energy drinks all at once!
Can you name three people that you respect/look up to, and why?
Hiramatsu: Would that be from any particular world, such as anime staff?
It doesn't have to be, it can be from anywhere.
Hiramatsu: *thinks* From the anime world, I can bring up Hayao Miyazaki, and also many others, such as the animator Yasuji Mori. In the world of music, Leopold Stokowski, who was the conductor from Disney's Fantasia. Lastly, from the film world, Alfred Hitchcock.
*turns to Yamamoto, who is deep in thought*
It can be similar to the skaters you mentioned, as someone you consider inspirational.
Yamamoto: That would be the toughest way to answer!
*laughter*
Yamamoto: You could certainly say I respect all figure skaters.
Hiramatsu: Kind of a copout answer.
*laughter*
So that's one…
Yamamoto: Ehhhhh….?! Then I'll change angles and bring up inspirational ice skating championships. championships. One that I definitely want everyone to watch is the entire 2013-2014 season, which is very inspirational for anyone. This was great for all categories: Male, Pair, and Ice Dance. In terms of ice skating, this had a lot of influence on Yuri!!! on ICE. *pause* One more?
Mmmhmm.
Yamamoto: You could say that Kubo-san, Hiramatsu-san and every staff member on Yuri!!! on ICE are people that I respect. It's very rare to end a production and say, "Let's work together again!" During production, we are putting in our best and have nothing left over at the end. I'm very happy that I can still talk to my colleagues and say, "I'd love to work with you again!"
Kubo: For me, I think I can recall from grade school days some of my anime inspirations. Since I'm not much of an anime follower, a lot of my influences came from my brother. I would bring up names such as Hayao Miyazaki, Katsuhiro Ôtomo and Toyoo Ashida. I'm pretty certain there's no need to explain Miyazaki or Ôtomo, but Toyoo Ashida directed a show called Madō King Granzort. In it, there's a character named Rabi, and I really loved his character. I think the impression I had of him lingered on, and Rabi is very close to Yurio in terms of character. Come to think of it, Rabi was also a skater. A roller skater.
Hiramatsu: I actually was an animator on Granzort when I was younger.
*everyone gasps, especially Kubo*
Kubo: Other characters also have influence from Rabi, like Minami's facial features. However, just mentioning this sort of influence behind Yurio might give the wrong impression to overseas viewers and readers that I tend to favor Yurio, but that's not the case. Yuri Katsuki is the one character that was created without any role model or influence. That's the very revolutionary part for me, and the character that I'm most fond of. I hope that gets conveyed.
Live drawing"勝生勇利" #Animefest #AFdallas pic.twitter.com/x71wWrIJQF

— KUBO!!!@ユリアド制作中 (@kubo__yuri) August 19, 2017
﹋﹋﹋﹋﹋﹋﹋
Thank you to Sayo Yamamoto, Mitsurou Kubo, Tadashi Hiramatsu, and AnimeFest for the opportunity.
Thank you to those who submitted interview questions: Pedro, AveryJea, Bonnie B, Justine, May, Matthew Li, Hali, Mary Borsellino, Thomas Zoth, Joseph, Ann M. Kaityln, shibutt-san, Karice67, Nikola, KCoz, Halrey Axelle, Cortney Shannon Gully, Chrome Dome XL, Maryam, zolotse, syamimi, Elijah Wilson, May, baldfat, Ceclia Rose, Cindy C., Callum M., and Katy Castillo
Translated by Karahashi (AnimeFest volunteer translator) & Transcribed by Chris Brailsford.
Special thanks to Sakuga Blog for permission to embed their videos.
﹋﹋﹋﹋﹋﹋﹋﹋﹋﹋﹋﹋﹋﹋﹋﹋﹋﹋﹋﹋﹋﹋﹋﹋﹋﹋﹋﹋﹋﹋
In the "Hi, I'm…" series, we sit down with fantastic folks who influence the world of Japanese culture, from AniTubers to experts & industry celebs. Every other month, we'll present a new interview with insight on their daily life, their thoughts on the Japanese Culture industry and tips for those wanting to debut in the same field as them.
Have someone you want to see featured or questions you think we should ask? Send us an email: YattaTachi[at]gmail.com
﹋﹋﹋﹋
Editor's Note: This interview was edited slightly for clarity. 
Big thank you to our supporters
From their continous support, we are able to pay our team for their time and hard work on the site.
We have a Thank-You page dedicated to those who help us continue the work that we've been doing.
See our thank you page