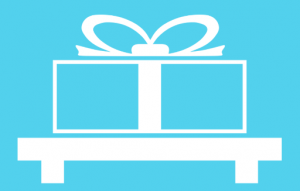 Today, we will be unboxing a package from a new subscription service recently introduced to the subscription box world called OMAKASE.
Omakase is a Japanese phrase that means "I'll leave it up to you". It's frequently used in sushi restaurants as a way of saying the customers are leaving their choices up to the chief.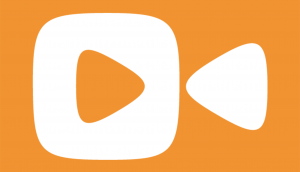 OMAKASE, which is by the company Viewster, offers a wide variety of perks that other subscription boxes lack. By paying 29 USD every two months, you receive goodies such as: legal anime streaming, exclusive music, original comics, and much more!
Below are some of the awesome perks subscribers receive:
A special product delivery every two months
Carefully curated anime merchandise
Access to ad-free anime streaming
Anime streaming in HD*
Exclusive anime content*
Digital music and comics exclusives*
* Available soon
If you wish, feel free to check out the unboxing video I created at the end of this article!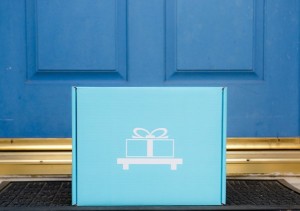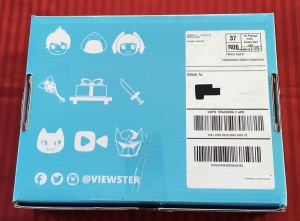 Taking a look at the exterior first, we have a pale blue colored box with the OMAKASE logo on top. On the back of the box, there are cute characters like a Magic girl wand, a sword, a cat, and the Viewster logo. The interior of the box has the same characters patterned in color all over the box. The items are wrapped in tissue paper with the same pattern. As we peel back the paper, we can now get a glimpse at the goodies inside! The items are nicely placed in the box.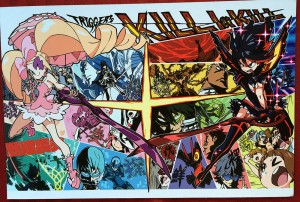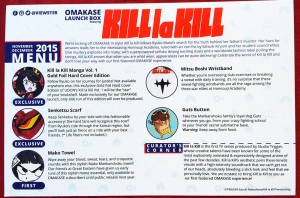 Each box includes a "menu card" which explains in detail what you received. On the back of this card, you can see a graphic illustration of the Kill-La-Kill characters.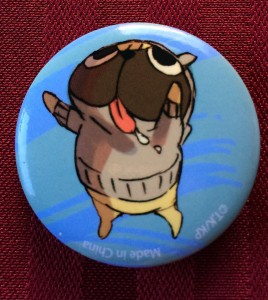 The first item is a little button of Guts. By including a pin, it gives off a similar feeling to Loot Crate. Every box that Loot Crate gives out includes a pin for you to collect.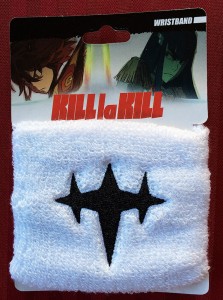 Alright, this is a licensed Kill-La-Kill Mitsu Boshi sweatband. It's something nice to have when you're working out. While I don't personally seeing myself using it, it's still rather neat.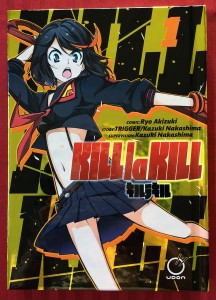 What we have here is a gold foiled, hard cover version of the Kill-La-Kill Vol. 1 Manga. This is an OMAKASE exclusive so only those who subscribed to this box will own this version.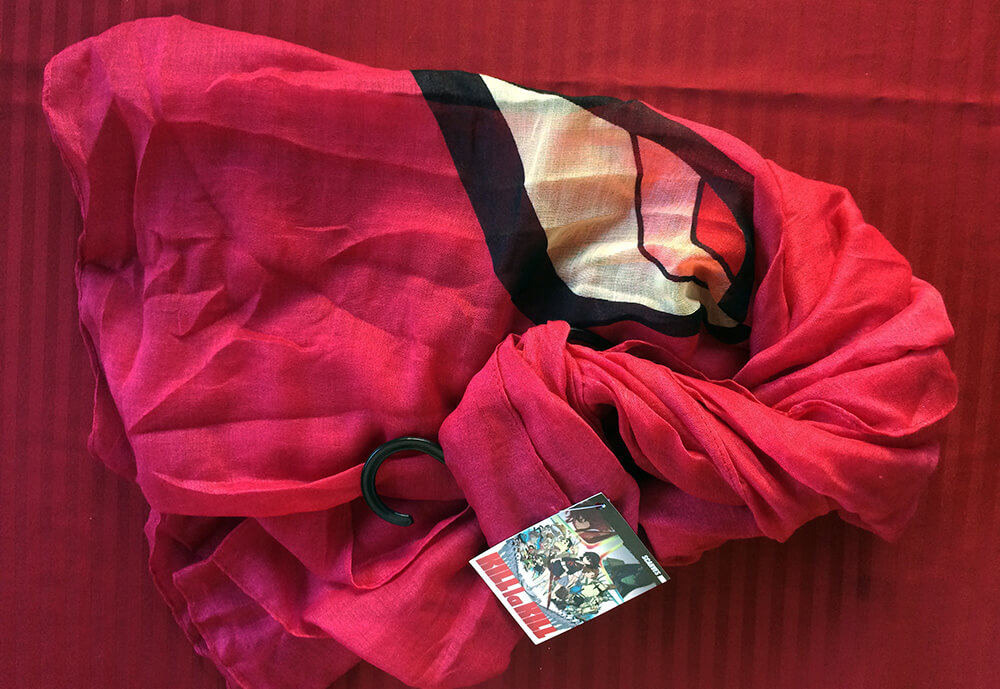 Okay, this is one of the main items that OMAKASE revealed that many, MANY fans raved about and looked forward to owning. Behold! The Senketsu scarf! This is one thing I love about this subscription box compared others. It includes items that you would see some of your favorite characters wear. Now you can feel like a BAMF as you wear the same kind of scarf that Ryuko wore! By the way, this is another OMAKASE exclusive sooo… yeah only for those who got this box!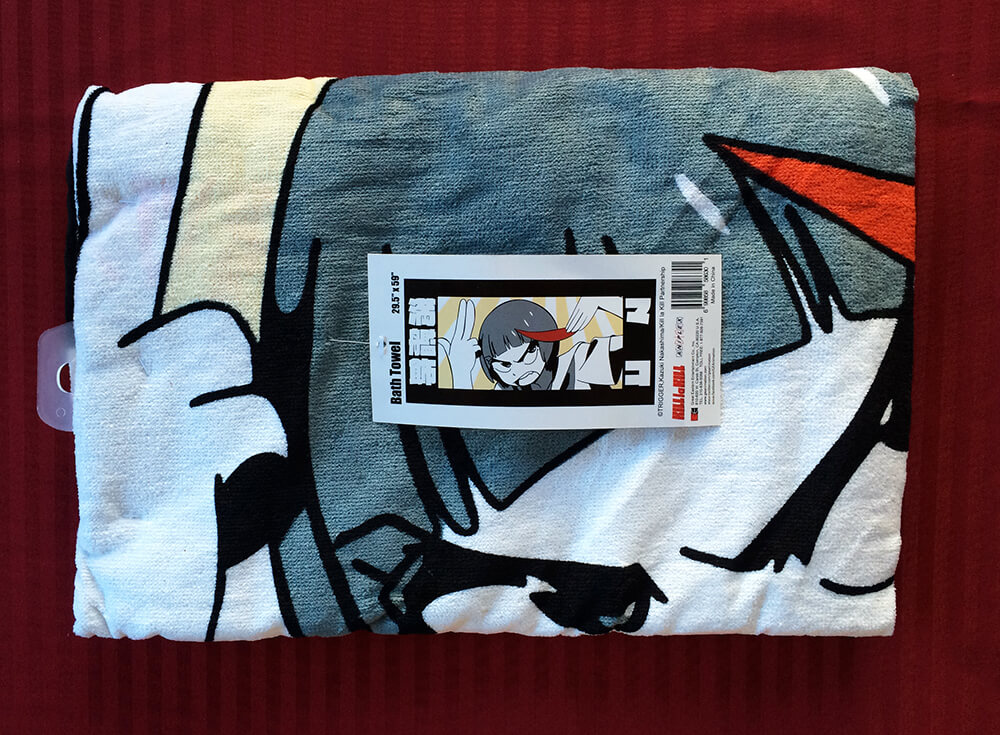 For the last item of the box, which was a mystery item, what appears to be a towel? Let's have a look… Yesssssss, it's a bath towel of Mako! After filming, I took it out of the packaging to inspect it further. The texture of the towel is very similar to a beach towel, rather thin and not that soft. While I would personally prefer a fluffier towel, it's still pretty cool to use when I go to the beach. From what is says on the menu card, it's only available to OMAKASE subscribers until the public release next year!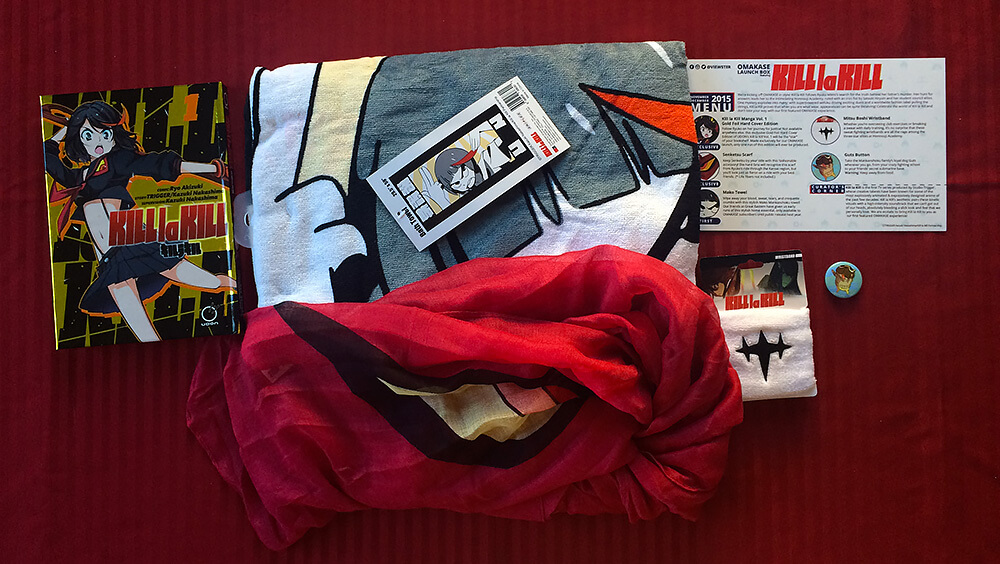 Alright! There y'all have it! The first official box from OMAKASE! I was fairly surprised at the amount of items I received. The quality of the items are beyond what you are paying for. Unlike other subscription boxes, the items you receive are not just candy and little stationary accessories, but collectible items. Not just collectible, but exclusive items that you can only get through OMAKASE. In this box, subscribers not only got one, but TWO exclusive items and one before public release item! For only 29 USD every two months, you receive well over $60 worth of items!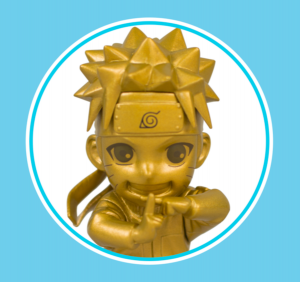 If you wish to subscribe, they are already giving hints for the next box! The theme for this box is Naruto! You have until January 23rd to subscribe in order to receive this box.
Below is a video unboxing that I put together for y'all! If you enjoyed this video and would like to see more, please like video and subscribe to the Yatta-Tachi YouTube Channel!
Big thank you to our supporters
From their continous support, we are able to pay our team for their time and hard work on the site.
We have a Thank-You page dedicated to those who help us continue the work that we've been doing.
See our thank you page