Dagashi Kashi was one of the tastiest anime of the Winter 2016 season, but are the snacks featured any good? Lets find out! I'll be looking at 17 different snacks this week, all of them featured in the Dagashi Kashi manga, and most of them in the anime as well. Want to try them out yourself? Luckily for you, you can buy these and many other awesome Japanese treats at J-List.
If you missed part one you can find it here and you can read Dagashi Part Three here!
Seven Neon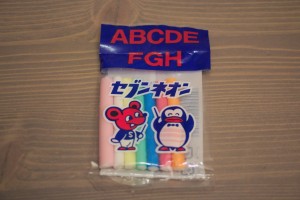 First on the chopping block is Seven Neon, a bunch of dagashi glow sticks. These sticks have a candy core with a plastic sleeve. Interestingly, the sticks are all slightly different in size, almost like they were handmade.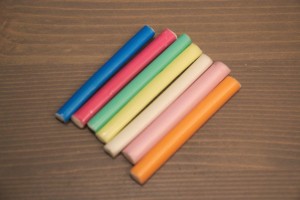 Upon opening the packet, a fruity smell appeared, alongside the expected sweetness. In order to eat them, you're supposed to pull out the candy with your teeth, in practice this is rather hard however. The taste can best be described as buttery blandness. It melts inside your mouth quite like butter, but that fruity smell is entirely lacking. Overall it's quite boring and way too much effort
2 King Blades out of 7.
Sakura Daikon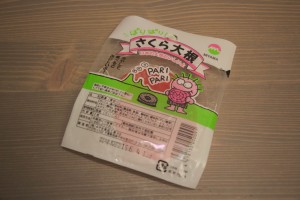 Daikon, those massive radishes. How does adding "sakura" make it into dagashi? Short answer, it doesn't, at least if you ask me. Sakura Daikon is created by fermenting the normally discarded top part of the daikon in melted down sour plum.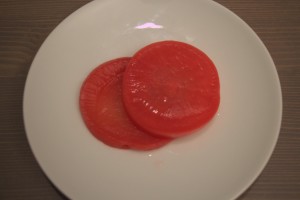 The smell it creates is horrid, my gag reflex got some use right after I opened it. The daikon itself is rather hard, and it took quite a bit of force to bite through it. Taste wise, it's extremely sour, although not as unpleasant as the smell suggests. Still way too strong to eat on it's own, it might be okay with rice though. But that does raise a question, who would buy this as a quick snack?
3 Vegetable Gardens out of 13.
Monster Stamp
Stamp shaped dagashi that actually works? Neato! Monster stamps are small candy stamps with red or blue food colouring on the bottom that leave an imprint when you lick them.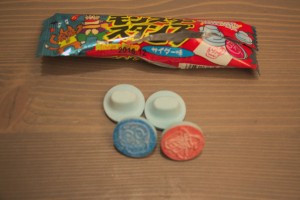 The imprints are quite good as well, although the edible ink does not get absorbed by paper well enough to prevent smearing. The colour side of the stamps are rather bland, but the rest is quite sweet in a tasty way. I quite enjoyed these, and the stamp part is a bit of fun as well, without getting in the way of the dagashi like the Seven Neon.
8 Name Stamps out of 11.
Yanyan Tsukebo
Next we got some Yanyan Tsukebo, which are breadsticks with a chocolate spread dip. I've had a local dutch variety of these back as a kid, so this is clearly not something Japanese. Nonetheless, this version is quite good.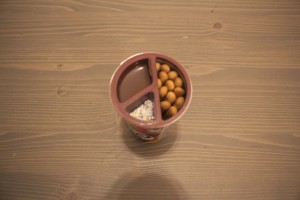 The breadsticks are good quality, and have a whole bunch of characters on them, which is interesting, if I knew Japanese that is. The dip itself is great, but Yanyan shares the same problem all of these kind of products have, too many breadsticks, not enough dip. There are even sprinkles on the side, but unfortunately these are quite boring. They add very little to the experience, and I would have liked more dip instead.
6 Nutella Jars out of 9.
Yatta!Men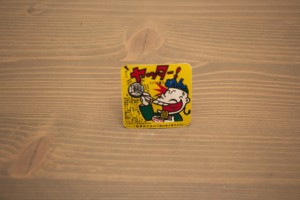 Yatta! Yatta! Yatta! Is what our glorious leader would be shouting upon reading that name. But sadly for Katy this dagashi does not contain spiced up men. Instead Yatta!Men contains small chicken flavoured noodle bits. One of these cups contains enough for a single shot of noodle, tasting just like expected, uncooked chicken noodle. These also have a change for a coupon worth up to 100 yen, which might be why some kids try their luck with them. It's not too bad to be honest, but the portion is too small to recommend it over other dagashi.
2 Cup Noodles out of 6.
Bontan Ame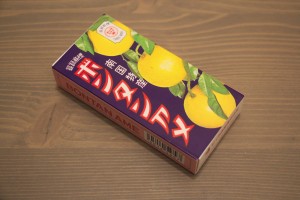 A traditional citrus flavoured mochi-like dagashi, Bontan Ame is a regional candy hailing for the southern island of Kyushu, using their regional citrus fruit called Bontan. They have been making these bad boys since 1926, changing nothing since then, not even the packaging. The wrapper they use is made of oblaat, a gelatinous transparent film made from rice that melts away in your mouth. Interestingly, oblaat came to Japan through Dutch medicine, where they used it to hide the bitterness.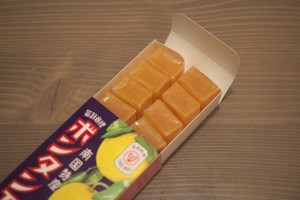 Enough facts, let's get down to the taste. At first the wrap feels like plastic, but once you bite or wait a bit it dissolves in your mouth revealing the sticky, chewy insides. It's not very sweet, and the citrus is not in your face either. The mildness, however, is not all that bad, very balanced with the texture providing half of the pleasure.
8 Fruit Trees out of 10.
American Cola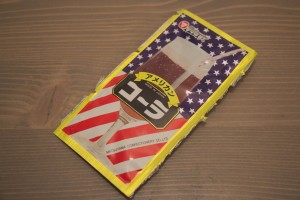 Not just any cola, 100% American cola (made in Japan). This is a dissolvable powder that makes a cola flavoured drink. And unlike the fake beer in last week's article there is no foam or fizz.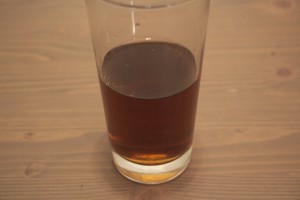 The smell when opening the packet was one of gummy cola bottles. Unsurprisingly, so was the taste. Immagine melted down gummy cola bottles, and you'll be quite close to this 100% American cola.
7 Pepsi Bottles out of 12
Cho Himo Q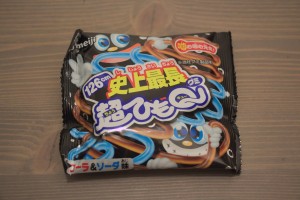 The longest gummy in the world is what they claim. Probably false, but at 126 centimeter (or 49.6 inches) this dagashi sure is quite long. It features alternating flavors, cola and soda, the second being quite vague in name, but probably lemon ramune.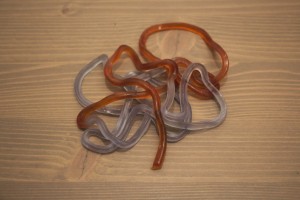 They even advertise the length as a feature for playing with, but for a kid waving such a long gummy around will likely result in the gummy touching all sorts of dirty surfaces. It tastes just as expected, gummy for miles. The cola was a bit faint, but the soda was nicer. The length also ensures you have plenty to keep you eating for a bit.
5 Gummy Bears out of 8.
Watapachi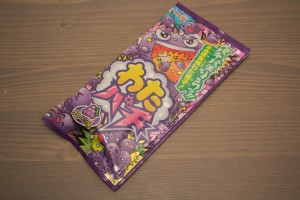 This isn't your regular cotton candy, it's a trap! A pop-rock hiding trap to be exact. Yes, this grape flavoured cotton candy hides a bunch of those carbonating rocks. And grape flavoured is an understatement.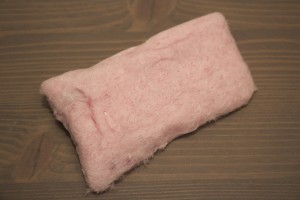 When I opened the package, the grape smell hit me harder than a mouthful of pop-rocks. The taste hit me doubly so. It's so intense, the grape, the sweet, the sour. I wanted to eat it all in one bite, but I just couldn't. And of course after that, the pop-rocks engage. An experience for sure, and one I can heartily recommend.
4 Grapes out of 5.
Suppai Budou Ni Goyoujin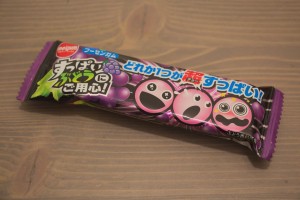 Three grape flavoured balls, two normal and nice, but one extremely sour. I didn't quite get that message when I tried these, so upon my first bite I was shocked to find out it was so sour. Sucks to be me I guess.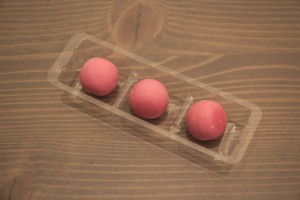 The balls themselves are gum, which I am not particularly fond of, with a middle part that provides the extra flavour. The gum itself is okay. It holds it's flavour for a good while, and it's not enough to make you gag, as some candy gum have done in the past.
2 Sour Patch Kids out of 4.
Cabbage Taro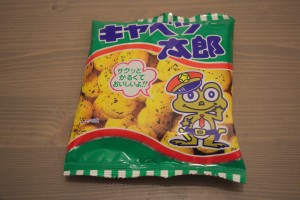 More vegetables? As it turns out, no! The name is very misleading as there is no cabbage, and taro is simply a common Japanese male first name. Cabbage Taro are corn balls with small nori pieces and brown sauce(most might be familiar with the HP Sauce variety).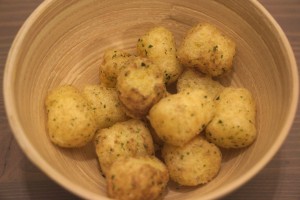 They smell the part, very much reminding me of said sauce. The crunch is what you would expect from a corn ball, with the taste being clearly that of brown sauce, with the nori not really adding much. Cheeto balls without the cheese, but with condiments.
9 Bottles of Tesco Brown Sauce out of 15.
Aji Curry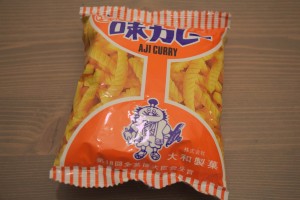 The anime told me the smell of Aji Curry can drive you crazy, and sure enough it smells quite strong. Too bad it doesn't translate into the taste. For some reason it's just extremely bland, the spicy smell is just non existent when you put some in your mouth.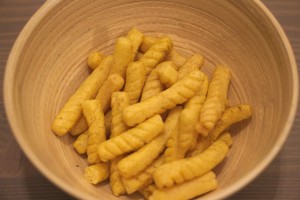 Only when you eat a lot of them at once you do start to get a bit of an aftertaste. Quite disappointing really.
2 Unsalted French Fries out of 7
Neru Neru Nerune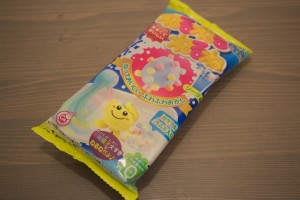 This is one of those DIY dagashi sets, featuring some sticky goo and hard candy. The biggest novelty feature is changing the colour of the goo by adding the packets one at a time, which was not very interesting to me, but a child might get some fun out of it.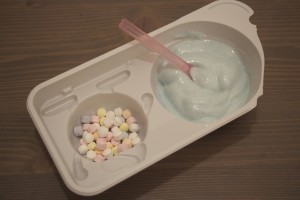 Making it was quite straightforward, even though the instructions were in Japanese. The paste tastes quite sour, but it was the consistency I was having trouble with. It dissolved in quite a weird way, hard to explain, but suffice it to say I am not a fan.
4 DIY Stores out of 14.
Omoshiro Boy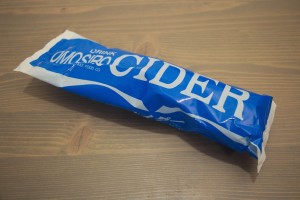 A drink type dagashi to spice things up, which, as I'm told, is best when frozen. I intended to leave it in the freezer for a couple of hours at most, but silly me forgot. Anyways, I was half-expecting this to be jelly, as it does resemble the jelly from last episode, but it's a full on drink. 
The taste is fairly mild, not as sweet as most drinks. Flavour wise it's not very pronounced, might be apple, the packaging does say cider after all, but ciders aren't always made from apples, so who knows. I also wonder if this drink would be sold at all during the summer, as the anime shows it being sold at room temperature. So if you want a cold drink you'd probably grab a chilled Ramune.
6 Ramune Caps out of 9.
Choco Bat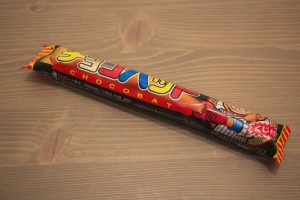 Baseball can only be described as Japan's national sport, so it's only natural they sell dagashi bats. It's just a big bar though, sadly, instead of the bat-shaped bar I was expecting. The inside is a soft cake, instead of the hard cookie commonly found in chocolate bars.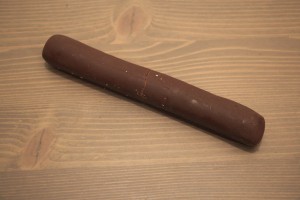 The chocolate is not very pronounced, a bit in the background, but when tried on it's own it tastes darker than most chocolates used for chocolate bars. It's also a bit dry, a chocolate sauce core would have been perfect to solve this, but alas.
9 Milky Ways out of 16.
Choco Baby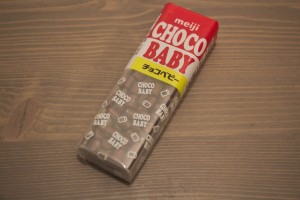 Chocolate tic-tacs, all I can say really. Even the packaging looks a bit like a tic-tac container. The chocolate itself is the most average chocolate ever, nothing special, not even something weird or interesting hidden inside of them.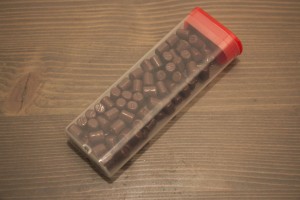 The best thing I can think of to use these for is for batting practice using your Choco Bat, although I can't guarantee a you'll make it into the MLB.
5 Tic-Tacs out of 11.
Goen Ga Aru Yo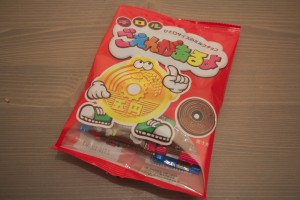 Lastly, 5 yen chocolate coins. Sad to report it's exactly like the chocolate coins my grandparents used to give me every year during christmas, just with a hole in the middle.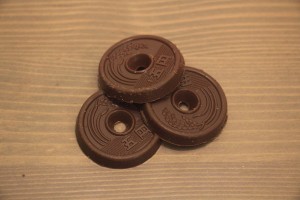 I was hoping the different colours on the small packets might signify different kinds of chocolate, but that theory was shot down quite quickly.
3 Chocolate Dollars out of 8.
That's it for part two of this tasty review of the Dagashi Kashi sampler from Jlist.com. Stay tuned for part three next week where I shall talk about, amongst others, Baby Star Ramen, Maken Gummy, Sakuma-shiki Drops and Yoguret. If you want to get your own sampler you can right over here: J-List.
Disclaimer: For the J-List
 Links, Yatta-Tachi may get a small commission.
Big thank you to our supporters
From their continous support, we are able to pay our team for their time and hard work on the site.
We have a Thank-You page dedicated to those who help us continue the work that we've been doing.
See our thank you page