KWEH!
This #ThrowbackThursday is a little unusual because we will be featuring Spider-Man. Wait, do not throw your rotten eggs at me yet! This is a legitimate Japanese series!
How would you transform if you were the Japanese Spider-Man? Here is how you do it: stand up straight, strike a cool pose, bring your Spider Bracelet to your chest, activate it to shoot your Spider Protector (the Spider suit) that automatically puts itself onto you, and finally strike your best Spider-Man pose!
Not many people outside Japan know about this version of Spider-Man. Even I used to think the Japanese Spider-Man was directly stolen from Marvel's band of merry heroes. That is not the case because the Toei's series is a result of an agreement between Toei and Marvel back in the late 1970s. As such, this Japanese version of Spider-Man can be considered a real and proper web-slinger. Another speculation about why the series is not promoted as much as other Toei's creations is due to the distribution licenses with Marvel.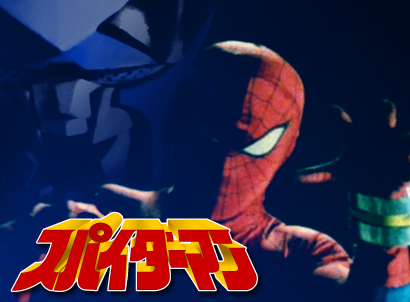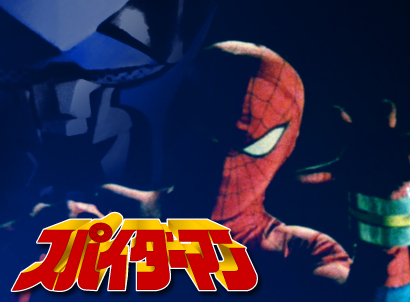 How about the story? Is it about Peter Parker on vacation in Japan? No, the main character in this series is not Peter Parker while he is tasked to do extended coverage for the Daily Bugle in Japan. The origin story for Toei's wall-crawler is completely different from Marvel's.
A young motorcycle racer named Takuya Yamashiro spotted a crashing UFO. The UFO is in fact a space warship named "Marveller" (Marvel? Marveller? Geddit?) from the planet "Spider". Yamashiro and his father followed the UFO and were hunted by Professor Monster and his Iron Cross Army. The band of noisy, evil men were aliens who were trying to rule the universe.
Yamashiro's father was killed by the aliens while Yamashiro himself was saved by the surviving member of planet Spider. The kind alien then equipped Yamashiro with the Spider Bracelet that injected the Spider Serum. The serum imbues Yamashiro with spider-like power and he becomes Spider-Man, the hero who fights off alien invasions!
Unlike the New Yorker Spider-Man, the Japanese counterpart has a couple very menacing rides: the Spider Machine GP-7 and the Leopardon (Marveller).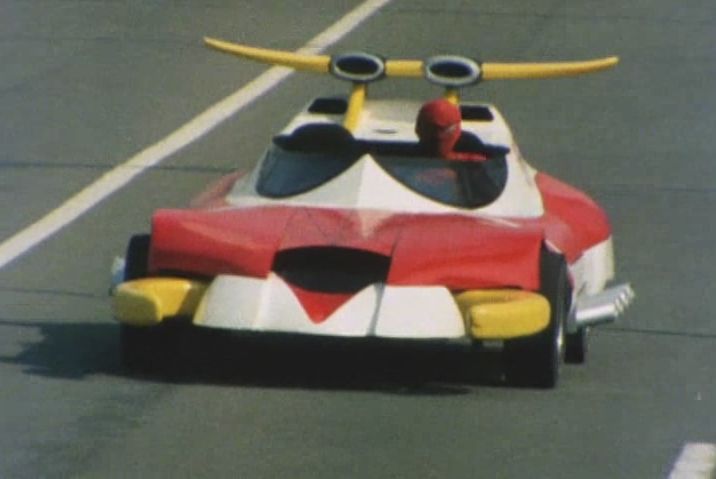 GP-7 is Spider-Man's main mode of transportation on land and air. Yes, GP-7 can actually fly. It is in fact the only way to gain access to airborne Marveller. When Spider-Man's enemy monsters turn gigantic, he calls on the GP-7 and Marveller. Once he gets inside the giant space ship, he can command Marveller to… "Change! Leopardon!"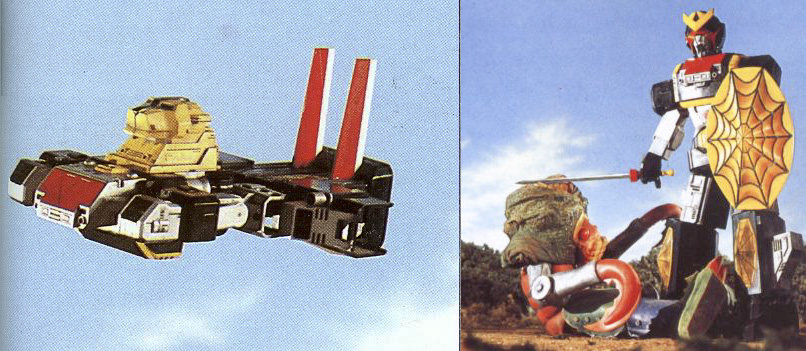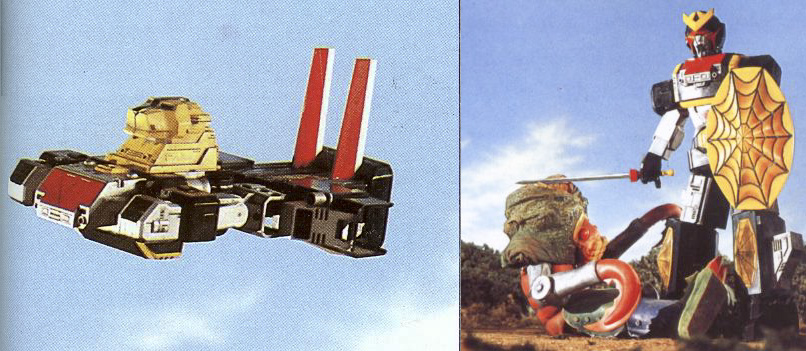 Look at that giant robot! It even has its own sword and shield. Oh, are you able to spot the dog-like command center on top of Marveller?
The singer for this song is Yuki Hide (ヒデ 夕樹 Hide Yūki), his real name is Hideyuki Hirano (平野 英之 Hirano Hideyuki). Aside from being known for singing the opening song, he also lent his voice to several other tokusatsu series. Some of them are Ultraman Leo, Jinzo Ningen Kikaida (Android Kikaider), and Kaiketsu Lion-Maru.
Now, here is where the series gets interesting. According to Tokupedia, Toei's Spider-Man is one of the first, if not the first, to utilize the concept of the hero summoning a giant robot to fight a super-sized enemy. Which means, the Power Rangers and Super Sentai series would not have been born if not for Spider-Man.

In 2014, Toei's Spider-Man appeared along with Leopardon in the American Spider-Verse continuity. That particular story arc saw many different web-heads from different story universes coming together to defeat Morlun. Even some of the Japanese Spider-Men made into the series.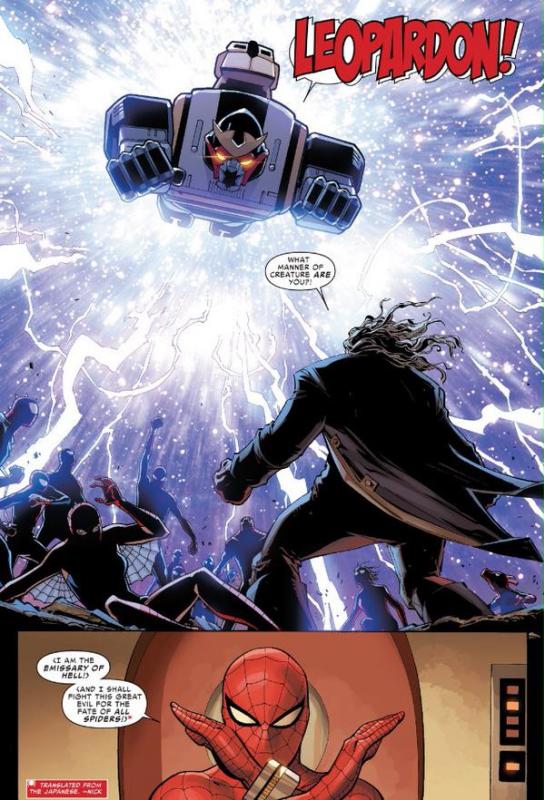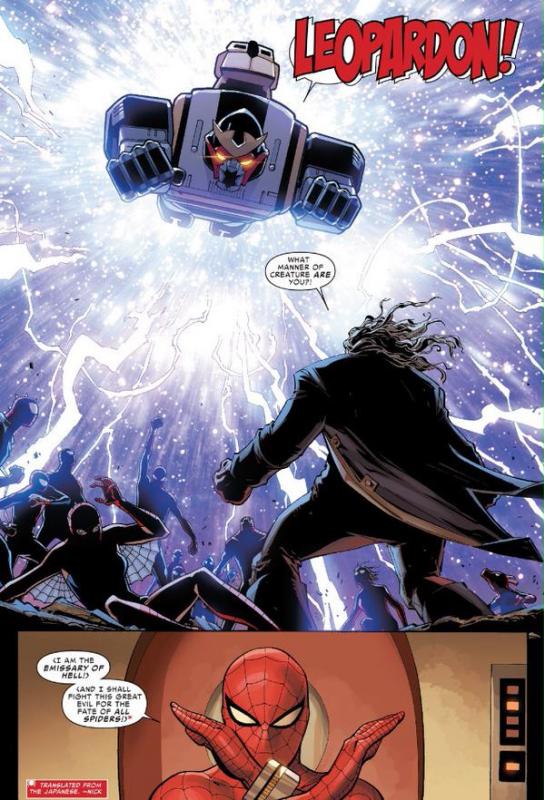 Stan Lee, the co-creator of the original Spider-Man, even praised how Toei was able to appropriate the character in a video interview that you can watch here.
I hope you learned a thing or two from this edition of #ThrowbackThursday. We will see you next week for more oldies but goodies!
Sources: The Verge, Forbes, Tokusatsu Wikia, Marvel.com, and Marvel Wikia.
Big thank you to our supporters
From their continous support, we are able to pay our team for their time and hard work on the site.
We have a Thank-You page dedicated to those who help us continue the work that we've been doing.
See our thank you page