KWEH!
Minky Momo was most probably my earliest exposure to the mahou shoujo (magical girls) genre. Similar to how Kamen Rider Black was my entryway to the Kamen Rider Franchise. If my memory did not lie to me, I watched Minky Momo before Sailor Moon aired. While researching for this write-up, I found out that I was watching the second series in the franchise. Confused? I will explain in a minute.
History of Minky Momo
There are two different series of Minky Momo. Both are called Magical Princess Minky Momo (魔法のプリンセス ミンキー モモ or Mahou no Purinsesu Minkii Momo). The first TV anime that ran from 1982 to 1983 is often called Sora Momo (Sky Momo). The second series, which ran from 1991 to 1992, is often called Umi Momo (Sea Momo). Why the distinction? I will explain in in the Story section below. The two anime differ in story, but the premise is very similar. The 1991 show was the one that I remember watching.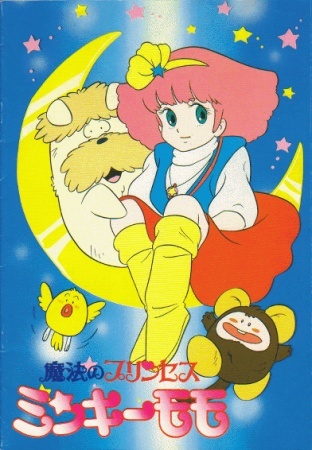 Minky Momo was created by a team of famous minds. The late Toyoo Asahida, who had worked on Fist of the North Star anime, Space Battleship Yamato, and InuYasha, designed the characters. Kunihiko Yuyama, the director of many Pokémon animations, directed both shows. The late Takeshi Shudo, who also went on to write scripts for the Pokémon anime, co-created this magical girl series.
The name of the company that made the anime was Ashi Productions. In 2007, the company changed its name to Production Reed.
Note that many Western adaptations of the show were renamed Momo to Gigi.
Story of Minky Momo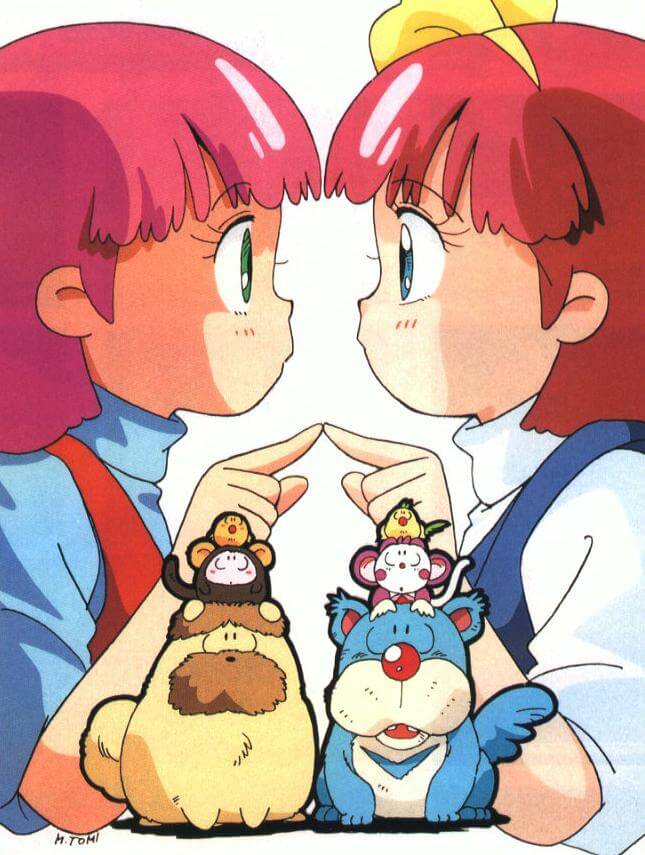 Sky Momo is about Princess Momo, who comes from the aerial kingdom of Fenarinarsa, a place where fairy tale characters live. The kind king and queen of the kingdom sent Momo to Earth to help people regain their dreams and hopes. I would add "imagination" to the list too if I were the king.
On Earth, Momo is adopted by a childless couple. She is accompanied by three magical beings, each resembling a different animal: a dog (Sindbook), a monkey (Mocha), and a bird (Pipil).
Sea Momo shares many similarities and some references to the first Momo. The character design is pretty much the same (adding to my confusion when researching), save for Momo's new companions. The dog (Cookbook), the monkey (Charmo), and the bird (Lupipi) are all redesigned. Did you notice what happen to their names?
Sea Momo comes from Marinarsa, an undersea kingdom. Similar to the first anime, Momo was adopted by a childless couple and uses her magical powers to help people.
There is a little bit of crossover in the two series. Without getting too detailed about the later part of Sky Momo, Sky Momo becomes an ordinary girl without magical powers. At some time in the continuity, the now normal Sky Momo gets to meet Momo from Marinarsa. To add some hilarity (thanks to the creators), both girls look pretty much the same. Here is a video to prove that.
The two Minky Momo anime are not actually sequels, but they do occupy same continuity and universe.
So, what is her magic? While other mahou shoujo characters would only transform into a powered-up or the superhero alter ego, Momo transforms into… real world professions!? Really. In order to help people, the princess is granted the magic to become the more grown-up version of, among others, a nurse, a theme park ride programmer, a bride (with wedding gown and bouquet), a singing contestant, a policewoman, and more. Though, there are some professions that may be stranger than others.
The Sea Momo's power is later expanded so that her transformations are no longer limited to professions. Additionally, she can also casts magical spells.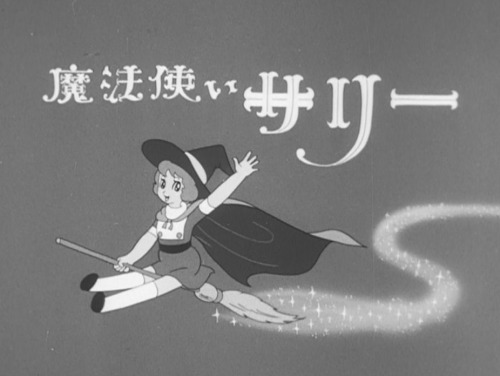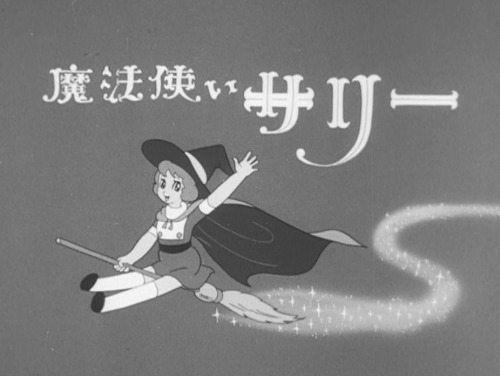 In terms of Momo being a magical princess, the character has been compared to its predecessor, Sally the Witch. Sally is a princess from a magical kingdom who uses her power to help people around her. The 1966 show is considered the pioneer of the mahou shoujo genre.
Minky Momo's Legacy
Aside from the two TV animations, there are several Original Video Animations (OVAs) and many CD singles and albums.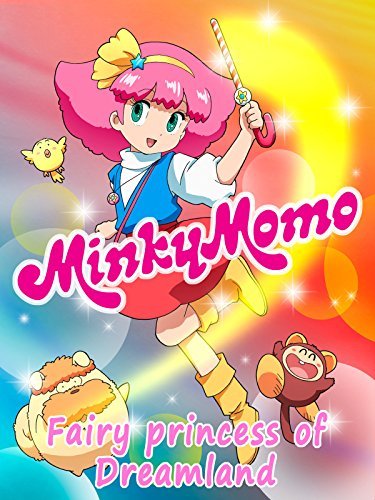 In 2015, William Winckler Productions released a series of movie compilations of Minky Momo. The movies are available for purchase and streaming via Amazon Video. The production company is known for bringing various Japanese shows to the US. Some of them are Fist of the North Star, Space Pirate Captain Harlock, Danguard Ace, Starzinger, and more.
Cultural Impact
Minky Momo was popular in the series's own ways. Aside from being appealing to young girls, it also appealed to older males. A few sources credit the anime for revealing the unintended cross-demographic impact. The creators at the animation company who produced Momo did not know about the male fandom. According to an interview of Patrick W. Galbraith by Neojaponisme.com, Galbraith remarked that Satou Toshihiko, the president of Production Reed, was rather shocked.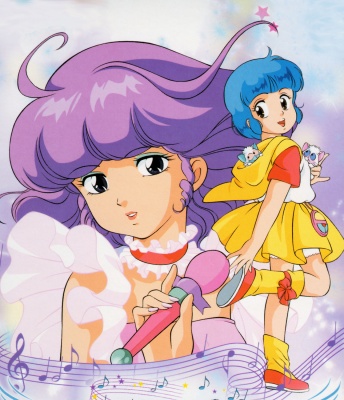 Creamy Mami, the Magic Angel, another magical girl anime produced by Studio Pierrot, came out in 1983 (after Momo). It too received the same kind of attention from the older male audience. As such, there were many articles written about lolita complex.
An article from JapanTimes also linked the cute girl phenomena to the idea of moe (萌え). In regards to that, Galbraith also wrote an academic paper about the rather undefinable term that is moe that you can read at your own leisure.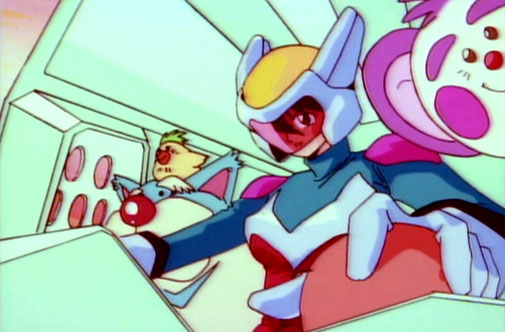 Well, that is it for now. In closing, I can now appreciate Minky Momo's different sort of transformation power more than when I was a child. It is much more grounded in reality–depending on what professions–than other mahou shoujo anime, because Momo depends on the knowledge that each jobs bring to solve the problems she faces. In a sense, I see it as a form of encouragement to a younger audience that they can be whatever they want to be when they grow up.
---
Sources: Japanese Studies (Patrick W. Galbraith), TV Tropes (Minky Momo), Japan Times, Nippon.com (The Evolution of Magical Girls in Anime), Neojaponisme.com (Patrick W. Galbraith interview), and Wikipedia (Magical Princess Minky Momo).
Big thank you to our supporters
From their continous support, we are able to pay our team for their time and hard work on the site.
We have a Thank-You page dedicated to those who help us continue the work that we've been doing.
See our thank you page