There is probably no one as famous as Junji Ito in the world of horror manga. Since his start in the late 1980s, he has amassed a great following. Some of his major works have been adapted into live-action movies or dramas over the years too. I am not a fan of horror films, but reading horror manga is something that I have been getting into. While researching and re-reading Ito's manga, I became interested in looking at what makes his horror effective. If you read my findings on Mononoke, you would have an inkling of what to expect this time. This is by no means a complete list or analysis.
History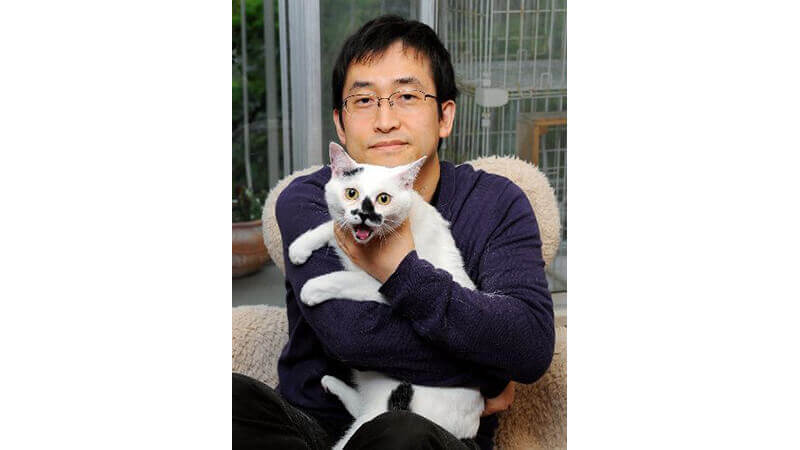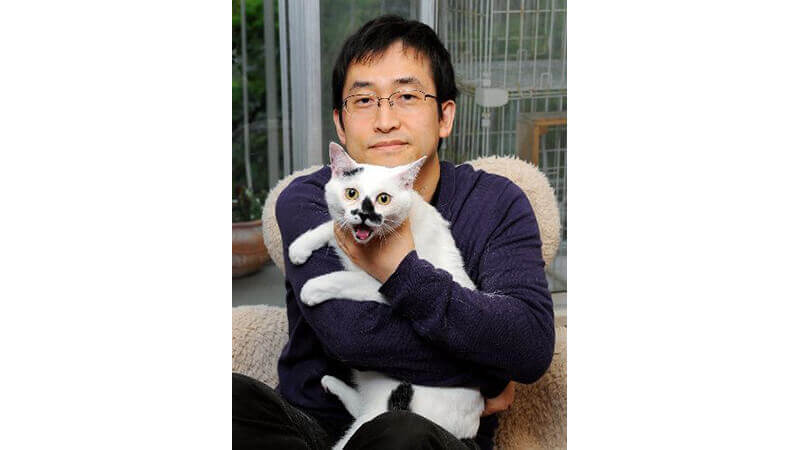 Junji Ito (伊藤 潤二, Itou Junji), born in the Gifu prefecture in 1963, started writing manga in 1987. His early manga submission earned an honorable mention from the Kazuo Umezu Prize. The said prize is named after one of Ito's inspirations, a veteran manga artist who is famous for his horror manga and many other creative works.
One of his earliest works is Tomie, a series of manga about a supernatural girl/entity named Tomie. She is a pretty young lady with a beauty mark below her left eye. Tomie is able to make many men fall for her to the point of obsession. She has an ability to regenerate from any parts of her body that can result in many copies of "Tomie" at a given time.
Ito has penned several major works like Gyo (ギョ), Uzumaki (うずまき), Cat Diary: Yon and Muu (猫日記 よん&むー), and a couple others. Many of his short stories have been collected in a few compilation volumes. Fragments of Horror, translated by Viz in the US, is one such collection. Among them, Tomie and Uzumaki were adapted into movies and television series. In 2012, Ufotable adapted Gyo and released an OVA. Aniplex brought the movie over to the US and is selling the DVD set.
The latest major news about him was his involvement with Hideo Kojima and Guillermo del Toro in the now-canceled horror game, Silent Hills. As a fan all of the creators, I would have loved to see how the game would come out.
Meat of my analysis
As with many great works, there are many small things that support the overall concept. Junji Ito himself certainly has certain techniques and tropes that he loves to employ. Aside from some of the obvious ones such as body horror, grossness, and unfathomable supernatural power, Ito likes to use many other techniques to help deliver his horror. Some of them are subtle, while others are more noticeable.
Facial expressions and features
This is a rather broad category with a few sub-points. As human beings, we tend to be sensitive in identifying and recognizing human features, particularly faces. In manga and comics, the artists often give a lot of care and attention to the facial expressions. Junji Ito uses many techniques when drawing the characters to suit his horrifying agenda.
Firstly, many of his characters seem to be constantly looking worried and troubled. Even when there is no shocking or distressing scene, some of them are already looking gloomy. Ito is preparing us for the upcoming events. The effect is subtle but compounding: we keep those characters' negative vibes unconsciously. At the moment the spooky scenes happen, we experience a flood of uncomfortable feelings. This technique is similar to horror movies when we see characters looking terrified.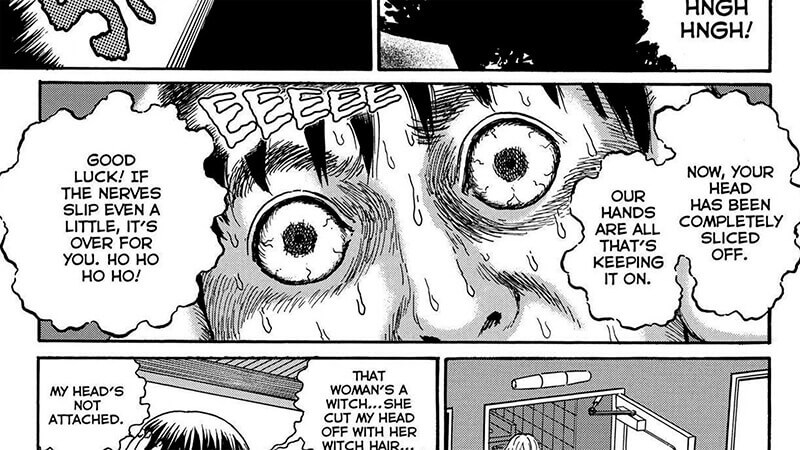 The second technique that Ito likes to do is drawing faces with a variety of disgusting and creepy features. An easy but effective trope that he likes to do is making the characters' eyes extremely wide to up the creep factor. Usually, he likes to make abnormal irises in conjunction with the large eyes. On the opposite side of that, some characters or supernatural beings do not even have any iris, just a pair of scary white eyes. Ito played up these tropes for humorous effect in Yon and Muu since it is a dark comedy manga.
Another technique that Ito is fond of involves designing beautiful women with a certain sense of creepiness. Women who seem suspicious of anything weird or inhuman are given features like longer and more detailed eyelashes, cat-like eyes, and emotionless smiles.
Rendering the faces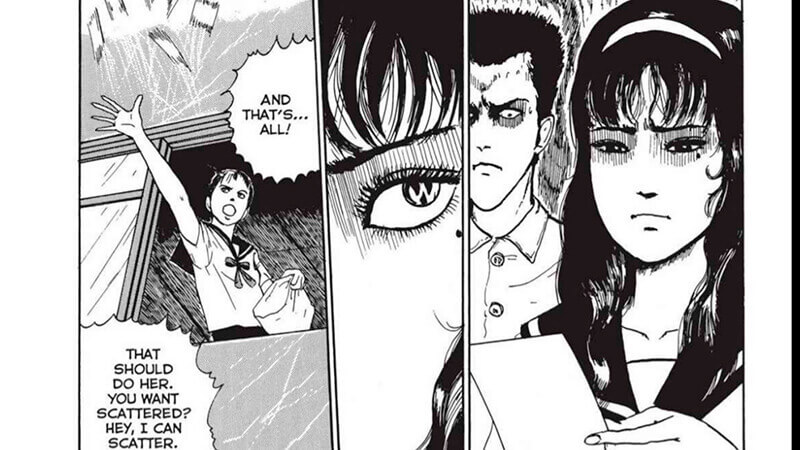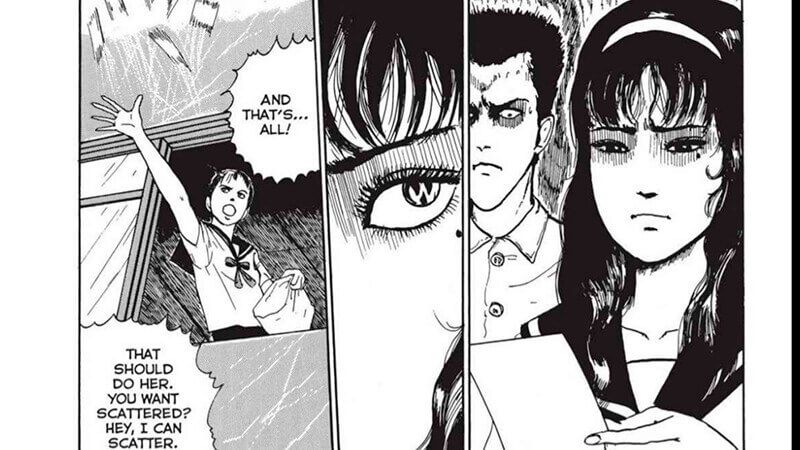 Ito has had many years to refine a variety of facial rendering skills. Rough hatching is used not only to depict shading but also to convey emotion. He loves to create faces that depict uneasiness, weakened states, mentally disturbance, or being possessed. For example, when characters are feeling fearful, Ito will shade the eye socket area. Or when someone is feeling angry, he darkens the area around the root of the nose and the sunken area between the nose and eyes. Other times, Ito renders the characters as if s/he were extremely skinny, almost skeleton-like. You can see the improvements of this technique from Tomie to more recent works.
Rendering the environment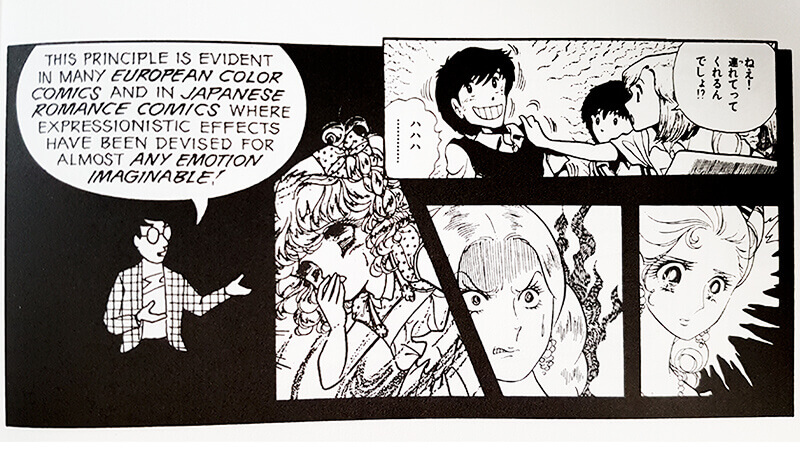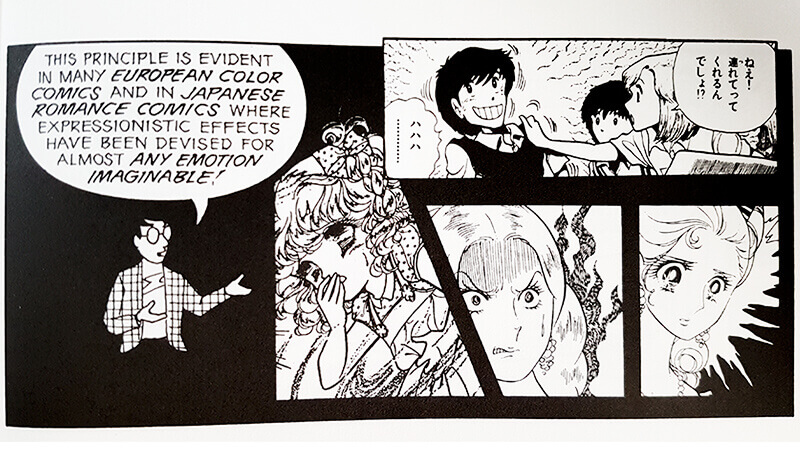 Manga is known for giving visual representations of emotions or atmosphere to the environment. Aside from doing just that, Ito has been painstakingly rendering the environment to give shape to lingering disgust, miasma, and/or stench. This can be seen heavily in Gyo where the surrounding is heavily tainted with the horrid smell of death. Uzumaki plays up on the spiraling theme really well, with a myriad of supernatural effects. Those different renderings blur the line between expressionistic background effects and actual phenomenon.
Visually juxtaposing the normal and the creepy
Ito likes to use this in most of his works. However, in Fragments of Horror, there are several short stories that amp up this technique really well. Gentle Goodbye tells a story about an extended family living with afterimages of dead relatives. Both living people use a sort of spiritual power to form an apparition of deceased persons to "live" alongside each other. As the story progresses, we discover that some characters may not be alive after all. Whispering Woman tells the story of two young ladies who complement each other. Mayumi always questions her next move and has a sort of paralysis in making any decision. Mitsu works almost compulsively to guide Mayumi to the point of exhaustion. The story builds up to the point of Mitsu walking behind Mayumi almost like a ghost haunting Mayumi. It is hair-raising spooky.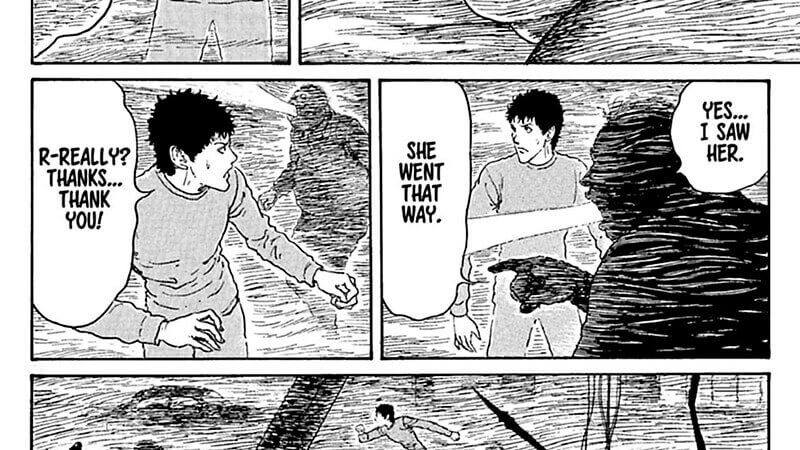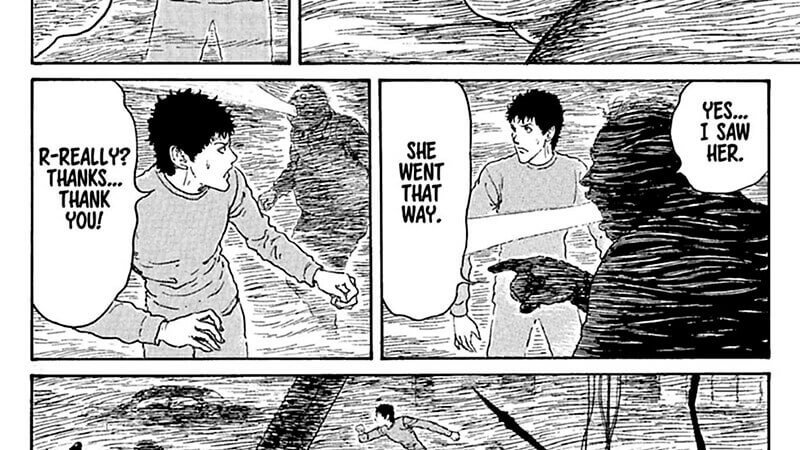 Gyo uses this juxtaposition differently. When the epidemic has spread throughout the world, walking corpses are everywhere. As such, they have become normalized (but still terrifying and disgusting). Tadashi, our protagonist, even asked an infected but seemingly "alive" individual for directions. Though troubled and disgusted, Tadashi takes that "person's" advice and makes his way.
Characters' obsession with the strange
This is a very generic trope since many thriller, horror, and supernatural genre works will have it. However, Ito uses this narrative device liberally. In Fragments of Horror, there are characters that have strange obsessions with something or someone. Tomie, the titular character in the manga, often lust over attractive guys. In addition, she too has the strange power that makes men become infatuated with her. In Tomie, the weird fixation becomes a major driving point for some characters, even those who antagonizes Tomie herself.
Junji Ito's Uzumaki uses this device and amps it up to eleven. The whole town where the story takes place is cursed with some horrifying attachment to spirals. The tale starts fairly benign, from small whirlwinds, a person staring at an empty snail shell, and a pottery maker shaping a bowl. Fairly quickly, one man's craze towards spirals becomes a catalyst to fearful and grotesque happenings. If you had read the story, you know how it ends, but if you haven't, better get started!
These are only some of the many tools that Junji Ito likes to use in his manga. I am sure fans of Ito could find others that I did not have the time to get into. Share them with us in the comments section below!
——————————
Disclaimer: Links in the article may be affiliate links. Yatta-Tachi may receive a small commission when you order through our affiliate links, but it won't cost you extra. By using our links, you help support our site and we greatly appreciate it! Thank you!
Big thank you to our supporters
From their continous support, we are able to pay our team for their time and hard work on the site.
We have a Thank-You page dedicated to those who help us continue the work that we've been doing.
See our thank you page