Just like Hironobu Kageyama and Isao Sasaki, the artist I am covering today has a long career in Japanese pop culture. Ichirou Mizuki is known affectionately as "Aniki" or "Big-bro" in the anime song community. He is also known as the King of Anime Songs, the counterpart to Mitsuko Horie who holds the title of the Queen of Anime Songs.
Career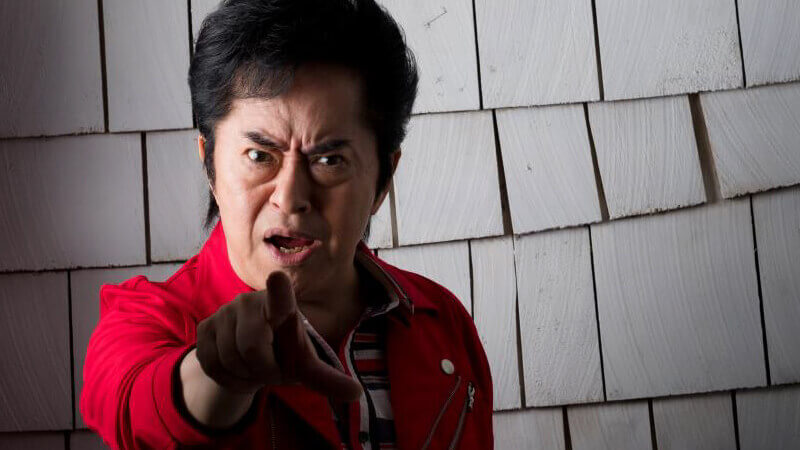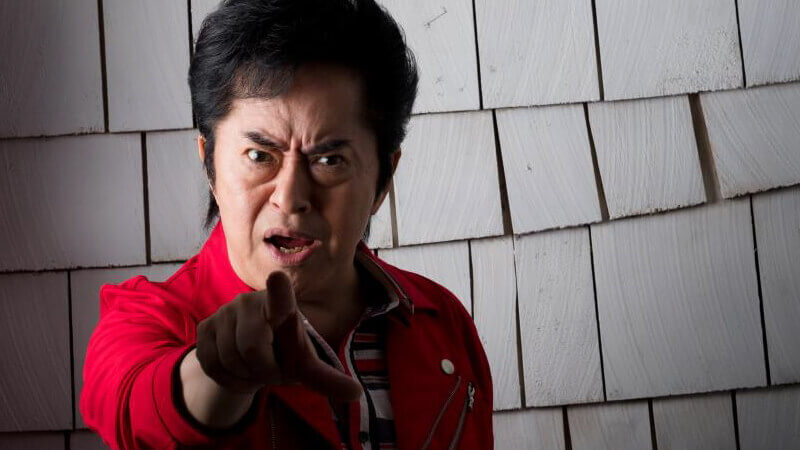 Ichirou Mizuki (水木 一郎, Mizuki Ichirou) is the stage name of Toshio Hayakawa (早川 俊夫 Hayakawa Toshio). His singing career started in the late 1960s, but his big break arrived when he started recording for anime shows. One of the first on his resume is the opening song for Genshi Shounen Ryuu, a TV animated adaptation of Shotaro Ishinomori's manga. Mitsuko Horie sang the ending song for the anime.
From the '70s onwards, Mizuki became a famous figure for performing for many shounen anime, especially in the mecha and super robot genres. One such super robot even ends up as a major part of his appearance and persona. Which one? I will talk about it below.
Mizuki is still active in the singing scene. Even having hundreds of songs in his repertoire, he has not shown signs of taking it easy. Mizuki still goes on tours and performance with other anison singers, such as the JAM Project, the group that he co-founded.
Though he is known in the pop culture scene, Ichirou Mizuki has worked on commercial jingles too. Some of which are for Family Mart (a large convenience store chain in Japan) and Bikkoro (a collaboration between Bic and UNIQLO).
Song Selections
With supposedly over a thousand songs to his name, it is impossible to comb through all of them. Instead, I have taken a few that I already know and searched for some notable and, perhaps, unexpected ones. I hope you will be able to get a sense of Ichirou Mizuki as an artist through this list. Let us begin!
Koutetsu Jeeg – "Koutetsu Jeeg no Uta"
I have talked about Koutetsu Jeeg and Go Nagai briefly before. It is one of my beloved old school super robot songs. An uplifting song narrating the thoughts of the protagonist as he takes on the responsibility of being Jeeg. The lyrics themselves are quite simplistic and repetitive. As with other kids shows, the song was probably designed to be catchy and easy to remember.
Mazinger Z
This is Mizuki's claim to fame. Mazinger Z is another super robot show by Go Nagai and most probably the most famous of all. The series has sequels, rewrites, upgrades, movies, and spinoffs. The video above is the newer version of the classic song that fans grew up with. Remember what I said above about the show that ends up influencing his stage appearance? This is it. In this song, Mizuki ends the chorus with "Mazinger… Z!" The "Z!" or "Zetto!" became his signature stance, as he poses and points toward the camera.
Captain Harlock – "Uchuu Kaizoku"
Captain Harlock is the brainchild of another respected artist, Leiji Matsumoto. It tells the story of Captain Harlock, a space pirate who maintains his own creed and philosophy, and his crew. He is a righteous rogue who fights dictatorships and injustice on different planets. The theme is a soulful ballad befitting a lone wolf who is taking on a large responsibility. The lyrics talk about his sacrifices, homeland (Earth), and a long journey alone.
Jikuu Senshi Spielban
https://www.youtube.com/watch?v=Md8anicfOoY
Jikuu Senshi Spielban (時空戦士スピルバン Jikuu Senshi Supiruban) is translated as Dimensional Warrior Spielban (or Spielvan if you follow Toei's distribution name). Spielban is part of Toei's Metal Hero series that arrived in 1986 right after Kyojuu Tokusou Juspion (巨獣特捜ジャスピオン Kyojuu Tokusou Jasupion, or Special Megabeast Investigator Juspion). This is Mizuki's first dip into the Metal Hero shows as the previous opening songs were performed by other artists. However, it was not the first song he sang for a live-action tokusatsu show. That piece of history belongs to Henshin Ninja Arashi for which Ichirou Mizuki sang the opening and ending songs. Overall, this song sounds similar to other Metal Hero songs. As such, I am rather impartial about it. There, I said it.
Jinzou Ningen Hakaider – "Hakaider no Uta"
Hakaider is a villain and side character in yet another Shotaro Ishinomori creation, Jinzou Ningen Kikaider (usually translated as Android Kikaider). Hakaider was another android created to kill Kikaider and he becomes one of the primary antagonists in the story. Due to the popularity and a rather tragic story of the character, Hakaider got his own spinoff and is portrayed as an anti-hero. Kind of like Vegeta and Guts (Berserk). The song is intentionally rather melancholy, befitting of Hakaider's story. While the lyrics speak of violence and destruction as his mission towards Kikaider and his creators. However, there is a line that suggests "light flowing within his black body" implying there may be good in him.
Super Robot Taisen Original Generation – "Hagane no Tamashii"
How about a collaboration between Ichirou Mizuki and Hironobu Kageyama? "Hagane no Tamashii," or translated as "Spirit of Steel," is the theme of the SRX robot from the Super Robot Taisen: Original Generation games. The SRX (Super Robot X-Type) is an original creation for the SRT games. The Super Robot Taisen games themselves have been around since the Game Boy era in 1991. Most of these turn-based tactical strategy games never reached the US for localization, except for the Original Generation ones. Such a pity, I would love to play those games since they tick a lot of the checkboxes for me. Super robots? Present! Finishing move combos? Epic yes! Turn-based strategy? You got it! Epic songs? Check!
Submarine Super 99 – "Sailing Mirai E" 
This is a new favorite of mine from researching for this article. "Sailing Mirai E" can be translated as "Sailing Towards the Future." It is an opening to yet another Leiji Matsumoto creation, Submarine Super 99 ( 潜水艦スーパー99, Sensuikan Suupaa Nain Nain). The song is hard to find and this is the only one I was able to spot on Youtube. Though Matsumoto penned the manga in 1970, the thirteen-episode anime only came out in 2003. Unfortunately, the anime series never got to the US, as far as I can research.
Let us talk about the song for a little bit. The song's melody starts out soothing and hopeful and slowly picks up to be uplifting and rather emotional. I was not able to find any translation of the lyrics, but I will take a guess what the song is trying to convey with my very limited knowledge. It seems to be speaking from the protagonist's point of view as he sets forth sailing into the unknown seas. He is determined to not lose to anyone or be afraid of anything as he sails into the/his future.
There you have it: a collection of songs by Aniki himself. As usual, I hope you have learned more about the venerable singer and, maybe, acquired one or two new favorites. If you have been a fan of Mizuki, sound off some of your faves in the comments section below.
Note to self: I should cover Mitsuko Horie sometime soon. Please look forward to that, Ze-tto!
---
Big thank you to our supporters
From their continous support, we are able to pay our team for their time and hard work on the site.
We have a Thank-You page dedicated to those who help us continue the work that we've been doing.
See our thank you page