Himari and Mio Akeno have always been together. They're identical twins, after all. But Himari has aspirations her younger sister doesn't, so when she gets into her dream high school, she doesn't hesitate to part ways with Mio for a few years. The two remain close, though, and agree to meet up after school once a week to catch up and hang out.
Not long after school starts, Himari is involved in a traumatic event that causes her to drop out of her dream school and move back home, where she sequesters herself in her room and refuses to leave for months. Mio knows that Himari isn't happy living that sort of life, and after some planning, Mio is able to make up a believable enough story to send Himari to school. Not as herself, though. Instead, Himari goes to Mio's school as Mio!
Even though Himari and Mio look identical, their personalities are complete opposites, and Himari is required to come out of her shell just a bit to pull off acting like her energetic sister. Mio assures her that no one in her class will be mean to her, and Himari is forced to face her trauma to pull off the switch. It's not easy, though. Her scars run deep, and it's going to take a lot of work for her to build her confidence back up.
Can the mature and shy Himari really pull off acting like the bubbly and ditzy Mio? But more importantly, will this swap help Himari get back to her old self?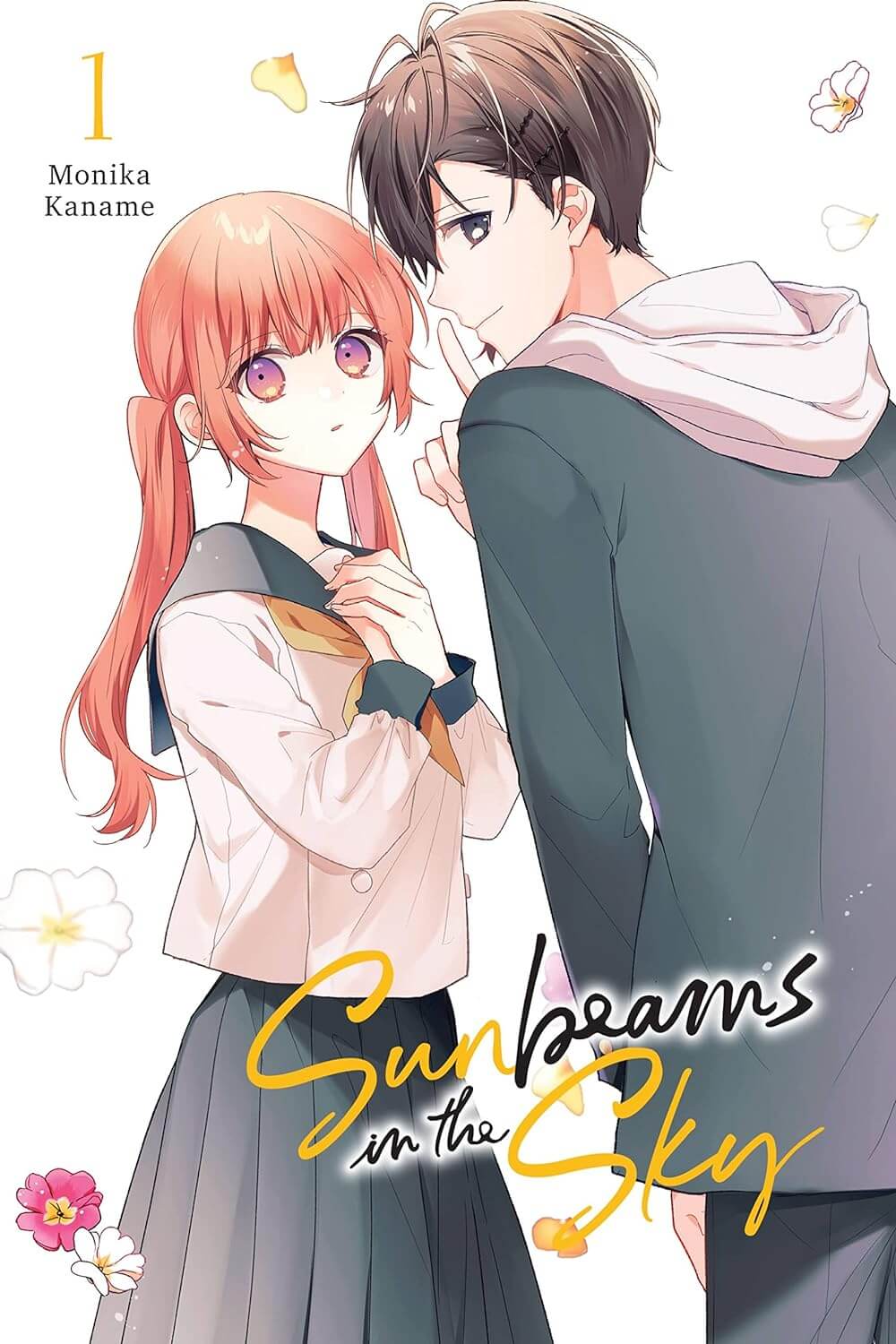 The Good
I expected Sunbeams in the Sky to be a cutesie story full of blushing, crushes, and Parent Trap type shenanigans, but I wasn't prepared for how much I would fall in love with it.
Himari and Mio are absolutely adorable. I loved how conflicting their personalities are with each other and that, despite these differences, they are still insanely close. Seeing Himari's introverted personality put beside Mio's bubbliness was both funny and endearing, but watching them each work towards helping the other was what really sealed the deal for me.
Mio may come off as a ditz, but the subtleties of her personality were incredibly well written. Though Himari never spoke to her family about her desire to go back to school, Mio noticed and took action. The way she finds just the right motivation to convince her twin to take her place at school was finely planned. From Mio's perspective, this was the best way for Himari to dip her feet in, and Mio's ability to spot these subtleties in her sister despite her happy-go-lucky attitude shows a level of plotting I wasn't expecting from this title.
Though she's more mature and calm, Himari could be as oblivious about things just as much as her sister could, albeit in different aspects. Himari couldn't see through her sister's plan to send her to school and instead chalked it up to Mio's immaturity. She still took Mio seriously and agreed to her outrageous plan because of how much she cared for her, which emphasizes the sisterly bond and trust shared between the two. Watching Himari and Mio dance circles around each other, both trying to help the other was as entertaining as it was sweet.
The numerous side characters are equally as interesting as the twins. Mio's best friend, Shizuku, becomes a great ally to Himari, and her quiet and blunt personality makes for some great comedic scenes when she's instructing Himari on how to act like Mio. The two love interests, Asaka and Makoto, each bring something to the story as well. The calm, stoic Asaka had me laughing out loud when situated beside the bubbly Mio, and Makoto had my heart thumping with his sweetness. The budding friendship Himari has with everyone is wonderfully heartwarming and is the main aspect pushing my excitement for the next volume.
The art is also a fantastic addition to this manga. The adorable shoujo style is clean and eye-catching, hooking me from the first page. Not every page is meant to be adorable, though. The art does an excellent job of showcasing the emotions of each scene, from the heartwarming and comedic moments to the darker and more worrisome ones–each image conveys so much of the story, I almost didn't need the dialogue to follow along.
The Bad
Nothing. If you don't like cute art, sweet characters, and plots about overcoming difficulties to be the person you want to be, then I guess this wouldn't be for you. But if that's the case, you're missing out and I don't know what to tell you.
Verdict
Sunbeams in the Sky is a must-buy. If the art isn't enough to draw you in, then the adorable and detailed characters or the endearing and heartwarming plot will. Sunbeams is one of my favorite new manga from this year, and I cannot wait to read the next one!
---
Credits
Art and Story by Monika Kaname
Translation by Julie Goniwich
Lettering by Rochelle Gancio
Published by Yen Press
The Good
Engaging and unique story
Adorable artwork
Interesting and dynamic characters
The Bad
Not for people who dislike cute things
Big thank you to our supporters
From their continous support, we are able to pay our team for their time and hard work on the site.
We have a Thank-You page dedicated to those who help us continue the work that we've been doing.
See our thank you page