September's here, and for a number of you, that means back to school. Hopefully you all enjoy returning to the hallowed halls of education, but if not, there are a ton of new manga, light novel, and art book releases to ease you back into your school routine. So, dive on in and see what's new this September!
Viz Media

Arata: The Legend Vol. 23 by Yuu Watase
Dragon Ball 3-in-1 Edition Vol. 10 (vols. 28, 29, & 30) by Akira Toriyama
Hayate the Combat Butler Vol. 26 by Kenjiro Hata
Kimi ni Todoke: From Me to You Vol. 22 by Karuho Shiina

Kiss of the Rose Princess Vol. 6 by Aya Shouoto
Komomo Confiserie Vol. 1 by Maki Minami
Master Keaton Vol. 4 by Hokusei Katsushika, Takashi Nagasaki (story) and Naoki Urasawa (art)
Naruto 3-in-1 Edition Vol. 12 (vols. 34, 35, & 36)

Nisekoi: False Love Vol. 11 by Naoshi Komi
One Piece Omnibus Edition Vol. 13 (vols. 37, 38, & 39)
One-Punch Man Vol. 1 by Yusuke Murata
One-Punch Man Vol. 2 by Yusuke Murata

Pokémon X・Y Vol. 4 by Hidenori Kusaka (story) and Satoshi Yamamoto (art)
Ranma ½ 2-in-1 Edition Vol. 10 (vols. 19 & 20) by Rumiko Takahashi
Requiem of the Rose King by Aya Kanno
Seraph of the End: Vampire Reign Vol. 6 by Takaya Kagami (story) and Yamato Yamamoto (art)

Skip Beat! Vol. 35 by Yoshiki Nakamura
Tegami Bachi Vol. 18 by Hiroyuki Asada
Terra Formars Vol. 8 by Yu Sasuga (story) and Kenichi Tachibana (art)
Yu-Gi-Oh! Zexal Vol. 7 by Shin Yoshida (story) and Naohito Miyoshi
Yen Press

Black Bullet (Manga) Vol. 1 by Shiden Kanzaki (original story), Morinohon (art), and Saki Ukai (character design)
Puella Magi Suzune Magica Vol. 1 by Magica Quartet (story) and GAN (art)
Rose Gun Days Season 1 Vol. 1 by Ryukishi07 (story) and Soichiro (art)
Sword Art Online Progressive (Manga) Vol. 3 by Reki Kawahara (original story) and Kiseki Himura (art)
Love at Fourteen Vol. 4 by Fuka Mizutani

 BIG HERO 6 Vol. 2 by Haruki Ueno
Bloody Cross Vol. 8 by Shiwo Komeyama
Chaika: The Coffin Princess Vol. 2 by Ichirou Sakaki (story) and Shinta Sakayama (art)
Demon from Afar Vol. 4 by Kaori Yuki
He's My Only Vampire Vol. 4 by Aya Shouoto


Umineko When They Cry Episode 5: End of the Golden Witch Vol. 2 Ryukishi07 (story) Akitaka (art)
Triage X Vol. 10 by Shouji Sato
Spice and Wolf (Manga) Vol. 11 by Isuna Hasekura (original story) and Keito Koume (art)
Ubel Blatt Vol. 3 by Etorouji Shiono

Pandora Hearts ~Caucus Race~ (Light Novel) Vol. 2 by Shinobu Wakamiya (story) and Jun Mochizuki (art)
Kingdom Hearts: Chain of Meomories (Light Novel) by Tomoco Kanemaki (story), Shiro Amano (art), Testsuya Nomura, and Daisuke Watanabe (original concept)
Kagerou Daze (Light Novel) Vol. 2 by Jin (Shizen no Teki-P) (story) and Mahiro Satou (art)
Strike the Blood (Light Novel) Vol. 1 by Gakuto Mikumo (story) and Manyako (art)
Kodansha Comics

Yamada-kun and the Seven Witches Vol. 4 Miki Yoshikawa
Ninja Slayer Kills Vol. 1 by Kotaro Sekine (manga adaptation), Bradley Bond, and Phillip Ninj@ Morzez (original story)
xxxHOLIC Omnibus Vol. 7 (vols. 13 & 14) by CLAMP
Attack on Titan: Colossal Edition Vol. 2 by Hajime Isayama
Devil Survivor Vol. 1 by Satoru Matsuba (story), Suzuhito Yasuda (original characters), and Atlus (original concept)

Vinland Saga Vol. 6 by Makoto Yukimura
The Seven Deadly Sins Vol. 10 by Nakaba Suzuki
A Silent Voice Vol. 3 by Yoshitoki Oima
My Little Monster Vol. 10 by Robico
Dark Horse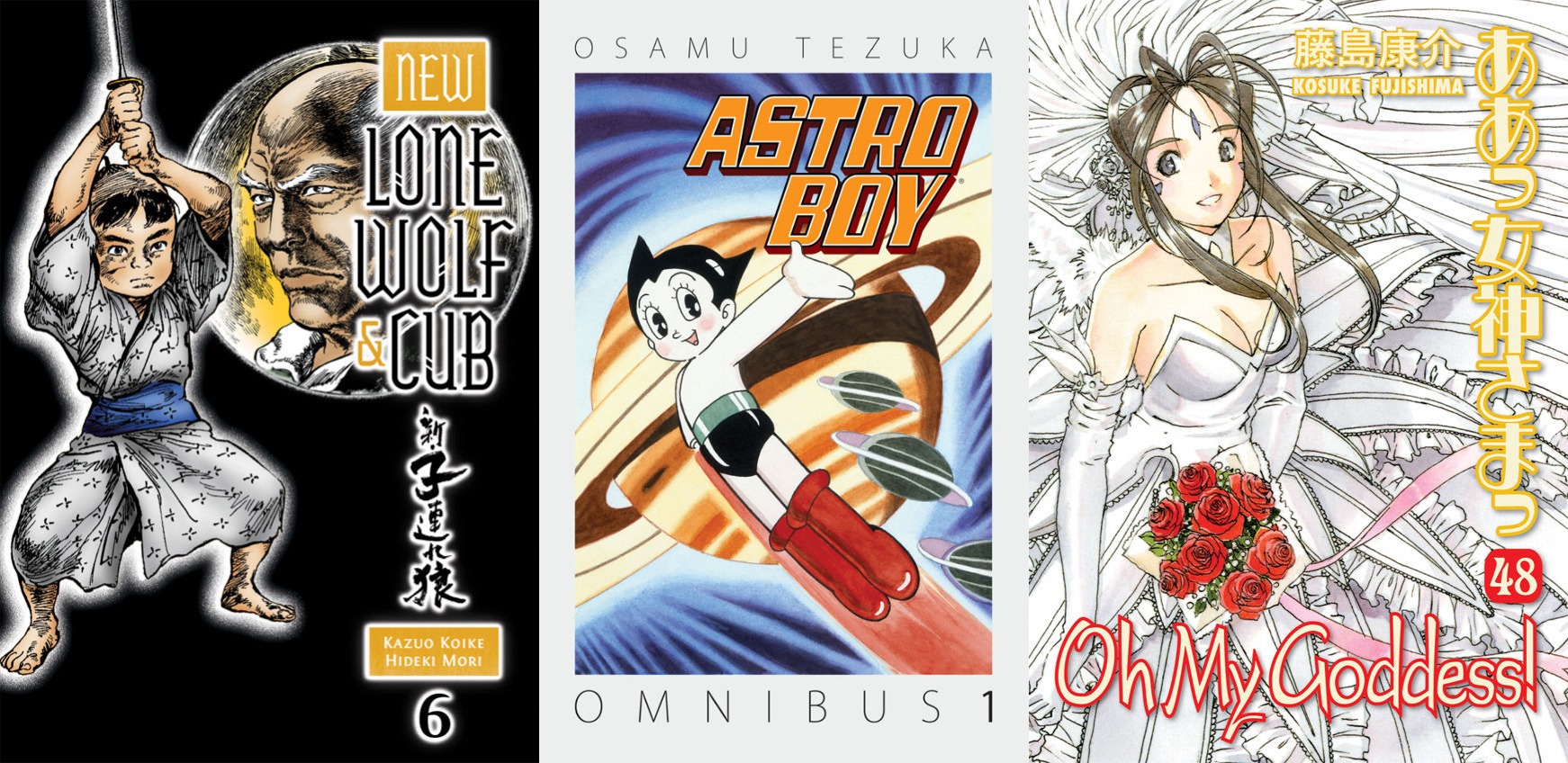 New Lone Wolf and Cub Vol. 6 by Kazuo Koike (story) and Hideki Mori (art)
Astro Boy Omnibus Vol. 1 by Osamu Tezuka
Oh My Goddess! Vol. 48 by Kosuke Fujishima
Udon Entertainment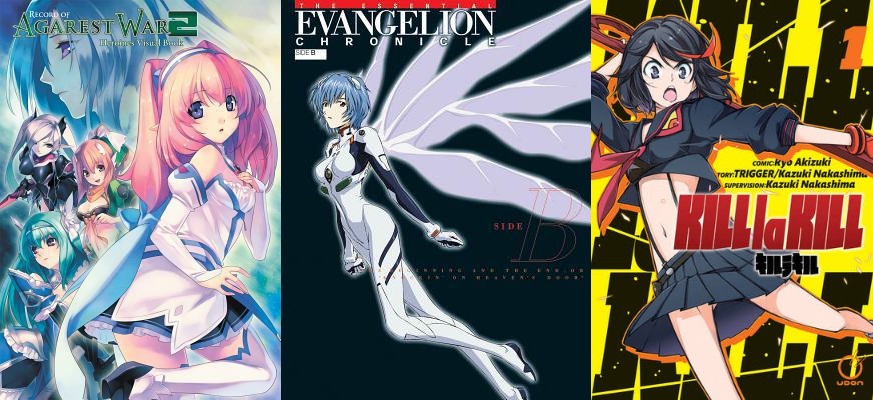 Record of Agarest War 2: Heroines Visual Book by Compile Heart
The Essential Evangelion Chronicle: Side B by We've Inc and Gainax
KILL la KILL Vol. 1 by Ryo Akizuki (art), Trigger (original concept), and Kazuki Nakashima (original concept/supervision)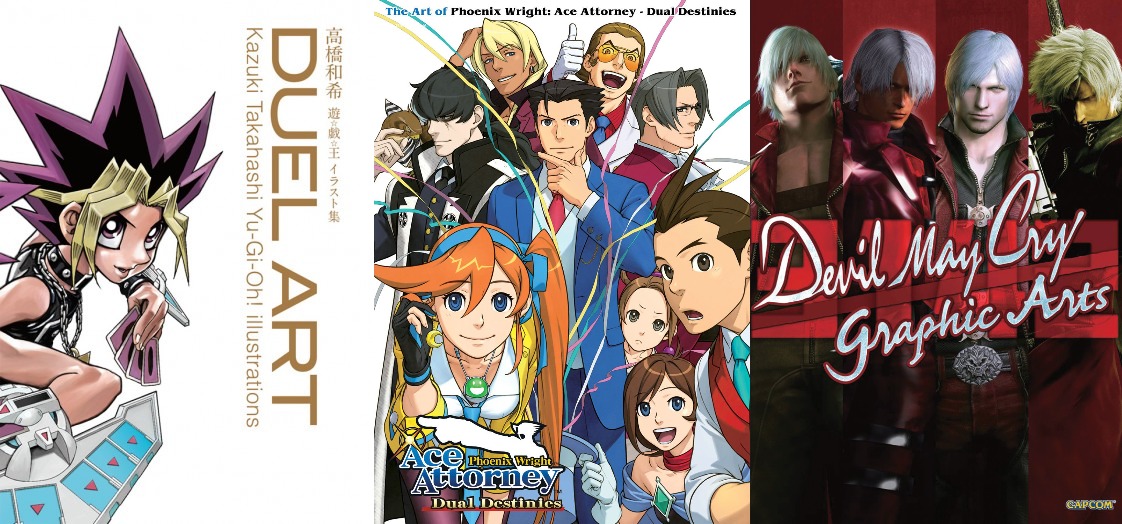 Duel Art: Kazuki Takahashi Yu-Gi-Oh Illustrations by Kazuki Takahashi
The Art of Phoenix Wright: Ace Attorney – Dual Destinies by Capcom
Devil May Cry 3142 Graphic Arts by Capcom
Vertical

Attack on Titan: The Harsh Mistress of the City, Part 2 (light novel) by Ryo Kawakami (story), Range Murata (art), and Hajime Isayama (original concept)
Mobile Suit Gundam: The Origin Vol. 11 (A Cosmic Glow) by Yoshikazu Yasuhiko
My Neighbor Seki Vol. 4 by Takuma Morishige
Knights of Sidonia Vol. 14 by Tsutomu Nihei
Seven Seas Entertainment

Dance in the Vampire Bund Omnibus 6 (The Memories of Sledgehammer Vol. 1-3) by Nozomu Tamaki
The Ancient Magus' Bride Vol. 2 Kore Yamazaki
Dictatorial Grimoire: The Complete Collection by Ayumi Kanou
D-Frag! Vol. 6 by Tomoya Haruno

Servamp Vol. 3 by STRIKE TANAKA
Non Non Biyori Vol. 2 by Atto
Haganai: I Don't Have Many Friends Vol. 12 by Yomi Hirasaka (story) and Itachi (art)
Freezing Vol. 3-4 by Dall-Young Lim (story) and Kwang-Hyun Kim (art)
With so much coming out, you're guaranteed to find something you like. With the return of school, are you more likely to start reading manga involving school kids to get you back into the education mindset, or more fantasy-based works, to stay as separate from it as possible? Let us know in the comments below, as well as what releases you're looking forward to this month!
Note: Sometimes dates for titles are moved, and while the publishers usually update their websites, there are times when they don't. Thus, for any titles that have conflicting release dates, we check both RightStuf and Amazon and use whichever date is earliest; thus, while RightStuf has KILL la KILL coming out in September, Amazon has it slated for an October release. If any changes in release occur, we will update our information accordingly.
Big thank you to our supporters
From their continous support, we are able to pay our team for their time and hard work on the site.
We have a Thank-You page dedicated to those who help us continue the work that we've been doing.
See our thank you page