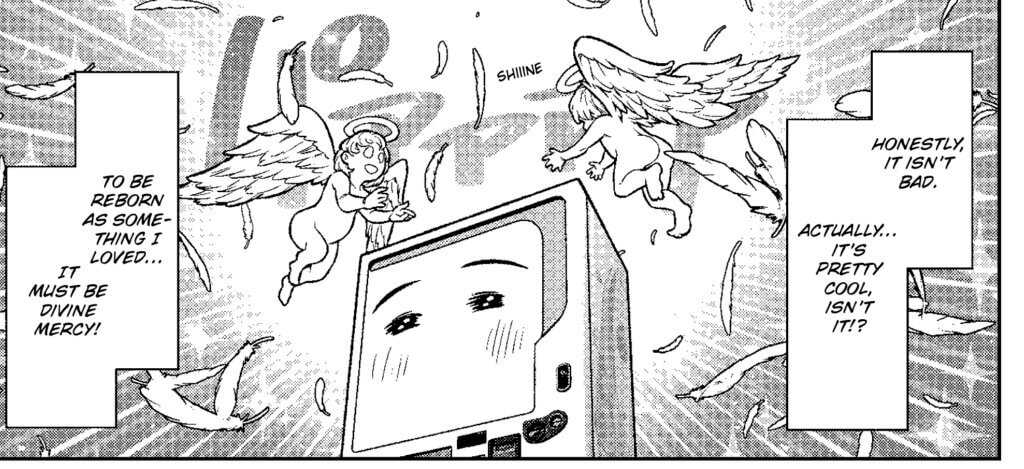 These isekai premises have gone too far! You'd think by now, in the year 2023, that the whole reincarnated sub-genre has exhausted all possibilities, but no, here comes Reborn as a Vending Machine, I Now Wander the Dungeon with a story that describes itself in the title, the protagonist gets isekai'd into a fantasy world as a vending machine – and it's actually pretty fun.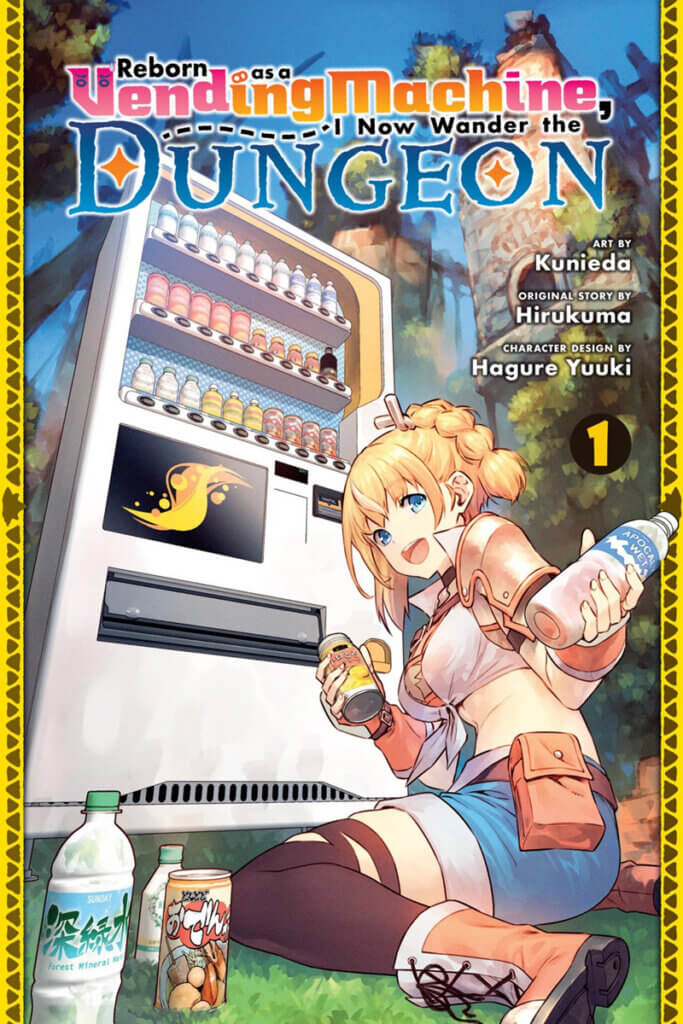 Ordering up a Reborn as a Vending Machine Synopsis
After dying saving his first love – vending machines – the unnamed protagonist is reincarnated into a fantasy as one, though a little more sentient than the real-world versions. Able to dispense what he likes with only a few catchphrases (and a little bit of magic) and dubbed Boxxo by the first traveler that comes across the out-of-place mechanism, the vending machine and his new friend Lammis try and learn more about the reincarnated man's predicament.
Much like winning a free drink at a vending machine, an isekai story being good is pure luck at this point. There is just so much out there and a lot of them are full of the same tropes that we've seen time after time. It's just not that interesting anymore. And a lot of them just don't need to be an isekai; fantasy is a genre too! Use it! Not everyone needs to be thrust into another world after being killed by Truck-sama (always respect the truck!). Thankfully, not only does Reborn as a Vending Machine, I Now Wander the Dungeon throw a neat spin on the isekai genre, it makes full use of the concept rather than discarding it in the first few chapters.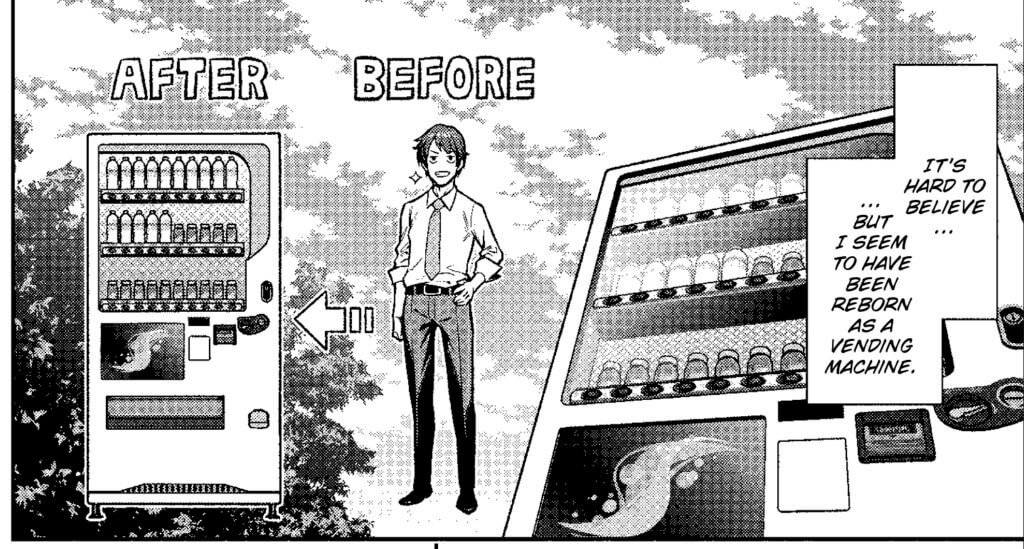 I don't have anything but praise for not only the concept but also the execution. Originally written by Hirukuma for a light novel, the manga version of the series just oozes love for vending machines (also a love of mine). You'd imagine that a hot water dispenser on a vending machine is only something you'd find in the realm of fantasy but nope, go to any rest stop in Japan and you'll find one! The possibilities are endless. Though I'd hope future volumes don't take inspiration from vending machines in Nakano Broadway (those who know, know).
But it's not just the fact Boxxo can do these things, it's how. He can only be upgraded through points gained when people purchase items; the more people spend, the more features Boxxo gains. It's a brilliant take on the skill tree idea.
Reborn as a Vending Machine's Isekai World
Despite the concept itself being relatively unique and interesting, the world of Reborn as a Vending Machine, I Now Wander the Dungeon is played as straight as fantasy-ly possible. Usually, that'd be a minus towards any series, but just inserting a vending machine into a world where people usually fight giant frog monsters for food makes for a lot of fun. They're as amazed by the concept of hot coffee in a can as I was when I first came to Japan. It was fun to be reminded of that by the guards of the walled city.
The characters are also really fun. Boxxo, despite only having a few set phrases outside of narration, makes the most of them and communicates with others with the charisma a main character needs. His companion Lammis, who carries Boxxo around on her back, struggles in the brain department but is strong, and kind-hearted and big-chested (not that the art will let you forget that fact). The rest … well, they're your standard fantasy fare; a tavern owner, quest givers, monsters, ya know, the usual, except for a bear.
One of the puzzles is how to bring a vending machine to life in the art. Kunieda achieves this by giving Boxxo eyes that are reminiscent of those of Rimuru's slime from That Time I Got Reincarnated as a Slime. Though, unlike Slime, Boxxo only has his eyes shown in panels away from people or for comedic effect. To the rest of the characters, Boxxo is a plain old vending machine.
I would like to say the rest of the characters are as inspired, as is the world, but they're functional for the story. Sure, as the lead female, Lammis is pretty, but in a tried-and-true kind of way. Kunieda does their best with the characters they were given by the light novel illustrator and serves up art that is above average, but not that inspired. At no point was I bored looking at the art, and some of the panels made me laugh through the character's emotions, but other than that, there is nothing here that hasn't been seen before.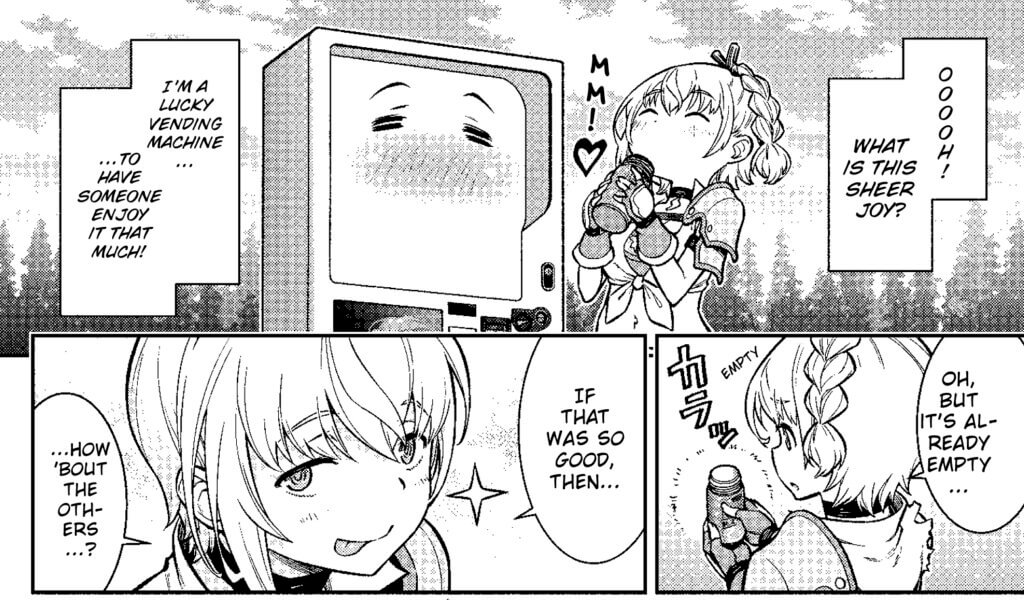 And that is the main meat of Reborn as a Vending Machine, I Now Wander the Dungeon–it's a volume that takes the isekai concept and plays a very fun game with it within a very plain box. It's turn-off your brain fun.
---
Who worked on Reborn as a Vending Machine, I Now Wander the Dungeon
Original Story By: Hirukuma
Art By: Kunieda
Character Designs By: Hagure Yuki
Translation: Alice Prowse
Lettering: Chiho Christie
---
Cheers to Yen Press for providing a review copy of Reborn as a Vending Machine, I Now Wander the Dungeon. Receiving a review copy of this title has in no way altered the opinions expressed in this article.
The Good
Fun and unique concept on tired tropes
Vending machines
Loads of humor
Easy read
The Bad
Character designs can be pretty bland
Characters themselves are not unique
Lammis could be more than just buff and boobs
Big thank you to our supporters
From their continous support, we are able to pay our team for their time and hard work on the site.
We have a Thank-You page dedicated to those who help us continue the work that we've been doing.
See our thank you page