With Winter 2016 anime over with, we have entered a new season that is filled with many new series to explore, but for this season, I'll be looking into My Hero Academia. For those who do not know this series, My Hero Academia (Also known as Boku no Hero Academia) is a shonen manga written and illustrated by Kohei Horikoshi and is available at Weekly Shonen Jump via subscription. The manga has received a massive amount of popularity after its debut, and with it getting an anime, it's bound to get more readers. Although the anime has a lot of hype going for it, does it deliver and leave off with me wanting more? Let's find out.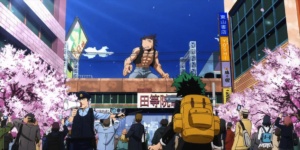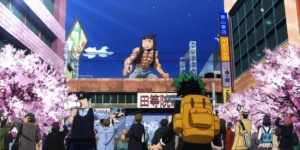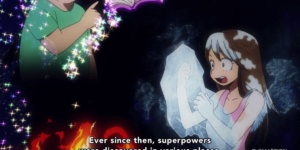 Okay, I have a confession to make. I keep up with My Hero Academia on a weekly basis over at Shonen Jump, so I am aware of what happens in the series. Despite that, it does not take away from my enjoyment of the first episode, as its delivery met my expectations and beyond. It does so by introducing the basis of the mechanics and its characters. It pains me to say it, but the premise of My Hero Academia is similar to the 2005 film, Sky High, a world where superpowers reign supreme and the story takes place in a school setting. Although we know the superpower phenomena has taken place, we are not told how it has happened, and that is fine since we are only getting introduced to the basics. We also get to see how humanity has adapted to the superpowers, or "Quirks" as they call them, by finding out that they have established a superhero organization to stop villains. The premise alone sounds intriguing enough to grab someone, especially those who love the superhero themes or comics from Marvel and DC.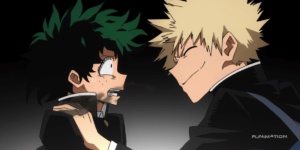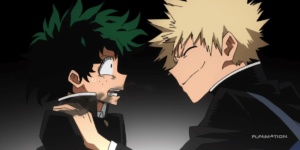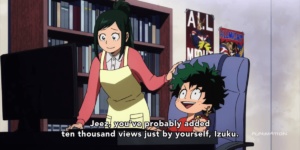 The characters we get introduced to are full of colorful personalities. Starting off with our protagonist, Izuku Midoriya or "Deku" for short, we get to see his dreams of aspiring to be a hero just like the worlds strongest hero, All Might. Unfortunately, Deku is quirkless, leaving his hopes and dreams crushed. The way they display his struggle of not having any powers is a great way to introduce Deku's character. We also have Katsuki Bakugo, the hot-head with a fire or explosive-like quirk that wants to stand at the top of all heroes. Lastly, we have All Might, who is the world's greatest hero. If it is not obvious, All Might's character design draws nspiration from Superman and Captain America, which gives him that superhero vibe. With this being only the first episode, I am sure there will be more colorful characters and I look forward to how they all interact with each other.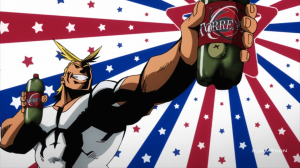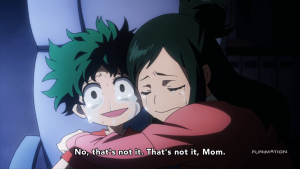 The art, animation, and music is something that should be mentioned too. Done by studio Bones, there is sure to be highly anticipated action scenes ,since that is what Bones excels at. Although, there aren't many animations or battle scenes in this episode, the presentation of the villains and heroes character designs were enjoyable. Seeing All Might and the other heroes use their quirks looked great animation-wise and made me excited to see the other quirks that have yet to be explored. The opening, being sung by Porno Graffiti, is catchy, exciting, and rememberable, which fits My Hero Academia well.
All in all, this was a great first episode. It gave a basic set up of the world and characters, displaying the quirks of heroes, and it left on a conclusion that made me want more. Being a reader of the manga, I am excited to how Bones will adapt this series and I anticipate the arcs that have yet to come. Throughout this season, I will be keeping up with My Hero Academia along with two other series which I will then review at the end of the season. My first impressions of the other series will also be available soon, so give them a look and discuss your thoughts with me!
Big thank you to our supporters
From their continous support, we are able to pay our team for their time and hard work on the site.
We have a Thank-You page dedicated to those who help us continue the work that we've been doing.
See our thank you page