Miyavi is one of the Japanese artists who have become a name to reckon with outside of Asia. In my article on the evolution of Visual-kei, I stated that Miyavi's musical merits would need an article of their own, and so the idea of doing a song selection was born.
This has been no easy task, considering that the man is celebrating his 15th Solo Anniversary this year. He's released 10 albums, nearly 30 singles and toured over 30 countries!
A brief flashback
Miyavi, or Takamasa Lee Ishihara, was born in Osaka to a Japanese mother and a Korean father. As a child, he was an avid soccer player and was even accepted into Cerezo Osaka, a J-League Team. Any chances of becoming a pro soccer player, however, changed when Miyavi was in junior high. He experienced an injury and quit sports. Almost fortunately, one might say in retrospect, as the injury led to the then-fifteen-year-old Miyavi picking up and learning the guitar.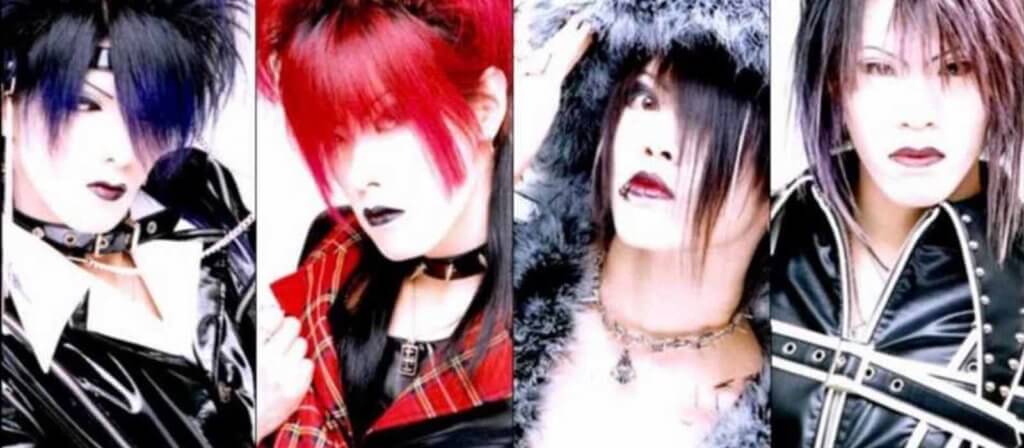 At age 17, he made his professional debut as the guitarist of Visual-kei band Dué le Quartz, under the stage name Miyabi. The band had a brief but successful career until bassist Kikasa's departure led to their disbandment in 2002, following their last live concert at Shibuya-AX in September 2002.
Solo Career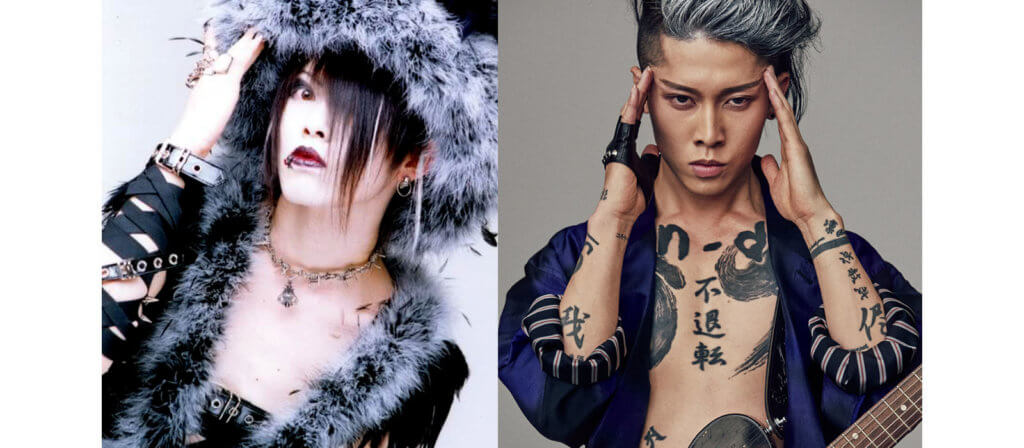 After the disbanding of Dué le Quartz, Miyabi changed his stage name to Miyavi and aimed for a solo career with a contract from record label PS Company. His debut album Gagaku was released the same year. It contained hits such as "Onpu no tegami", "Coin Lockers Baby", and "Girls, be ambitious." The latter continues to be an anthem for many fans even today and a staple for any song selection.
Following his solo debut, he rapidly released three more singles by the end of 2002, including "Jingle Bell", which made it into the Oricon Top Forty.
In December 2003, the iconic "Jibun Kakumei" was released as the first single from his second studio album Galyuu. Jibun kakumei is Japanese for "my revolution", and as much as it is an iconic Miyavi release, the title also reflects Miyavi's revolutionary power as an artist. Ever since his debut, he has continually reinvented himself, and it's impossible to pin him down to one style or one form of expression. Miyavi does it all, and he pushes borders.
In the early 2000s, his image can be said to have been that of a colorful, loud, and borderline hyper active artist who mixed fast-paced and heavy guitars with catchy beats and whimsical titles and lyrics.  The title of his 2004 album 雅-miyavizm-主義 (Miyabishugi) captures this individualism and seemingly endless energy. When other adjectives or labels fail to describe his musical style, Miyavizm is a good alternative.

Miyavi has performed in a variety of ways. From having a massive band including two drummers and three guitarists, building a grand catwalk above the crowd at the Budokan, or having a massive support unit including dancers and even an on-stage painter(!), he moved on to the most Spartan of performances, using only his Gigpig equipment. Or as of more recently, performing solo with only support from his drummer BOBO.
Neo-Visualist
In 2007, the concept of NEOVISIUALIZM was born, along with a shift in his music style towards the more uniquely and traditionally Japanese. With songs such as "JPN Pride" and the instrumental "Memories of Bushido", from his album This iz the Japanese Kabuki Rock (2008), along with rearrangements of previous songs in 7 Samurai Sessions -We're Kavki Boiz- (2007). This new concept incorporated blues, hip-hop and even elements of kabuki into Miyavi's musical and performance style.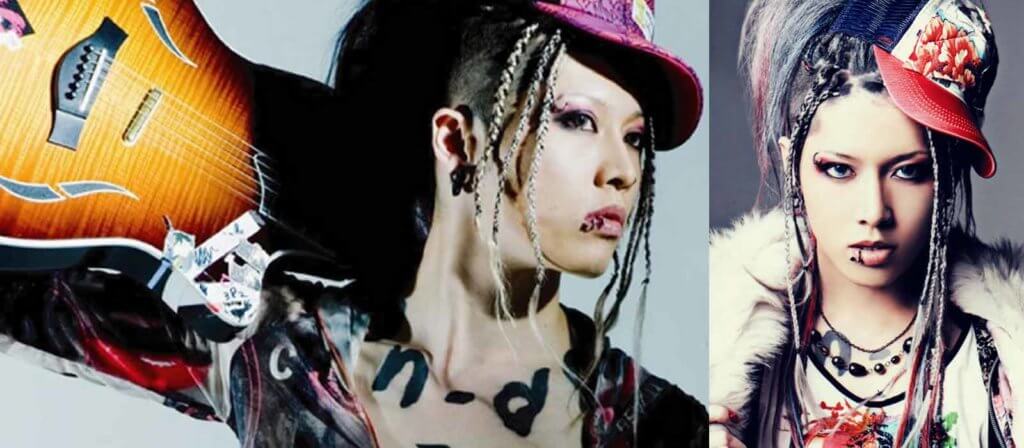 A notable change can also be found in his guitar playing, as he started moving from the heaviest musical movements towards both more acoustic sounds and squealing guitar tones, as well as lyrics incorporating increasingly more English. Eventually, he started referring to himself as "Samurai guitarist", embodying his pride as a Japanese while continuing to challenge the concept of Visual-kei and pushing it further.
In 2007, Miyavi was also announced as the final member of the Visual-kei "superband" S.K.I.N. together with X Japan's Yoshiki, Luna Sea's Sugizo, and GACKT. They performed at the 2007 Anime Expo, and despite rumors of an album and repeated statements from Yoshiki that the band "is not dead", they have not been heard from since. But there is still hope (I hope!).
Miyavi is an artist who believes that there are no borders that can't be transcended and uses his music to continuously do so. In 2008, he turned his gaze towards the world, embarking on his very first world tour, This Iz The Japanese Kabuki Rock Tour 2008, spanning 33 dates across 14 countries.
While his musical and visual styles continued to change, the concept of Miyavi as an artist could still say to be consistent in the sense that part of the excitement of an artist like this, is that you never know what you're getting. He is constantly reinventing himself, and incorporating new elements and impulses as he grows as an artist and as a person. One moment he might be slapping the guitar and cranking out deafening riffs, the next he'll be performing smooth jazzy tunes in a collaboration with another artist.
Recent activity and humanitarian work
His, at times, extreme exterior image has toned down over time, at least partially after marrying former artist Melody and fathering two children (Lovelie Miyavi born 2009 and Jewelie Aoi born 2010). But the endless energy and creativity continue to flow through those guitar-slapping fingers. I had the pleasure of seeing him live in Stockholm in September 2009, where he spent some time hanging from a pipe in the ceiling while screaming at the audience below. The 2011 album WHAT'S MY NAME also showed that he was still capable of heavier music, combined with a raw and intense emotion.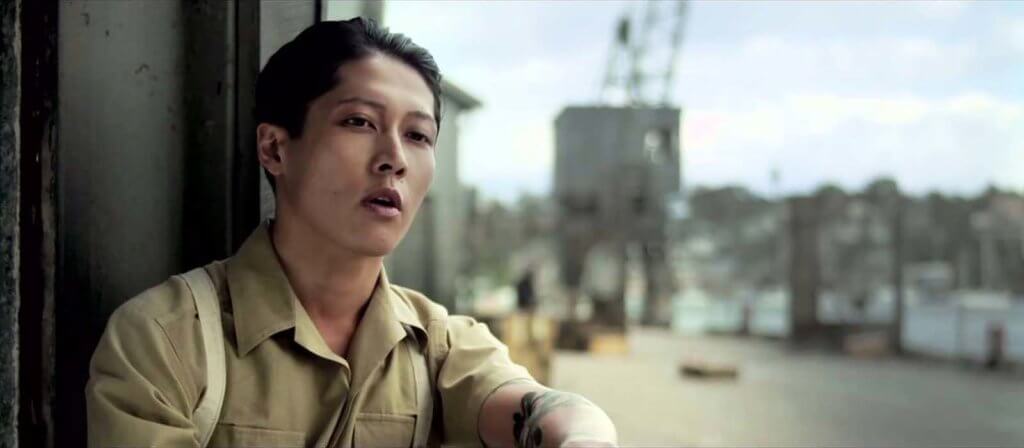 In the latter period of his life, Miyavi has also been involved with the movie industry, both on- and off-camera. In 2013, he was handpicked by Angelina Jolie to play the terrifying "Bird" in Unbroken, which helped make him more of a household name in the US, especially after a performance on the stage of the Ellen show. More recently he also had a cameo in Kong: Skull Island.
In 2015 he recorded a new version of the theme song for Mission Impossible 3, and his most recent single, "Die Another Day", is set to be the theme song of the upcoming Blade of the Immortal film in Japan.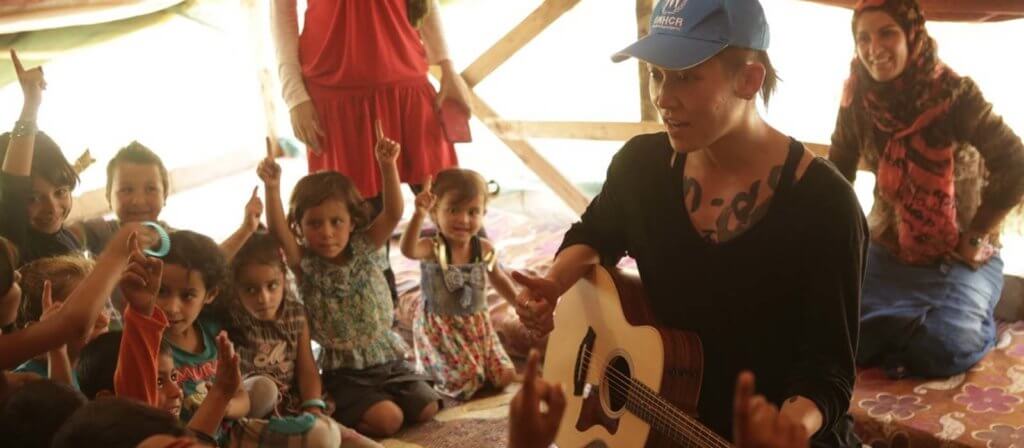 In more recent years, Miyavi has also become involved with humanitarian work, engaging himself with the UNHCR and the crisis in Syria in particular. More recently released songs such as "Justice", "Real?" and "The Others" puts a focus on global as well as societal problems, and carry powerful messages of the world as one and the responsibility we have to make it better.
From a personal perspective, I might not always enjoy his new work; it is so diverse that sometimes he will touch upon a style that I might not be a big fan of, but I am still always looking forward to seeing what comes next. I firmly believe that there is a Miyavi song or even era out there for anyone. This article might be a good place to start. And you might also want to look into his compilation album Victory Road to the King of Neo Visual Rock, that alone contains a good representation of the variety that is Miyavi.
Miyavi Song Selection:
"Girls be ambitious"
From his debut album Gagaku, this was one of his most famous songs in 2005, when I got into VK, and continues to be a fan-favorite today. The song features both raspy vocals and falsetto, and the lyrics carry both the loneliness and sadness that tends to be stapled in visual music, but also a message that likely resounded strongly with young female fans in particular. Today, the phrase 'Girls be ambitious' has been used by both Miyavi and his wife when posting about their children on social media, even though he has not performed the song in many years.
"Shindemo-boogie-woogie" 

*Video below contains some sexual themes
Miyavi's second single is on this list mainly because this is the first song I heard by him (followed by "Ashita tenki ni naare" soon after), and so it has a special place in my heart still. The video, in particular, shows everything that is great about the early Miyavi-eras; glitter, glam, guitars, and sex appeal, mixed with a healthy dose of craziness.
"Jibun Kakumei"
Another personal favorite, and in my opinion a track very representative of the versatility of Miyavi's career. With its instantly catchy beat, this song has a more pop-ish feel than a lot of his earlier work. Though the lyrics here reflect insecurity and despair, the message is fairly clear: Be who you are.
"ARE YOU READY TO ROCK"
The title really says it all. "Are You Ready To Rock" is just so damned catchy, from its rhythm to its repetitive lyrics. It also highlights Miyavi's signature guitar-slapping, his rapid way of picking at the strings and of course those signature screeches. It's just a really fun song, and if you're not ready to rock after this then…I can't help you.
"Hi no Hikari sae Todokanai Kono Basho de ft. Sugizo"
From the 2008 album, This iz the Japanese Kabuki ROCK, this track features MC Tyko, the Kavki Boyz and fellow S.K.I.N guitarist and Visual-Kei icon Sugizo. The song incorporates so many musical styles and elements, it's a feast for the ears. This track, together with "Sakihokoru Hana no You Ni -Neo Visualizm-", I feel embodies the radical change that came to Miyavi's music in the mid-2000s; more experimental and even more unique.
"Survive"
Another example of how varied this man can be. "Survive" is lacking in the melodious element and consists mainly of hard vocals and guitar. It became especially relevant during the 2009 Neo-Tokyo Samurai Black tour, during which Miyavi fell ill and ended up having to cancel the remainder of the tour after having defied his illness, performing several shows and pushing himself to the limit not to let down his fans.
"What's my name"
I hope I'm not the only long-term fan who is amused by the title here alone, considering a number of times Miyavi has changed the stylization of his name or his artist name as a whole. In any case, this is the title track from his seventh album, released in 2010. In contrast his previous album, this one is dark, raw, and powerful, another change of style, and to many, a throwback to his younger, heavier days.
"HORIZON"
Aaah, feel-good! "Horizon" first premiered at a special broadcast on Nico Nico Douga in 2013, the 3rd single from the self-titled album MIYAVI. I remember the first time I heard this song; it just punches you right in the face with its rhythm and positive vibes, and has a music video that is both visually stunning and powerful. This video was also nominated for "Best Male Video" at the 2014 MTV Music Awards Japan.
"Secret"
*Video below contains some sexual themes


Also from the MIYAVI album. Though less impactful in terms of message and content compared to many other tracks, I couldn't leave this one out because…well, look at it. The music video (beware of slightly graphic scenes) gives a throwback to the glory days of fanservice, but more importantly, the sound! Sensual beats, throaty breaths and an appeal to reveal all your secrets, this is a very different side to Miyavi that I doubt anyone would mind seeing more of.
"Let Go"
"Let Go" is one of the songs where Miyavi leaves his playful side behind and explores contemporary issues, in this case the immense pressure of the world we live in.  As a reminder to all the listeners and 'shouting to [his own] soul', he urges us to let go of the pressure, the stress, and the fear of failure. As always, the lyrics are paired with a stellar guitar track and plenty of rhythms, making this a tune that rocks as hard as it strikes.
"The Others"
The title track of Miyavi's 2015 album utilizes a catchy beat and guitar riff together with all-English lyrics to express unity in a world divided. This can be said to apply to the entire album, so selecting only one was not easy.  Prior to the album's release, he told The Japan Times that the concept of this particular album was accepting the difference in people, based in part on his own experience of pressure to conform.
In the song, he questions who built the walls and borders between countries, and reminds us that "We" are the others, urging the world to love another. If music can break borders and unify people, Miyavi is well on the way, with his guitar as his weapon.
---
Big thank you to our supporters
From their continous support, we are able to pay our team for their time and hard work on the site.
We have a Thank-You page dedicated to those who help us continue the work that we've been doing.
See our thank you page