Welcome to our Spring 2020 Anime First Impression series! For the uninitiated, here's how it goes: before the start of each new anime season, our readers vote on what series they'd like us to review the first episode of, and we cover the series that get the most votes. Normally we keep it to the top 3, but due to a tie, this time around we're doing four: Kakushigoto, LISTENERS, My Next Life as a Villainess: All Routes Lead to Doom! and Millionaire Detective – Balance: UNLIMITED. Of those four, Kakushigoto was the first to air.
Here's how Funimation describes the series:
"Single father Kakushi Goto has a secret. He's a top-selling artist of popular erotic manga, but his impressionable young daughter, Hime, can never find out! Now he's having to bend over backward just to keep her inquisitive little mind from discovering what he does for a living. A father-daughter tale of love and laughter."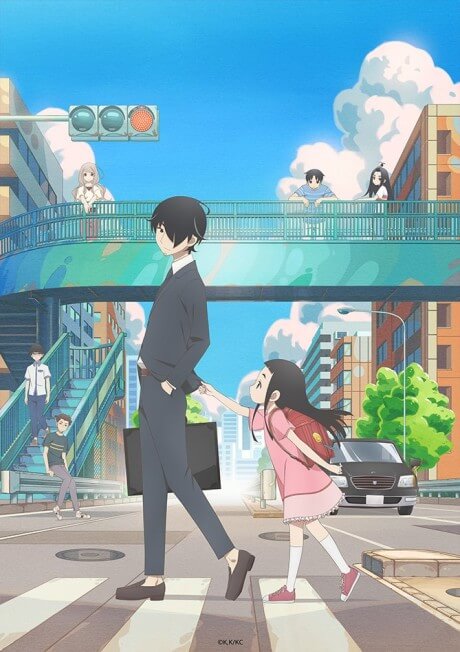 And here's what our team of writers had to say…
Right off the bat, Kakushigoto presents a huge barrier to fully enjoying it – the whole premise is based around an utterly untranslatable pun, and throughout the show, there are layers of wordplay that just can't be communicated in English. The translators do an admirable job but there's no good way to handle it. You might even say…it can't be helped.
If you can get past that hurdle you'll find a cute, fairly funny, quite nice-looking show about a man trying really hard to give his daughter the best life possible. Most of the humor that the show focuses on, and the underlying sadness that the show tries to distract you from most of the time, is that Kakushi kind of sees himself as a failure of a father. He's alone, he's no Eiichiro Oda as far as wealth and success go, and he's ashamed that as a parent himself he's creating the kind of comic that many parents – probably better parents, in his mind –  would see as a corrupting influence.
But the overall implication of the show is that he's actually a great dad, and that's what I like best about it. Hime's mother being out of the picture (and strongly implied to be dead) is not his fault, and he's successful enough that he encounters fans of his manga pretty frequently in everyday life. And while he's right to hide his borderline-porn manga from an elementary schooler, the fact that he makes raunchy art doesn't necessarily make him a creep or prevent him from being a good father or person.
There's also plenty of the referential humor and manga industry satire that original author Koji Kumeta is known for: colorful visuals, and an electric piano-driven, 1950's diner rock-ish ED that I really liked. It's a fun watch with a bit more depth than it might seem at first. I'm not certain that I personally will keep going with it, but I absolutely recommend giving this first episode a look.
---
It feels like Kakushigoto is balancing two different tones: a somber drama and a slapstick comedy. The majority of the first episode leans toward the latter as we find the father, Kakushi Goto, trying desperately to hide his job as a manga artist from his young daughter, Hime Goto. The reason is that he has drawn some pretty raunchy stuff in the past.
I enjoyed the episode overall because of the way the story was divided into simple slice-of-life vignettes. It was nicely paced and the comedy really works in the series' favor so far. One example is when Hime and her friends head to a retail bookstore without manga and get frightened by people ordering Starbucks (which, let's be real, the menu orders do sound like spell chants).
While the dramatic elements are few and far between, they do worry me a bit as it strongly implies Hime's mother is gone and perhaps her father too, as at the beginning of the show she's turned 18 and discovers his secret warehouse. It might be the way the anime framed the story so far, so I could be wrong though.
Kakushigoto's first episode is off to a great start and I expect it to be a pretty wholesome father-daughter slice-of-life anime that may have some dramatic feels here and there. As a side note, if I made a manga called "Balls of Fury," I would proudly share it with my daughter and embarrass her for life.
---
There's a lot to say about Kakushigoto, and I'm not entirely sure how to say it. I loved the episode–there's no doubt about that, but there's this nagging feeling I'm having which is making it hard for me to recommend to others. Of course, if you love TV anime such as Monogatari or Sayonara, Zetsubou-Sensei (which is by the same author, Koji Kumeta), then go right ahead and jump straight into Kakushigoto; you'll love it, you don't need me to tell you that.
But there's something there. Maybe it's the cultural aspect of the series, which is dipped in real-life referential humour, as well as literacy puns that aren't well translated in the subtitles–because they can't be–, I don't know. What worries me is that the series may get to a point where it's too depressing, and–right now–a series like that might be hard to enjoy given current circumstances. If you want a fun escape of a series, maybe Gal and Dino would be better.
Personally, I loved the episode, listening to Hiroshi Kamiya (Kakushi) frazzle about with a calculating Rie Takahashi (Hime) by his side was a treat. Mixed in an art style and animation that was overflowing with creativity and uniqueness from the masters of brilliant backgrounds and artful animation at Ajia-do Animation Works under the direction of Yuta Murano; the episode was an enjoyable watch. Even if there was a deep level of sadness hidden away between the quirkiness.
---
You can watch Kakushigoto on Funimation and Wakanim.
Big thank you to our supporters
From their continous support, we are able to pay our team for their time and hard work on the site.
We have a Thank-You page dedicated to those who help us continue the work that we've been doing.
See our thank you page