Grimgar of Fantasy and Ash is a light novel series that is being adapted by A-1 Pictures and has been built up by hype since its trailers were released. To put it in perspective, this series is full of the fantasy genre, but unlike its recent predecessors, Sword Art Online and Log Horizon, it does not have the theme of a MMORPG. The situation the characters are facing is for real and not a game, so in a sense, it can be said to be similar to DanMachi. Grimgar of Fantasy and Ash looks interesting, but does it deliver? Let's dive in shall we!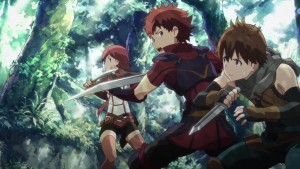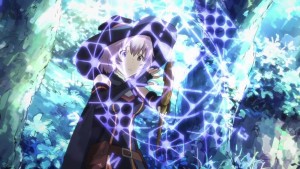 In the beginning, we jump right into a fight between a group of characters and a goblin. We can see them interacting and uniting to defeat a common foe. Later on, we learn that the characters are working together simply to survive. I found the aspect of survival interesting since we get to see that these characters need to fight in order to make money and make ends meet; they must work together, just like in any group survival situation.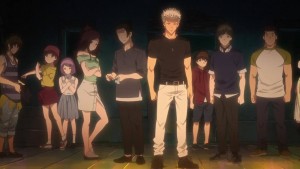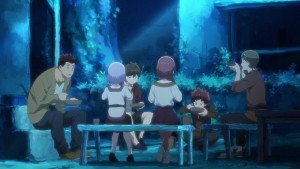 With this only being the first episode, it doesn't deliver too much, but it does offer a basic feel for what is to come later on. The cast of characters is wide, but Haruhiro seems to be our main protagonist, since he is the one that gets the monologues. Some viewers might dislike the large ensemble compared to a smaller cast. The character Ranta, with his blunt and arrogant personality, could also be off-putting to some viewers, but his headstrong attitude gives a flare to the cast that I think will work for some viewers. Although we don't know much about them, other characters such as Yume and Shihoru seem to be in the spotlight. Yume has that spunky and cute demeanor to her, but if you set her off, then that arrow of hers will not miss….probably. Shihoru gives off that dere-dere type of personality, which gives a calming feeling for the cast. Despite that, the characters seems to have interesting designs, so perhaps a variety of personalities will be in store for us as well.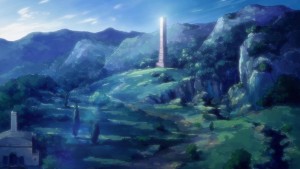 Though the episode doesn't give us much, the art looks great and appear like what a fantasy setting should look like. There is also slight world-building with the characters mysteriously entering a new world. This is hinted at when the characters say words like "game" or "cellphone" that have no meaning in the world they are currently in, but somehow they know. To add to the episode, there is even comedy with the running gag of Haruhiro having sleepy-shaped eyes, which eventually earns him the nickname of "Old Cat", which I found amusing as well as cool.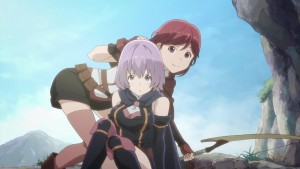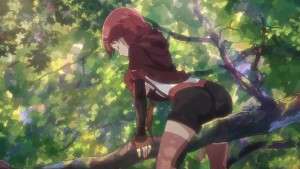 I thought the scene towards the end was very intriguing due to the character interaction. Ranta banters about Shihoru having big breasts, which leads to Shihoru calling herself fat. I believe there could be some insecurity going on with Shihoru, as you can tell by her body language and facial expressions and that this could possibly be brought up later again in an episode where she could get development to work on that issue. Yeah, she comes off as the cliché dere-dere character, but I believe there is more than meets the eye with her statement, and maybe that will play a part as we go down the road. The potential for character development was there and if done right, it could be something good to see!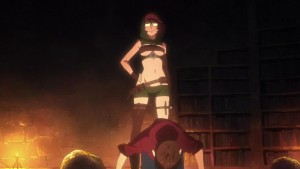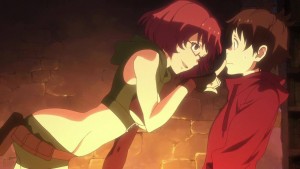 Lastly, viewers can be turned off by the apparent fan service, since it is obvious which scenes are catering to just showing off Yume's figure and butt, but despite that, the music sounded enjoyable.
Overall, the episode gave us something basic, but it also gave us something to look forward to as well. I am interested on how A-1 will handle this and on seeing this series develop! You can watch Grimgar of Fantasy and Ash on Funimation & Hulu!
---
Check out the other Winter 2016 Anime season related articles!
(Screenshot Credits: QTPieCaps)
Big thank you to our supporters
From their continous support, we are able to pay our team for their time and hard work on the site.
We have a Thank-You page dedicated to those who help us continue the work that we've been doing.
See our thank you page