Welcome to a new series from the Yatta-Tachi staff, where we take turns trying out different Japanese snacks that we stumble upon and share our thoughts! If this is something you want us to keep doing, let us know in the comments below!
At the beginning of the month, Chris and I went to the local Daiso (Plano location) and grabbed a few of our favorite Japanese sweets, along with a couple of new ones to try out!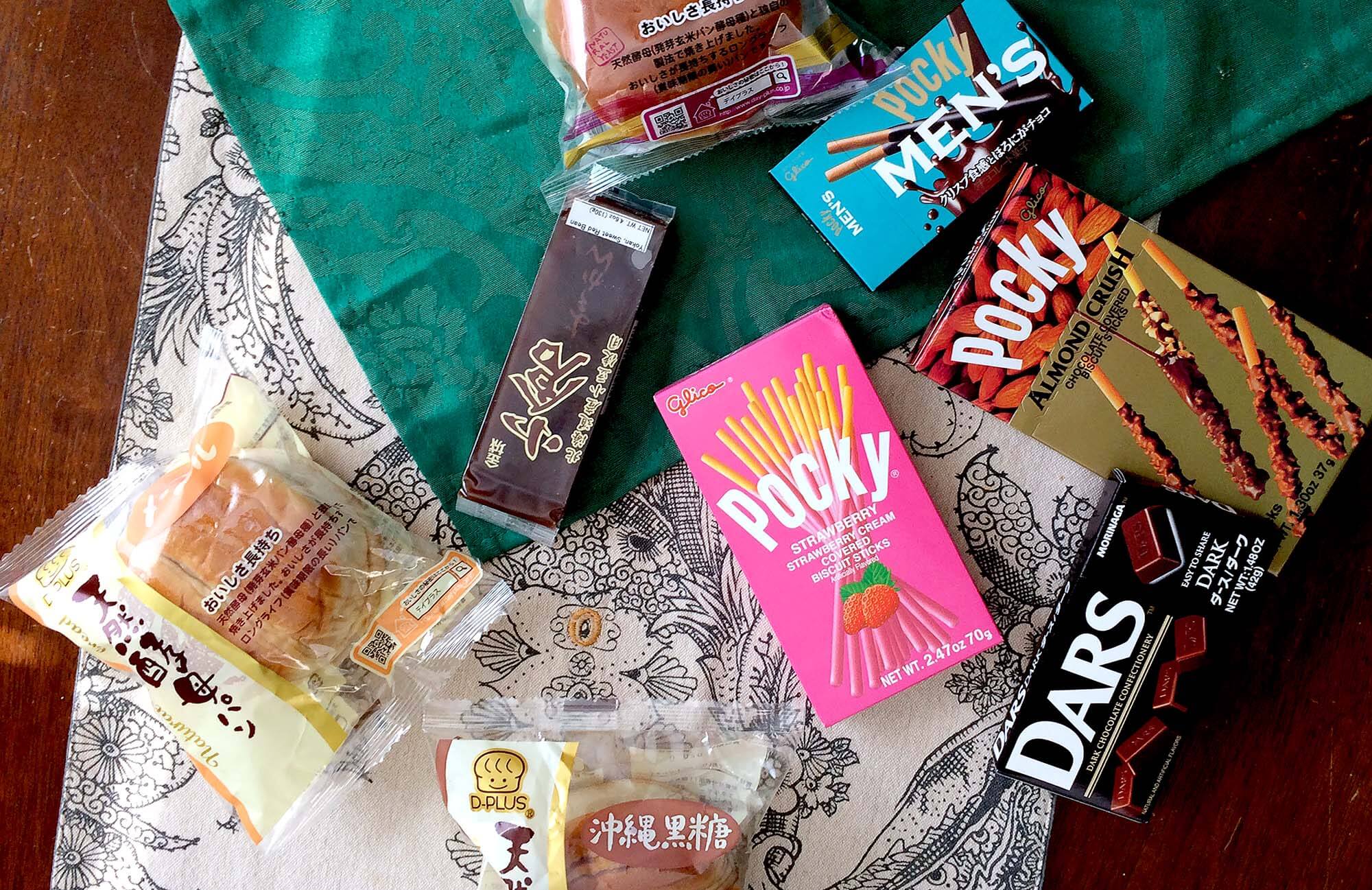 D-Plus Bread (Red Bean, Okinawa Brown Sugar Bread & Maple)
Every time Chris and I go to Daiso, we always manage to buy a few of these bread pastries made by D-Plus. The bread (or wheat cake, which is how it is labeled on the package), come in a variety of types. While there are others available, such as coffee and matcha, we tend to purchase the same three kinds: red bean, brown sugar, and maple.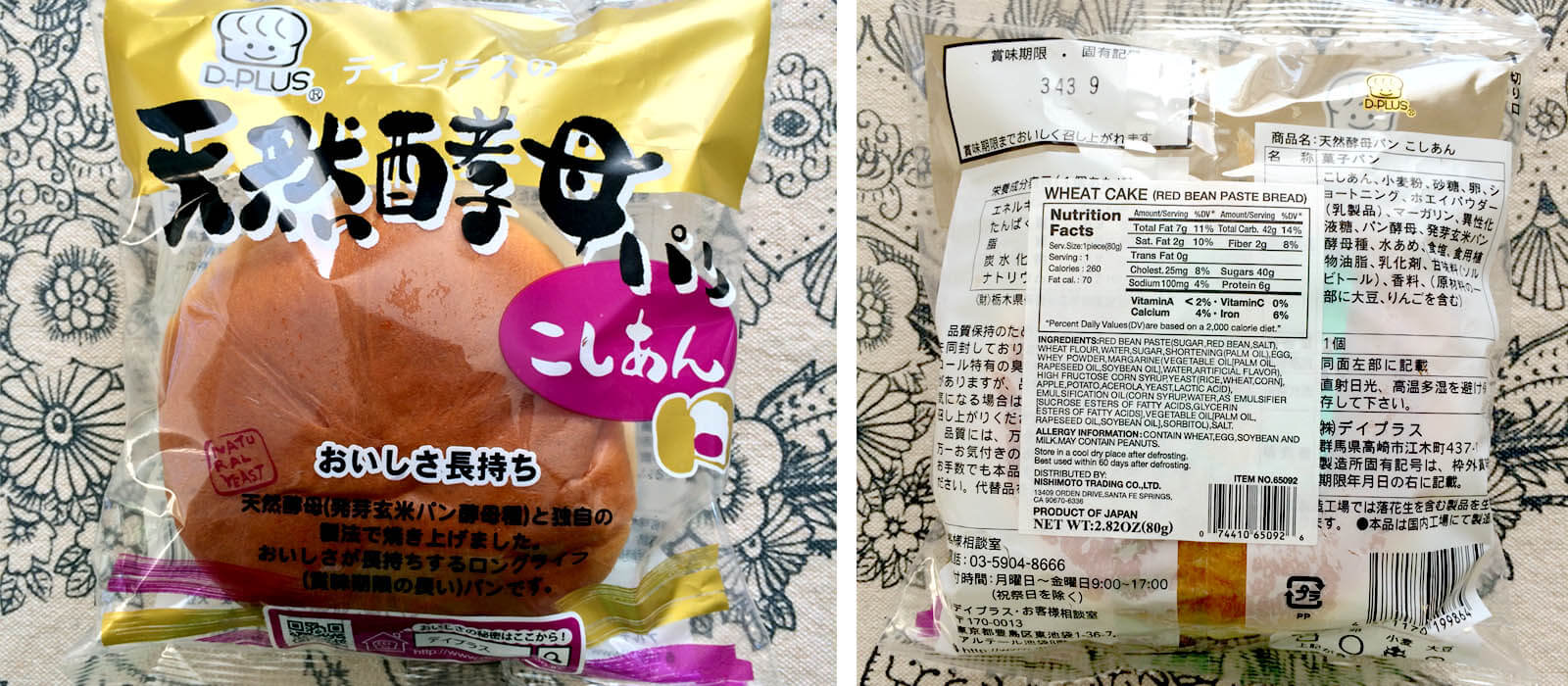 The red bean bread is a personal favorite of mine since I love red bean in general; Chris, not so much. All the pastries are soft and chewy and usually blended with a flavoring. For the red bean version, there isn't a blended flavor, but a dollop of red bean paste in the middle of it. If you haven't tried red bean anything, I highly suggest giving this a go! It's a great jumping off point.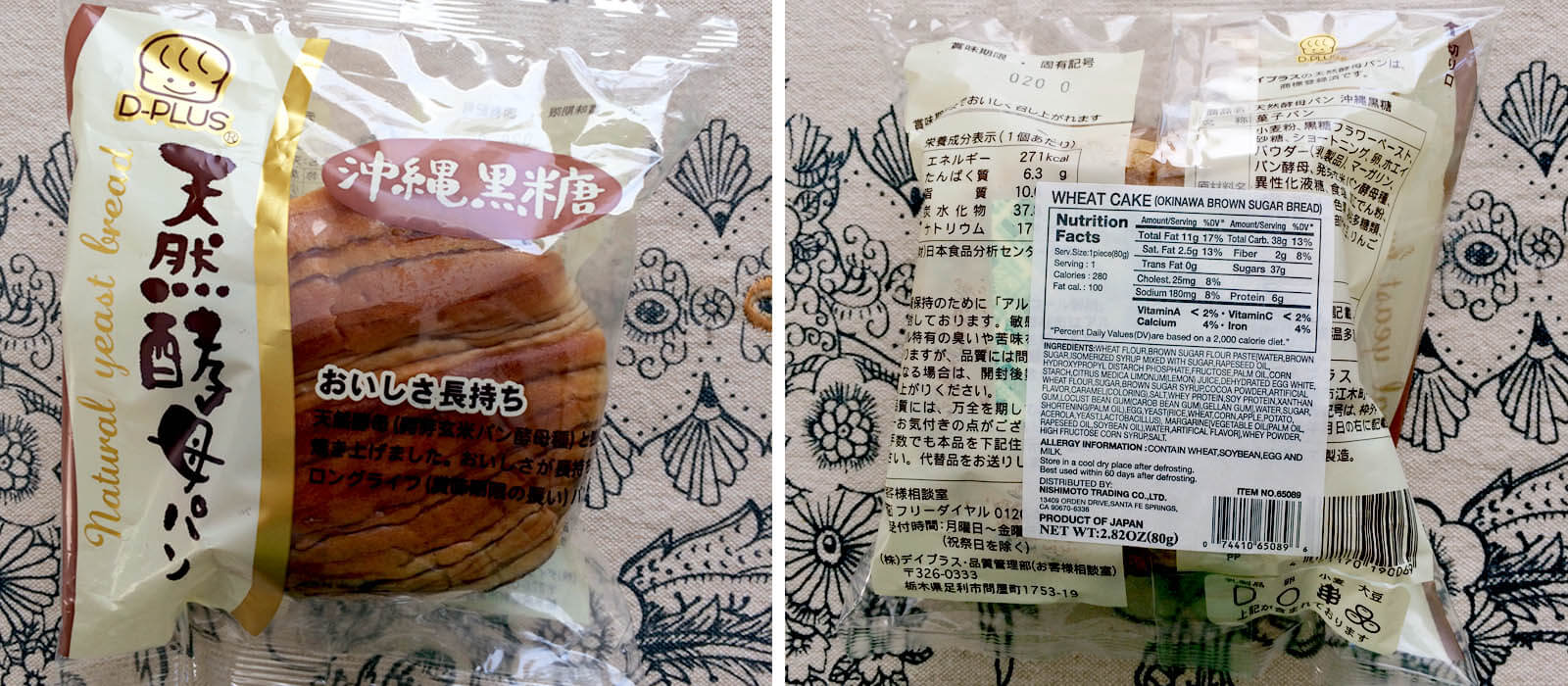 The Okinawa brown sugar bread is probably the sweetest one of the three. Fun fact: "Unlike common American brown sugar, produced by adding molasses back to refined white sugar, the Okinawa brown sugar (kokuto) is made simply by slowly cooking down pure sugarcane juice."  – The Art of Eating
The kokuto is interweaved throughout the bread, creating a marble-like pattern, which you can see on the exterior. This one can be a bit too sweet for my taste at times, so I usually end up sharing it with someone. The way these pastries are made, it's rather easy to split them into portions by ripping along the marbled lines. If you like sweet bread like Chris, we both suggest you try this one out!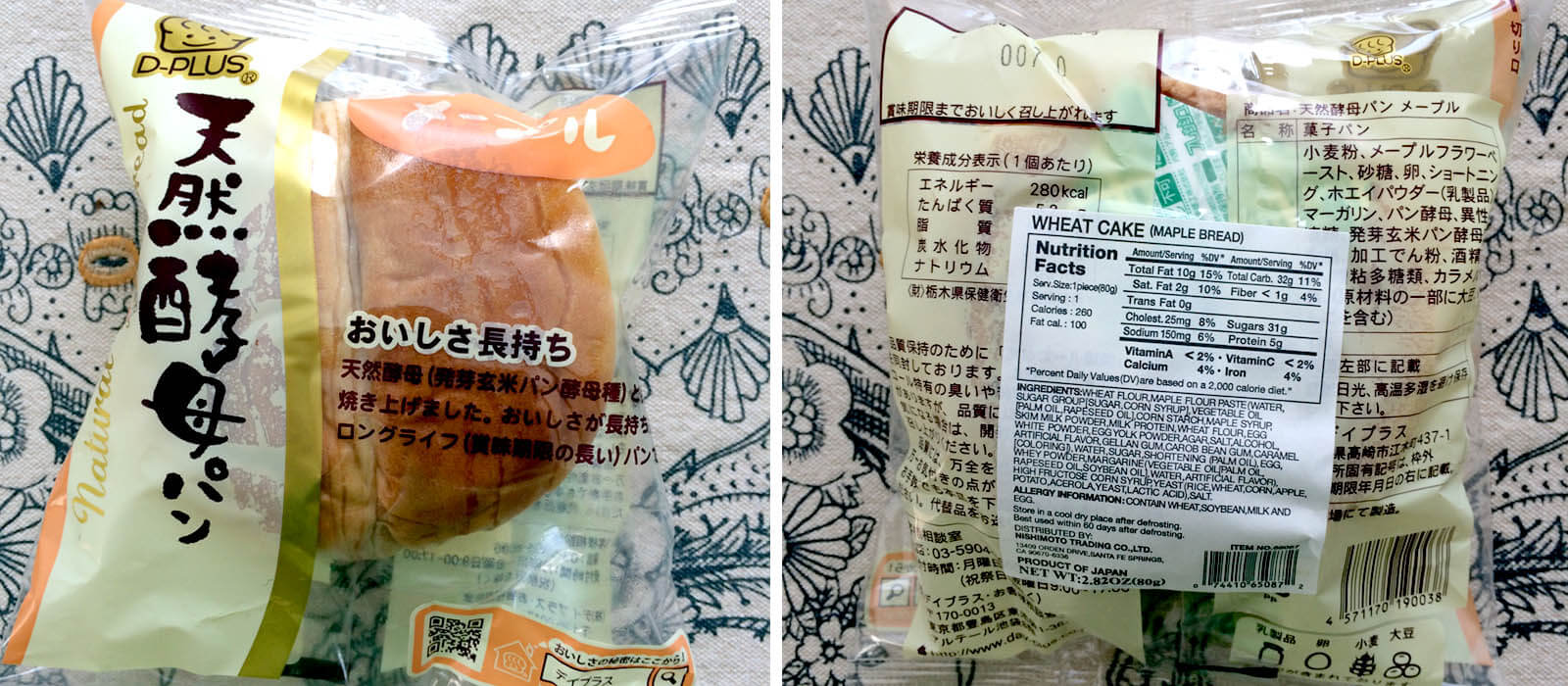 As soon as you open the Maple bread's package, you are greeted with the delicious warm smell of maple and yeast. Just like the Okinawa brown sugar bread, the maple syrup is weaved throughout the pastry, giving it the marble pattern. I personally prefer the maple bread versus the brown sugar version, so if you're into lightly sweetened bread like me, give this one a shot!
Kinjo Seika Ogura Yokan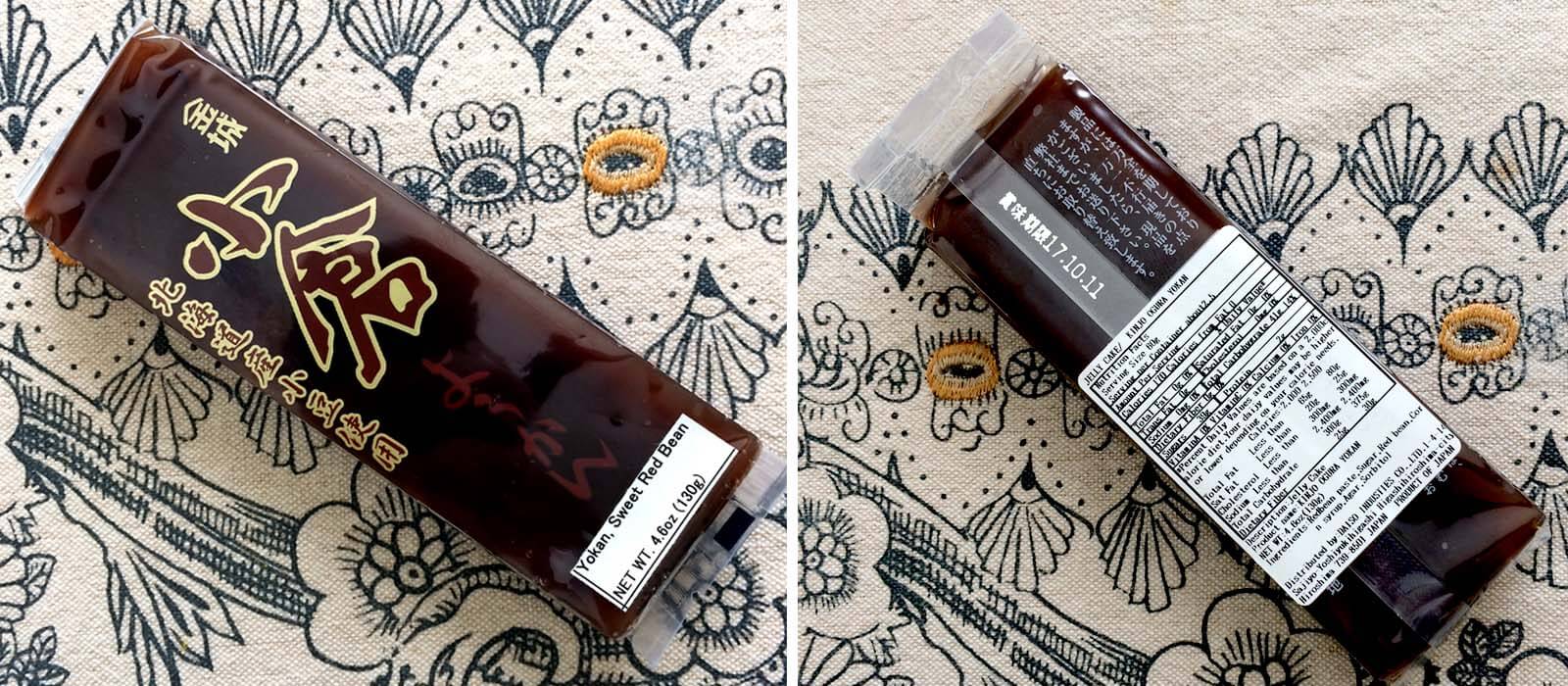 Mizu yokan is a thick, jellied dessert which is a traditional sweet in Japan. Made of red bean paste, agar, and sugar, it is typically enjoyed chilled during the summer days. Since I enjoy red bean in buns and mochi, I assumed I would enjoy this version, but I've also never been particularly fond of jelly type treats, so it was going to be a toss-up. Unfortunately, neither Chris nor I cared for it at all. The texture and consistency were exactly what I didn't want to try. Inside of the jelly was red bean paste and pieces of red bean which were sweet. I tried it at room temperature, although I read online that it's best served chilled, so if I do try this again, I'll be sure to do that next time.
Morinaga's Dars Dark Chocolate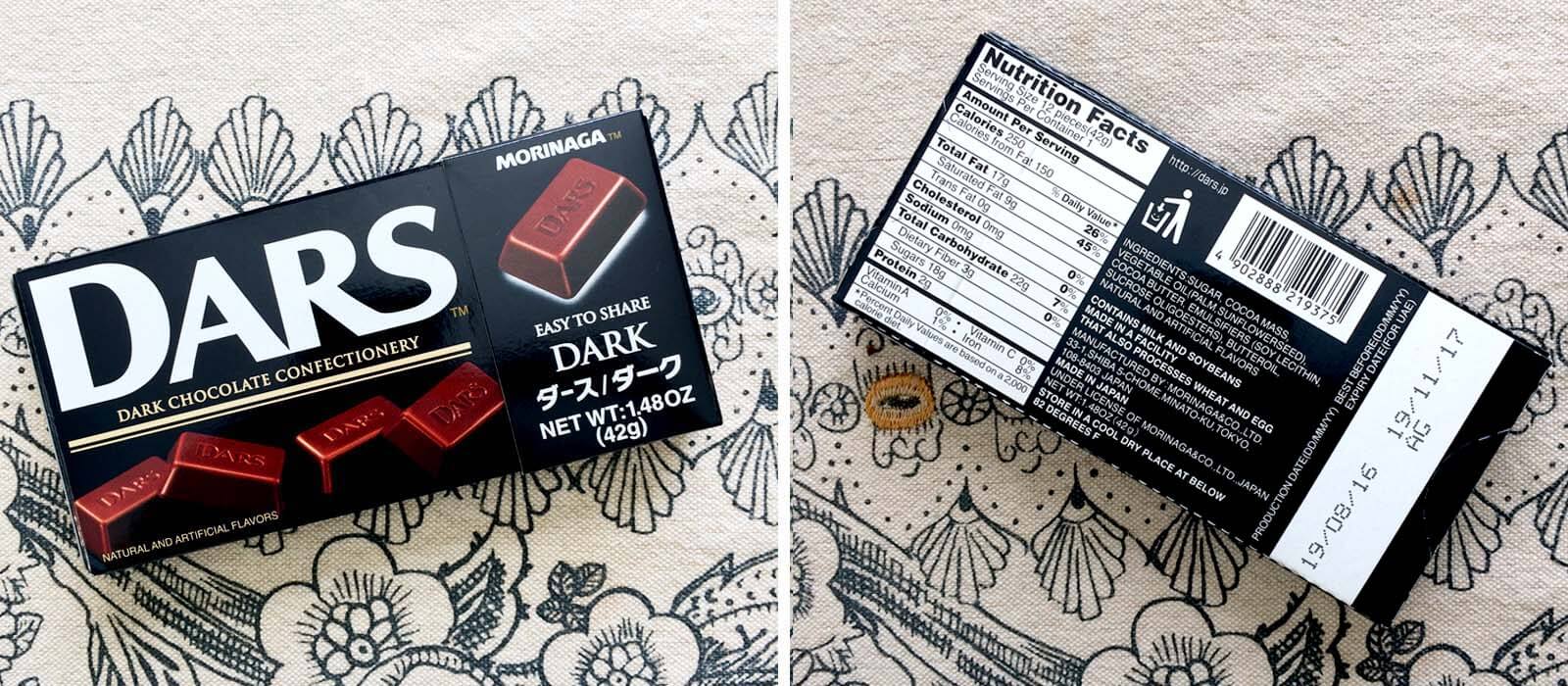 Dars is a popular brand of chocolate in Japan made by Morinaga. They create milk chocolate, white chocolate, and dark chocolate morsels. Since I'm a HUGE fan of dark chocolate, I just had to give these a try.
The chocolates come double packaged (boxed and plastic wrapping) and are stored on a paper tray. The side of the box folds back, which allows you to slide the tray in and out. Each box comes with 12 decent sized chocolates. The chocolates are smooth and creamy, not chalky like most dark chocolates tend to be. Chris, who isn't much of a dark chocolate fan, enjoyed them as well. I intended to only have one or two of them, but ended up eating the whole box because they were THAT. DARN. GOOD. If you're a fan of dark chocolate, you need to stop what you're doing and get these delectable treats! You will not be disappointed.
Strawberry Pocky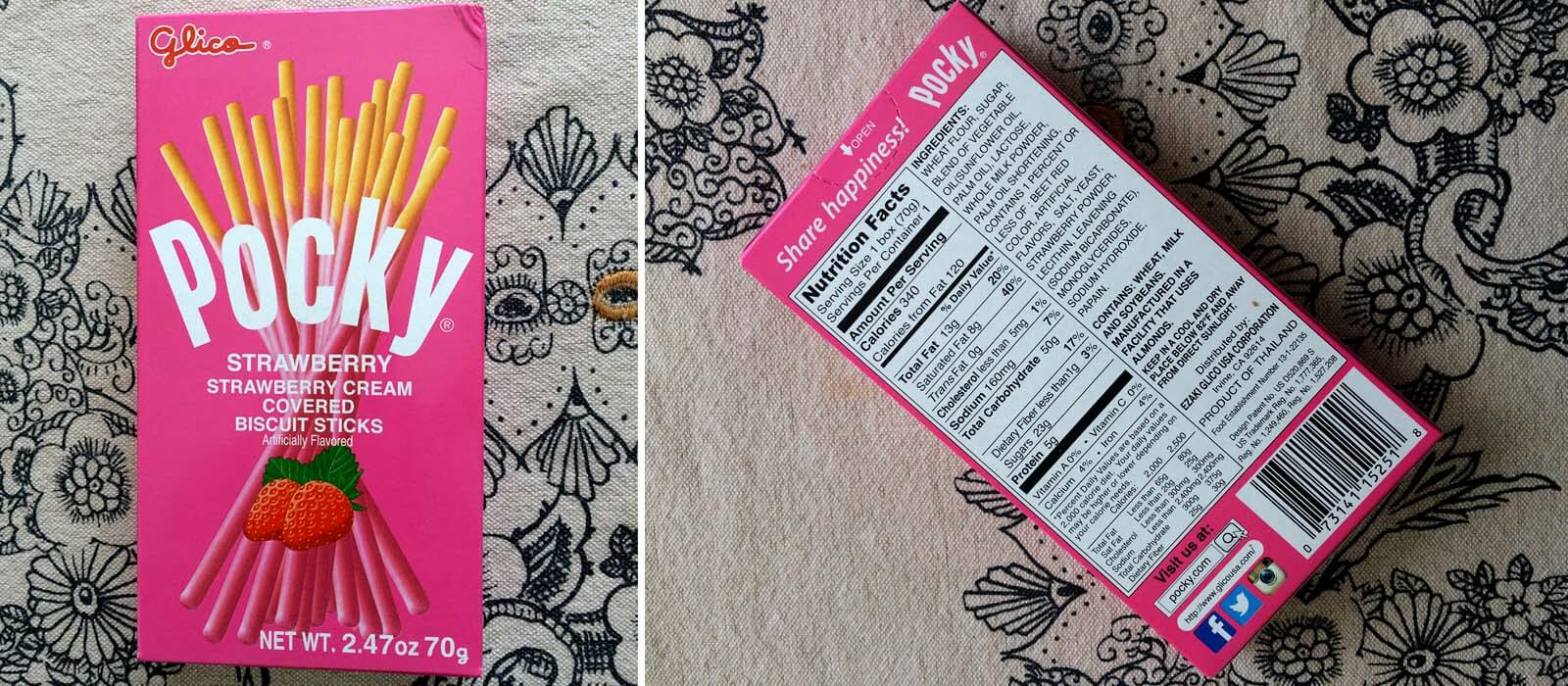 If you've had the traditional milk chocolate Pocky, then you should know it's a package of biscuit sticks dipped in some sort of sauce; in this case here, it's strawberry cream. Out of all of the Pocky that Chris and I have tried, I think this one by far is his personal favorite since this version is sweeter, but not overly sweet. He says that it tastes similar to a strawberry Pop-Tart, so if that's your cup of tea, feel free to try these out!
Almond Crush Pocky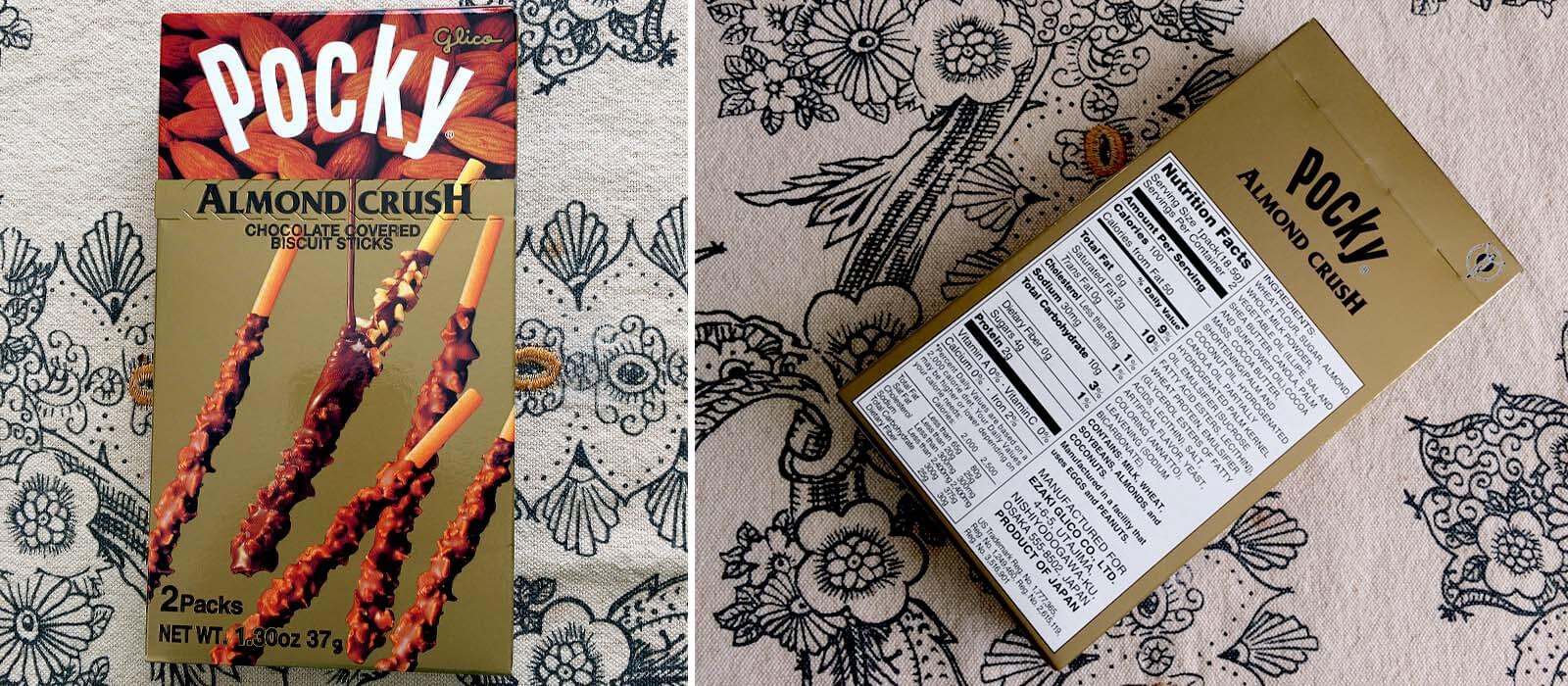 The Almond Crush Pocky is a nice upgraded version of your traditional milk chocolate Pocky. Instead of a biscuit, it's a pretzel coated with milk chocolate and sprinkled with crushed almonds, and then topped with a second coat of chocolate to finish it off! Instead of gobbling them up, I tend to take my time nibbling away the layers of the Pocky sticks until I reach the pretzel. Chris isn't a big fan of almonds and prefers the Strawberry Pocky, BUT if he is offered one of these, he won't say no. 😉
Men's Pocky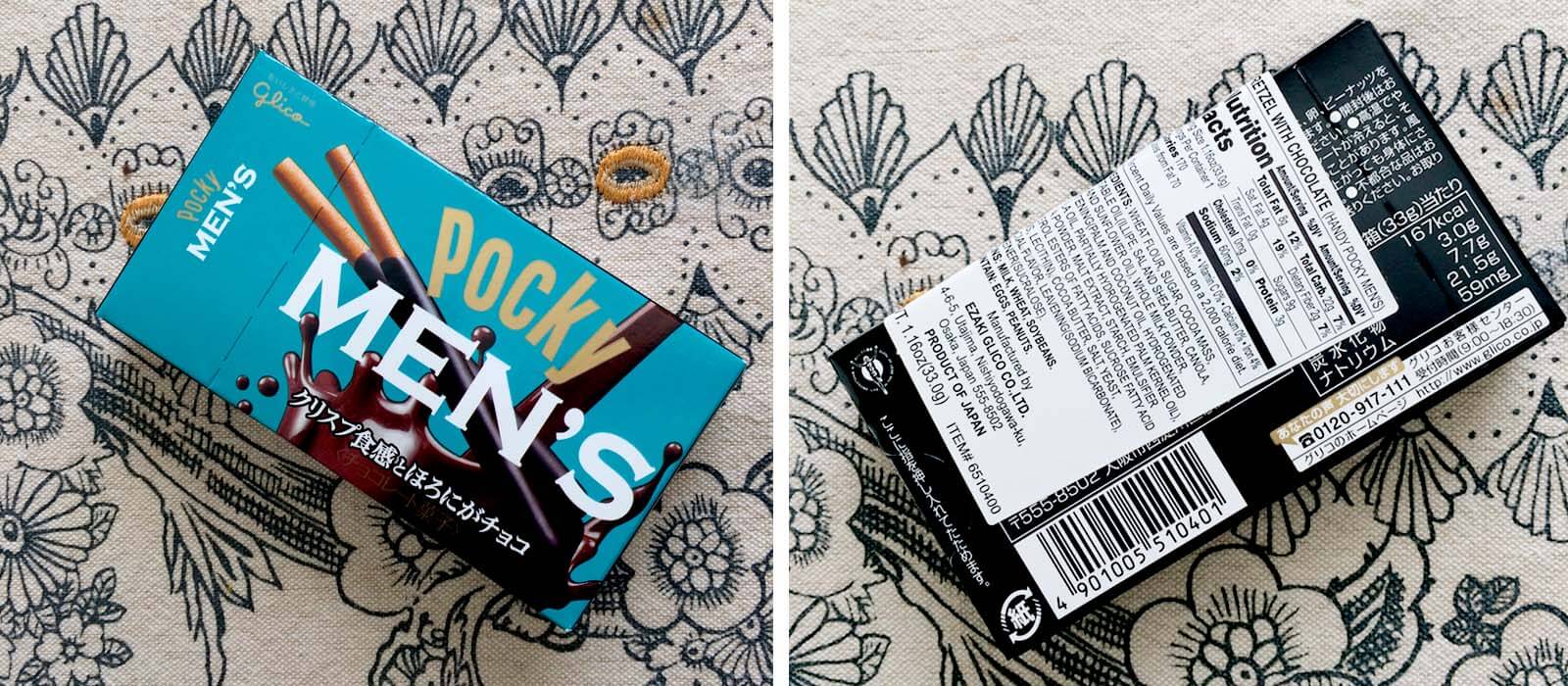 Unlike the two previous Pocky we tried, which you can generally find at your local grocery store or dollar section at Target, I could only find the Men's Pocky at Daiso. Apparently they were discontinued some time ago, but are now back for a limited time only. They are a stouter version of your standard Pocky (about 3/4th of the original length), but are denser and heartier. The typical milk chocolate is replaced with dark chocolate and it is AMAZING. Personally, I don't particularly care that it's labeled "Men's Pocky" (it caused quite a stir in fact). Honestly, it should really be called "Katy's Pocky", since it feels like it was created specifically for me. I know I sound like a broken record, but if you love dark chocolate, do yourself a huge favor and ORDER these lovelies because it seems like they are limited edition.
If this is something you want us to keep doing, or you have something in mind for us to try out, let us know in the comments below!
Big thank you to our supporters
From their continous support, we are able to pay our team for their time and hard work on the site.
We have a Thank-You page dedicated to those who help us continue the work that we've been doing.
See our thank you page