As far as music goes, I am one of those slightly elitist people who sneer at idols and brag about how at least my bands write their own music and play instruments. At least all of "my" bands did until I came across Golden Bomber. If you haven't heard about this band, you're missing out, because there's nothing like them anywhere.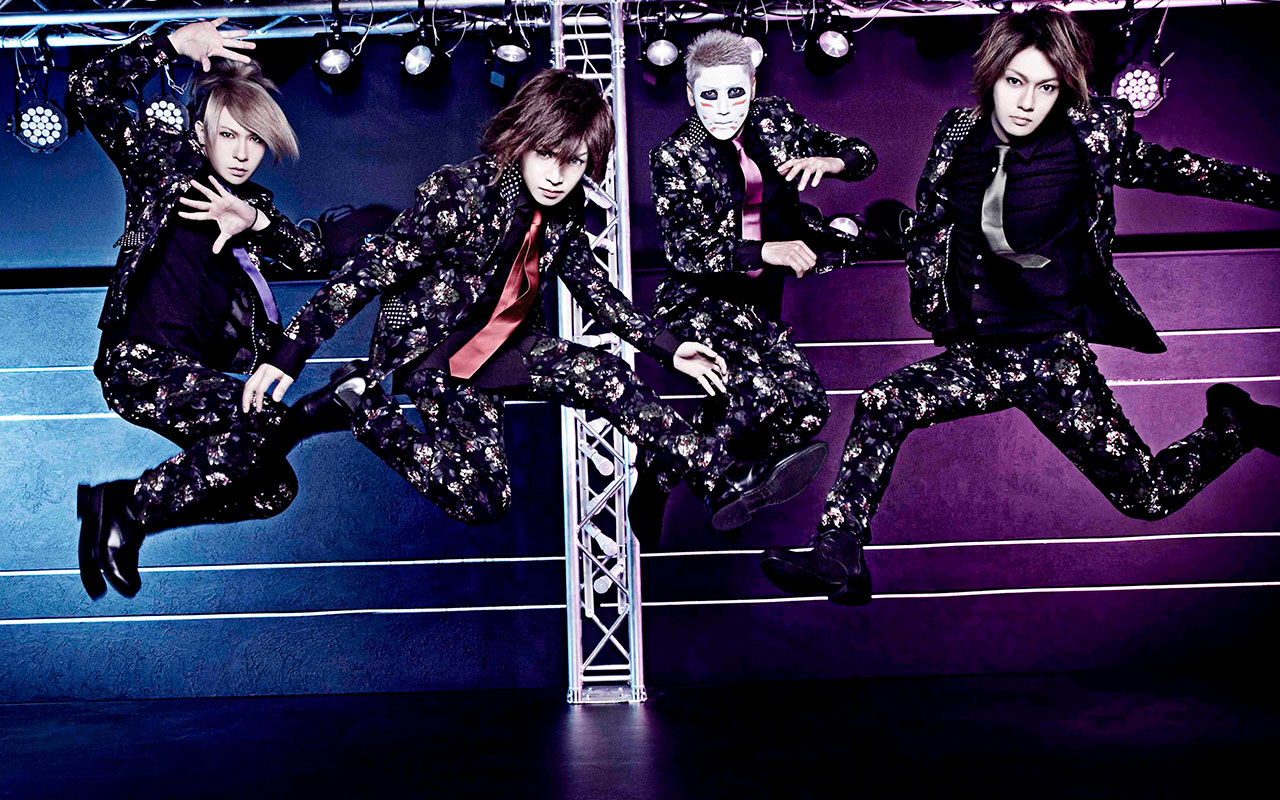 Golden Bomber is not your average visual-kei band. In fact, you might ask if they can be considered a band at all – after all, the group markets themselves as a "visual-kei air band" which is exactly what it sounds like; although the vocalist, Kiryuin Sho both sings and composes their songs, none of the other members actually know how to play any instruments!
To distinguish themselves as an air-band, they have taken on an unconventional way of spelling their band titles. Thus, the group consists of:
Vo-karu (vocals): Kiryuin Sho
Gita- (Guitar): Yutaka Kyan
Be-su (Bass): Utahiroba Jun
Doramu (Drums): Darvish Kenji
Hyper Giga Hybrid Super Subculture Visual Rock
The group was formed in 2004 by Kiryuin and Kyan. They coined the band's concept as "Hyper Giga Hybrid Super Subculture Visual Rock".  Originally, the two of them were joined by drummer and keyboardist Teppei Chimatsuri, who shortly left the band, making room for drummer Dankichi Tenkujo.
In 2007, Utahiroba Jun joined the band as bassist. In April 2009, Tenkujo left the band and was replaced by current drummer Darvish Kenji, who sports Kabuki face paint as his go-to look. Tenkujo can be seen in older recordings, such as the "Gomene aishiteru" (I'm sorry, I Love You) music video.
Their popularity started growing in 2009, following the release of "Memeshikute", and rapidly increased the following year, with several of their songs making it to the Oricon chart, and the top of the Dwango chart.
When trying to explain Golden Bomber to my non-VK savvy friends, I often present them as being more of a comedic act than an actual band.
For their recording sessions, the band brings in professional musicians, such as SHUSE (acid black cherry, La'cryma Christi), Hiro (La'cryma Christi, Creature Creature, acid black cherry), Leda (Deluhi) and Ikuo (Bullzeichen88, Rayflower), and sometimes these artists join the band on stage for a song or two.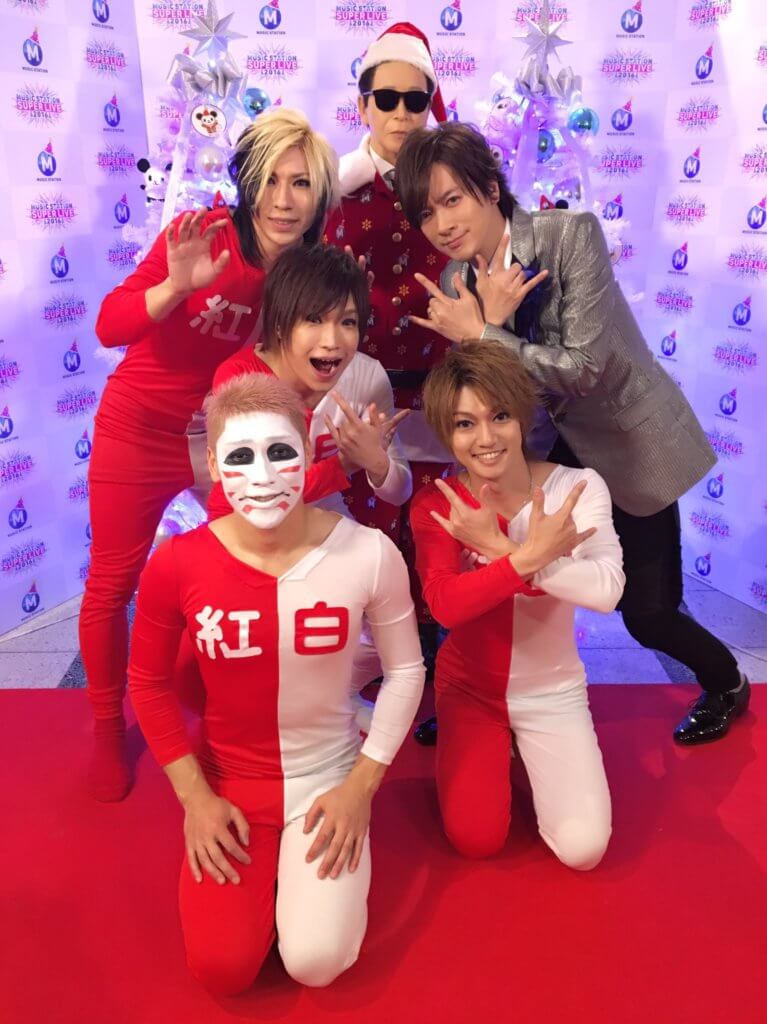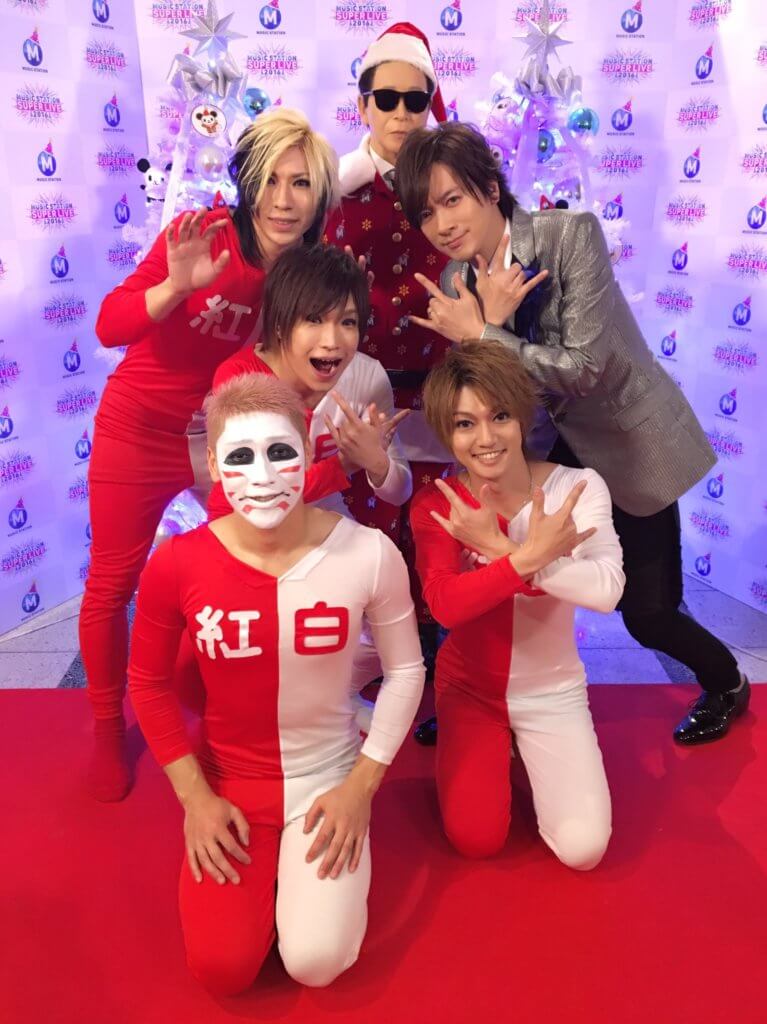 Parodies and pepakura
For the most part, however, Golden Bomber's live shows make up for the lack of well…live music, in rather creative ways. In true visual-kei fashion, a lot of their shows are set within a frame that opens and ends with a pre-recorded movie, and the theme recurs throughout the show. Other dramatical elements, such theatrical stage-plays in several acts which incorporate fitting songs from their repertoire, as well as parodies of other artists (Kitajima Saburo, GACKT, Glay, DAIGO etc.), athletes, manga characters and celebrities, are also incorporated. Often the stage features elaborate pepakura (papercraft models made from heavy sheets of paper) decorations (for example the Colossal Titan from Shingeki no Kyojin), made by Kyan personally; whose "guitar solos" are usually performed in such creative ways as being dunked in water, drinking 2 liters of coca cola, or being painted to look like an Oscar statue.
There is also an abundance of shimoneta (dirty jokes), and obscenity or nudity, usually on account of Darvish Kenji, whose face is the only part of his body he's not willing to show on stage.
Like with many other visual-kei bands, BL is an element that is incorporated into these acts, which includes music videos as well as their very own BL film; Sore nokoshita natsu. The stories are built on the tragic tropes of BL, such as one-sided love and unfortunate family affairs, but somehow manage to be both hilarious and poignant at the same time.
Due to their theatrical and frankly, hysterical, live performances, Golden Bomber have become household names in Japan. They are a staple act in such popular TV shows as Music Station and the prestigious Kohaku Uta Gassen. That's quite a feat, considering visual-kei bands are rarely featured in mainstream media.
Their  2009 hit single "Memeshikute" is a staple ingredient to these appearances and to their massive success. Despite having been performed for almost ten years, the Japanese audiences never seem to tire of this track, possibly because a performance of this track is nothing like the last. From a Kpop-version to getting blown up(!) on live television, "Memeshikute" is one way for the band to continuously re-invent and out-crazy themselves. Most recently, they decided to try their hands at actually playing live music during an appearance on Music Station – Let's just say the audience were covering their ears!
Off the stage, they often figure in various commercials and pull stunts like transforming their website to look like a Wikipedia entry or make headlines throwing an 8-second promotional concert.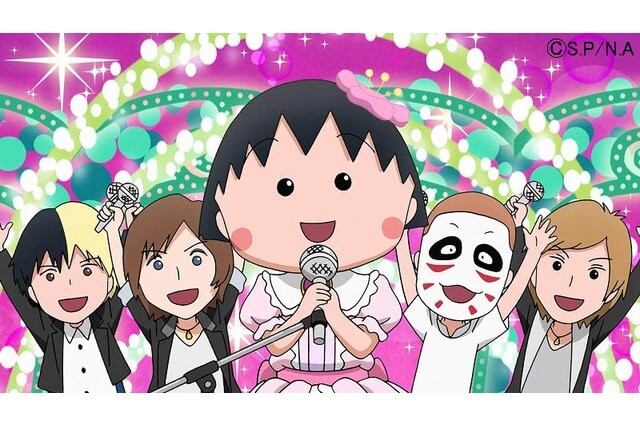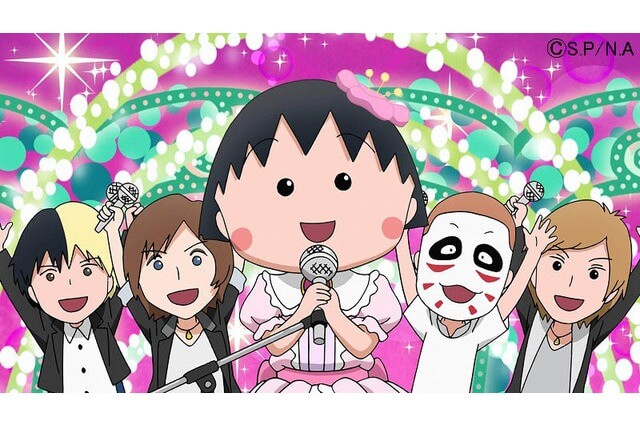 Music video selection
But let's be honest here, describing Golden Bomber is both difficult and unfair to their dramatic talents. Golden Bomber is best experienced through their visuals, so here is a selection of music videos and performances that capture the spirit of this group, and which makes them, air-band or not, truly visual-kei (or at least visual).
Memeshikute

The single "Memeshikute" has so many incarnations, especially live, that it is impossible to pick one that stands out. Here, however, is the KPOP-version, where the guys ride on the wave of cute popstars in tiny shorts, looking cute while eating stuff.
Mata kimi ni bango wo kikenakatta

In 2010, the band released "Mata kimi ni bango wo kikenakatta", a song about not being able to ask for the number of the person you like, and all the frustration that comes with it:
From their 2014 tour "Kyanhage: Mata kimi ni bango wo kikenkatta" featuring a massive paper dragon:
https://www.youtube.com/watch?v=73WjKSMYyA4
Moto kare korosu
https://www.youtube.com/watch?v=ax-_JLUvp2c
"Motokare korosu" was the B-track to the 2008 single "trauma kabajou". Golden Bomber often tackles relationship issues in their songs, and in this one, the subject is simply "I want to kill your ex-boyfriend." Here performed at Yokohama Arena during their 2012 tour. Warning: Explicit content!
Shinda Tsuma ni Niteru
https://www.youtube.com/watch?v=xJf1g9cvIqQ
2015 saw the release of a little gem called "Shinda tsuma ni niteru", meaning 'you look like my dead wife', in which Kiryuin Sho, a grieving widower, is being haunted by his deceased wife everywhere he looks.
Dakara Baibai 💔
I like to refer to this one as 'the world's happiest break-up song.' Even though the lyrics aren't particularly happy, it deals with the singer's disillusionment after having been canceled on one too many times, and love has turned to hatred. However, this is often the final song performed at Golden Bomber's live shows, with gusto and enthusiasm as the band sing and dance with the audience. The melody is cute, catchy and upbeat, and really easy to get hooked on. This performance is from their 2012 concert at Yokohama Arena, where it was not performed as the final number, but instead incorporated some golden moments of parody.
Yokubou no Uta
Songs like "Dakishimete Schwartz" and "Za visual-keippoi kyoku" bring out both a darker and more VK style from the otherwise cheerful band, but 2015's "Yokubou no uta" truly captures the visual-kei spirit in more ways than one. When performing at Music Station's Halloween special that year, Kiryuin commented that they were dressed up as "some visual-kei" band. Hm, whoever could it be?
Her (Block B)
Speaking of other bands, Golden Bomber's members also have a habit of infiltrating other musical acts. Kiryuin Sho, for instance, is possibly the world's biggest GACKT fan and has crashed his stage on at least two occasions. Meanwhile, bassist Jun has an affinity for Kpop and can be found invading Block B's music video "Her" (Japanese version). Clearly, this is not actually a Golden Bomber song, but Jun's in the video, and it's hilarious.
#CD ga Urenai Konna Yononaka Ja
https://www.youtube.com/watch?v=OZxFDdc-3m4
Golden Bomber's new album Killer Tune Shikanee yo was released on January 31st, 2018, and in preparation for the release, the band has been releasing a number of music videos.
One of these is "#CD ga Urenai Konna Yononaka Ja", which laments the CD recession and decline in CD sales, and the hardships musicians face as they try to make a living from their music.
Constantly re-inventing and outdoing themselves, Golden Bomber has a lot to offer, regardless of what your taste in music or stage antics is. In this selection, I have presented a number of my personal favorites, as well as some of the most memorable music videos and live performances (at least of those that are suitable for a general audience) they have to offer.  From the catchy to the plain weird – I hope to have whetted your appetites for this unique kind-of musical act.
For more craziness and music videos, be sure to check out Golden Bomber's YouTube channel!
---
Big thank you to our supporters
From their continous support, we are able to pay our team for their time and hard work on the site.
We have a Thank-You page dedicated to those who help us continue the work that we've been doing.
See our thank you page