Atsuko Tanaka studied at Tokyo Designer Gakuin College's Animation Department. She left college mid-term to join Shin-Ei Animation, a Japanese animation company owned by TV Asahi Corporation. Later, she joined Telecom Animation Film Co., Ltd, and then ultimately Studio Ghibli. Since leaving Studio Ghibli, Tanaka has become a freelancer, working for companies such as  Studio Chizu, Studio Ponoc, and others.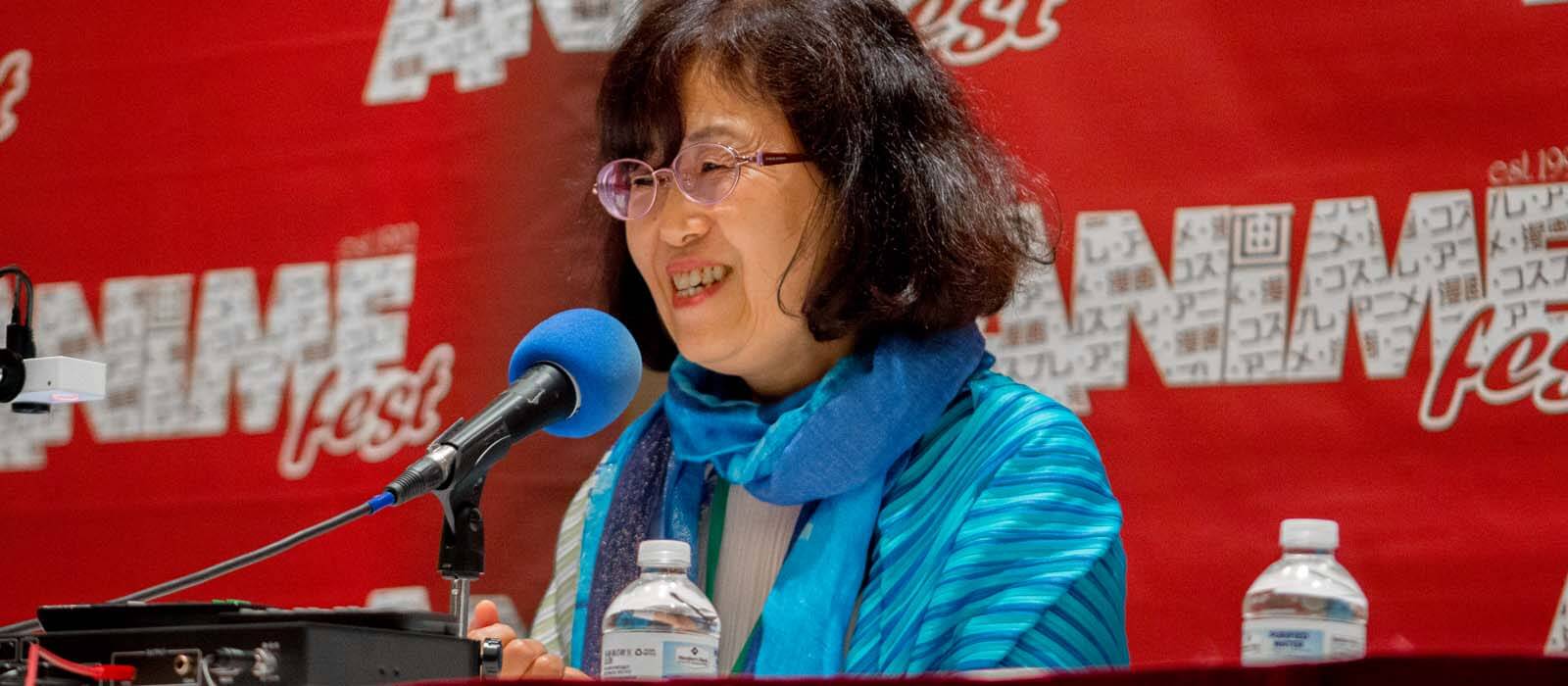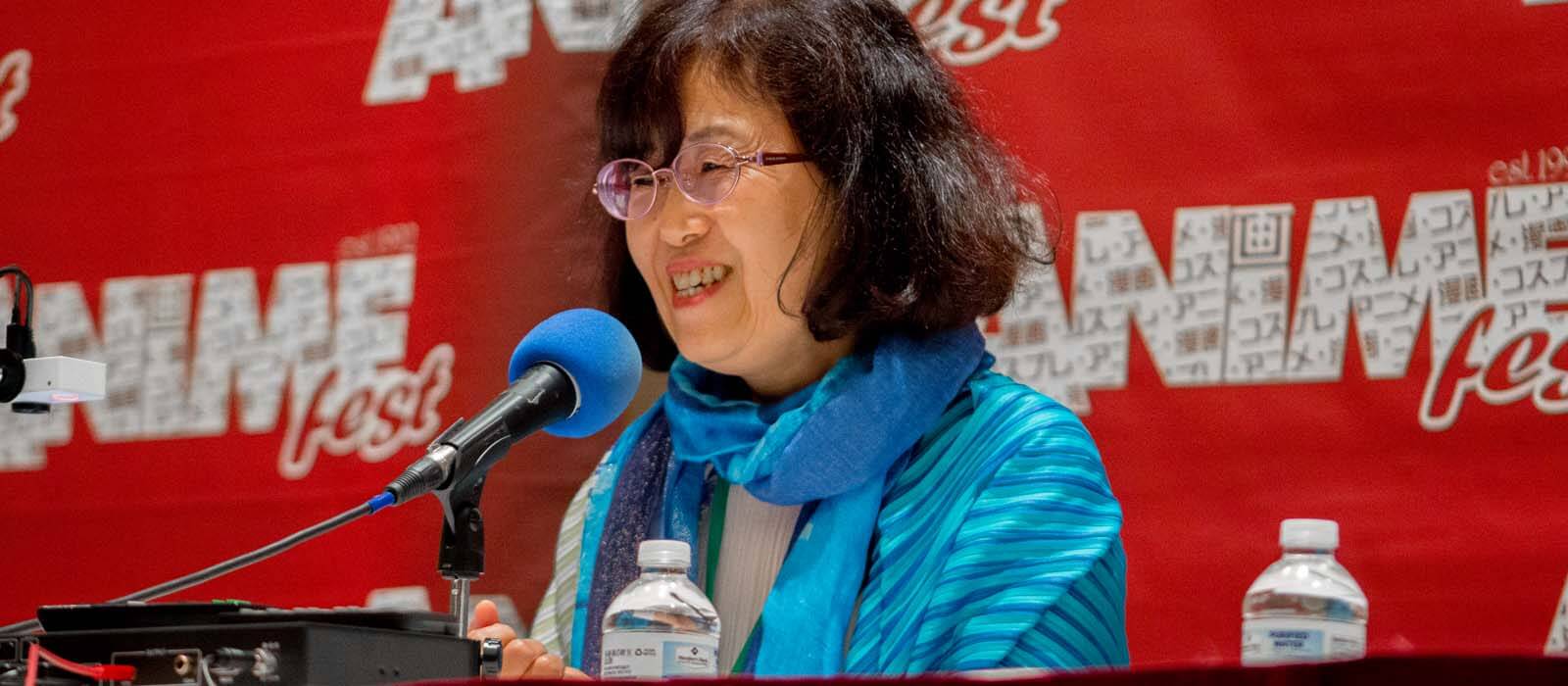 Tanaka was the key animator for several of Hayao Miyazaki's films: Lupin III: Castle of Cagliostro, My Neighbor Totoro (uncredited), Kiki's Delivery Service (uncredited), Porco Rosso (uncredited), Princess Mononoke, Spirited Away, Howl's Moving Castle, Ponyo of the Cliff by the Sea, and The Wind Rises. She's also worked with Isao Takahata on Pompoko, as well as with Hiromasa Yonebayashi on The Secret World of Arrietty, When Marnie Was There, and his most recent film, Mary and the Witch's Flower.
For this installment of our "Hi, I'm…" interview series, we sat down with Atsuko Tanaka early one morning and talked about her experiences working with these famous animation directors, her thoughts on the evolution for the animation industry and, well, food. Enjoy!
Your work has covered various topics and genres; are there any subjects you've found particularly challenging to draw?
For me, what's challenging is drawing the character the same way for the whole story.
How has the animation process changed – if at all – from the older Ghibli classics to more modern spectacles like Your Name.?
I haven't seen much difference. However, I have seen the director's differences. For example, with Shinkai (director of Your Name.), he doesn't want to put so much detail into the animation; however, he is very into the timing of the music, the story, and the background. So for the animation that I did with him and his studio, I had to focus on those things. However, Miyazaki is an animator, he wants to see all the details. He wants to fix all the details. That is a huge difference.
Having worked on both Japanese and US animation productions, what are some of the interesting lessons you have learned from both sides?
For the American side, they are very into how the lips move in the animation, so I didn't know how much effort Americans put into that aspect. Maybe you already know, but Japan is the total opposite. You draw, and then the voice actors have to move around with it. Of course, since I grew up in Japan, I'm more familiar with Japanese animation. In Japan, animators create everything. How they move, the poses, everything like that. In America, the voice actors record first, and then the animator actually draw along with it, so that is a huge difference.
The voice actors do a great job. In Japan, you see the storyboards and the voice actors act along with the animation, but in America it's different. So sometimes the concept of how I wanted the animation had to be different because the voice actors already recorded their parts.
What do you think of the state of anime films as they are right now?
The movies that are feature movies, they have started to have more of a budget, so that's a great thing. But for the TV series, they have a very limited budget with a very limited time schedule, so the staff have to work so hard to create them, and I think that's kind of a problem.
We know lately in America, particularly with big budget movies, that the time allotted to shoot and release them is dramatically decreasing. Even as the budgets are getting bigger, do you think that's also true for Japanese films and TV, or just one or the other?
It depends on the production. Like Americans, we still don't have much time for scheduling movies, but compared to TV series, it seems like movies have a much longer time schedule.
How would you compare working at Studio Ghibli to working at other studio environments? We've heard that working with Miyazaki can be a bit… stressful. 
I've been working alongside Miyazaki for a long, long time, even before Ghibli. And before that, I think he was much scarier to be around. After Ghibli, of course, he was very strict on the work we do. However, he wasn't really doing anything with us, so that was good.
Was it easier because you understood his mannerisms and knew that his approach was a bit more upfront and direct?

As long as he is not making movies, he is a very nice and gentle person. This is my personal opinion, but Miyazaki is very, very into his production, of course. He gets tough if somebody else is not thinking as deep as he is, but it is almost impossible because it's his creation. That is kind of how it is. Especially with understanding the movie, he always wants more.
Miyazaki has a lot of knowledge about different things. Let's say there is a car in a scene: he knows everything about this car. About how to cook? He knows everything about how to cook. When I worked on the scene in Howl's Moving Castle where they cook bacon and eggs, I didn't know at the time that you make the egg using the bacon's oil. I didn't know that, but of course he did. He knows a lot about airplanes and other things. Although he says, "Oh, I don't have much knowledge," he does have a lot of knowledge, even about daily life and cooking, so it's very hard to catch up to him.
Are there any animators working today that you are a fan of?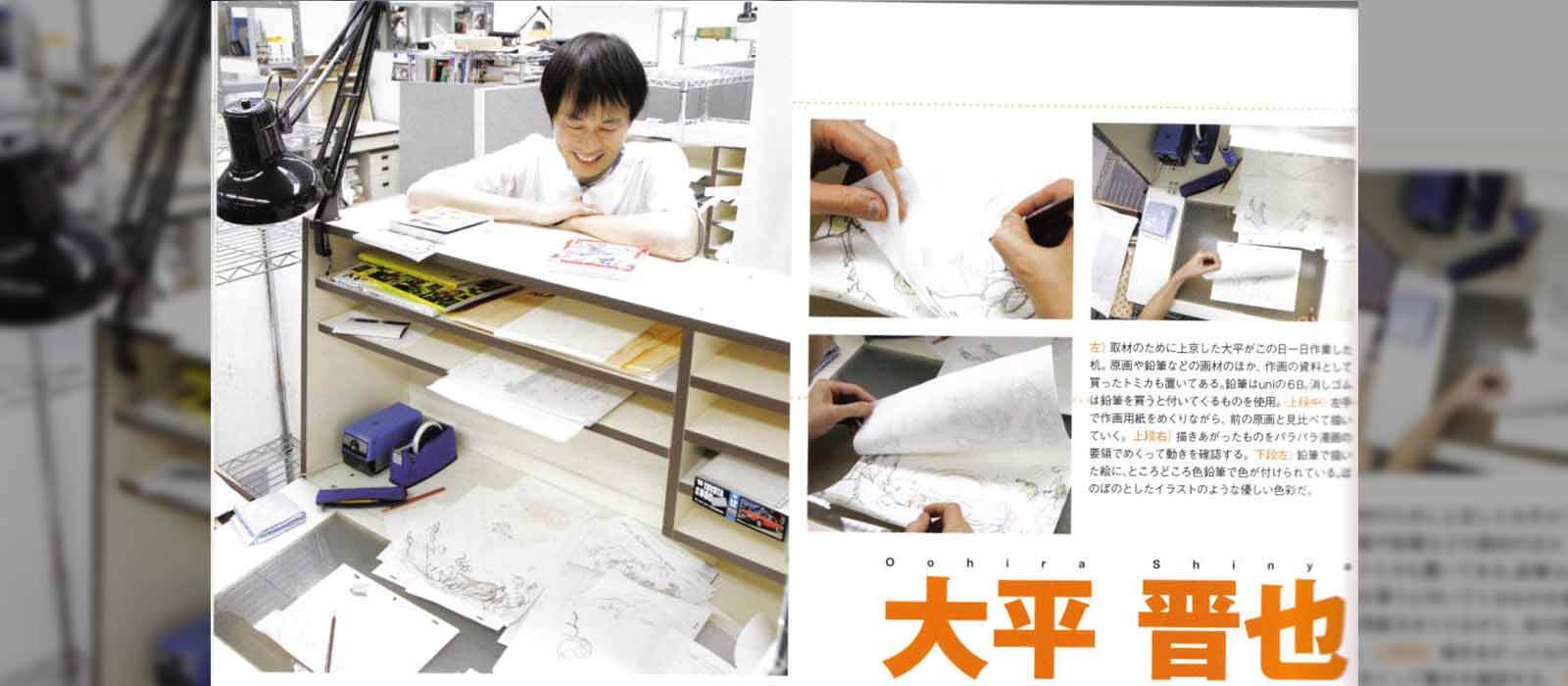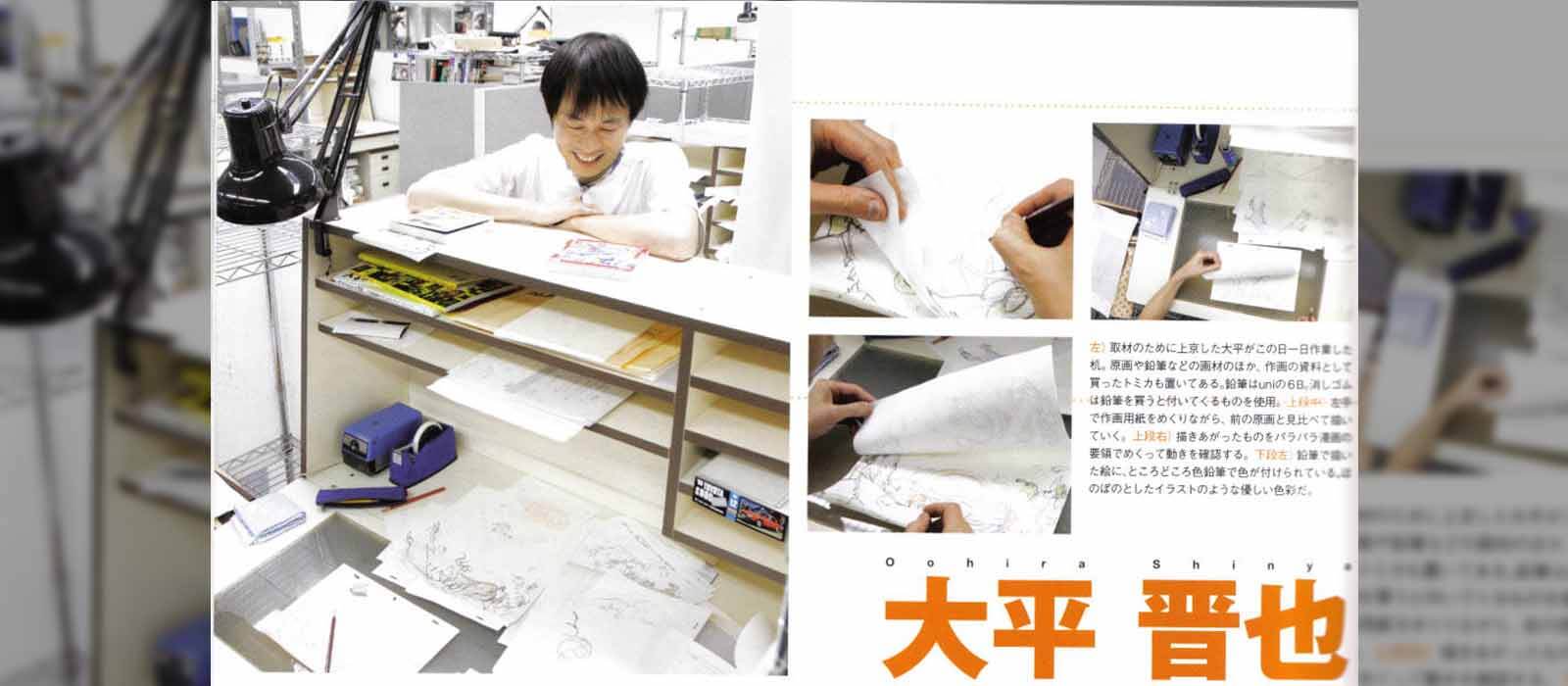 I love Yasuo Otsuka, but he is retired. As far as animators, I love Shinya Ohira, who worked on Spirited Away. If you see the credits, you'll see his name. He is amazing, like a genius. Miyazaki knows a lot about planes, right? Mr. Ohira doesn't know anything about planes, but when he drew an airplane, Miyazaki was like "Wow, this airplane is amazing!" That's how good he is.
What are your favorite subjects you've had to draw?

I like drawing action, as well as eating scenes.
Of all your work on Lupin III, who was your favorite character to animate in the series?

Not really a character, but I do have some favorite scenes. For example, the scene where Lupin is moving around and acting. Also, the scene where Lupin is eating.
I see a trend of eating! This is a little off-topic, but did you ever get hungry while animating a food scene?
I don't actually get hungry during that, but I enjoy doing it because it looks so delicious. If a movie has a bigger budget, we'll actually go to the place and see the actual food. It is like an interview, or 'research'.
You mentioned American animation emphasizing the lips a lot. So in Japan, where does the emphasis go?
If you have a limited budget, you may not have too many movements, so you have to have a beautiful face. That's the focus. When the movie or the series has a small budget, it boils down to how many movements you can have. When you have a larger budget, you can think about how much movement and which kind of movement you can make.

Do you prefer animating simple character designs or more complex character designs, and why?

I love simple. I want the character to move a lot, so simple but with a lot of movement.

One complex character design that comes to mind is Yubaba, from Spirited Away. With so much detail, we imagine she could be more difficult to animate compared to the other characters in the film. 
I actually loved working on Yubaba. With her wrinkles and everything, it was harder, but she was a more interesting character to work with.
﹋﹋﹋﹋﹋﹋﹋
Thank you to Atsuko Tanaka and AnimeFest for the opportunity.
Thank you to those who submitted interview questions: Maryam, baldfat, Meghan Murphy, Dawn, Astra W., and Callum May.
Translated by Banks (AnimeFest volunteer translator) & transcribed by Gregory Vendramini.
Special thanks to Sakuga Blog for permission to embed their videos.
﹋﹋﹋﹋﹋﹋﹋﹋﹋﹋﹋﹋﹋﹋﹋﹋﹋﹋﹋﹋﹋﹋﹋﹋﹋﹋﹋﹋﹋﹋
In the "Hi, I'm…" series, we sit down with fantastic folks who influence the world of Japanese culture, from AniTubers to experts & industry celebs. Every other month, we'll present a new interview with insight on that person's daily life, their thoughts on the Japanese Culture industry and tips for those wanting to debut in the same field as them.
Have someone you want to see featured or questions you think we should ask? Send us an email: YattaTachi[at]gmail.com
﹋﹋﹋﹋
Editor's Note: This interview was edited slightly for clarity. 
SaveSave
SaveSave
SaveSave
SaveSave
SaveSave
Big thank you to our supporters
From their continous support, we are able to pay our team for their time and hard work on the site.
We have a Thank-You page dedicated to those who help us continue the work that we've been doing.
See our thank you page