Located in Paris, France, Angy saw a need for finding legal ways to listen to anime songs. It started with just a personal Spotify playlist which eventually grew into a full-fledged website database called AniPlaylist. We had the opportunity to have a chat with Angy and discuss how AniPlaylist came to be, what their goals are, and how they went about making it into the success that it is.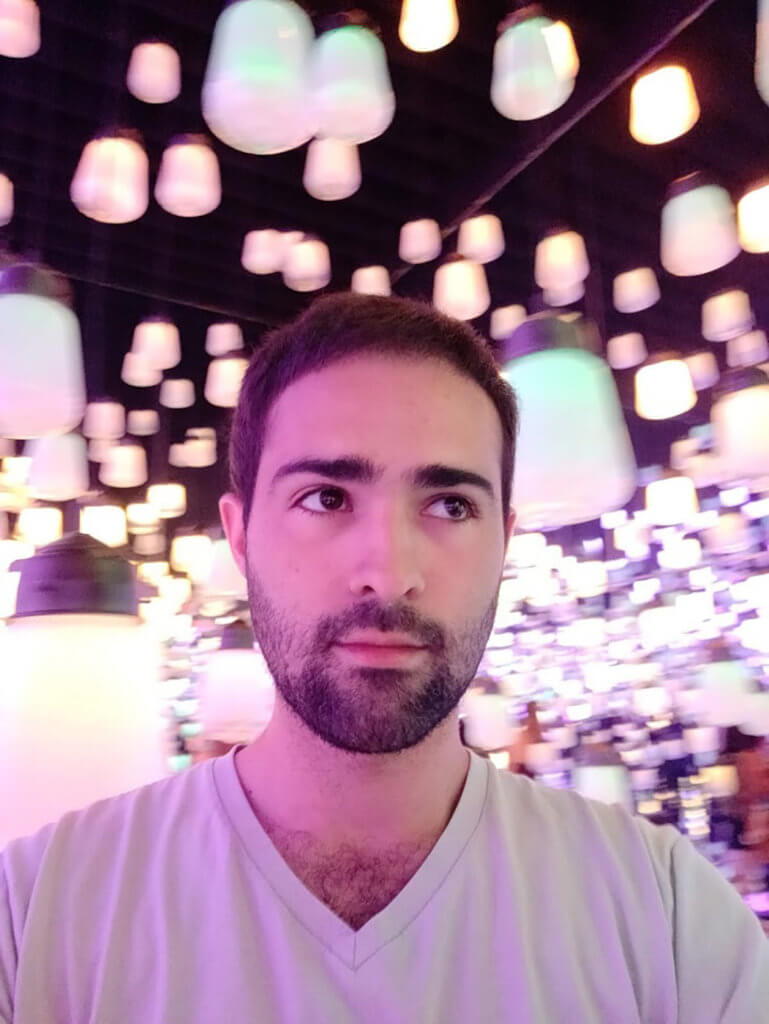 Nickname: Angy
Age: 26
Location: Paris
Current Occupation: Project Manager & Web Developer
Editing Software/Equipment: Macbook Pro 2015 (that I should replace) and PHPStorm for coding
About AniPlaylist:

Tell us a little bit about AniPlaylist. How did the site come about?
To answer that question I must give you a bit of context first!
I've always lived in France, one of the biggest markets for anime and manga after Japan.
Since simulcasts started being a thing in early 2010, we have always had multiple platforms on which we could watch anime legally, leaving less and less room for piracy. After so many years consuming almost all my anime legally, I started asking myself if something similar was possible for anime music. Since there were no legal anime music platforms, I had to use one of the popular music streaming services, such as Apple Music, Spotify or Google Music.
I already had a Spotify subscription, so I searched for anime songs on it and started making playlists with the original songs I found. At first, these playlists were just for my personal use, but I quickly thought that they might be useful to other people having a hard time finding anime songs on Spotify.
The first playlists I made were just listing songs by year or by season for more recent songs.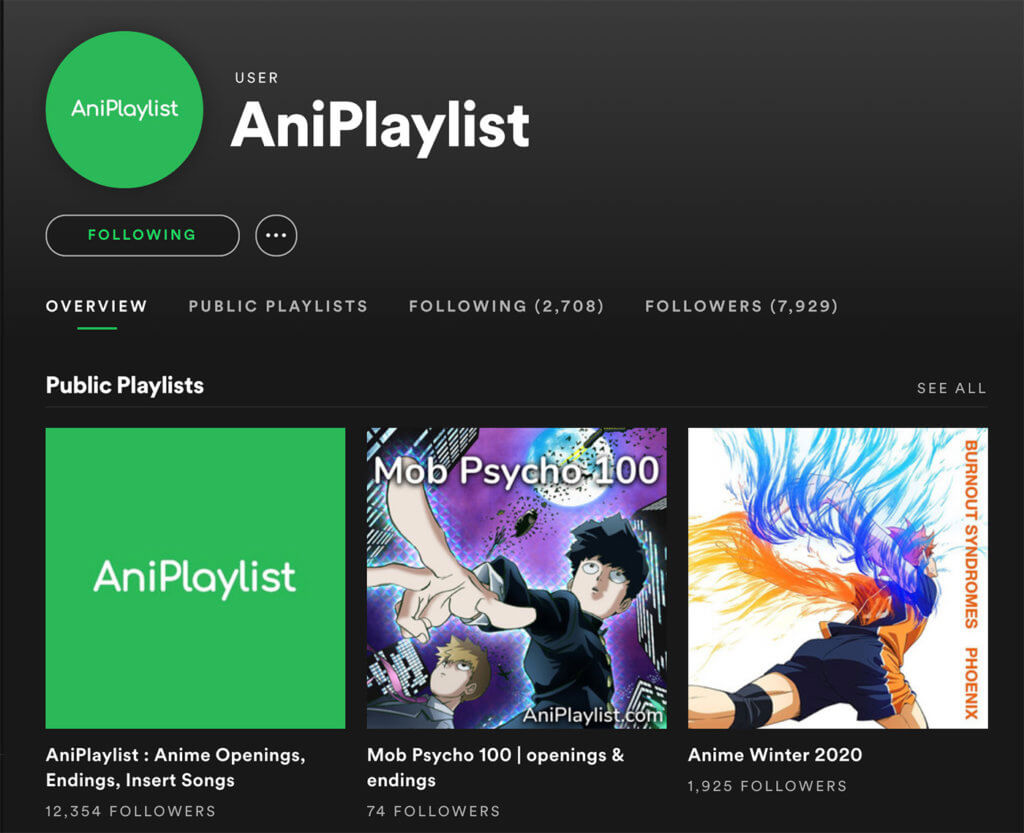 In July 2018, I created AniPlaylist's twitter account and started tweeting songs.
At the same time, I created a Github repository where I was uploading text versions of each playlist. I posted the link on Reddit and that's how I started getting a few followers on my Spotify account. But it quickly became unmaintainable as I was reaching more than 500 songs so… I decided to make a website!
At first, the website was just a few forms to help me add songs easily to the database. I started working on the public website around January 2019. A closed beta version started in March of the same year to get some feedback on what I was working on. Finally, the website was released publicly in October 2019. (Yes, I took my time.)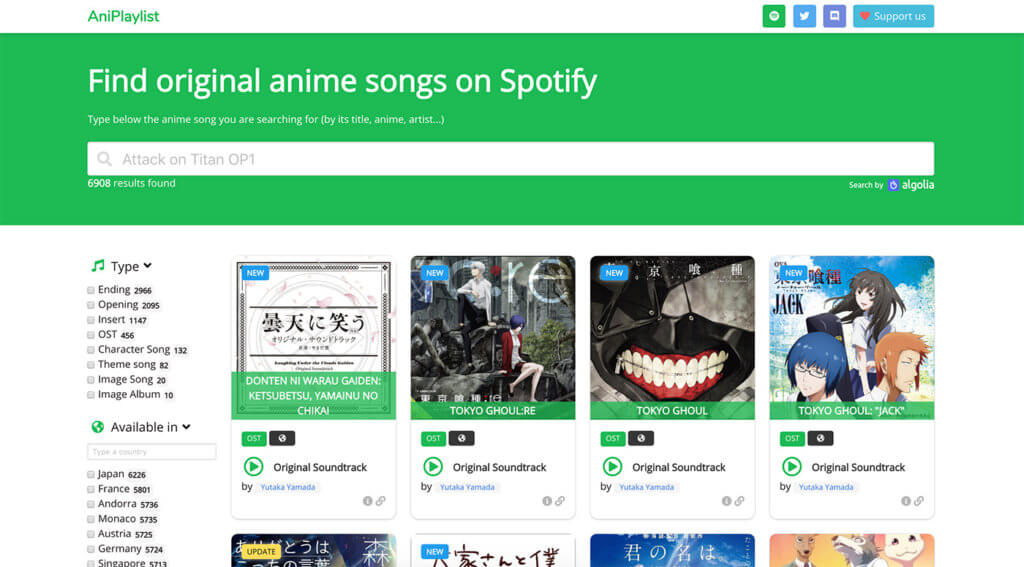 What is your overall goal for AniPlaylist?
The overall goal of AniPlaylist has always been to help people find the anime songs they love on legal music platforms. Even if today the project is focused on Spotify, I do want to expand to other streaming services, such as Apple Music, Google Music or Deezer in the future!
Is AniPlaylist run by one person or is there a team?
We are currently a team of 3 working in our free time!
Ryunako joined the project in June 2019. He was really motivated, so I asked him if he was ok for adding a 2,000 song backlog into the database… He was crazy enough to accept and has since accomplished that task. He also helps me manage the Discord server and test new website features!
10kArLcRockets is a very active member of our Discord server, and joined us on the project in December 2019. He was checking newly released songs every week and sharing them with us, so I asked him if he would like to help with the database. He's mostly focused on newly released songs, since he is in a very advantageous timezone and gets songs one hour after they are released in Japan.
Angy (that's me): doing the rest!
About You in General:
If you could name ONE OST from an anime that impacted you the most what would it be? Why?
That's not an easy question!
Just thinking for a few seconds and I already had a lot of OST in mind: Eureka Seven (by Naoki Satou), Gurren Lagann (by Taku Iwasaki), Ghost in the Shell S.A.C (by Yoko Kanno)…
But the question is the ONE that impacted me the most and I think it is Death Note's OST composed by Yoshihisa Hirano and Hideki Taniuchi. Death Note was the first anime I'd ever seen from the beginning to the end, unlike other anime I watched randomly on TV as a kid. I was 15 years old back then and watched the 37 episodes in less than 3 days. I was so hooked that I was even watching episodes late at night with my Nintendo Wii's web browser on a very old and ridiculously small screen…
Finishing Death Note was fulfilling, but also left me with a huge void, I was missing it so much.  The only way I found to fill that void was to listen to the soundtracks in a loop. I don't know how many times I've listened to those 3 albums but I still love them as of today and get really nostalgic when I hear any of the tracks.
What is one thing that people don't know about you?
I have worked for Crunchyroll France since they launched in 2013! I did subtitle timing for anime such as Sound! Euphonium, Parasyte, Saga of Tanya the Evil, Prison School, and Nagi no Asukara.
What is something you struggle with when working on AniPlaylist (promoting, site maintenance, etc) and how do you overcome it?
Most of the tasks I struggled with came from the fact that I was working alone on AniPlaylist for almost a year. During that year I was getting up earlier, working during my lunch breaks and even when I got back home. Don't ask me how I was still able to find time to watch anime; I don't even know myself!
One of the most time-consuming tasks I had was finding songs on Spotify. Everyone who has tried must know that it's not easy due to song covers, and because song titles and artists may be written in kanji/kana.
After finding a song, I must add it to the database, which also means gathering multiple data such as the anime title, artists, title translations, thumbnails, the episode in which the song appeared, et cetera.
All of this took me a lot of time, but today I can count on Ryunako and 10kArLcRockets. I no longer need to pull an all-nighter each time a label releases all their songs on Spotify. This is a huge relief for me!
Being a web developer also helps a lot to reduce that kind of difficulty since I'm trying to automate tasks as much as I can. For example, I don't need to add songs myself to the different playlists anymore, everything is done automatically whenever a song is added to the database.
Same goes for Twitter: before, I had to plan every tweet myself. Now I have a script running every week to plan tweets automatically.
What's an interesting tidbit you would like to share concerning AniPlaylist?
I have tried to personally contact labels & artists! In early 2019, I tried to send messages personally to labels and artists to ask them if they could add some of their songs on Spotify. The task was really tiresome, finding ways to contact labels/artists was not easy, and all messages needed to be written in Japanese so I had to ask the help of a Japanese speaking friend.
I sent more than a hundred messages, and 90% of them were left unanswered. Sometimes I didn't get an answer and songs were still added. Honestly, I can't even be sure it was thanks to my message, but I wrote a post about it on Medium last year.
The remaining 10% were mainly negative answers telling me to ask some label I couldn't contact or just that they couldn't do anything about it.
Fun fact: I sent an e-mail to the composer of a movie to ask if the soundtrack would ever be available on Spotify. I would have never expected the response I received–they sent me a WeTransfer with the complete soundtrack of the movie!
I will probably try to send messages again in the near future. With the help of the website and some search statistics, it might be easier to convince labels to release their songs on music platforms!
Fans Questions
@Spindash54: Would you consider expanding the database to include paid music downloads such as the iTunes Store, for those that would prefer buying music to streaming it?
That's something I would love to have on AniPlaylist, since I want it to be a platform where people can find anime music legally, whether it be streaming, download or even links to online shops to buy CDs.
@matheusaguiar_: Probably common questions, but, where are you based at, what do you do for a living, and do you think your work is helping anime music get more popular outside Japan?
I live in Paris and I work as a Project Manager & Web Developer!
I don't know if I'm helping anime music get more popular outside of Japan. I think people who use the website and/or playlists were already listening to the anime songs they wanted by downloading them, using Youtube or buying CDs.
But I do think I'm helping them listen to anime music a bit more legally!
@Pinetrax: Do you have any plans on providing an API for developers to take advantage of the database? (e.g. for add-ons/bots/user scripts)
I would love to provide an API and see what people could do with it!
However, it's not yet a priority and it would take a lot of time, since I'm working alone on the website.
@thug_penguin: Any artist or series that you'd like to finally see on Spotify?
Anime songs I want on Spotify because a lot of people are searching for them on the website or asking on Twitter & Reddit:
Jojo's Bizarre Adventure
Angel Beats
Clannad
Cowboy Bebop
The ones I would love to have personally:
Eureka Seven & Eureka Seven AO (OST and missing OPs/EDs)
Fullmetal Alchemist Brotherhood (OST and missing OPs/EDs)
Supercar & LAMA discographies
Kensuke Ushio's OSTs: Devilman Crybaby, Ping Pong, BoogiePop and the Others
Taku Iwasaki OSTs: Gurren Lagann & Soul Eater
Home Made Kazoku and NICO Touches the Wall songs, but I lost hope since both bands disbanded
@MasterNurmi: When will you become MyAnimeList for anime music?
If your idea is to have a database of all anime songs, there are already websites such as AniDB or VGMdb doing it!
But MyAnimeList for anime songs available legally on music platforms seems more appropriate to me, but I don't know when I will get to it…
For More Information About AniPlaylist
---
Editor's Note: This interview was edited slightly for clarity.
---
In the "Hi, I'm…" series, we sit down with fantastic folks who influence the world of Japanese culture, from AniTubers to experts & industry celebs. Every other month, we'll present a new interview with insight on their daily life, their thoughts on the Japanese Culture industry and tips for those wanting to debut in the same field as them.
Have someone you want to see featured or questions you think we should ask? Send us an email: YattaTachi[at]gmail.com.
Big thank you to our supporters
From their continous support, we are able to pay our team for their time and hard work on the site.
We have a Thank-You page dedicated to those who help us continue the work that we've been doing.
See our thank you page