In January, Korean director Bong Joon Ho won the Golden Globe for best foreign-language film for his black comedy thriller Parasite. In his acceptance speech, Bong teased the audience with the admonishment that "Once you overcome the one-inch-tall barrier of subtitles, you will be introduced to so many more amazing films."
It is true that outside of certain circles of cinema devotees, foreign-language films rarely break into the American mainstream. However, it is not entirely fair to place the blame on the subtitles given to non-English language films when they are released in the states. After all, much of the United States soft power lies in our massive cultural exports: American popular music, television shows, and films are sent to a variety of non-Anglophone countries either subtitled or dubbed into the local language, and many countries find their domestic cinema unable to compete with the high budgets of Hollywood projects.
So, while it may be easy to blame a lack of literate-mindedness and an aversion to subtitles for Americans' homogenous cinema tastes, it is not necessarily the most accurate reasoning. While America has been happy to export its media culture to other countries, the relationship has not been entirely reciprocal. Foreign films in America frequently carry the connotation of being high-minded, academic, or impenetrable. Furthermore, the cinema of East Asian countries like China, Japan, or Korea has most frequently penetrated the American market by focusing on grindhouse or exploitation style genre films, such as martial arts films, horror films, or films that have scandalous or erotic content. These two polarized understandings of non-American films have made breaking into foreign films a bit awkward for everyday filmgoers.
However, anime fans are uniquely poised for developing their taste in foreign cinema, having already been primed for things like subtitles, cultural differences, and nuances in language from watching Japanese animation. Below I've assembled five easily accessible movies that provide a great start for fans of anime to try their hand at engaging with live-action Japanese film.
And hey, do you have anything better to do in quarantine?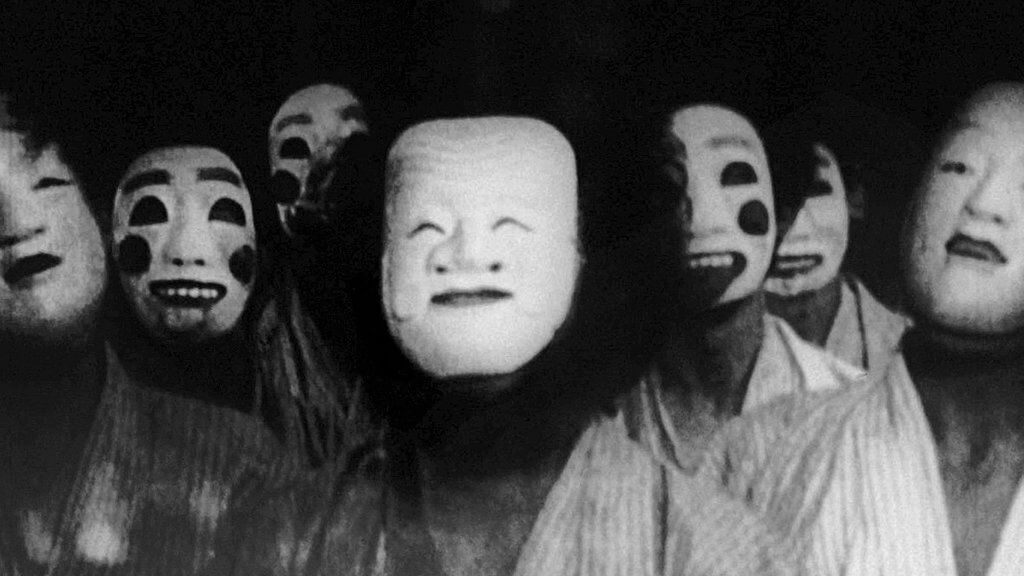 A Page of Madness (1926) 狂った一頁
Directed by: Teinosuke Kinugasa

Quick Synopsis: A man takes a sanitation job at an insane asylum to be near his wife and attempt to free her.
Teinosuke Kinugasa began his career as an onnagata performer (a young man who plays female roles in kabuki theatre) for Nikkatsu, Japan's oldest major movie studio, before buying a camera and furnishing his own film lab. Inspired by a visit to a mental hospital, and the purported poor mental health of the reigning emperor Yoshito, Kinugasa began approaching members of the Shinkanku (new impressionist) literary movement to assist in production of his first independent film. The Shinkanku writers were focused on finding new ways of understanding perception and moving past naturalistic depictions of life, and thus were keenly interested in the uses of the new medium of film. Although later re-written heavily by Kinugasa before filming, the original treatment for the film was a collaboration between Kinugasa, Nobel prize-winning author Yasunari Kawabata, Banko Sawada, and Minoru Inuzuka.
The film as it exists today (with nearly a third having been lost) is awash in imagery. Kinugasa makes heavy and deliberate use of filmic language; fades, flashbacks, multiple exposures; to create a world that lingers between the waking world and the oneiric visions of the hospital's inhabitants. At its initial screenings, the film would have been accompanied by a benshi storyteller and live music, leaving little need for intertitles in the film proper.
A Page of Madness was Japan's first true art film. In a culture where the literary and artistic intelligentsia prioritized foreign films over domestic product, A Page of Madness not only deftly borrowed from the  German films of directors like Wiene and Murnau, but also became one of the first films in Japan to help establish unique film conventions for the country's future cinematic output. It is easy to trace a direct line between the images that haunt A Page of Madness and the cursed videotape in 1998's Ringu or the vengeful spirits in 2002's Ju-On. In this way, A Page of Madness is a useful benchmark for the beginnings of J-horror, and contemporary viewers will find familiarity with the genre's modern output a useful bridge to Kinugasa's cold, ghostly imagery.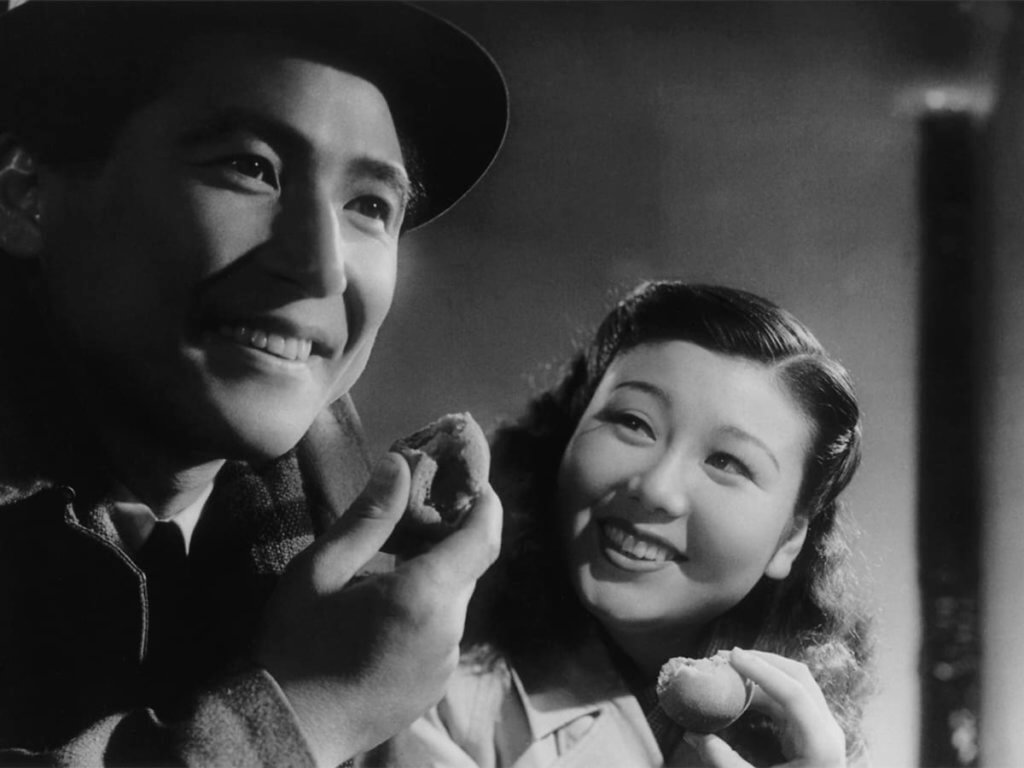 One Wonderful Sunday (1947) 素晴らしき日曜日
Directed By: Akira Kurosawa
Quick Synopsis: A young, bright-eyed couple try to enjoy a day in post-war Tokyo on nothing but 35 yen.
Premiering less than two years after the bombing of Nagasaki, Akira Kurosawa's One Wonderful Sunday is more than meets the eye. While the plot itself is thin and uncomplicated, what makes this film important is how it captures the feelings of insecurity and unsureness during the American occupation and post-war rebuilding of Japan without giving into the depths of despair or hopelessness. Kurosawa uses glimpses of English signage and American soldiers to give an air of menace just outside of the character's periphery and fills the world of the film with social realism that gives the relatively low stakes a greater narrative weight.
The plight of protagonists Masako and Yuzo should strike a chord with contemporary viewers whose lives have been impacted by global recessions and endless wars. Even separated by time and culture, the couple's struggle for small joys can still tug at modern American viewers' heartstrings. The film is also a sobering reminder of the effects of American occupation and imperialism, which still has global implications in Japan and elsewhere today.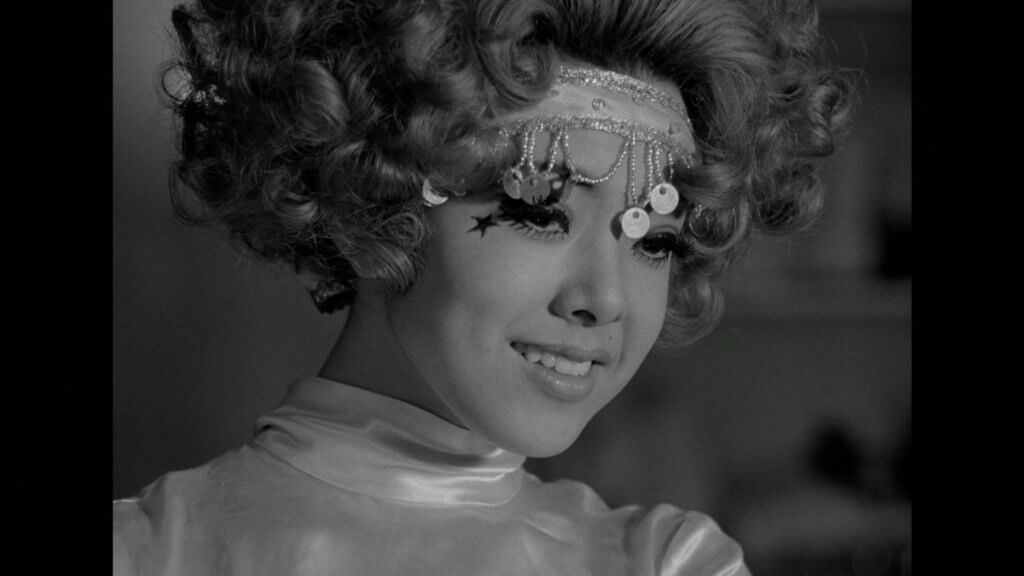 Funeral Parade of Roses (1969) 薔薇の葬列
Directed By: Toshio Matsumoto
Quick Synopsis: Drag queen Eddie moves her way up in the world of gay nightclubs in this swingin' arthouse take on Oedipus Rex.
Part art film, part documentary, Toshio Matsumoto's Funeral Parade of Roses is an amazing snapshot of both Tokyo during the turmoil of the late 1960s and Japan's bubbling youth culture. Matsumoto began with avant-garde short films before creating this as the first of four full-length projects. He looked far and wide for an actor to portray his heroine Eddie before finding Peter at Roppongi's Go-Go Club and immediately casting her.
Some explanation is required for modern viewers. The film uses the Japanese term gei boi, which was borrowed from American GIs during the Japanese occupation who were seeking femme-presenting sex workers. The term began to have a variety of meanings, such as transgender women, cross-dressing performers and waitstaff, or androgynously presenting men. Peter herself gained her stage name from her androgynous appeal, inspired by Mary Martin in the principal boy role as Peter Pan. Peter has since transitioned and regularly appears on Japanese dance and cooking shows, as well as operating her own clothing and jewelry lines.
Funeral Parade of Roses alternates between stylized art film and guerrilla documentary, with its cast frequently breaking character in order to candidly discuss their lives on the edge of Tokyo's LGBTQ bar scene. In this way, Matsumoto prevents the casting of real gay and transgender actors from veering into voyeuristic exploitation, the sharp divide between actor and character bridged by a probing look at the overlap of fictional and lived experience.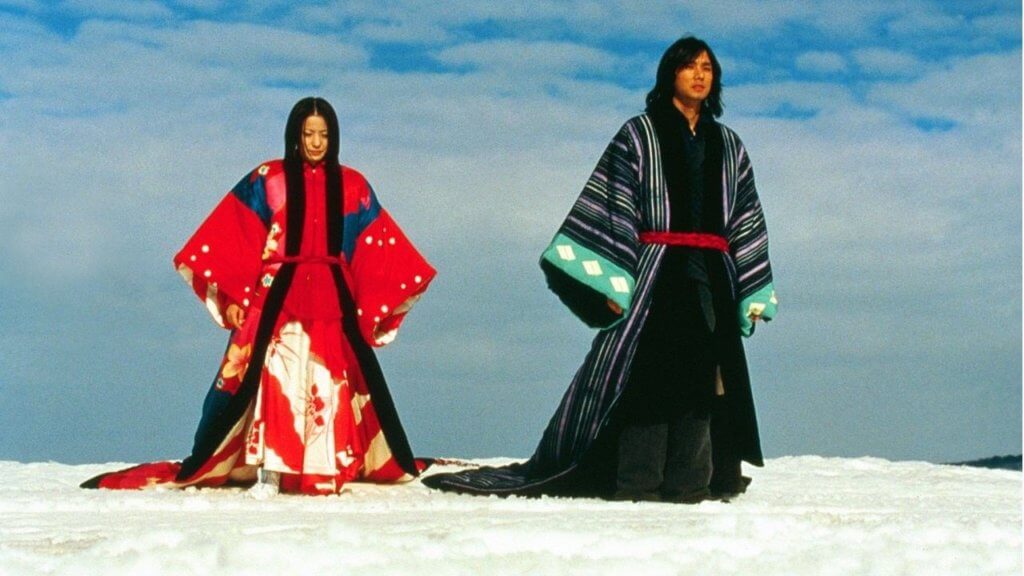 Dolls (2002)
Directed By: Takeshi Kitano
Quick Synopsis: Three tales revolving around three very different pairs of people as they face love and death in its many forms.
Takeshi "Beat" Kitano is a known cult figure in the west, both as the teacher in Battle Royale, and for his infamous Famicom game Takeshi's Challenge. While mostly known in Japan as director of yakuza and police films and as an actor in films such as Merry Christmas Mr. Lawrence and Taboo, Takeshi has also directed gentle, contemplative films like 1991's A Scene by the Sea and abstract, self-reflective works like his autobiographical film trilogy Takeshis', Glory to the Filmmaker, and Achilles and the Tortoise.
In the middle of these aspects of his work lies 2002's Dolls. Tiring of monochromatic stories about violent men, Kitano instead presents a film that follows three pairs of tortured lovers, bookended by a traditional bunraku puppet show of Chikamatsu Monzaemon's The Courier for Hell. Within the film, a young man becomes the caretaker for the fiancée he spurned after a suicide attempt leaves her in a catatonic state, another man finds his infatuation with a pop star deepen after she suffers a disfiguring car accident, and a former yakuza enforcer tries to rekindle a lost love from his youth.
While the film is marked by various forms of tragedy, Kitano's gentle, lyrical direction shows how love can blossom and grow in the face of hardship. Dolls is a film about both the power of human connection and its tender frailty.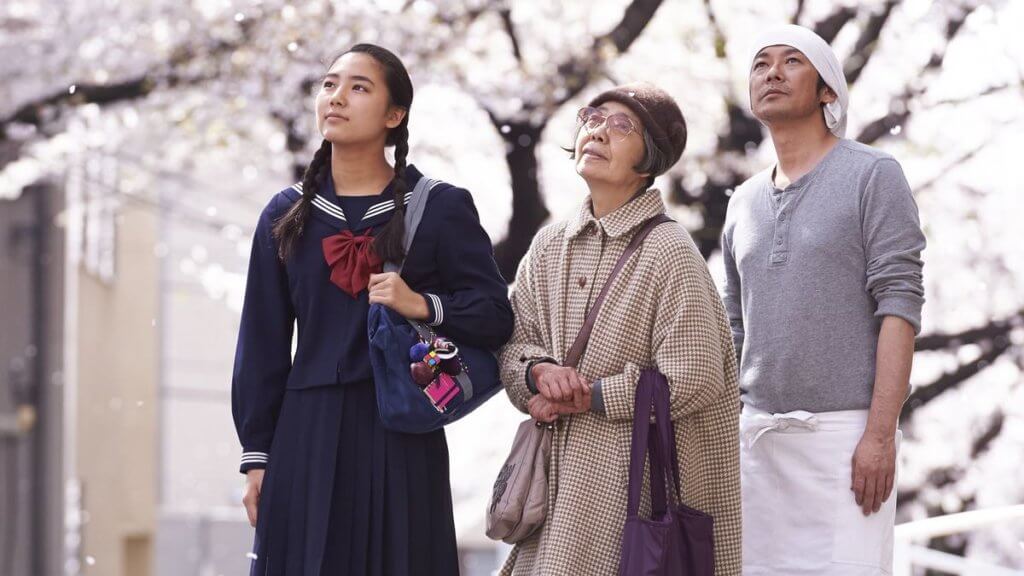 Sweet Bean (2015) あん
Directed by: Naomi Kawase
Quick Synopsis: A down on his luck baker hires an eccentric elderly woman to make sweet bean pancakes for his shop.
Naomi Kawase is mostly known for her documentary and autobiographical short subject films, including Katatsumori, about the grandmother who adopted her after she was abandoned by her father. She focuses on "fiction with a documentarian's gaze" and tries to reflect social themes and issues in contemporary Japan. Kawase believes that "at the depth of the personal there is something universal," and in each of her films lies a core of shared humanity for even the most disparate of character ensembles.
Based on a novel by Durian Sukegawa, dorayaki baker Sentaro runs a small stand outside of Tokyo after the owners of the stand pay off a mysterious debt for him. The elderly Tokue seeks a job at the stand and is hired after Sentaro sees how well her old-fashioned methods of making dorayaki are with the customers. However, once it is discovered that Tokue's hand deformities are the result of leprosy brought about by the bombing of Nagasaki, the customers turn on her.
Kawase's characters are so real as to feel know-able to the audience. Her camerawork, honed from her documentary background, frames each figure as a complete, fully-realized individual. When the camera leaves them, the audience still feels their presence in the world that Kawase invites us to inhabit.
Her films also tackle contemporary Japanese issues, particularly those faced by women and other marginalized people. Perhaps the reason Kawase is so able to relate to these outcast figures is because of her own struggles as a woman in Japan's incredibly patriarchal film industry.
---
These five films are merely a sampling, an amuse-bouche, of the world of Japanese cinema. Much, much more awaits you! By buying or streaming any of the films on the list, you show film distributors that there is interest in East Asian cinema and make it easier for more films to be released stateside. In a time where we are physically distanced from others, films help us connect with new people and see the world through their eyes.
Welcome to the wonderful world of Japanese cinema!
Big thank you to our supporters
From their continous support, we are able to pay our team for their time and hard work on the site.
We have a Thank-You page dedicated to those who help us continue the work that we've been doing.
See our thank you page