Yatta-Tachi folks (9 writers and staff members) have been busy working together on this since December 2019! We voted internally on shows we would recommend, tallied them, and wrote summaries for each of the winning top 5. We then used that to compile a master list of anime we would recommend for y'all to watch based on their debut year. Over the course of the next couple of months, we will be releasing year based spoiler-free recommendation articles for shows from 2010-2019! Here are Yatta-Tachi's Top 5 Anime Recommendations for 2011!
#1: Puella Magi Madoka Magica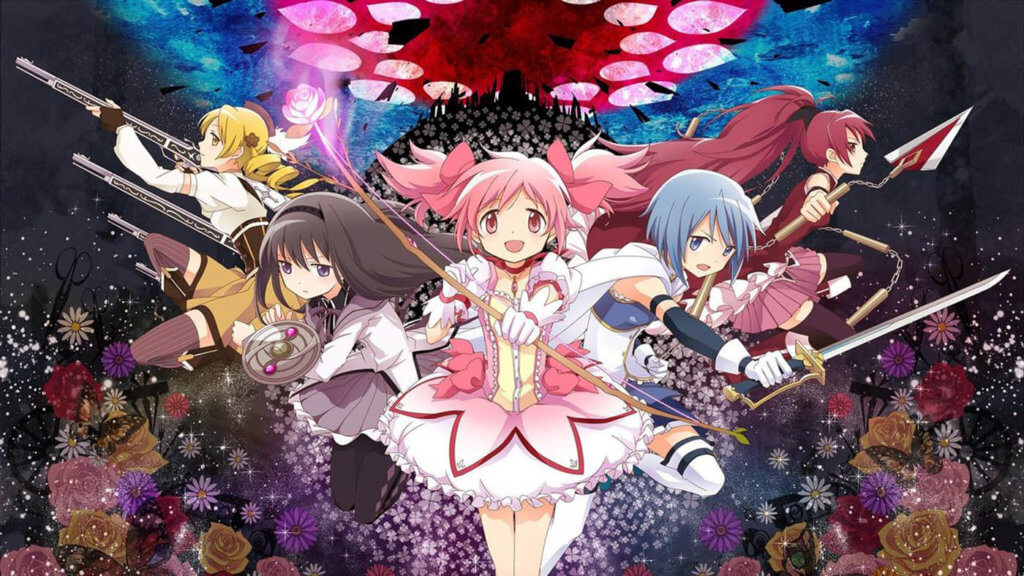 Studio: Shaft
Genre: Magical Girl, Horror, Dark Fantasy, Psychological
Synopsis: "One night, Madoka has a terrible nightmare – against the backdrop of a desolate landscape, she watches a magical girl battle a terrifying creature, and lose. The next day, the teen's dream becomes reality when the girl – Homura – arrives at Mitakihara Middle School as a transfer student, mysteriously warning Madoka to stay just the way she is. But when she and her best friend Miki are pulled into a twisted illusion world and meet a magical creature named Kyubey, the pair discovers that magical girls are real, and what's more, they can choose to become one. All they must do is sign a contract with Kyubey and agree to fight witches that spread despair to the human world, and in return, they will be granted a single wish. However, as Homura's omen suggests, there's far more to becoming a magical girl than Madoka and Miki realize…" – Anime-Planet
Where You Can Watch Puella Magi Madoka Magica: Hulu, Netflix, Crunchyroll, VRV, Funimation
Why do we recommend Puella Magi Madoka Magica:
William: Puella Magi Madoka Magica is one of those titles that has staked a large claim of influence on anime within the 2010s. The franchise has been successful in sales and popularity, inspiring many novels, manga, films, games, and spinoffs. The art and story make this show stand out from many other magical girl anime and are on a completely different level of imagination. The wonderful team at studio Shaft imbued many moments of creativity in different scenes of the show while also maintaining a dark, mature edge to its story. While I may have mixed feelings on the movies and its spinoff Magia Record, the first entry in the series will always be my personal favorite.
Jordan: Few shows have made me laugh, cheer, and cry as much as this one. As a long time magical girl fan I've often had to combat all things cute that I love with my obsession with things spooky and dark. Fortunately, Madoka manages to tie both things up in a way that I had never seen before. It often had conflicting things intrinsically tied together in beautiful ways; heartbreaking and hopeful, resentment and love. This show works for almost any anime watcher, with incredible artwork, stellar writing, and enough pink to satiate any magical girl fan.
Kaley: Do you like cute, magical girls? How about sweet, innocent main characters that make your heart flutter from their purity? And what about character progression that feels realistic?
Do you also like watching the world burn after sobs have wracked your body until you're nothing more than a mindless puppet? Then Madoka Magica is the show for you.
With a multi-leveled story, deep character backgrounds, and artwork that still blows me away each time I see it, Madoka Magica is a win on every level. It leads you down a nice, country road for miles before using emergency tactics to do a complete 180 that'll leave you gripping your seat and begging for the ride to be over, but once it's over you're falling over yourself to get back in the truck and experience it all over again.
Dazza: While these days Puella Magi Madoka Magica might be seen as just another "dark-gritty" magical show, at the time, the Shaft series, written by Gen Urobuchi – before his rise to fame – was the dark gritty magical girl show, every other series is just playing catch-up. Even now, 9 years on, not one series captured the anime cultural zeitgeist like Puella Magi Madoka Magica, with theories running rampant, people not knowing what was going on, and a literal earthquake delaying the series. For me personally, it holds a lot of feelings.
As for the series itself, Puella Magi Madoka Magica used puppetry, CG animation, and storytelling, unlike other anime at the time. Even on the tight schedule, the staff at Shaft were able to pull off a show that looked great, had deep characters, and was still able to keep watchers on their toes.
#2: Nichijou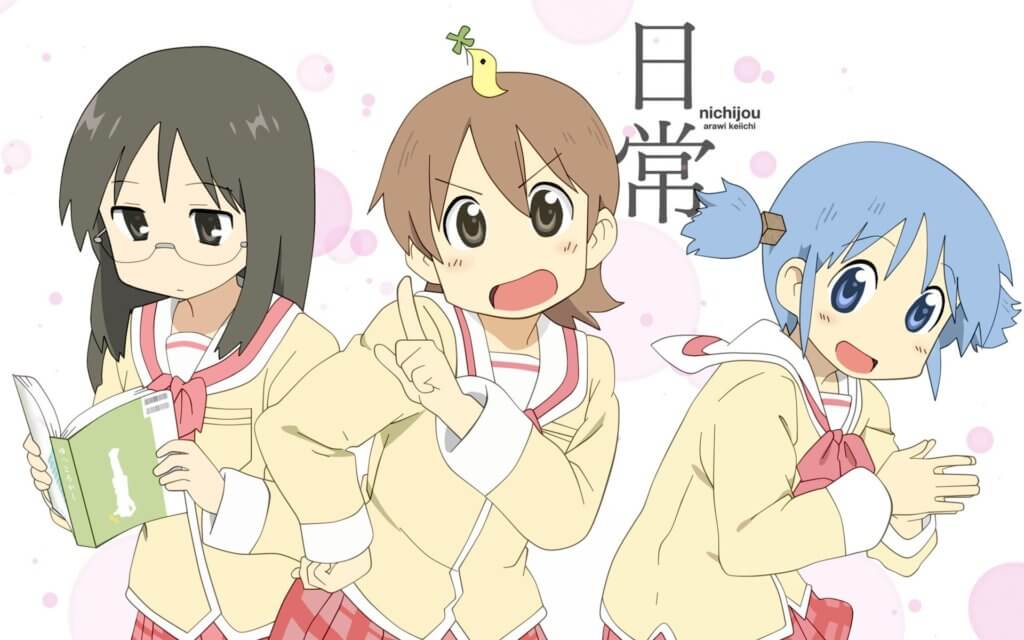 Studio: Kyoto Animation
Genre: Comedy, Slice of life, School Life
Synopsis: "Yuuko, Mio and Mai are regular high school girls who lead a normal everyday life. However, with bizarre explosions causing random objects to rain down on their heads, lunch turning into an epic battle between girl and wiener, and students riding to school on goats, their lives are anything but ordinary. Meanwhile, android Nano spends her days wishing she were a normal human, but keeping house for her creator, the playful and immature child genius Hakase, dealing with talking cat Sakamoto, and trying to keep a hold of her multitude of easily-detachable body parts, her dream is far from a reality…" – Anime-Planet
Where You Can Watch Nichijou: Funimation, Amazon
Why do we recommend Nichijou:
William: Nichijou offers a unique take on the slice-of-life genre in that it spotlights the unordinary of ordinary life. I found many of the anime's segments very funny, mesmerizing, or just weird – sometimes all three. Kyoto Animation brings everything to this adaptation and every episode sticks with you to the end. Pair that with the awesome opening and ending themes and Nichijou is a standout title worth watching if you like chill, weird anime with a good number of laughs.
Out of Kyoto Animation's filmography, I feel Nichijou gets overlooked sometimes, which makes it a great hidden gem worth discovering. You won't be disappointed by the end of it and will wish for more.
Dazza: Out of all of Kyoto Animation's back catalog, Nichijou seems like it might stand out from the rest, but really, it's one series that defines the studio as it was at the time. While Tatsuya Ishihara (Haruhi Suzumiya, Sound! Euphonium) may have been credited as the director of the series, it was really the entire staff at Kyoto Animation having fun, letting loose, and flexing their creative muscles.
On the surface, Nichijou is just a comedy series about everyday life, but deep down, it's the animators at one of the leading studios in Japan just having fun. And it shows.
#3: Hanasaku Iroha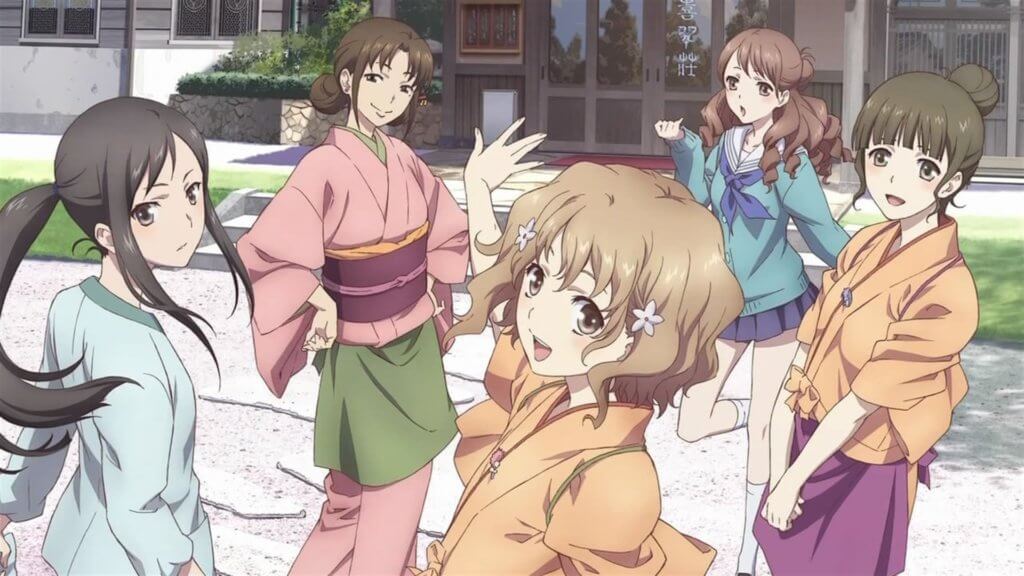 Studio: P.A. Works
Genre: Slice of Life, Work Life, Drama, Romance
Synopsis: Ohana Matsumae is a sixteen-year-old girl with no purpose or direction in life. One day, however, she gets the chance to reinvent herself when her mother and her boyfriend do a moonlight flit to escape his debts. Left alone, Ohana goes to live with her estranged grandmother, but when she arrives she finds herself forced to work at the family's hot spring resort, the Kissuiso Inn. With her grandmother considering her nothing more than an employee and a roommate who hates her, Ohana's happy dream of a new life soon turns into a nightmare. Now the wide-eyed girl must learn the value of hard work as she attempts to make friends and familiarise herself with life at the resort. – Anime-Planet
Where You Can Watch Hanasaku Iroha: Amazon
Why do we recommend Hanasaku Iroha:
Bill: Hanasaku Iroha is a criminally overlooked show. Part of my motivation for recommending it is that I simply don't think enough people have seen it. But there's also nothing else like it. I love the unconventional way it handles the romance between its main character and her love interest. I love how slowly and naturalistically it lets every character and their relationships develop. I love how spectacular the visuals often are, despite the show's slice-of-life subject matter not really "needing" it. Even its central conceit of following people through their workday was fairly unusual at the time. It's a really good show and you should watch it.
Adele: Traditional Japanese Hotel Drama. That is the best way to describe Hanasaku Iroha and the whole reason why I recommended it to people. This is a slice-of-life drama with characters that seem real with real problems. I love this anime, it's beautifully artistic in ways that you don't often see anymore. The main character is spunky, outgoing, and loud. If you are needing a good strong dose of drama in your life, pick this one up.
#4: Chihayafuru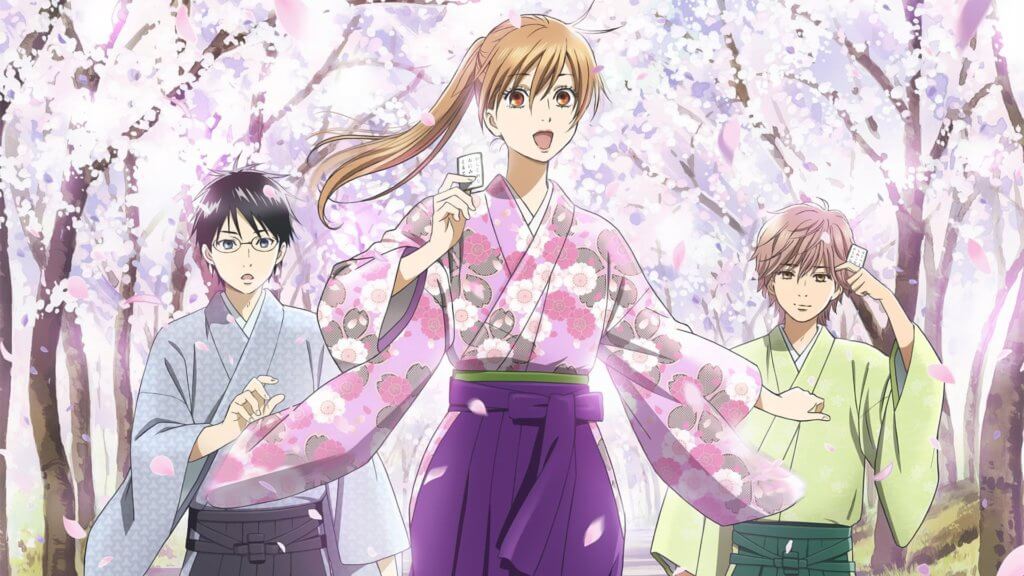 Studio: MADHOUSE
Genre: Josei, Sports, Romance, Drama
Synopsis: Chihaya Ayase is a famous beauty at her school, but she's far from a conventional girl. Three years ago in her final year of elementary school, Chihaya and her friend Taichi became infatuated with the card game, Karuta, after connecting with a lonely boy named Arata Wataya. But when the trio graduated from elementary school, they each went their separate ways but shared one common goal: to excel in the game and meet each other at the national championships. Now, Chihaya is attempting to share her passion for the game by creating a competitive Karuta club at school, but when she reunites with Taichi it seems that maybe she's the only one with the intention of fulfilling their childhood promise… – Anime-Planet
Where You Can Watch Chihayafuru: Crunchyroll, HIDIVE, VRV
Why do we recommend Chihayafuru:
Bill: Chihayafuru should not work nearly as well for an English language audience as it does. It revolves around an obscure game about Japanese poetry, a language that doesn't lend itself to the lyrical translations a poem game requires. But work it does. By combining shonen sports anime tropes with shojo romance tropes, Chihayafuru develops into not just an incredibly unique show, but a show with uniquely wide appeal in spite of its unusual premise.
It's a sonic experience like no other in the anime world, too. Sound is so important to the game of karuta, and the level of effort put into the sound design for this show, into getting the poem readings just right, the subtle differences between readers, and depicting how these differences affect gameplay in a way that anyone can understand, is unbelievable. Chihayafuru is a unique sensory experience in the anime world, and an incredibly compelling show about something that has no business being that exciting.
Adele: Chihayafuru is a card-playing sports anime. If you are familiar with Yu-Gi-Oh! and any of the numerous sports anime that have come out in the past decade Chihayafuru is like a good healthy dose of both of those mixed together. It contains traditional Japanese elements with a heartfelt drama that will keep you wanting to watch the whole series through. I love Chihayafuru because it has beautiful animation and an even more beautiful message behind it. It deals with love, loss, not giving up, and friendship, and surrounding all of it is this amazing and fun card game that has stood the test of time.
#5: Blue Exorcist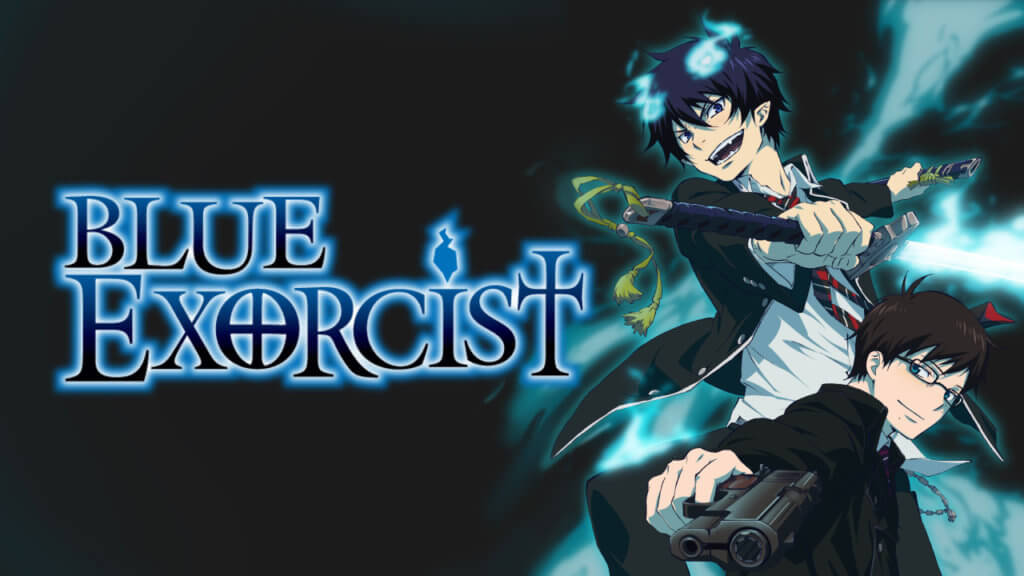 Studio: A-1 Pictures
Genre: Shonen, Demons, Supernatural, Fantasy, Action
Synopsis: Rin Okumura is a seemingly ordinary boy living at the Southern Cross Boys' Monastery. One day, however, Rin encounters a boy who has been possessed by a demon. Amidst the struggle, he not only awakens latent powers sealed within him, but also learns that he is the son of Satan! No longer able to stay under the protection of the church and with his very existence straddling the line between human and demon, Rin decides to fight against his parentage and joins the True Cross Order as an exorcist. Now, the teen must attend the True Cross Academy and begin special exorcist training alongside his new comrades all while keeping his identity a secret; but can the son of Satan really become a true exorcist? – Anime-Planet
Where You Can Watch Blue Exorcist: Crunchyroll, VRV, Funimation, Hulu, Netflix
Why do we recommend Blue Exorcist:
Bill: On a superficial level, Blue Exorcist appeals to my metal-loving ass because it's all about Satan. But among fighty shonen shows, it really does stand out. It pokes at a lot of ideas that most anime of its kind don't touch, like Christianity's outsized influence on a largely non-Christian world. And it doesn't use fights like a crutch for big emotional payoffs. Blue Exorcist wants you to think that everyone is their own person and no one's heritage determines their worth. It uses a horror-infused battle shonen framework to tell a tangled, layered story, and even if its anime-original ending misses the mark a bit, I'd still recommend it.
William: The first season of Blue Exorcist is one of the first anime to make an immediate impact on me and I can't recommend it enough to people. In addition to featuring some awesome action scenes, the anime knows how to balance drama and comedy while greatly entertaining shonen anime fans. The first three episodes will make a good impression for those wondering what it's about and you can bet that there will be many exciting moments in this show.
If you also love dynamic voice acting, Nobuhiko Okamoto as Rin really stands out as the loud screamer type. And he was voicing this guy before Bakugo too.
MDMRN: Blue Exorcist is a series I love on a guttural level. It's a lot of fun, high action, and a lot of allusions to the church which drew me in. However, from a more personal level, Blue Exorcist got be back into anime. In 2014 when my wife was very pregnant with our twin daughters, she had a hard time sleeping and could only get comfortable on our couch. So, I slept alone and also had a hard time sleeping. On a lark, I checked into Blue Exorcist OnDemand. I hadn't watched anime consistently in about 8 years at that point. I was instantly hooked and my desire to learn more about Blue Exorcist got me back into reading manga too. So, you could say, Blue Exorcist was a gateway anime for bringing me back to watching anime.
Kaley: When I think shonen, one of my go-to anime is Blue Exorcist. I remember watching it for the first time and how the idea of it made me give the first episode a shot without a second thought. And then I got sucked in, of course, and now I'm here telling you to watch it.
The art was refreshing to me, the story a good mix of dark themes and comedic relief, and the characters were entertaining. With so many other good demon-fighting/exorcist anime out there now, it's hard to say if this one will stand the test of time. But for me, it will always feel like the first one that kickstarted the genre. Fans of this type of story will easily enjoy Blue Exorcist.
Big thank you to our supporters
From their continous support, we are able to pay our team for their time and hard work on the site.
We have a Thank-You page dedicated to those who help us continue the work that we've been doing.
See our thank you page